Everything You Should Know About the IEPA FOIA Request
The Freedom of Information Act (FOIA) of 1966 allows you to access federal agencies' records, with certain exemptions. If you want to obtain information from the Illinois Environmental Protection Agency (IEPA) records, you have to file a FOIA request.
is here to help you understand the meaning of FOIA and submit the IEPA FOIA request in under five minutes.
All About the Illinois EPA Public Records
If you want to access the EPA public records in Illinois, you might do it without sending a request. You can find more than 475,000 documents through the IEPA document explorer. It allows businesses and the public to access the records regarding:
Air construction

Operating permits

Site Remediation Program technical documents

State Response Action program sites technical documents

Leaking Underground Storage Tank (LUST) technical documents

National Pollution Discharge Elimination System (NPDES) water discharge permits
You can search the documents according to the site name, location address, program ID, or geographic mapping tool.
The IEPA does not have all the documents readily available online, but there's a way to access them. According to the Illinois Freedom of Information Act, you can file a request to get the information from the IEPA files. If you can't find the records you need through the IEPA Document Explorer, consider submitting a FOIA request.
Do You Need To Pay a FOIA Fee To See the IEPA Records?
Whether you need to pay a fee for accessing the IEPA records depends on how many pages the documents contain. If the documents you seek don't have more than 400 pages, you can get the records for free.
For every page over 400, you will need to pay $0.15. IEPA charges different fees for other media, such as microfilm or photographs. In special circumstances, you might be able to get a FOIA fee waiver.
How To Submit an
Illinois EPA FOIA
Request on Your Own
Here are the methods of filing an IEPA FOIA request:
| | |
| --- | --- |
| Can I Submit My Request Via | Yes/No |
| DoNotPay | Yes |
| FOIA Request Web Form | Yes |
| Fax | Yes |
| U.S. Mail | Yes |
| Special Carrier | Yes |
| Email | No |
| Phone | No |
Request Access to IEPA Records via the Web Form
You can submit a FOIA request online by filling out the FOIA request form on the IEPA website. Here is how to do it:
Open the

IEPA FOIA web form

Click on

Request

Log in to your account

Provide your contact details

Answer numerous questions about the information you seek

Submit your request
How To Submit a Written IEPA FOIA Request
You can also file an IEPA FOIA request in a written form. You can send it by fax, snail mail, or a special carrier, such as FedEx. When using this method of requesting access to IEPA documents, you need to:
Indicate that you are requesting the information under the Freedom of Information Act

Include all the necessary details about the documents you seek—the facility's name, address, and any identification numbers, such as agency ID, bureau ID, or permit number
If you want to avoid any delays and make sure you get the documents, you need to be precise and concise when composing the request. You should send the request to the following address:
Sharon Dowson
Illinois EPA FOIA #16
Division of Records Mgmt.
1021 N. Grand Avenue East
P.O. Box 19276
Springfield, Illinois 62794-9276
(217) 782-2137 (Voice)
(217) 782-9290 (Fax)
Composing a FOIA request can be tiresome. You can only find rough templates for FOIA request letters, but those guides might confuse you. If you want to submit a FOIA request in the simplest way possible, use DoNotPay!
Use DoNotPay To File an IEPA FOIA Request Effortlessly
Submitting the IEPA FOIA request by yourself can turn out to be nightmarish. You must fill out the complicated web form and risk omitting important info in your written request. To avoid the hassle, use DoNotPay! With our AI-powered app, you can submit the IEPA FOIA request in no time!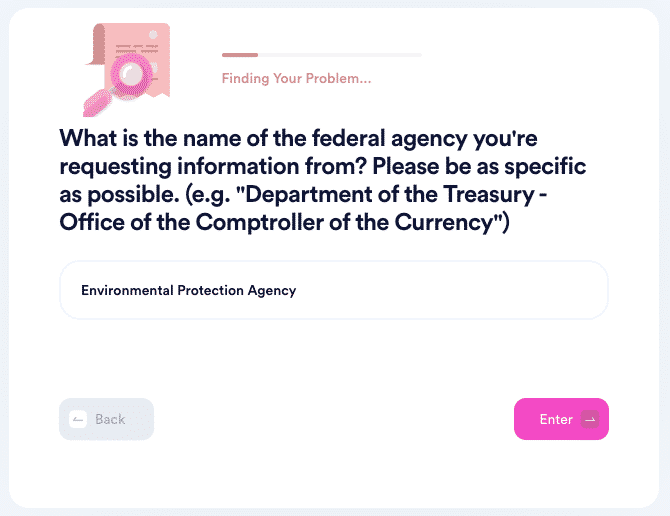 We will generate a letter and send it to IEPA on your behalf. All you need to do is:
Set up your DoNotPay account in any

Choose our

FOIA

feature

Enter Illinois EPA and give details about the document you are requesting

Select whether you need a fee waiver or expedited processing

Submit your request
Send FOIA Requests to Any Agency With DoNotPay
Do you need more information on FOIA requests? With DoNotPay, you can learn more about finding information on yourself, checking the FOIA status, and filing a FOIA appeal.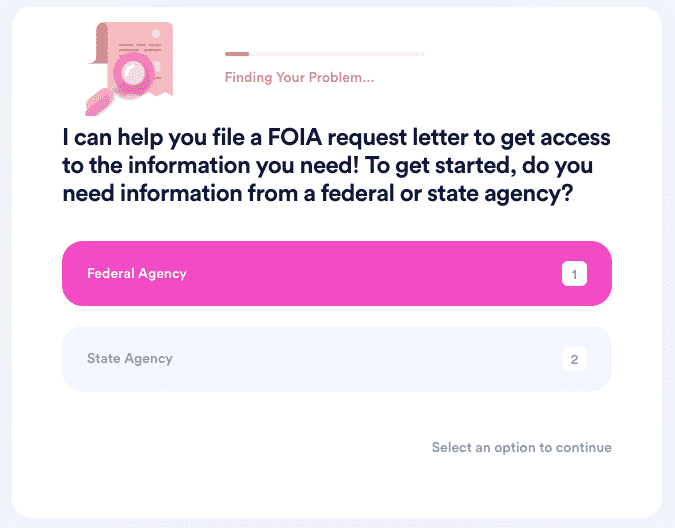 We can help you gain access to information from both state and federal agencies. Check out some of them in the list below:
DoNotPay Is Helping You Out Left and Right
Not only can DoNotPay handle bureaucratic nuisances on your behalf, but we can make your daily life easier too!
No more waiting in endless phone queues to make a warranty claim for a faulty product or wasting the day away in mile-long DMV lines—our app will do the hard work for you! We'll call the reps of any company—even major airlines—and schedule appointments on your behalf in a matter of minutes!
DoNotPay Helps You Scam Scammers
DoNotPay helps you stay safe from scammers and fraudsters!
We have developed a Virtual Credit Card product that helps you sign up for free trials without revealing your real banking information to any suspicious company. We've joined our most popular feature with a Burner Phone functionality that allows you to verify online accounts with a temporary phone number.
That way, you'll be free to enjoy services while they're free of charge, eliminate the possibility of robocalls, robo texts, and spam emails from the shady companies, and forget about canceling the subscriptions altogether—our product does it for you!
DoNot Pay can even shield you from cyberstalking and online harassment and get you compensation for the crime you've suffered. We'll even help you take individuals or businesses to small claims court by drafting the relevant paperwork for you, accessing any public records that might bolster your case, and supplying you with a court script that you can read to the judge on the day of the hearing.