How to Find an Affordable Dentist in Gainesville, FL
The average person spends roughly $1,000 per year on dental care. This amounts to nearly 5% of a full-time minimum wage earner's gross earnings. If you are worried about how you are going to pay for dental care, then it's time to find an .
The good news is that it's easier than ever to secure high-quality, low-cost dental care in Florida. You no longer have to choose between caring for your teeth and paying your rent or mortgage. Read on to discover how you can find an in three simple steps.
Does Free or Low-Cost Dental Care Exist?
Yes! Before diving into the process of finding an , it's comforting to know there are many resources available for Americans with limited financial resources. Here is a look at the various types of free or low-cost dental care options available to qualified persons.
Local Health Departments
You may be eligible to receive free or low-cost dental care at one of the many federally funded local health departments scattered across the United States. The amount a person pays is often calculated using a sliding scale approach that considers your income.
Dental Education Facilities
Facilities that offer degrees in the dental field frequently offer free or low-cost dental care to area residents. The dental care is provided by dental students and supervised by licensed dentists. Here are some types of educational facilities that may offer free or reduced-price care:
1. Universities and colleges with DMD programs
2. Technical schools with Dental assistants or Dental Hygiene programs
3. Dental hygiene schools
Clinical Trials
Depending on your dental condition and needs, you may be able to receive free or low-cost dental care through The National Institutes of Dental and Craniofacial Research (NIDCR). As a participant in a research study or clinical trial, you also contribute to ground-breaking research while receiving free or discounted dental care.
How to Find an Affordable Dentist in Gainesville, Florida on Your Own
As outlined above, low-income dental care in Gainesville, Florida is available. It just takes plenty of time and persistence to find it on your own. Here is a look at the measures you need to take to find an on your own.
| | |
| --- | --- |
| Reach Out to the University of Florida Dental Clinic | As a Gainesville resident, you may be able to receive low-cost dental care at the University of Florida Dental Clinic. You can call 352-273-6701 to request an appointment or request an appointment online. You can also inquire about the ability to participate in dental research studies to receive reduced-cost care. |
| Contact One of the Free or Low-Cost Government or Non-profit Clinics in Gainesville | You can reach out to one of six free or low-cost government clinics in the Gainesville area to see if you are eligible for treatment. You may be required to present a Medicaid card, proof of income, or other details to receive free or reduced-cost treatment. You can start by reaching out to GCM - Gainesville Community Ministry Dental Clinic at (352) 548-4806. |
| Call the Florida Department of Health Alachua County Health Department | You can inquire about appointment availability and requirements by calling 352-334-8839 or emailing ACHDdentalclinics@flhealth.gov Medicaid insurance is accepted for children but private insurance is not accepted. Be sure to inquire about eligibility when you call. |
How to Find an Affordable Dentist in Gainesville, Florida With the Help of DoNotPay
If you are like many busy residents of the Sunshine State, you simply don't have time to spend hours calling multiple facilities with the hope you can secure an appointment and afford their rates. Fortunately, DoNotPay makes locating an affordable dentist in Gainesville, Fl as easy as 1-2-3. Here's how you can use DoNotPay to find free dental clinics:
1. Search "dentist" on DoNotPay.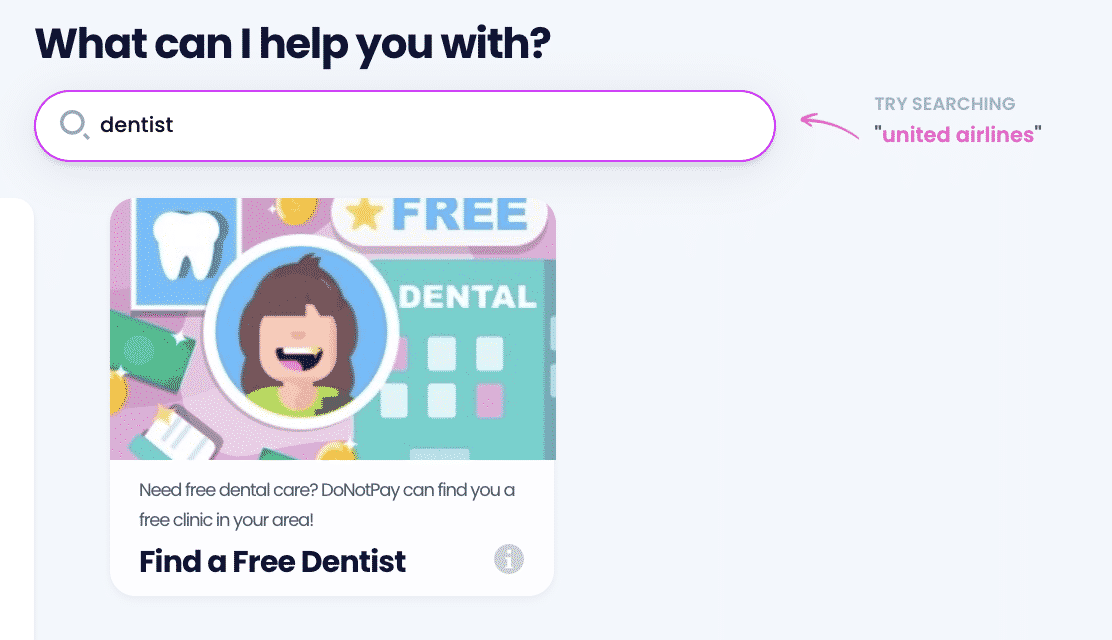 2. Enter your current address, so we can find the clinic nearest to you.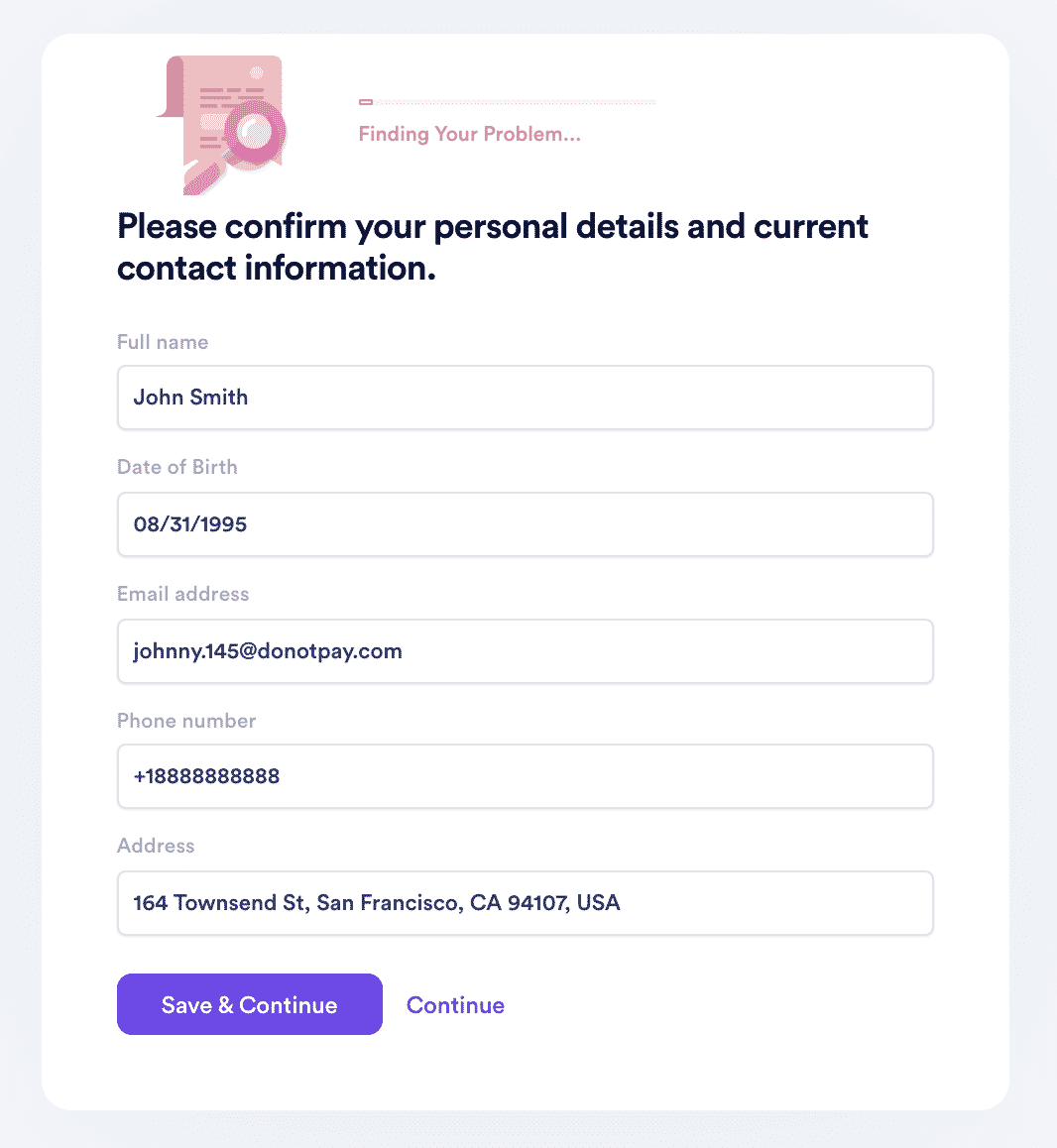 3. Select whether you would like to ask a question about your eligibility, receive a quote for a specific procedure, or set up an appointment.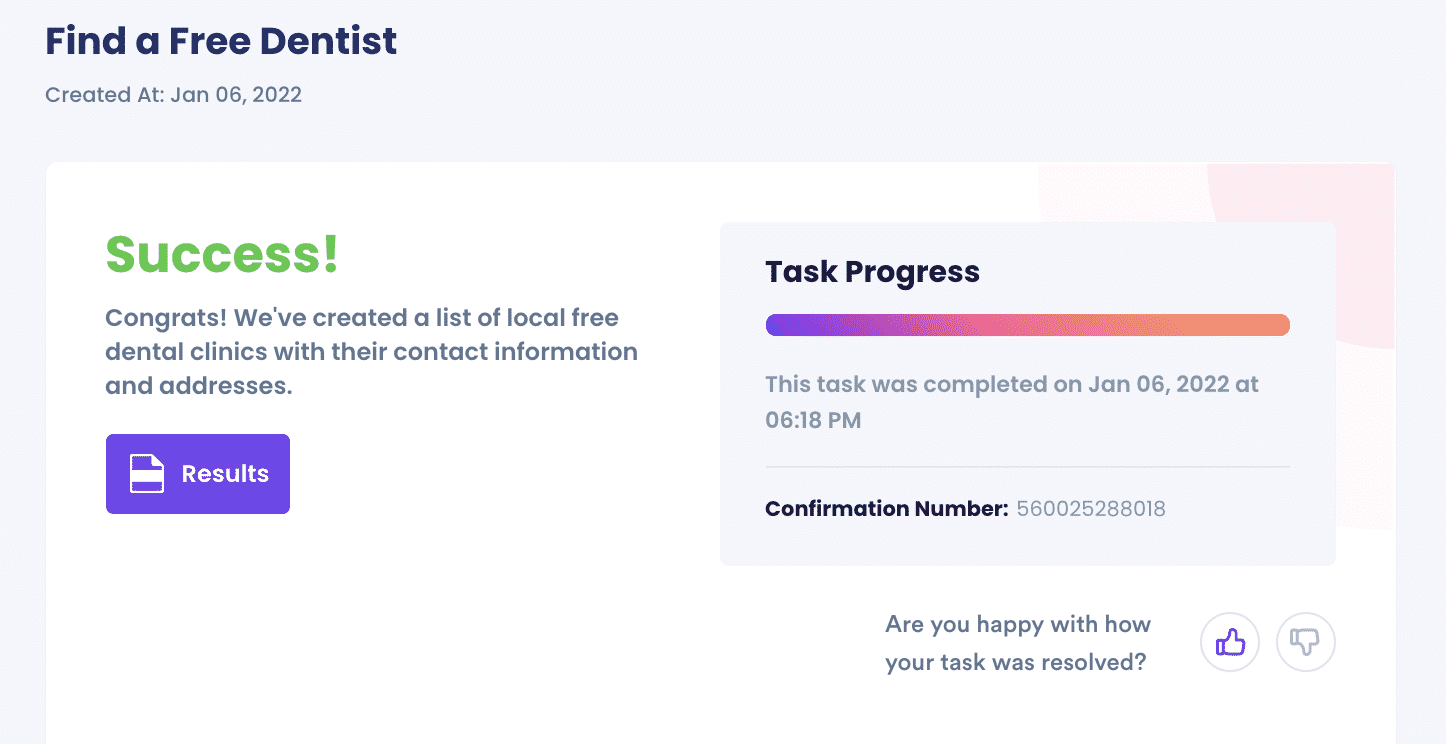 That's all you need to do. DoNotPay will reach out to the clinic on your behalf and respond to you with the details you requested. In just 3 easy steps, DoNotPay will put you on the path to a healthier smile!
Why Use DoNotPay to Find an Affordable Dentist in Gainesville, FL?
DoNotPay is the fastest and easiest way to locate a low-income dentist in Gainesville, Florida. DoNotPay's 3 simple steps enable you to find a licensed, affordable dentist quickly using your favorite mobile device. Here are the top three reasons why Gainesville residents use DoNotPay to find a budget-friendly dentist:
DoNotPay Is Quick: Within a minute or two, you can be on your way to an appointment with a dentist you can afford.
DoNotPay Is Easy to Use: Using DoNotPay is as easy as 1-2-3. All you need is your smartphone, tablet, or PC, and a couple of minutes.
DoNotPay Is Successful: DoNotPay has a proven track record of success in helping people locate low-cost dentists in Florida.
DoNotPay Helps People Across America Locate Affordable Dentists
Once you use DoNotPay to locate an affordable dentist in Gainesville, you may wonder whether you can use the app to locate budget-friendly dentists in other cities and states. Fortunately, the DoNotPay app is capable of helping you locate affordable dentists in virtually every state. Here are some examples of dental-related tasks DoNotPay can help you accomplish with ease:
Discover how to find an affordable dentist without insurance

Learn the best way to find a cheap dentist
What Are Some Other Ways DoNotPay Can Help You Stretch Your Budget?
Helping people learn to locate a low-income dentist is just one of the many ways DoNotPay can help you stretch your budget. Here are some other ways DoNotPay can help you make beneficial financial decisions:
Learn how you can reduce your property taxes
By handling the lion's share of time-consuming tasks, DoNotPay enables you to spend less time tracking down solutions to financial obstacles you encounter. By using DoNotPay, you can finally devote more time to your favorite hobbies and the people you love. We invite you to to find out how DoNotPay can make a difference in your life.