How To Find a Free Dental Clinic Near Me
Dental care can be very expensive, especially if you don't have insurance or if you're on a low income. An estimated 74 million Americans have no dental insurance coverage. While 6 million US residents lost their dental insurance during the Covid-19 pandemic.
According to a survey by Harris Poll, 54% of Americans avoid or delay health care including dental care due to the high cost of health care services. But you no longer have to be part of these figures. You can take care of your oral health by finding a free dental clinic near you.
The process of finding a clinic that's free of charge can be daunting, especially if you don't know where to look. But you can use the resources available such as DoNotPay services to help you find a free dental clinic, check if you're eligible, and even set an appointment with the clinic. Tag along and find out how to use DoNotPay services.
Free Dental Care for Low-Income Individuals, Children, Senior Citizens 
A free dental clinic is a facility that provides dental care to people who cannot afford it. This can include low-income individuals, children, and senior citizens.
The federal government provides free or reduced-cost dental care for low-income and homeless people. For adults, there is a sliding fee scale that varies from state to state and county to county. Some states use Medicare or Medicard's dental care programs while others go a step further to add other dental programs.
However, most of these government-sponsored free or low-cost services are not widely advertised so finding a good dentist who will treat you for free can be difficult and time-consuming if you go the conventional route.
How To Find a Free Dental Clinic on Your Own  
There are several steps you can take to find a free or affordable dental clinic near you. For example, you can:
Search the internet. A simple search on Google or Yahoo will give you a list of free dental clinics in your area. However, this method can be time-consuming and not all clinics are listed.
Contact your state government or local health department. They should be able to provide you with a list of free or low-cost dental services in your area.
Contact a dental school in your area. Dental schools usually offer free or low-cost dental services to the community around them. Here is a good source to find a free dental school in your state.
Contact a local charity or non-profit organization that provides free health care services. Good examples are:
| | | |
| --- | --- | --- |
| Program/organization | Who is eligible? | Website/phone number |
| Missions of Mercy | Anyone | Find an event |
| Give Kids a Smile | Children | Find a GKAS event |
| Donated Dental Services | People with disabilities, senior citizens, veterans, and medically fragile people | Find your state program |
| America's Dentists Care Foundation | Veterans, adults, and children | Find an event |
| Give Back a Smile | Survivors of domestic abuse and sexual assault | Apply for care |
Ask friends and family. See if they know of any free dental clinics near your location.
Call your local hospital. They may offer any low-cost/free dental care services.
Next Steps If You Cannot Find a Free Dental Clinic on Your Own  
If you've tried all of the methods mentioned above and still cannot find a free dental clinic in your area, don't worry. Several online resources can help you find one.
One such resource is DoNotPay which offers a comprehensive list of free and low-cost clinics across the United States. You can also use the site's dental clinic finder tool to search for a specific location and zip code.
How DoNotPay Can Help You Find Free and Affordable Dental Care Clinics
Here are the 3 simple steps to using the DoNotPay services.
1. Go to the DoNotPay website and search "dentist" on DoNotPay products.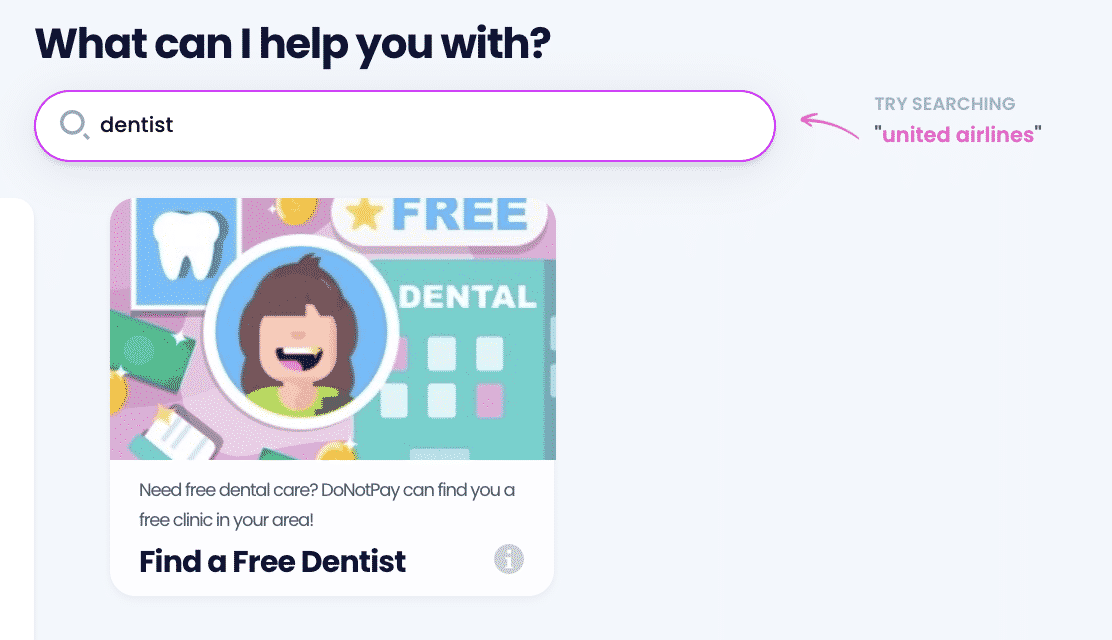 2. Enter your current address, so we can find the clinic nearest to you.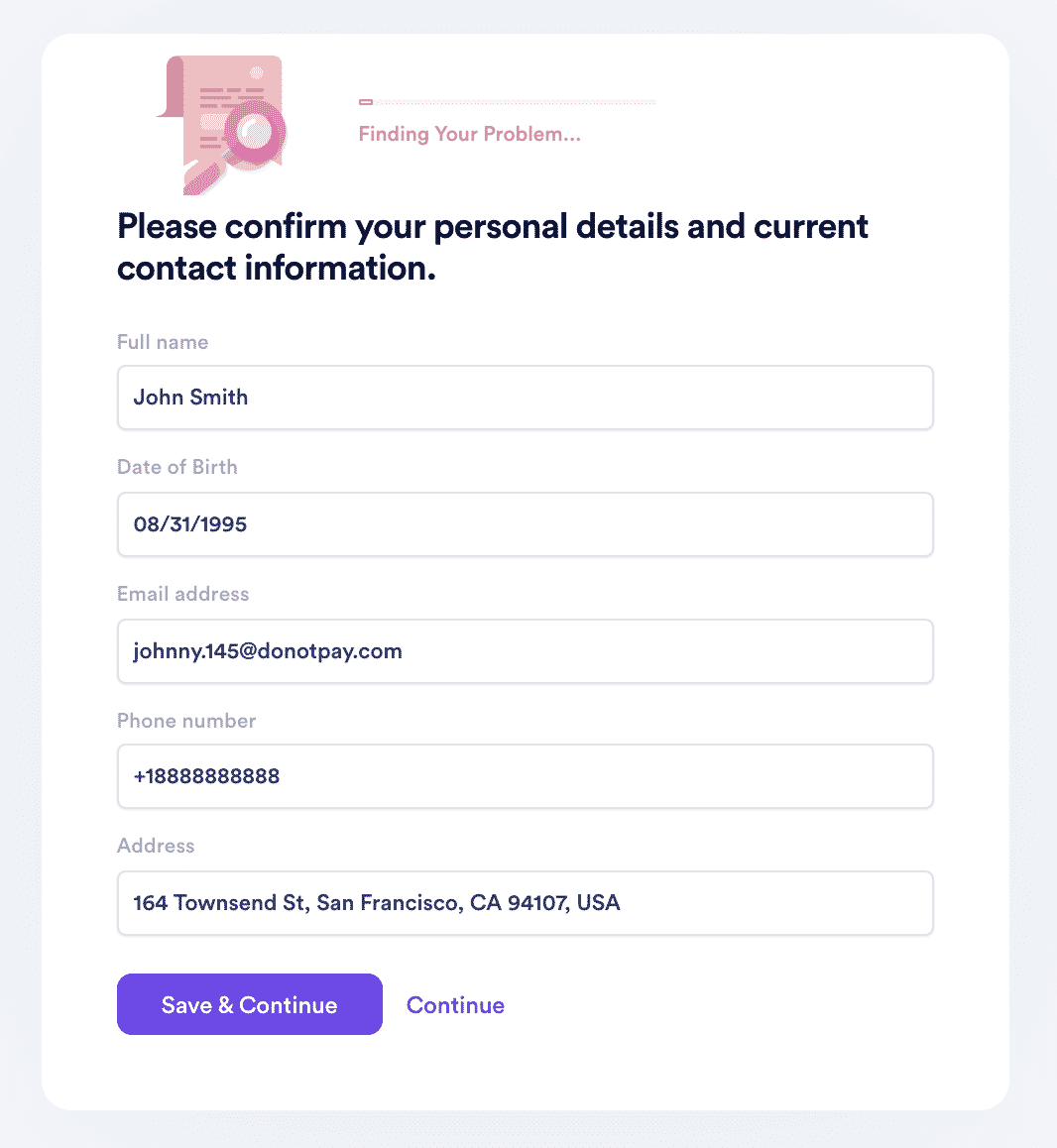 3. Next, choose if you would like to ask a question about your eligibility, receive a quote for a specific procedure, or set up an appointment.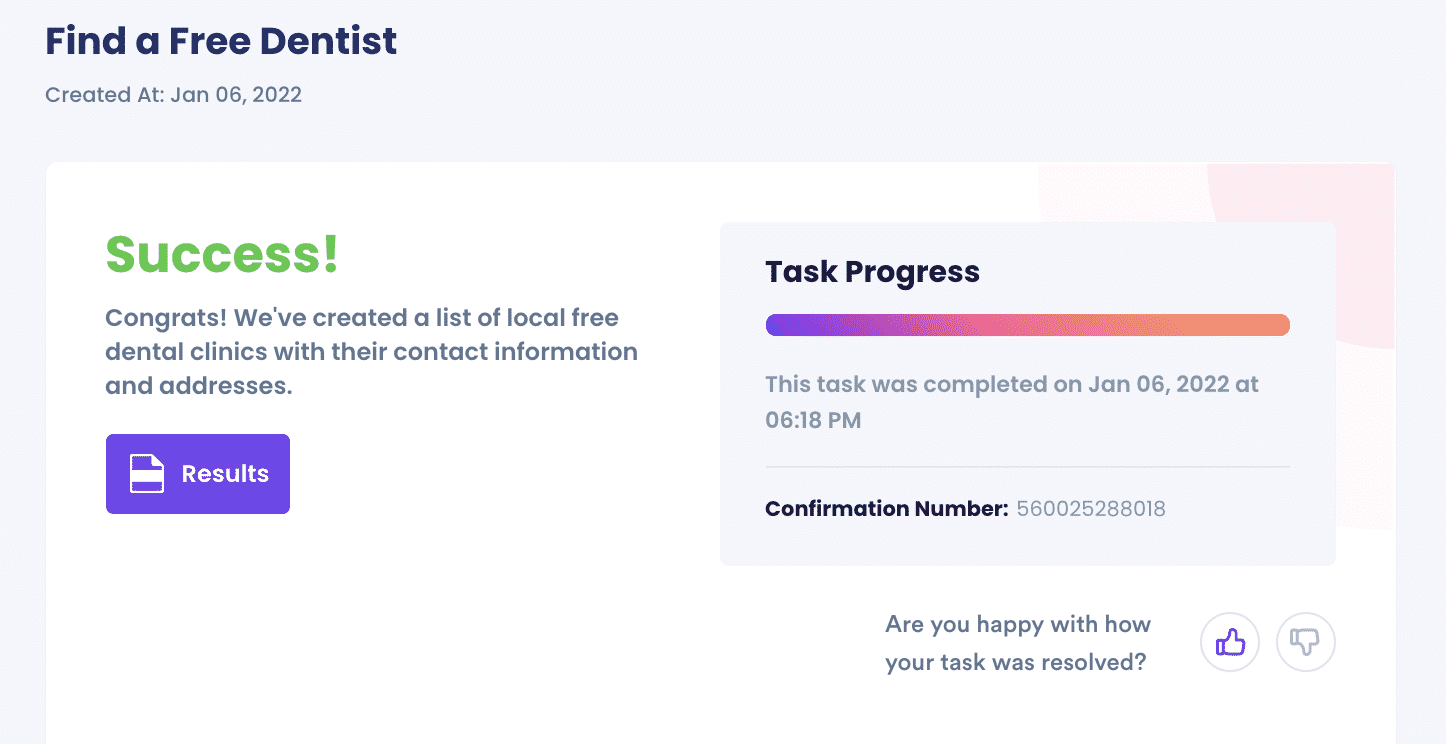 Why Use Donotpay Services  
DoNotPay not only helps you find a free clinic but it makes the process:
Easy - You don't have to struggle to fill out tedious forms or keep track of all the steps involved in solving your problem.
Automated - You don't have to talk with customer service representatives who can only offer limited help.
Accurate - DoNotPay will get you real results that have been curated for your specific location and needs.
Fast - Get help in minutes, not hours or days.
Bottom Line 
Dental care can be expensive, especially if you don't have insurance. However, there are several options available for low-income individuals and families who need dental care but cannot afford it. Government-sponsored programs, private clinics, community health centers, and a few good Samaritans provide free dental care. If you can't find one on your own then don't worry there are plenty of online resources that will help you find it quickly and easily. DoNotPay is just such an online resource. Donopay will help you solve your problem in minutes. DoNotPay is easy, fast, and accurate! What more could you ask for?
Contact us today and let's find a free clinic near you.
What Else Can DoNotPay Do?
Finding a free dental clinic is just one of many services DoNotPay provides. We handle a wide variety of online needs, whether you require assistance getting refunds, want to remove repossession from your credit report, or need services such as:
DoNotPay strives to make your life easier!