How To Claim Xcel Energy Refrigerator Rebates With DoNotPay
You can receive a $50 if you choose a safer, more beneficial method of disposing of your old, operable Xcel refrigerator or freezer. When you recycle an old, functional refrigerator or freezer, you save energy and money while doing so in an environmentally friendly and convenient manner. It's a win-win situation for both you and the environment.
Why not simplify the process even further by submitting a rebate application via DoNotPay? We will arrange for the pickup of your old refrigerator and mail your rebate to you without you having to go through the time-consuming application process.
Factors That Affect Your Xcel Energy Refrigerator Rebate Eligibility
The following tips are essential for anyone wishing to claim from any rebate program:
| | |
| --- | --- |
| The fine print. | Always read the fine print. If you don't understand anything, ask questions. |
| The terms and conditions | Read the terms and conditions and make sure you understand what you need to do to qualify for the rebate. |
| Dates | Keep track of the dates listed in the application form- The deadline may change without notice. |
| Rebate status | Check the rebate status online- Sometimes, the company may decide to extend the deadline. |
| Apply within the timeframe | Don't forget to apply for the rebate within the specified timeframe- Timely applications increase chances of successful results. |
| Complete the process | Remember to complete the entire process correctly- If you miss any step, you won't qualify for the rebate. |
To be eligible for the , you must meet the following criteria:
You must supply the account number for your Xcel Energy account.
The refrigerator has to be a stand-alone unit.
Arrange for the appliance to be picked up from the residential address registered in your billing account.
You must own a valid account number.
You must be the registered owner of the refrigerator or freezer that is being recycled.
You must be an Xcel Energy household electric customer.
The refrigerator must be operational.
Each household is permitted to recycle a maximum of two refrigerators or freezers during the program's calendar year.
The fridge or freezer has to have a capacity of 7.75 to 30 cubic feet.
The refrigerator must be plugged in during pickup time.
Bear in mind that the majority of small and commercial refrigerators are not qualified
How to Apply for the Xcel Energy Refrigerator Rebate by Yourself
1. Ensure your appliance is eligible. Follow the guidelines above to ensure that your refrigerator is suitable.
2. Schedule your pickup. While scheduling your pickup, only enter the digits of the street address on your home electric bill.
3. Enter the details for your Xcel energy account. You will be required to complete this section:
Whether the refrigerator is in good functioning order.
The account holder's surname is as it appears on the bill.
Number of the street address.
4. Enter your zip code. Ensure the zip code you enter is as written in your bill.
Xcel Energy schedules appointments according to your availability. They offer no-contact pickup, which entails removing and recycling your refrigerator without entering your home or making personal touch with you. You can call 800-599-5795 today to schedule your pickup appointment.
Xcel Energy will collect and recycle your refrigerator or freezer for free and offer you four complimentary LED light bulbs for your home. Four weeks following pickup, you will receive the $50 reimbursement check in the mail. The rebate amount, however, is subject to change.
Rebate applications are accessible, but most companies set a lengthy procedure for claiming them. At the same time, due to the high number of applicants, you must make sure that your request doesn't get mixed up or lost by keenly following up on the application.
If you want your application to be accepted, you need to ensure that all of the information on your form is correct. Because of this, it is essential to hire a third party to help with the application process. Which third party is better than an online lawyer, DoNotPay?
Why Should You Apply for Xcel Refrigerator Rebates With DoNotPay?
Apart from being a trustworthy and transparent website, we offer a handful of benefits, such as:
Unlikely to make mistakes. DoNotPay's product understands the entire procedure of applying for an Xcel refrigerator rebate, and the odds of making a mistake are extremely low.
It's simple. Our website is designed to be highly user-friendly. This allows you to navigate our rebate product and apply for an Xcel refrigerator rebate.
Saves Time. Mailing the rebate form can be time-consuming, more so if the postal office has a long queue. Let DoNotPay handle all formalities on your behalf.
DoNotPay will call Xcel Energy for you if something is not clear or if there is an issue.
How to Apply for Xcel Refrigerator Rebate With DoNotPay
Here's how it works:
1. Search rebates on DoNotPay and select the type of rebates offer you want to claim (is it for a car, electronic gadget, household appliance, etc.).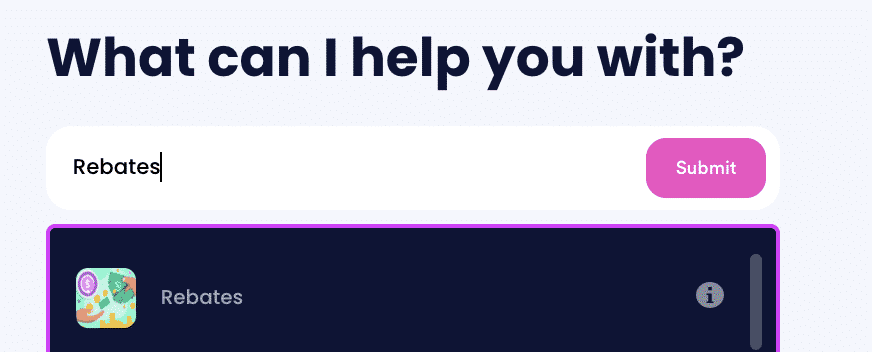 2. Tell us more about the purchase, including the product name, brand, serial number (if relevant), and whether you bought it online or in-person.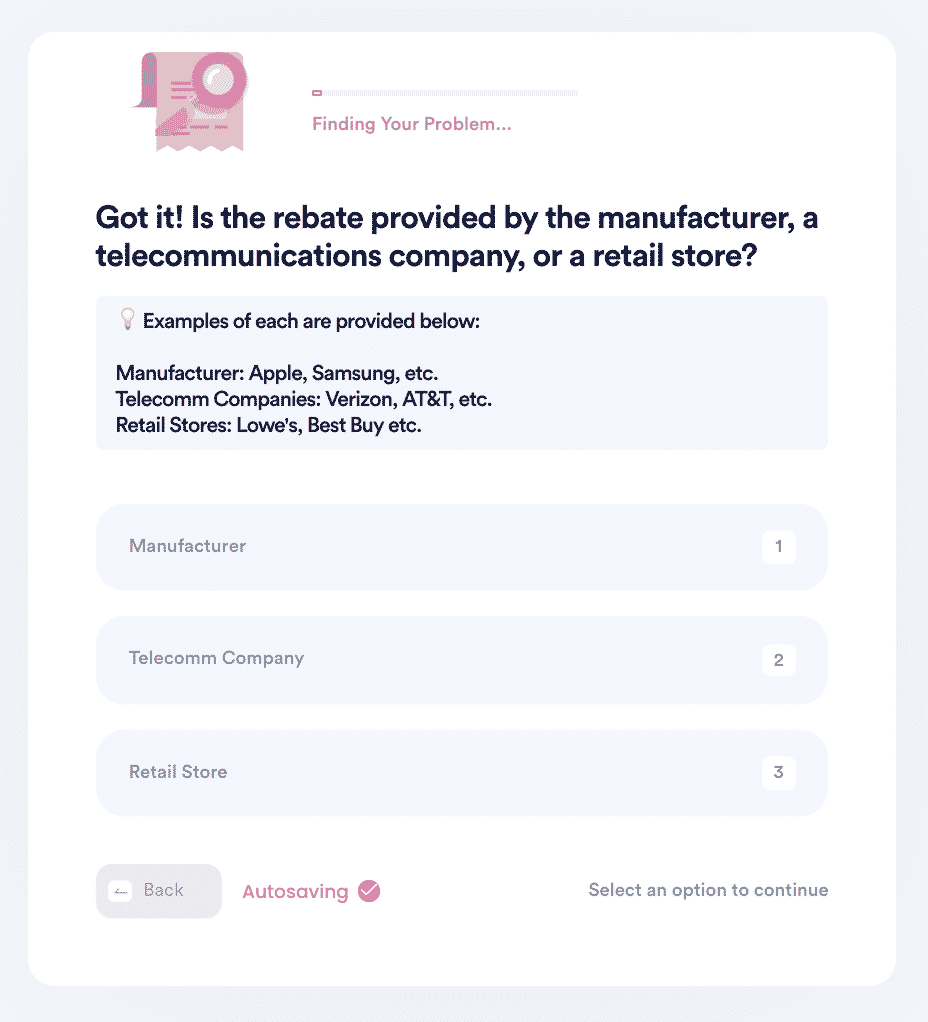 3. Select whether the rebate is online or mail-in. Upload your evidence documents, including receipts and necessary forms, and confirm your contact information.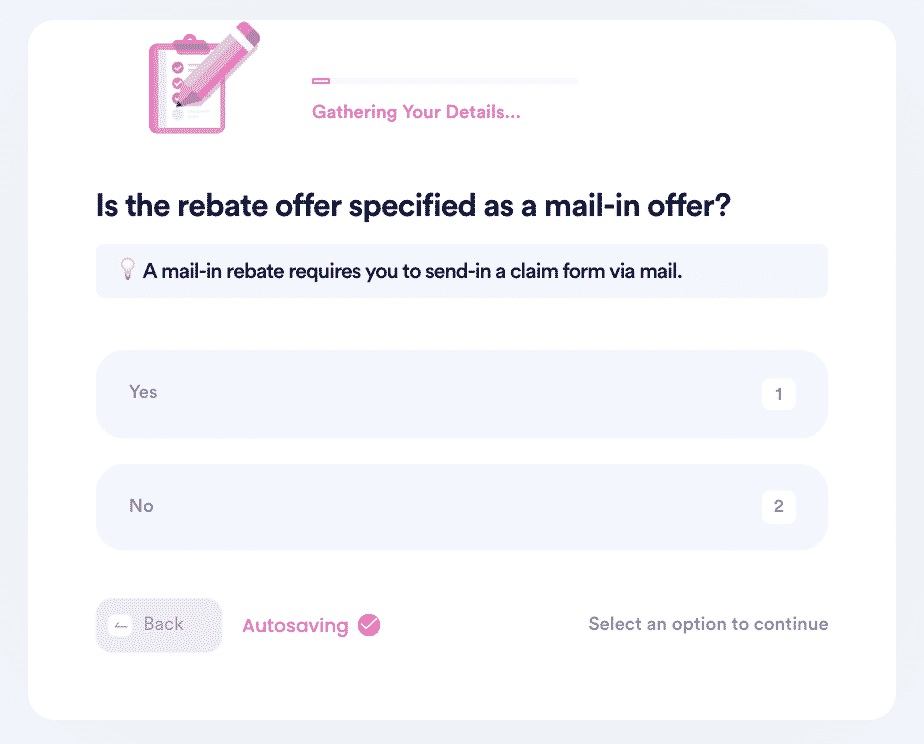 What Else Can DoNotPay Do?
Apart from applying for Xcel refrigerator rebates, DoNotPay can also help you:
Help you get new car rebates

.
Let DoNotPay help you conserve the environment by appropriately disposing of your old but operational refrigerators. You do all these at the comfort of your home without planning trips. We believe in convenience, so sign up today, and let's get started.