Guide for Increasing Your Credit Limit at Spectrum Credit Union
It's easier to increase credit limits than most people think. Even bank tellers are often surprised by system pre-approvals when customers become eligible for credit upgrades.  with this guide from DoNotPay, and achieve greater financial power.
Who Can Request a Higher Credit Limit?
When evaluating requests for higher credit limits, credit authorization algorithms generally favor those with new credit cards, secured credit cards, and those who have a steady history (typically 6 months) of responsible credit history with their present credit line.
Other factors involved in the decision to issue you more credit include:
Level of income
Value of properties & assets
Credit score & history
Delinquent payments
Credit score inquiries
Utilization rate (of previous credit)
These are some of the main "credit qualification" factors that affect your assessed "creditworthiness" when seeking a higher credit limit from Spectrum Credit Union (the maximum being $25,000).
When Can I Request a Credit Limit Increase From Spectrum Credit Union?
Though Spectrum Credit Union doesn't publicly publish their creditworthiness details, you can be certain that they are following the basic principles of the National Credit Union Administration. In their supervisory letter discussing examination procedures and risk management, they shed some light on the best practices for credit unions generally.
When Do Credit Unions in General Verify Creditworthiness?
Creditworthiness is not just determined when you ask them to raise your credit limit. For member-borrowers seeking open-end credit, credit unions are likely to at least occasionally verify their creditworthiness, and more routinely for those who are a higher potential risk. This is not required, but strongly recommended – and in fact, an adjustment of either an increase or decrease in credit limits can result from the verification process.
This could happen at almost any time, but the credit union is unlikely to do it wantonly, because it is costly, and regulations require them to have solid, documented reasons for checking on someone's transaction history. They are instructed to establish a schedule or time intervals for their verifications of creditworthiness.
It doesn't hurt to ask if your local branch is willing to disclose their periodic verification schedule so that you can time your credit limit requests with surgical precision. You could even request that your next regularly scheduled creditworthiness verification be used, instead of a hard credit pull, and time your next request for a credit limit increase around that time.
When Do Automatic Increases Happen?
Most credit cards – especially those with lower starting limits – have some form of automatic limit increase. Credit companies evaluate existing accounts monthly, particularly after about five or six months. Keep an impeccable payment history (e.g., establish a habit of paying your card off after every purchase – not just every due date), and Spectrum will likely make you eligible for a new credit limit in just a matter of time.
Ask after about six months of good credit practices, and see if your card automatically raised your limit, or if they have a different card that you are eligible for.
Credit Cards Available From Spectrum Credit Union
Spectrum, with their partner Elan Financial Services, offers a variety of cards. The cards' benefits range from an array of rewards, cashback deals, and low intro rates. Compare them in advance so you can take advantage of the best one for you – and note that the Visa® Max Cash Secured and Visa® College Real Rewards Cards are specifically designed to maximize credit building:
CARD
BENEFITS
Visa® Max Cash Preferred Card

Great multi-tiered cashback offers
$150 bonus for spending $500 within 90 days

Visa® Platinum Card

The extended low introductory rate
Perfect for balance transfers to manage past debts

Visa® Everyday Rewards+ Card

Earn up to 4x points rewards (depending on category)
Redeem points for cashback, travel, and other benefits
$150-worth of rewards points for spending $500 within 90 days

Visa® Max Cash Secured Card

Similar cashback rewards as the Visa® Max Cash Preferred Card
Improves credit score faster, being a secured loan card

Visa® College Real Rewards Card

Earn 1.5x rewards on almost all purchases, with no limit
Bonus 2,500 points, or $25, after first purchase
Remember that the end goal is to increase your access to credit however it's done; it's not necessary to doggedly try to get one specific card to a higher limit if you can achieve the same goal by getting a second card.
Many have success maximizing credit limits on one card, then focusing their attention on maximizing the credit line of a second card, and so on. If you do this repeatedly, you could end up with upwards of $100,000 in credit, however, spread out over different cards (and institutions) it may all be. This requires the most exceptional level of responsibility to handle without negative consequences; but on the other hand, it's not much more complicated than accumulating a stellar reputation among many different credit card companies and institutions.
General Boons to Your Creditworthiness
Your chances of raising credit limits at any bank are best when your credit score and financial health are at their peak. Credit qualification metrics that impact this the most include:
Getting a new job, promotion, or a raise
Receiving new property or assets
When your credit score gets a boost
When your loan payment history is solid
One simple and effective piece of advice is that having a house, a car, regular income, and one of each of the major credit card companies (VISA, Discover, Mastercard, and preferably AmEx) is usually enough to give you a fresh start with bullet-proof credit. It's not the only way, but it is extremely reliable once achieved.
What Information Will Spectrum Credit Union Ask For?
The information that Spectrum requires to authorize new credit limits (which start at $500) is nothing unusual. With new accounts, they will need to verify your income is at least $1,000. In many cases, pay stubs are sufficient for members; but in other cases, a hiring letter, an employee badge, and other documentation may be required. They may repeat this process as necessary if you get a new job with a higher income and you use the increased income to justify requesting a credit limit increase.
For new and established accounts, a hard inquiry into your credit score and history is almost always necessary. It's a small price to pay for higher access to funds; and if managed even basically well, your newly increased credit line will far make up for the five to eight points expended on the hard credit pull.
If you have sufficient creditworthiness, no collateral (upfront property or assets) is required – just your future promise to pay. Monthly payments and interest are assessed on the credit used, not the maximum limit, and Spectrum normally allows customers to easily transfer credit line funds to other accounts.
Things to Consider Before Requesting a Credit Limit Increase from Spectrum Credit Union
Considering the most effective timing, you should request a credit limit increase when your recent income is as high as it can be. Also, ensure that your most recent payment history is as outstanding as possible.
What Are Potential Drawbacks to Credit Limit Requests?
A request will initiate a hard pull on your credit score – and if you don't think your chances are high, you slightly harm your chances of getting higher credit lines in the near future. This negative effect is compounded if there were other recent hard pulls, so never make multiple hard pull inquiries in a row. Always ask companies if they are doing a hard or soft pull on any credit score inquiries, and don't let them make hard pulls without knowing that it is worth it. Take your time, and plan your shots.
The good news is, DoNotPay has the credit industry expertise necessary to help you know what those best shots are.
How to Request a Credit Limit Increase From Spectrum Credit Union on Your Own
Prepping for the Request
Set aside at least a couple of months when you do not request loans, financing services with monthly payments, or other things that almost inevitably result in a hard pull. Several of them in a row will be detrimental to your credit score.
Making the Request
When you're reasonably sure that your request for a raised credit line will be successful, consider how modest or extravagant your request is. If you believe you might have been automatically pre-approved (or will be approved very easily), a simple request through your credit card's website (if they have one), or an email to your branch, is likely good enough.
If you think a little convincing might be necessary, you'll want to engage your favorite branch decision-maker in a conversation about it – in which case, a letter, phone call, or face-to-face meeting would be wiser.
In any case, be prepared to succinctly present your strongest case and convince them that you are a dependable credit user with totally minimal risk. Explain that:
You have a reliable income and can easily verify it to their satisfaction.
You've achieved some windfall or lucrative economic opportunity (such as a day-trading job, side hustle, etc.) that bolsters your ability to repay higher amounts quickly.
Life expenses have recently been minimized.
Your use of previous credit lines has been highly responsible.
There are other credit lines available to you that are tempting, but you prefer to be loyal to your credit union because you appreciate Spectrum's beneficial role in the local economy.
These are the things they want to hear, will find out for themselves, or might not ever hear but would be glad to know. Again, whether you begin the conversation via phone, letter, or at your local branch, be sure to include these points, and present the documents to verify your claims. (You can request the option of sending them via email if you've chosen to call.)
What If Your Request Is Denied?
At a minimum, almost anyone can plan for a better next attempt – and speed the process up – by taking on a secured credit line. This is based on a collateral-secured agreement where you give the bank equitable interest in some property of yours, or money of your own that is set aside until the secured credit line is paid off.
The purpose of this is to give the bank assurance that you will pay the "loan" back; it's essentially a loan that you pay yourself. Why? Because the bank wants to see that you can manage a specific financial arrangement when you have the most compelling possible interest in doing so. This quickly boosts your credit, thus allowing you to advance to unsecured credit lines where your promise to pay on its own is deemed reliable and trustworthy.
See the Visa® Max Cash Secured Card and the Visa® College Real Rewards Card, as listed above.
Next Steps for Increasing Your Spectrum Credit Limit with Help
Of course, this can all feel like asking for a raise at work, or applying for a job, or help to do chores from your spouse… and it all seemed like such straightforward business, at first! If making sense of the credit line details, boosting creditworthiness, and employing tactical communication becomes overwhelming for you, there's still hope.
If you are committed to , enlist the help of an experienced organization that constantly negotiates for higher credit limits for people with perhaps even more difficult credit qualifications than you!
Obtain Higher Credit Lines with the Help of DoNotPay
If finances themselves aren't already frustrating, the extra layer of dealing with credit scores can be enough to just give up on using it to your advantage. Don't feel bad though; it shouldn't be so exhausting, and we're here to help. When it all feels like an unpaid job just to curry banking-institution favor, enlist the help of the world's first robot lawyer!
DoNotPay can negotiate on your behalf – after you simply submit a few pieces of information – to ensure the most beneficial outcome possible. For less than you'd spend on a single hour with a lawyer, you can raise your credit limit and much more with DoDotPay and then just sit back, and relax.
How to request higher credit limits using DoNotPay:
If you want to request higher credit limits but don't know where to start, DoNotPay has you covered in 6 easy steps:
1. Go to the Credit Limit Increase product on DoNotPay.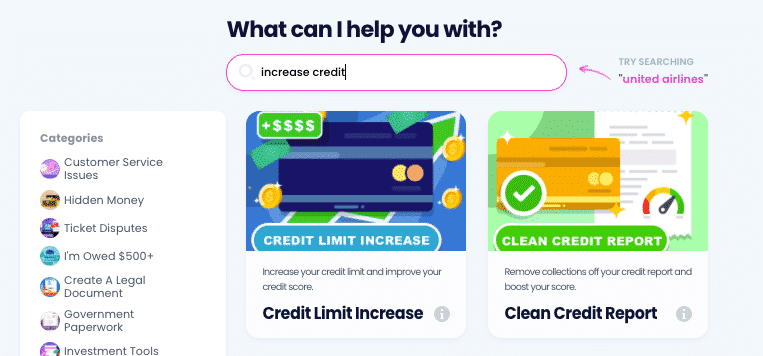 2. Select which type of card you own and your credit provider.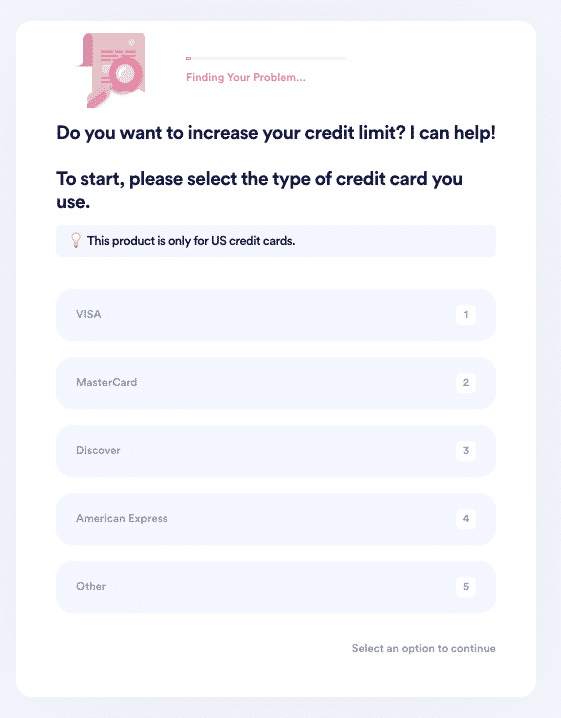 3. Tell us more about your card, such as when you first created this card, your current credit limit, what you would like your new limit to be, your card number, and whether you've missed past payments.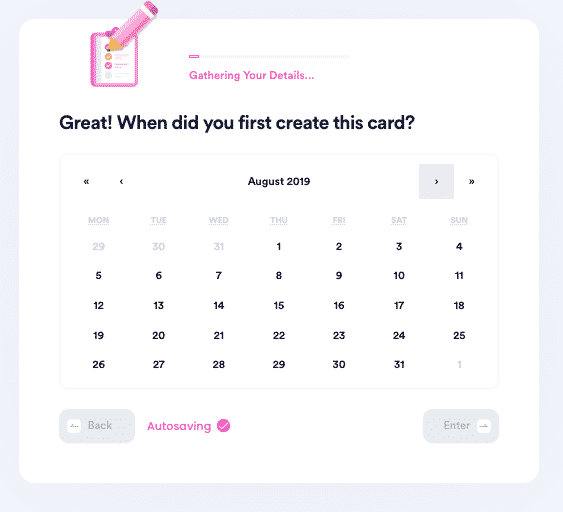 4. Tell us more about your current income and expenses and why you would like to request a limit increase.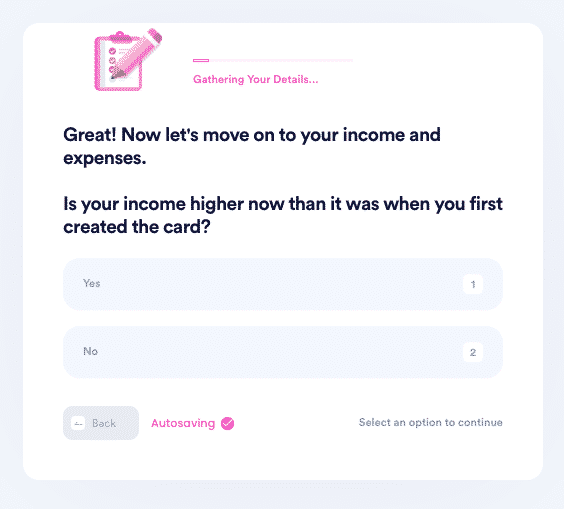 5. Indicate whether you want to allow hard inquiries to be made into your credit history. Upload a copy of your ID and provide your e-signature.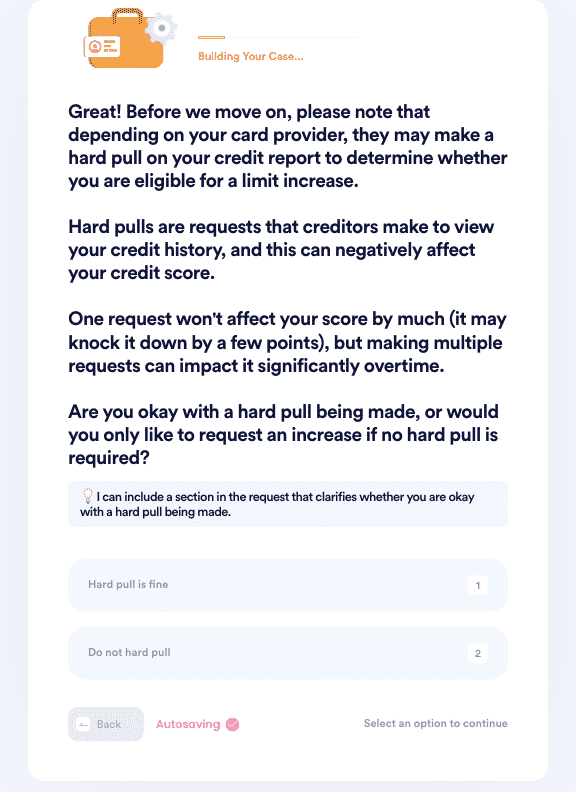 6. Submit your task! DoNotPay will deliver the request letter on your behalf. You should hear back from the card provider with confirmation or a request for more information within a few weeks.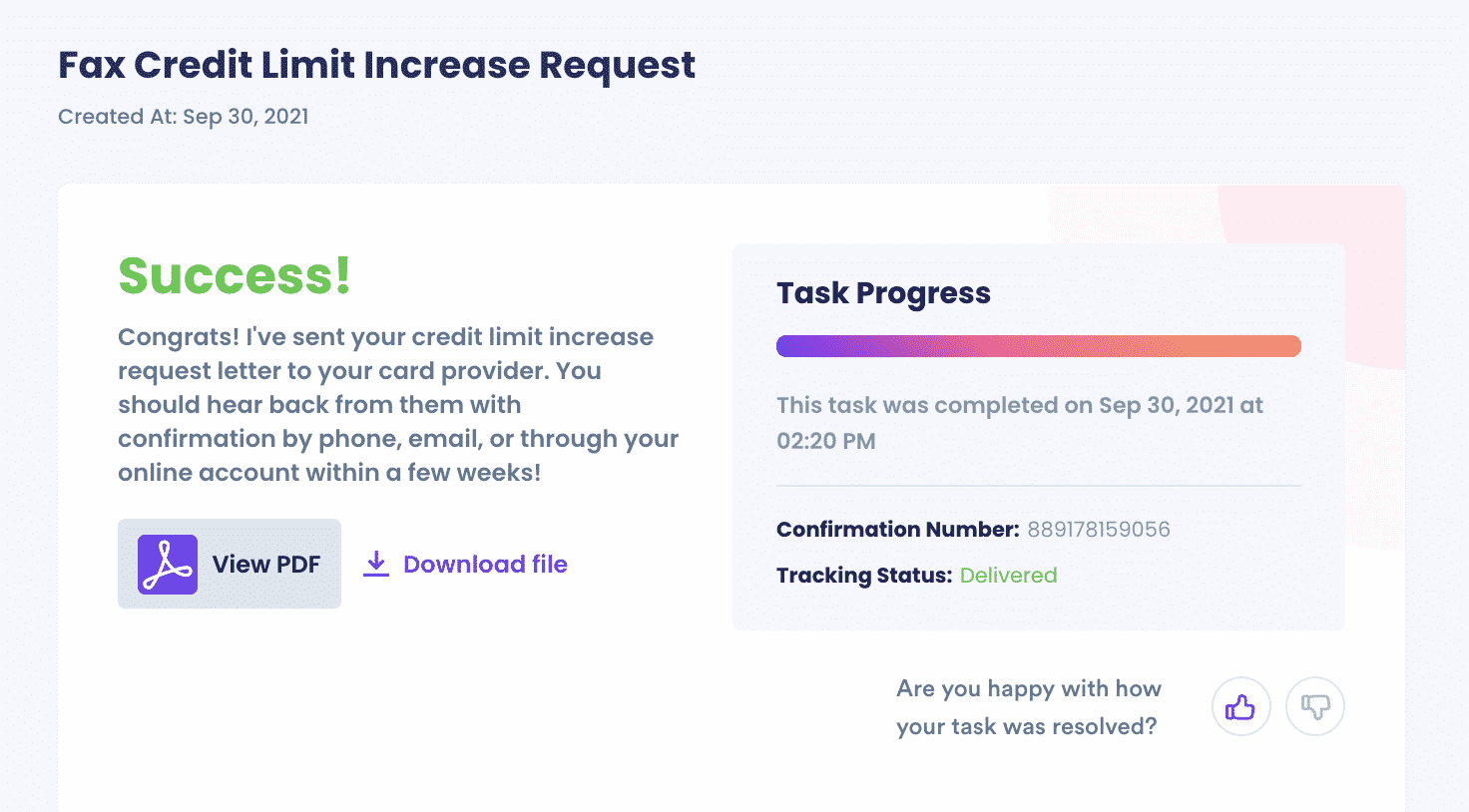 DoNotPay Works Its Magic Across All Banking Institutions
Our methods are just as effective with credit unions as they are with the major banks:
It's not just banking that DoNotPay can help you with, either. Having begun as a streamlined process for defeating parking tickets and similar nuisances en masse, DoNotPay grew to just as easily tackle bigger and more difficult institutions over time.
We help people in New York just as well as we help people in Wyoming – we flex our capabilities in every state and in every industry where American consumers need it most.
If boosting your credit limit is on your plate, consider also streamlining the dispute and removal of collections from your credit report, and other credit-boosting measures. We do all this and more for people in an extremely wide variety of circumstances, every day.
What Else Can DoNotPay Do?
There's so much more to life than contending with the paperwork and legalese. Use DoNotPay to handle all of your financial needs:
And so much more. DoNotPay is your full-time, overtime advocate for all matters big and small.