Quick and Easy Way to Get an Indigo Credit Limit Increase
A higher credit limit has many benefits other than the ability to spend more. You also do not have to worry about fee payments or maxing out the balance. The best part about a higher credit limit is improving your credit score. Are you stuck with a stagnant low credit limit? This article will show you how to get an
The advantages of a higher credit limit:
It minimizes the risk of spending above your credit line, damaging your credit score, and incurring fees.
It reduces your credit utilization and calculates it as your spending or credit limit. The limit improves your overall credit score.
It enables you to receive emergency funds and make large purchases.
The DoNotPay app is an AI-powered services app that can help you get an Indigo Limit increase.
Who Can Request a Higher Credit Limit?
If you recently acquired a card, hold a secured credit card, and have had a recent credit decrease or increase, you cannot get a credit increase.  The card issuers and banks consider several factors when you make a credit limit request, such as:
Credit history
Delinquent or on-time payments
Your income
Your credit score
Hard inquiries (hard pull) happen when you apply for a new credit line, such as a loan or credit card. It implies that the creditor has asked for your credit file to gauge whether you pose a risk.
Your utilization rate
When Can I Request a Credit Limit Increase From Indigo?
The  goes up to $300 and might go lower because of the fees. For an account with a $59 annual fee, you might initially get a credit limit of $241 because of maintenance and setup fees. The low limit makes running a high utilization rate easy, which hurts your score. If you use your card diligently and make payments on time, you can ask for a credit limit increase from Indigo in six months.
Things to Consider Before Requesting a Credit Limit Increase From Indigo
Before you request a credit limit from Indigo, consider these factors:
| | |
| --- | --- |
| Timing | If you recently lost your source of income or have not paid the monthly payments diligently, it might be best to hold out until you are in a better position. |
| Hard Pull | If you request to increase your credit limit, you trigger a hard inquiry or hard pull on your credit report. The hard pull can negatively impact your credit score if you have made inquiries recently for a line of credit or loans. |
| Credit Score | Indigo requires you to have a credit score of between 300 and 579. While Indigo is for people who are building their score, this score is the minimum they require. You also need to have a good history of paying bills. |
This process of following up with the credit card for a limit increase is tiring. At this point, DoNotPay comes in to save the day and do all the hard work for you.
Indigo: Do They Ever Increase Credit Limit?
Some credit card users say Indigo never increases the credit limit, no matter how long you use the card. However, it is not impossible as some have received credit limit increases.
How Do I Request a Higher Credit Limit?
If you continue using your card responsibly and paying diligently, you may get a credit limit increase in six months. However, you can ask them directly.
However, Indigo has no documented process by which you can increase your limit, which is quite frustrating. All the more reason why you should use DoNotPay! The app will apply for the credit limit on your behalf.
However, you can reach their customer support at 1-866-946-9545. The customer service only works during select hours, from 6 am to 6 pm, seven days a week.
How Can DoNotPay Help?
Through DoNotPay's Credit Limit Increase product, we'll handle the request for you and make sure your credit score isn't affected without your permission.
How Does It Work?
We'll ask you a few questions about your current card, income, employment status, and more. We then send a formal request to Indigo to ask for a limit increase.
Here's How You Can Get Started:
Go to the Credit Limit Increase product on DoNotPay.

 

Select which type of card you own and your credit provider.

 

Tell us more about your card, such as when you first created this card, your current credit limit, what you would like your new limit to be, your card number, and whether you've missed past payments.

 

Tell us more about your current income and expenses and why you would like to request a limit increase.

 

Indicate whether you want to allow hard inquiries to be made into your credit history. Upload a copy of your ID and provide your e-signature.

 
Submit your task! DoNotPay will deliver the request letter on your behalf. You should hear back from the card provider with confirmation or a request for more information within a few weeks.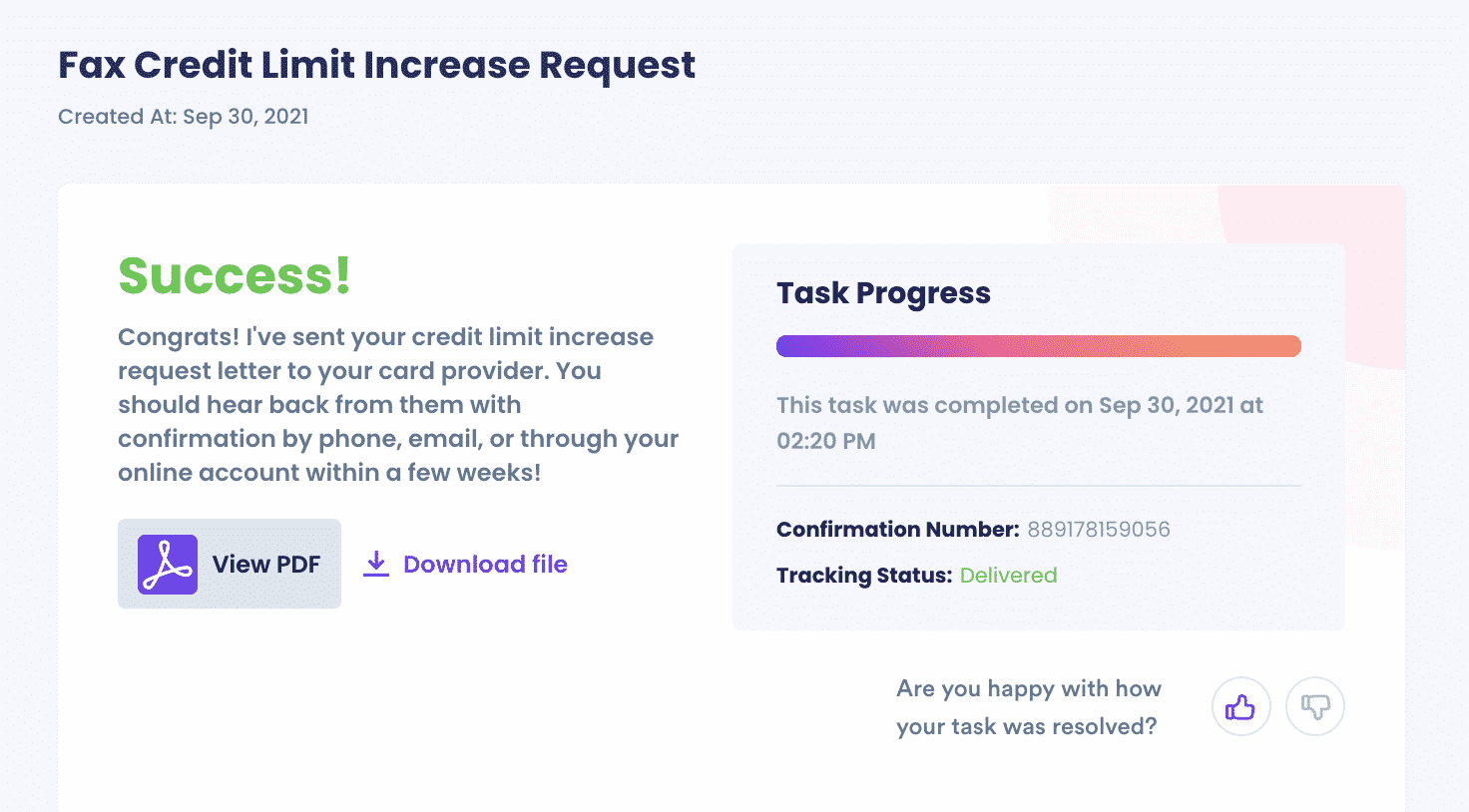 Why Use DoNotPay to Get an Indigo Credit Limit?
Since the company does not have a documented process of applying for a credit limit, using DoNotPay gives you a better chance at success. DoNotPay (DNP) is:
Fast: You do not have to spend hours, days, and weeks trying to get a credit limit increase from Indigo. We'll do it for you.
Easy: You do not have to struggle with filling out tedious forms. In the case of Indigo, they do not have a documented process, and you don't have to struggle to find out what to do.
Successful: You can rest easy knowing DNP will make the best case for your Indigo credit limit or even for your Wells Fargo and Chase credit limit.
What Else Can DoNotPay Do?
Try the DoNotPay app for those annoying and time-consuming problems you encounter. It will be the best decision you have ever made! Fast, reliable, and straightforward! Do it today.