HughesNet Rebate: Save Money on Your High-Speed Internet Service
High-speed Internet has come to be seen as somewhat essential to everyday life for most people these days. Without high-speed Internet, most of us would be in the dark ages as far as our ability to stay connected with the wider world. Fortunately, high-speed Internet is largely available in most areas, but that doesn't mean it is affordable for everyone. As it happens, high-speed Internet is very expensive to many people, and that is why it is so critical that anyone who can receive a HughesNet rebate takes full advantage of it. DoNotPay has come to the table to help people see how a could work to their advantage, and we want to ensure that everyone who wants to get that rebate has access to it.
What Is the HughesNet Rebate Offer?
The current offer is a $100 mail-in rebate for new customers who sign up for HughesNet.
The company is attempting to reward those who sign up for their service by giving them this nice discount to go with their brand-new Internet service. The hope from HughesNet is that this generous offer will spur some users to make the switch right away so that they can start to take advantage of the tremendous offerings that HughesNet has available for those new customers right now.
What Steps Are Necessary to Receive This Offer?
There are two main ways to claim a rebate: manage the process yourself, or use DoNotPay. Here's a quick look at what to expect:
Claiming Your HughesNet Rebate on Your Own
The customer will have to go through a number of steps to receive their offer. These steps include:

Retain invoices from two months of HughesNet service (proof of purchase)
Send those invoices to the HughesNet rebate center
Wait 8-10 weeks to receive your check in the mail

It is a lengthy process to get your money, but at least you will receive back a nice sum of your money that has gone into purchasing the service in the first place. This makes the deal worthwhile to a lot of people.

Using DoNotPay
Complete our quick, online process. It's just three steps. Then our robo-lawyer will process the information, communicate with HughesNet, and ensure you receive your rebate payment on time. Learn more about the process below.
Who Is Eligible to Receive the Rebate?
Not every HughesNet customer is eligible to receive the rebate. There are specific stipulations put out to help sort out which customers will actually get this rebate or not. If you do not qualify for it, then you will simply have to sit this one out. The qualifications at this present moment are as follows:
You must show at least two months' worth of invoices from HughesNet (i.e., you must have been a customer for at least two months).
Your account must be in good standing at the time that you apply for the rebate.
You must be a new customer of HughesNet (upgrades and new equipment purchases do not qualify).
If you can meet these standards, then you should be able to receive your rebate. The trick is to make sure you hold on to every piece of paperwork that you receive from the company so you can show where you have been a good and loyal customer. That is exactly the type of customer behavior they want to reward.
DoNotPay Helps Make It Easier
DoNotPay has frequently been complimented on its ability to help people solve some of life's annoying problems. Applying for and receiving rebates definitely falls into that category. It is no surprise then that DoNotPay has gone out of its way to make sure they supply people with the tools that they need to take care of rebate issues and get these problems knocked out extremely rapidly.
Here's how it works:
1. Search rebates on DoNotPay and select the type of rebates offer you want to claim (is it for a car, electronic gadget, household appliance, etc).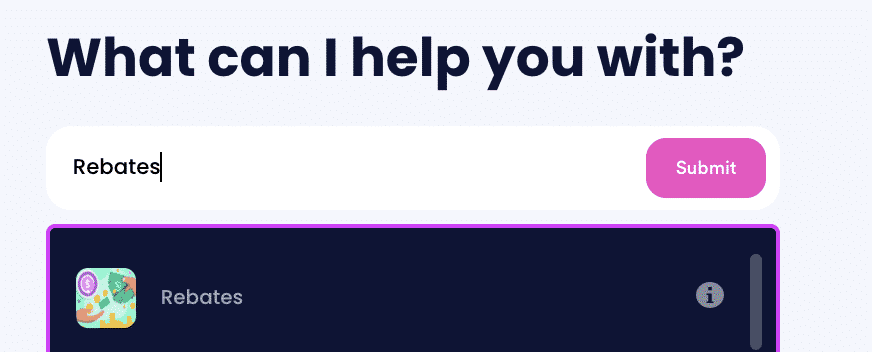 2. Tell us more about the purchase, including the product name, brand, serial number (if relevant), and whether you bought it online or in-person.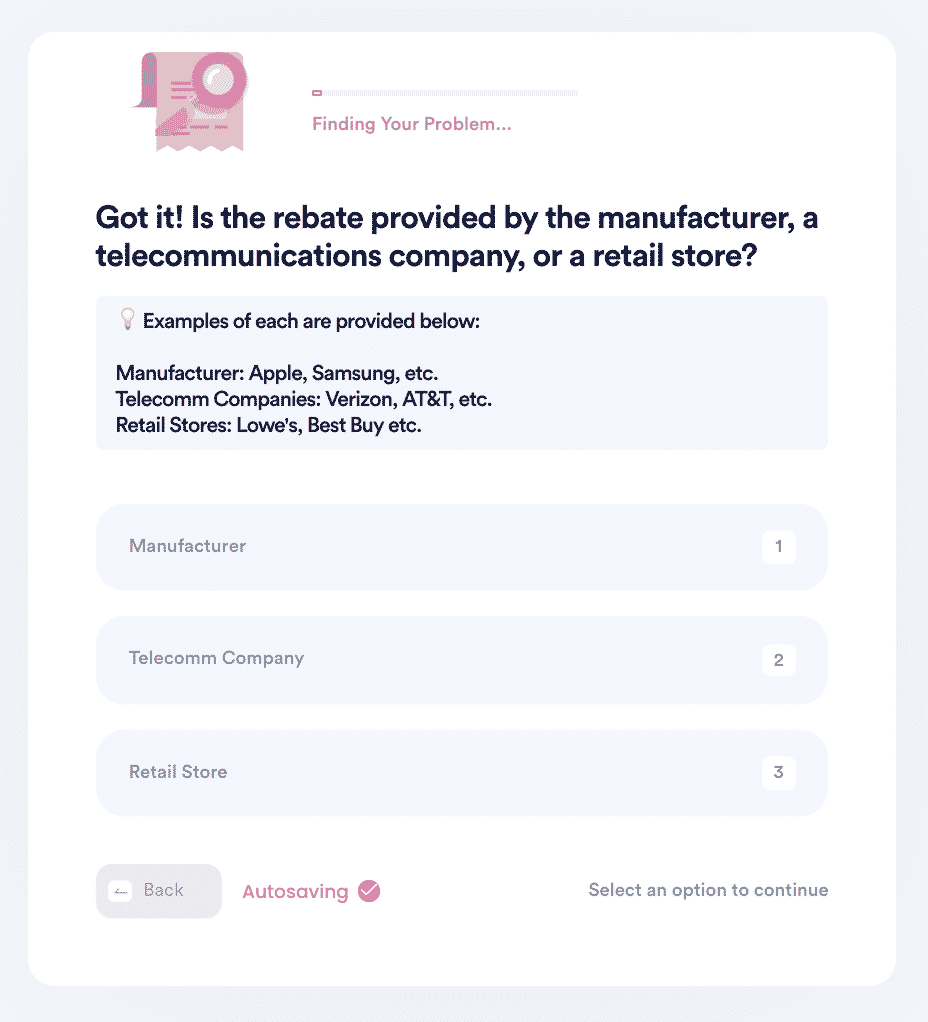 3. Select whether the rebate is online or mail-in. Upload your evidence documents, including receipts, and any necessary forms, and confirm your contact information.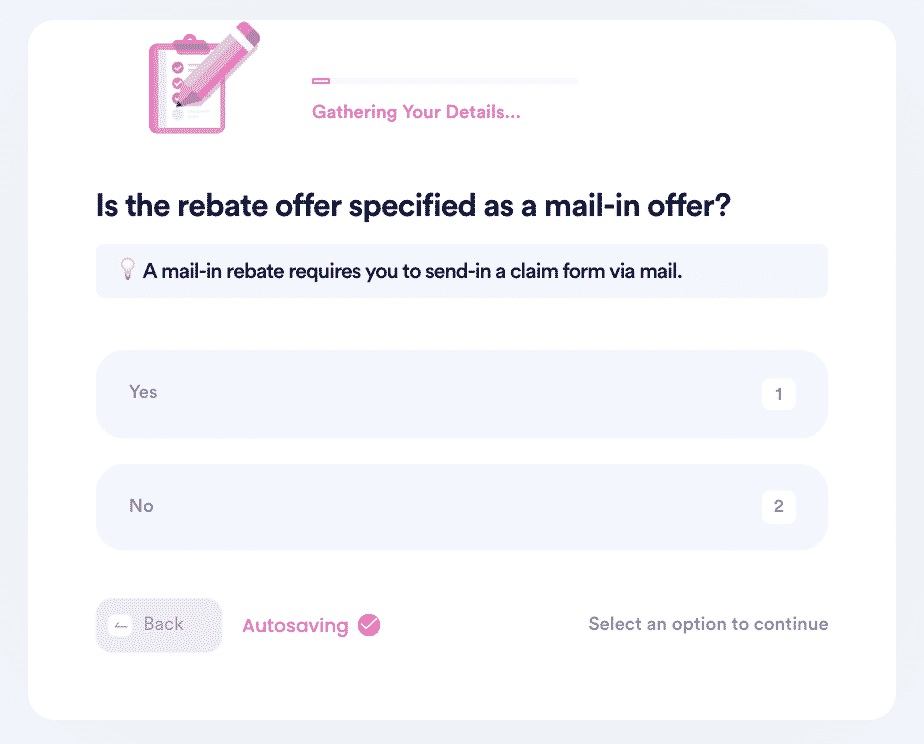 And that's it! DoNotPay will file your rebate claim on your behalf by mail or online, depending on the rebate campaign. You should receive your rebate by check within 30 days.
What Else Can DoNotPay Do?
DoNotPay is here to help with all of your rebate claims. Our online solution can help with:
What Is DoNotPay Doing Outside of Rebate Work?
DoNotPay has several dozen different tasks that they help people with every day. The team is always researching new ways to add value to the lives of those they serve, and they already help in the following ways:
Take almost any service that you don't want to deal with, and you can find help managing that service through a program provided by DoNotPay. We just want to serve people by making life a little easier. Our slate of offerings surely does that, and we want to hear more feedback from customers about even more ways that we can be of service. Check out what we are all about today, and start saving on time, frustration, and money!