How to Get a Credit Limit Increase With AMEX BEC With DoNotPay
When you use your credit cards responsibly, it has many benefits. Having a higher credit limit on your credit card can give you more spending power, as well as reduce the chance that you'll max out your credit card. Or perhaps you want a higher credit limit only for emergencies. When you keep credit card balances low and have a higher credit limit, it improves your credit utilization ratio, which can help improve your credit score. If you want to learn , then DoNotPay is here to help.
About American Express Blue Cash Everyday Card
American Express has a variety of credit card lines. The Blue Cash Everyday Card is a credit card that gives cashback on everyday purchases with no annual fee and other benefits.
Cash Back Rewards
3% cashback on groceries purchased in U.S. supermarkets (up to $6,000 per year in purchases, then 1% cashback)
2% cashback on gas at U.S. gas stations
2% cashback at select U.S. department stores on eligible purchases
1% cashback on other eligible purchases
You can also earn cashback for other spending--such as your monthly phone bill, etc.
Your cashback will be received as "Reward Dollars" that can be redeemed as a credit towards your statement.
Additional Benefits
Other benefits of the Blue Cash Everyday Card include:
Amex Send & Split -  allows you to send money and split purchases with PayPal, Venmo, etc.
Fraud Protection - No deductible, and you won't be held responsible for fraudulent charges.
Pay It Plan It - Helps you control how you pay
Accelerated Cash Back - Add additional cards for other individuals (such as a spouse), and their purchases will earn rewards as well.
How to Get a Credit Limit Increase With AMEX Blue Cash Everyday Card on Your Own
The process for increasing your credit limit is pretty standard for most credit card companies. You can wait for a potential offer or request a limit increase on your own.
Receive an Offer for a Credit Limit Increase
Responsible credit history can lead to receiving offers for a credit card limit increase. This will show you are a responsible card user and can potentially handle a higher credit limit. Your best chance of receiving an offer will happen when you:
Use the card frequently
Pay your bill on time
Keep your balance low
Pay off your balance
Request a Credit Limit Increase
You can request a credit limit increase directly. You'll probably be required to give personal information again--including employment status, gross income, and mortgage/rent payment amounts. To request an  or credit line increase:
Log in to your American Express Account
Click "Increase Line of Credit"
Your account must be open for at least 60 days before you can request a credit limit increase.
Let DoNotPay Request Your American Express Credit Limit Increase
Instead of waiting around and hoping for a credit limit increase or trying to request one yourself, DoNotPay has an alternative solution for getting an American Express credit limit increase. We can easily start the process right now on your behalf.
How to request higher credit limits using DoNotPay:
1. Go to the Credit Limit Increase product on DoNotPay.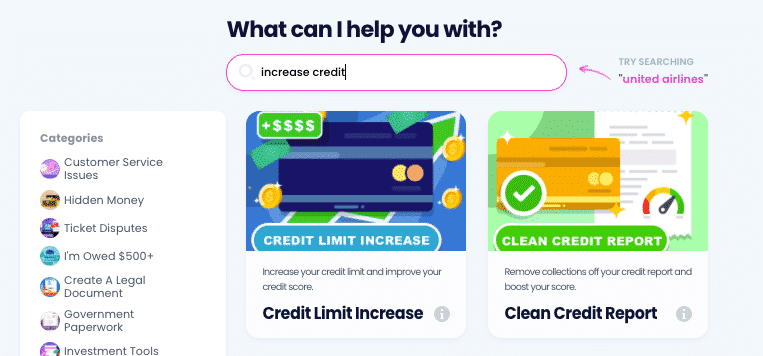 2. Select which type of card you own and your credit provider.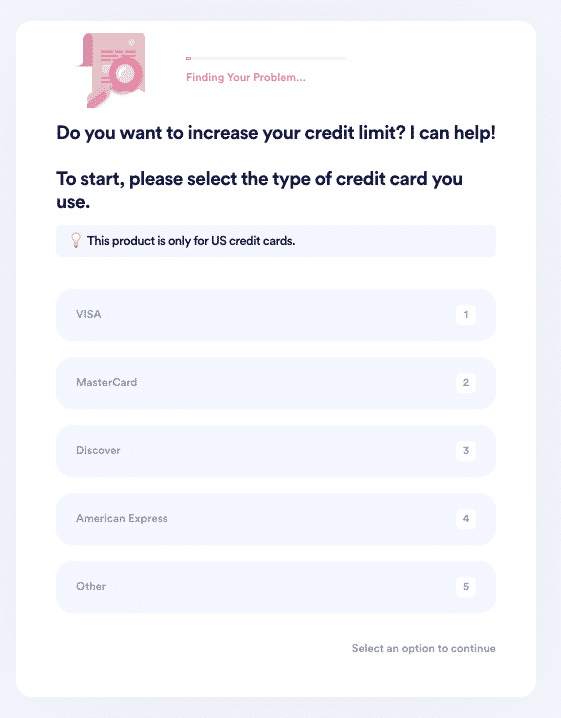 3. Tell us more about your card, such as when you first created this card, your current credit limit, what you would like your new limit to be, your card number, and whether you've missed past payments.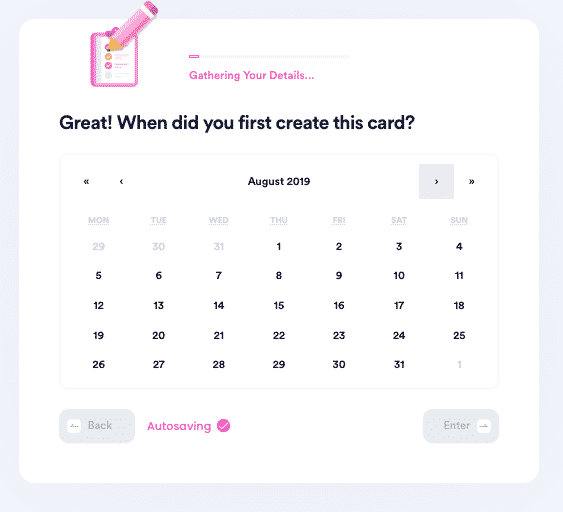 4. Tell us more about your current income and expenses and why you would like to request a limit increase.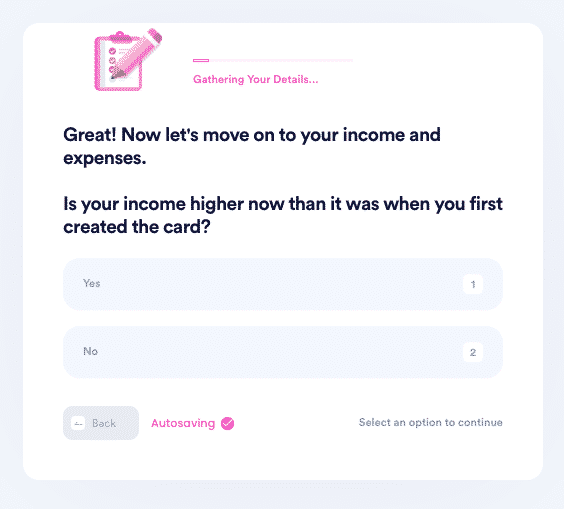 5. Indicate whether you want to allow hard inquiries to be made into your credit history. Upload a copy of your ID and provide your e-signature.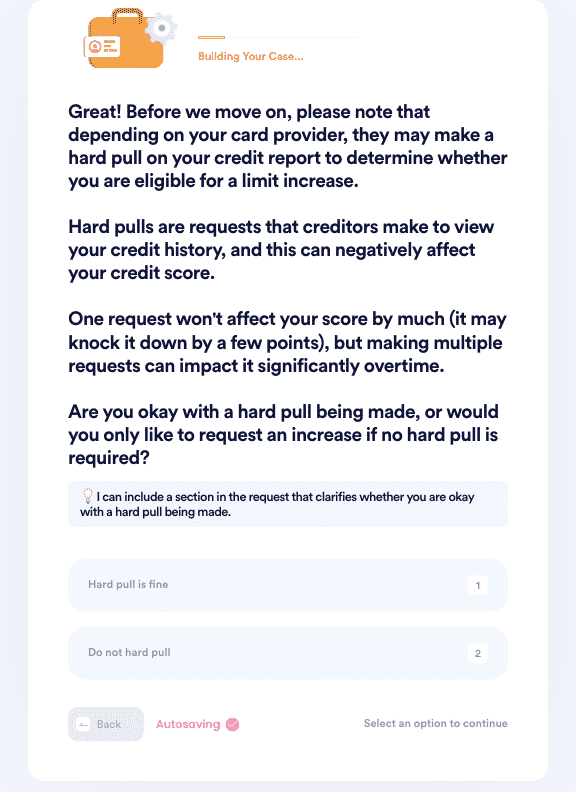 6. Submit your task! DoNotPay will deliver the request letter on your behalf. You should hear back from the card provider with confirmation or a request for more information within a few weeks.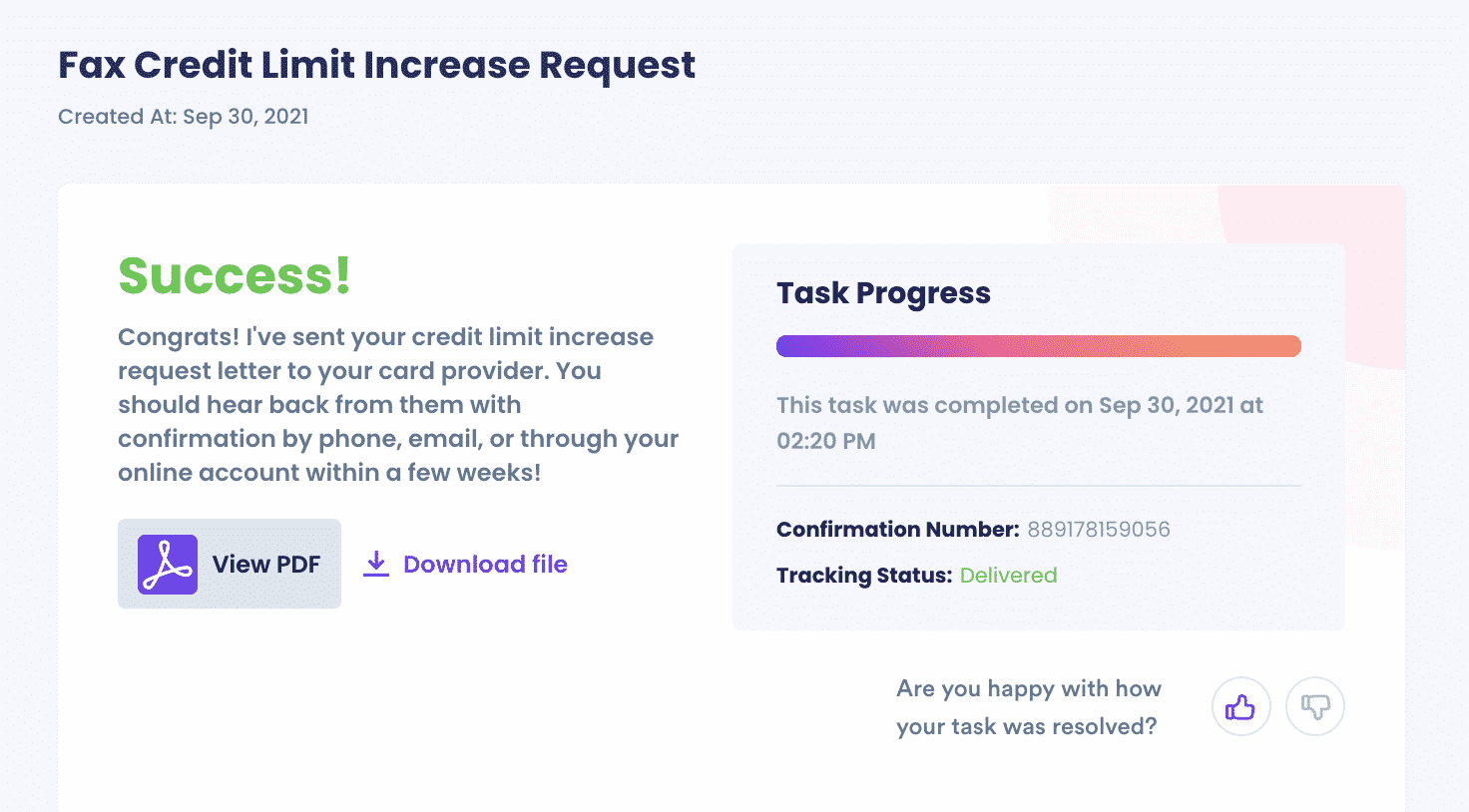 Why Use DoNotPay?
DoNotPay makes requesting a credit limit increase fast, easy and successful! We can help you quickly request credit limits for store credit cards or any other credit card.
Our services are professional and efficient, and we will always make the best case for you.
What Else Can DoNotPay Do?
Not only can we help you request a credit limit increase, but DoNotPay also has a history of assisting people in solving a variety of problems, including:
No matter what your problem or concern, DoNotPay is here to help.