The Best Hotel Upgrade Trick for Your Next Trip
Staying in a nicer hotel room can help you sleep better and enjoy your trip more. Everyone hopes to figure out the best to enjoy a better room without spending too much. Asking for an upgrade can seem like a confusing and sometimes secretive process, but in reality, it can be quite simple.
Rewards programs and travel credit cards can help frequent travelers qualify for automatic upgrades. In many cases, simply asking for an upgrade is the easiest way to get one. Still, figuring out how to do so can be overwhelming. Here's what you should know about hotel upgrades.
Types of Upgrades Available
There are a wide variety of factors that make one hotel room better than another, and an upgrade can consist of any of them. Being open- minded about the type of upgrade you're interested in can sometimes get you better results. Some common include:
| | |
| --- | --- |
| Views | Depending on where the hotel is located, views can include a city skyline, the ocean, mountains, or any other beautiful scenery in the area. |
| Bigger Rooms | Hotel rooms come in a range of sizes, and staff usually have the discretion to move guests into larger ones. |
| Suites | Hotel suites are luxurious and comfortable, but usually very expensive. Moving from a room to a suite is a great upgrade option. |
| Bigger Beds | Moving from a full or queen to a king-sized bed can be an excellent upgrade to sleep more comfortably during your stay. |
| Better Room Locations | Corner rooms may be larger or have better views. Rooms on higher floors are usually quieter, and rooms farther away from elevators and ice machines tend to be more peaceful as well. |
How to Get a Hotel Upgrade on Your Own
Just Ask Nicely
Sometimes the easiest way to get an upgrade is to simply ask for one. If you're celebrating a special occasion during your trip like a birthday or anniversary, hotel staff can be especially willing to upgrade your room.
While it is possible to have success with this method at check-in, contacting the hotel ahead of time is usually the better option. Look up the hotel's general manager's contact information, and send an email asking for the upgrades you'd like. It's also a good idea to include information about the special occasion you're celebrating and whether you're a member of a loyalty program.
Tip at the Front Desk
A popular trick for getting a hotel upgrade is slipping a $20 bill between your credit card and ID at check-in as a tip for the front desk staff member. While there's no guarantee that you'll get results, front desk employees will usually try to help you if they take your money.
While this can work anywhere, travelers report especially good results in Las Vegas . Hotels there have a large variety of room sizes, and staff tends to have a lot of discretion for modifying reservations and offering upgrades.
Book Directly
If you're going to ask hotel staff for an upgrade, it's important to make your reservation directly through the hotel. Hotel employees usually can't change reservations made through third-party booking sites. Working with the hotel directly will give you the most possible flexibility in asking for an upgrade.
Loyalty Programs
Just about every hotel chain will have some sort of loyalty program that rewards frequent stays. Getting to at least the middle-status tier in a loyalty program usually comes with automatic free upgrades when the upgraded rooms are available.
Four popular loyalty programs are:
World of Hyatt
IHG Rewards Club
Marriott Bonvoy
Each hotel chain has its own tiers and the required number of nights stayed to qualify for automatic upgrades, so you'll need to check with your preferred hotel group to see how its loyalty program operates.
Credit Cards
There are a variety of both hotel-branded credit cards and general travel rewards credit cards that can make it easier to get hotel upgrades. Some hotel cards come with automatic elite status, and any travel rewards card will make earning rewards points faster.
Some popular hotel-brand cards include:
American Express Hilton Honors Aspire Card
World of Hyatt Credit Card
IHG Rewards Club Premier Credit Card
Marriott Bonvoy Brilliant American Express Card
Two excellent general cards that offer hotel benefits:
Chase Sapphire Preferred Card
American Express Gold Card
If you're loyal to a particular hotel chain, getting that brand's credit card is usually the best option. If you stay in lots of different hotels, a more general travel card will usually be a better choice for you.
How DoNotPay Can Help You Get a Hotel Upgrade
Achieving elite status in a hotel rewards program requires frequent travel and loyalty to a particular hotel group. This means that for many travelers, asking directly is usually the best option. If you're hoping to do this ahead of time, you'll find that getting in touch with the hotel's general manager can be challenging. Employee contact information isn't always readily available to the public. Instead of spending hours looking through the hotel 's social media and trying to come up with an email address, let DoNotPay's fast, easy and successful system request your upgrade for you.
How to get a hotel upgrade using DoNotPay:
If you want to get a hotel upgrade but don't know where to start, DoNotPay has you covered in 4 easy steps:
Enter the name of the hotel you're staying at, including the location.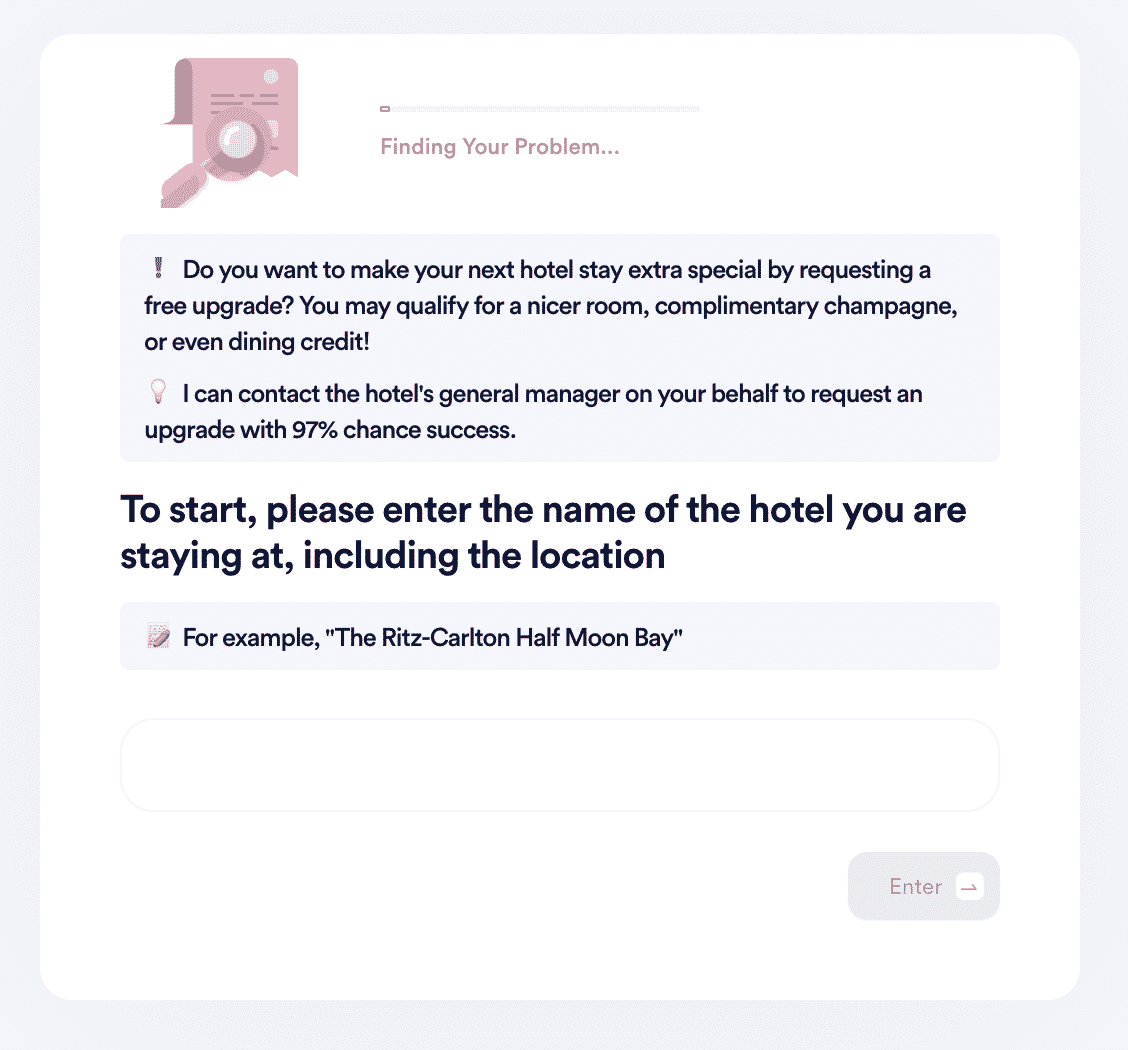 2. Tell us the dates of your stay, who you're staying with, whether it's your first time, and whether you're a loyalty rewards member at the hotel.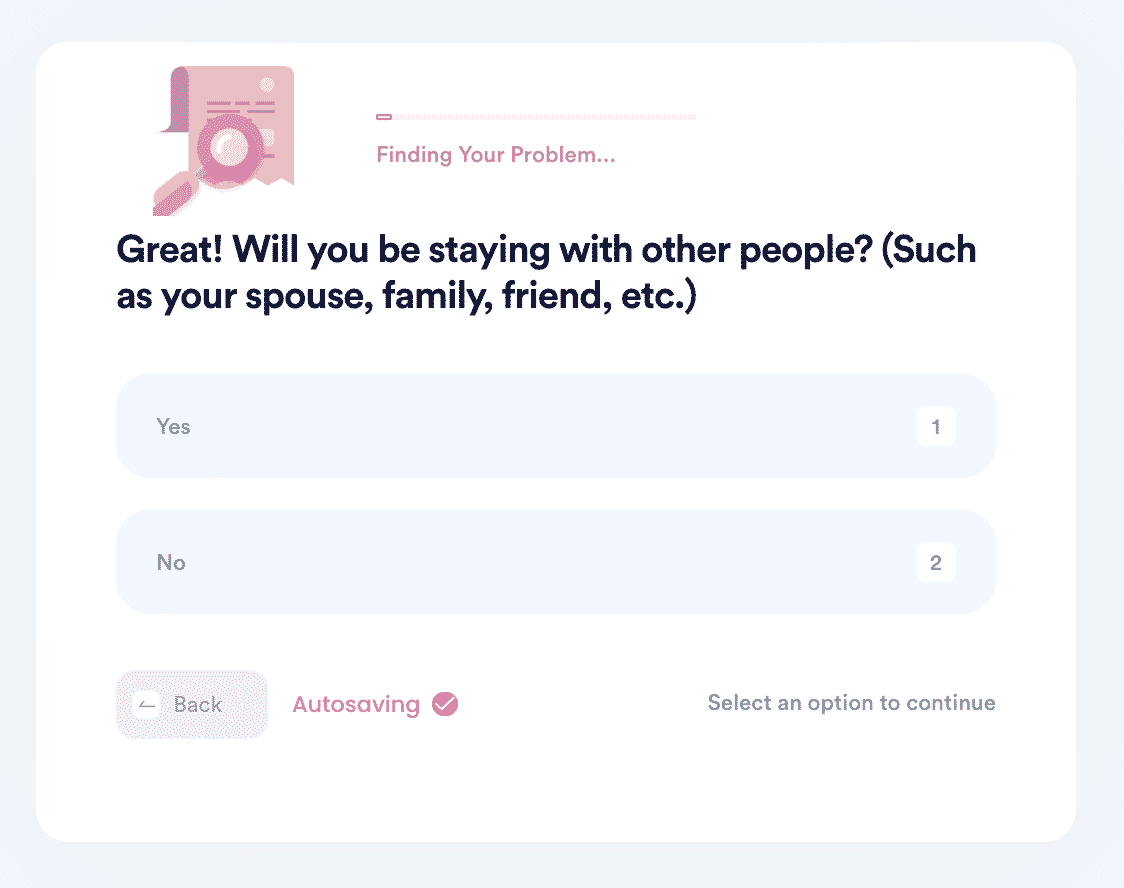 3. Tell us if it's a special occasion (birthday, anniversary, etc.) and any specific upgrades you want to request.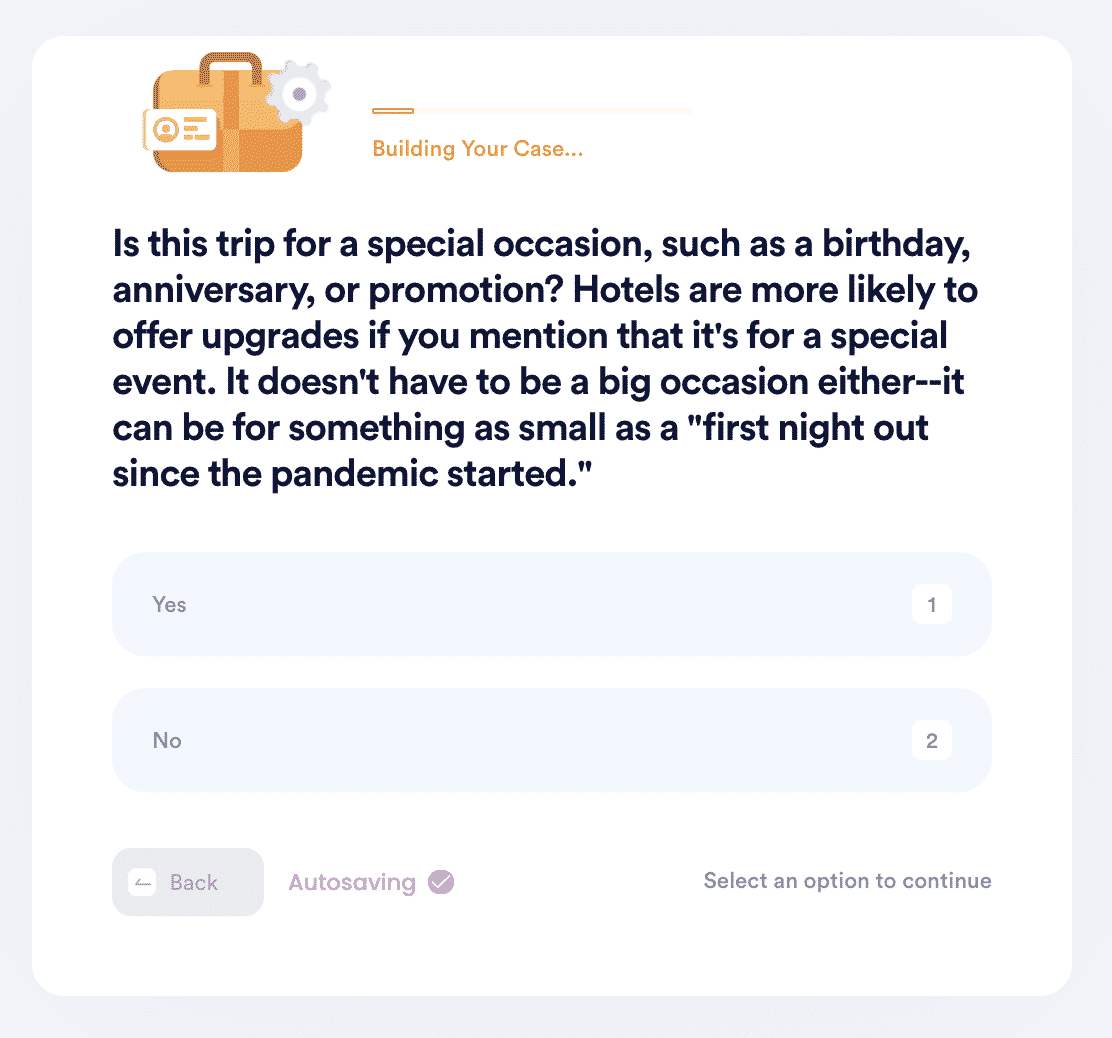 4. Tell us your current room and confirmation number.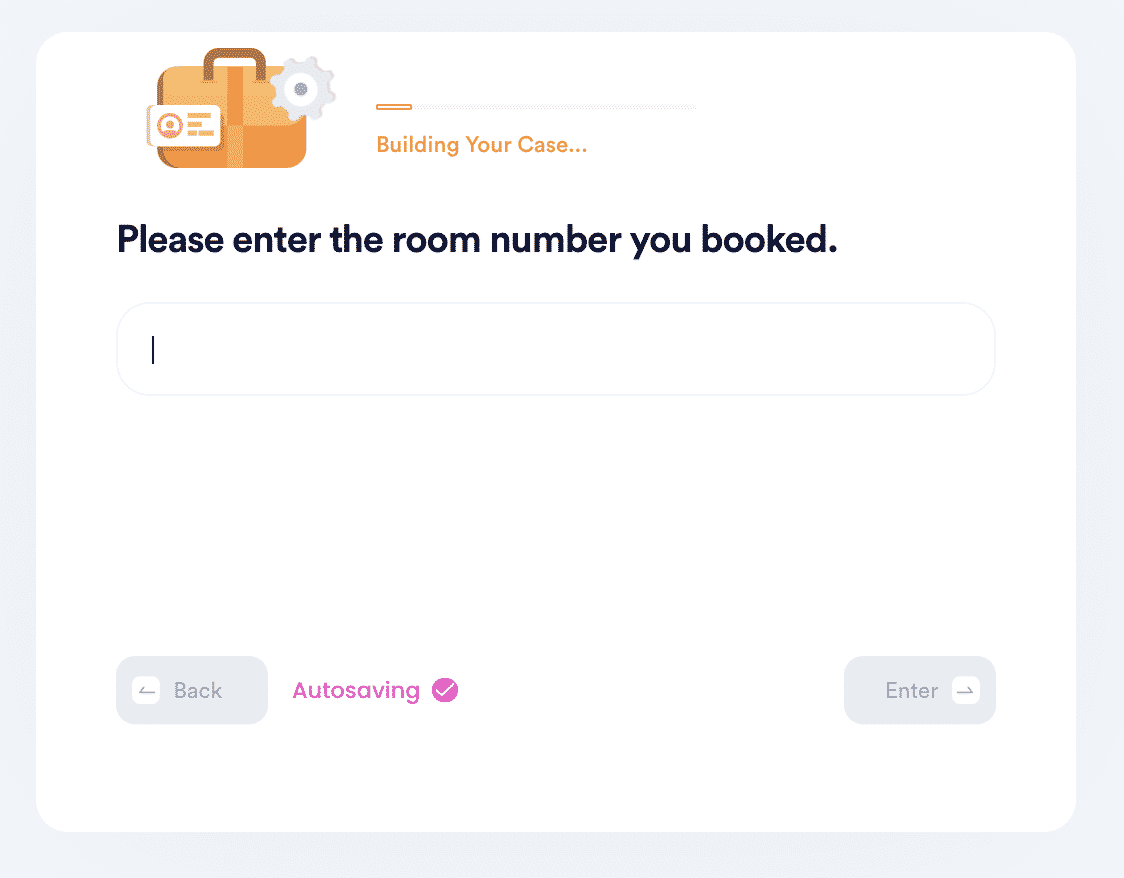 Get in touch with DoNotPay today to upgrade your next hotel stay.