Instructions on Home Depot Credit Limit Increase
Do you need to increase your credit limit with your Home Depot credit card? Starting off with a lower-than-desired credit limit is, unfortunately, not uncommon.
If this is the case, you might have already embarked on a journey to increase your credit limit with Home Depot. Unfortunately, many credit card issuers can make it difficult for consumers to request a  credit limit increase and successfully get it.
For starters, finding the right information to get a limit increase doesn't always come without hindrances. Some companies either make it difficult for you to find the appropriate information on limit increases or want you to call and talk to one of their customer service representatives to see about initiating the process.
At DoNotPay, we want to make it easy and fast for you to request a credit limit increase with your Home Depot credit card. We're going to show you what steps to follow to increase your limit and how using .
Credit Limit Increase Process
The process of a credit limit increase depends on the credit card company you want the increase with. Some companies will automatically give you a limit increase after making so many on-time payments. Other companies allow you to request a credit limit increase at your convenience through one or a few methods. But regardless of which company you are requesting an increase with, all credit card companies follow basic financial guidelines that qualify you.
DoNotPay can also help you increase your credit limits with the following:
Financial Behavior
Your credit card issuer will examine your behavior from the point at which you were approved for your credit card. Ultimately, how you are as a paymaster will determine whether you can successfully get a limit increase. Some factors that determine a credit limit increase include:
Number of missed payments
Frequency of payments
Your current card balance
Income
Credit score
Credit Pull
Another important thing to keep in mind is that your credit card issuer will need to pull your credit report. No matter how great of a paymaster you are, a credit pull is needed to process your request. There are two types of pulls that you may receive from a creditor: soft and hard.
Soft pull.

A soft inquiry occurs when an authorized person checks your credit report. A soft inquiry doesn't affect your credit score because it isn't attached to a specific application.
Hard pull. A hard inquiry is when a company or lender requests to view your credit report. This type of inquiry will affect your credit score.
About Home Depot
Home Depot is the world's largest home improvement company, founded in 1978. With over 2,300 stores across North America, they have three types of credit cards that consumers can take advantage of.
| | |
| --- | --- |
| Standard Credit Card | You can get a standard Home Depot credit card, which includes a promotional 0% interest rate and an annual APR of 17.99% to 26.00% once the promotion ends. |
| Project Loan Credit Card | Another credit card option that Home Depot offers is their Project loan credit card, which closely resembles a line of credit with a specific time at which you will need to pay the money back, depending on your application. |
| Commercial Revolving Charge Card | Their revolving charge card enables consumers to make low monthly payments or pay their balance in full every month. |
How to Request a Credit Limit Increase With Home Depot
If you want to increase your credit limit with your Home Depot credit card, there are a few steps to follow. You will need to email customer service, which can be found in their "Help & Contact Us" menu located at the top right corner of their website. From there, you will be able to express interest in increasing your credit limit. Home Depot states that those who are requesting a credit limit increase may be subject to an account and credit review.
Increase Your Home Depot Credit Limit with DoNotPay
If you're stuck with a low credit limit, DoNotPay can help. Having a higher credit limit comes with various benefits that consumers should be able to take advantage of.
In fact, a higher limit enables you to spend more, minimizes the risk of maxing out, and can even increase your credit score. Let DoNotPay request a credit limit increase for your Home Depot credit card on your behalf.
Through DoNotPay's Credit Limit Increase product, we'll handle the request for you and make sure your credit score isn't affected without your permission.
How Does It Work?
We'll ask you a few questions about your current card, income, employment status, and more and send a formal request to your credit provider to ask for a limit increase.
Here's how you can get started:
Go to the Credit Limit Increase product on DoNotPay.

 

Select which type of card you own and your credit provider.

 

Tell us more about your card, such as when you first created this card, your current credit limit, what you would like your new limit to be, your card number, and whether you've missed past payments.

 

Tell us more about your current income and expenses and why you would like to request a limit increase.

 

Indicate whether you want to allow hard inquiries to be made into your credit history. Upload a copy of your ID and provide your e-signature.

 

Submit your task. DoNotPay will deliver the request letter on your behalf. You should hear back from the card provider with confirmation or a request for more information within a few weeks.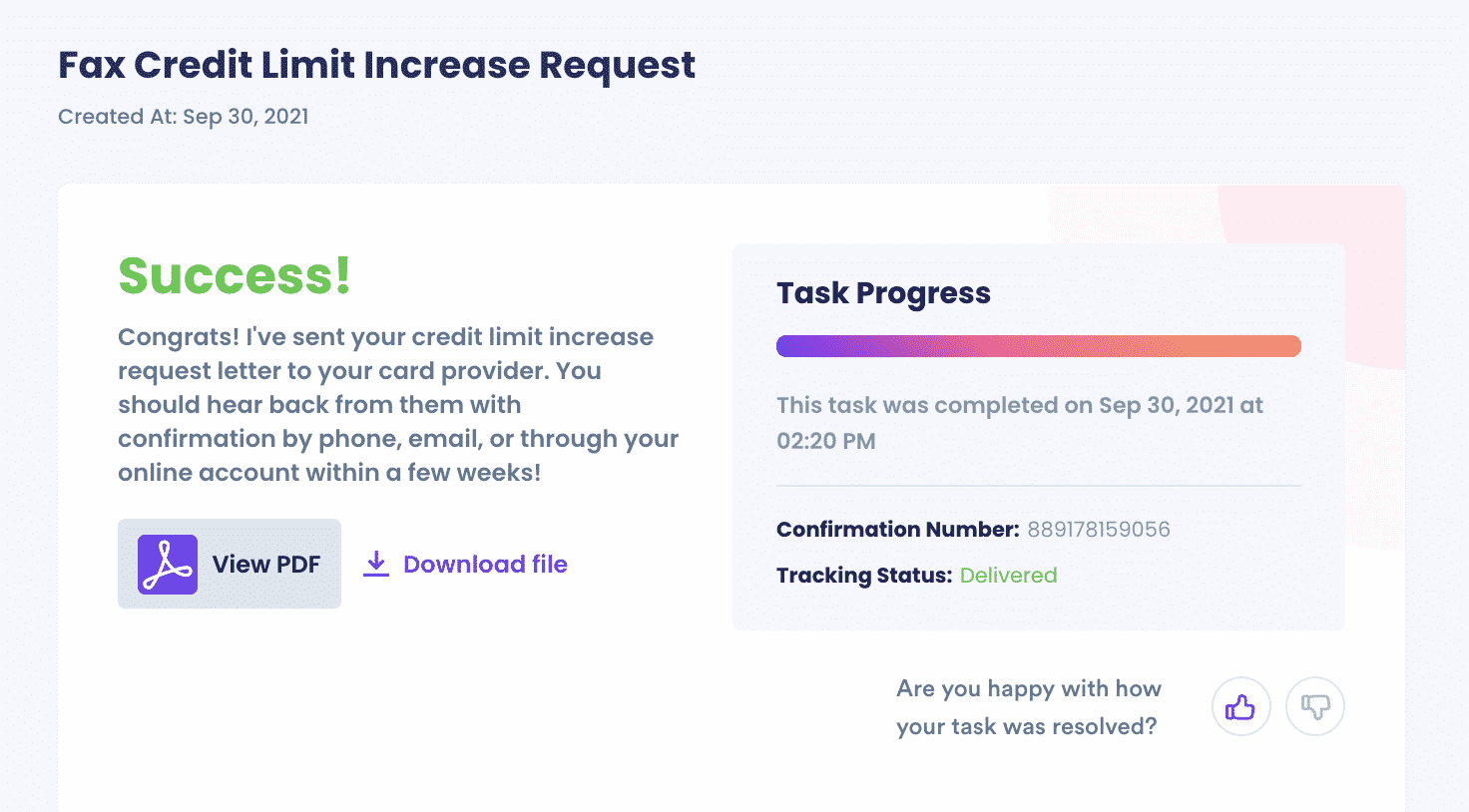 Are you ready to give your credit limit a quick boost? Give DoNotPay a try. We are fast, easy, and successful at helping consumers request a credit limit increase with their credit card issuer.
All you need to do is provide us with the information we need right from the comfort of your home, and we'll get the process started for you.  to get started with our product.