How to Find Free Dental Clinics in Little Rock, Arkansas
If you are looking for , then you are in the right place. It's a little-known fact that America has thousands of free dental clinics, with at least one in each state. While most clinics only cover basic procedures, they can be an excellent way to keep your teeth in good shape without having to pay for expensive plans or hefty out-of-pocket charges.
While there may be several affordable dentists with no insurance requirement, you may find trouble finding them or picking ones that fit your specific needs. However, don't fret. DoNotPay is here to help you all the way.
Free or Low-Cost Dental Care in Little Rock Arkansas
If you don't have dental insurance, there are government and non-profit organizations that can help. Some of the services provided include cleanings, checkups, dentures, caps, and braces.
Some of the that offer free, subsidized, and sliding fee services include:
Name
Services
Jefferson Comprehensive Care System – Open Hands Center
This clinic offers a sliding scale option. While they provide a form of financial help, the costs for dental services are primarily based on your income (as determined by federal poverty guidelines). You can contact the clinic directly to inquire about individual service fees, which vary. The clinic accepts both Medicare and Medicaid.
Shepherd's Hope Neighborhood Health Center
Shepherd's Hope is a Christian medical and dental health clinic serving the South Midtown neighborhood of Little Rock Arkansas. The clinic provides uninsured residents who could not otherwise access quality healthcare with inexpensive routine healthcare, acute dental services, and eye care. The clinic's team comprises Little Rock's most experienced medical professionals, clinic administrators, and supporting volunteers.

The Shepherd's Hope Dental Clinic accepts patients by appointment on Tuesday evenings between 5:30 p.m. and 8:30 p.m. Appointments are reserved for persons with acute dental conditions, such as moderate to extreme pain or abscesses, and those who have to undergo extractions. Although medical care is provided free of charge, you will be requested to pay a $5.00 registration fee on every appointment.

River City Ministries Dental
River City Ministries Dental is a faith-based non-profit offering dental care services to several groups. These groups include uninsured adults, people covered under Medicare or Veterans benefits, and people with income below 200% poverty. Dental care is provided by appointment, and you must make all appointments on Monday or Wednesday from 8: 30 am.
Harmony Health Clinic
Harmony Health Clinic in Little Rock is a non-profit offering free medical and dental care. Harmony Health Clinic aims to fulfill the healthcare demands of Pulaski County's uninsured and underprivileged residents by offering free high standard medical treatment.

Other clinics that offer free or reduced-cost dental care include Conway Interfaith Clinic and ARcare England Medical and Dental Clinic.
Who Qualifies for Free Dental Care in Arkansas?
Eligibility for free or low-cost dental care in Arkansas is pegged on several factors, including:
Lack of medical insurance.
Income Status.
Veteran Status.
Age (senior citizens are eligible in most clinics).
How to Find Free Dental Services Near You
Free Dental Services
You can look out for free dental services around you by searching for non-profit, charities, and NGOs that offer dental care. One of these organizations is United Way.
Low-Cost Dental Care
You can always scan for low-cost dental services from programs provided by dental schools, government clinics, and charities.
Clinical Trials
The National Institute of Dentistry periodically calls for volunteers with particular dental conditions to engage in research projects. This organization may provide you with low-cost or free dental care for your condition.
How to Find Free or Low-Cost Dental Services Near You With DoNotPay
Here's how you can use DoNotPay to find free dental clinics:
1. Search "dentist" on DoNotPay.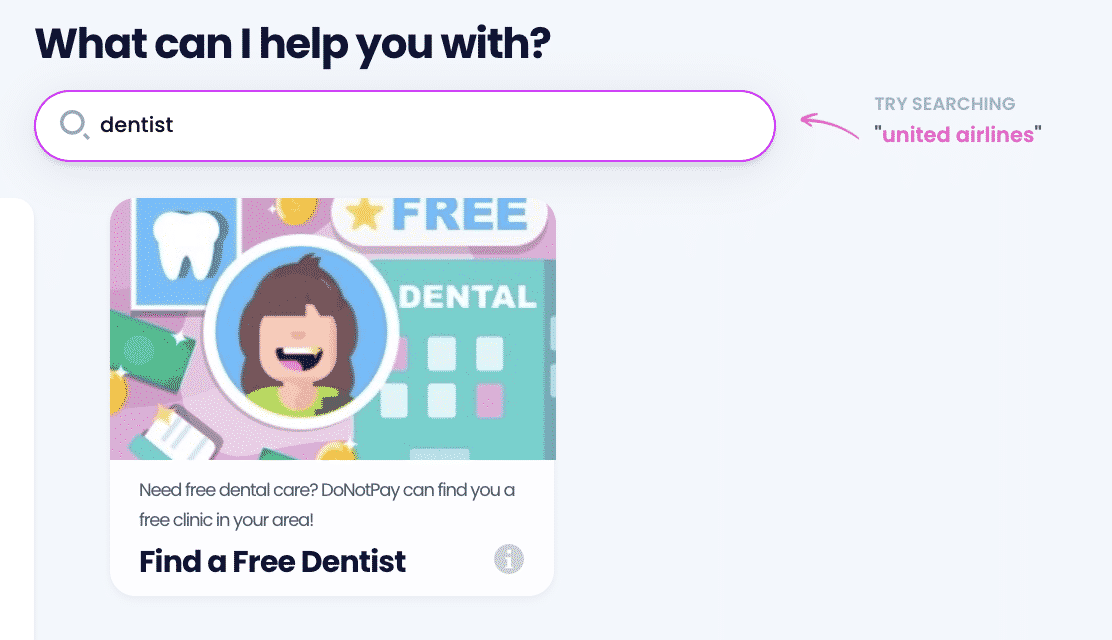 2. Enter your current address, so we can find the clinic nearest to you.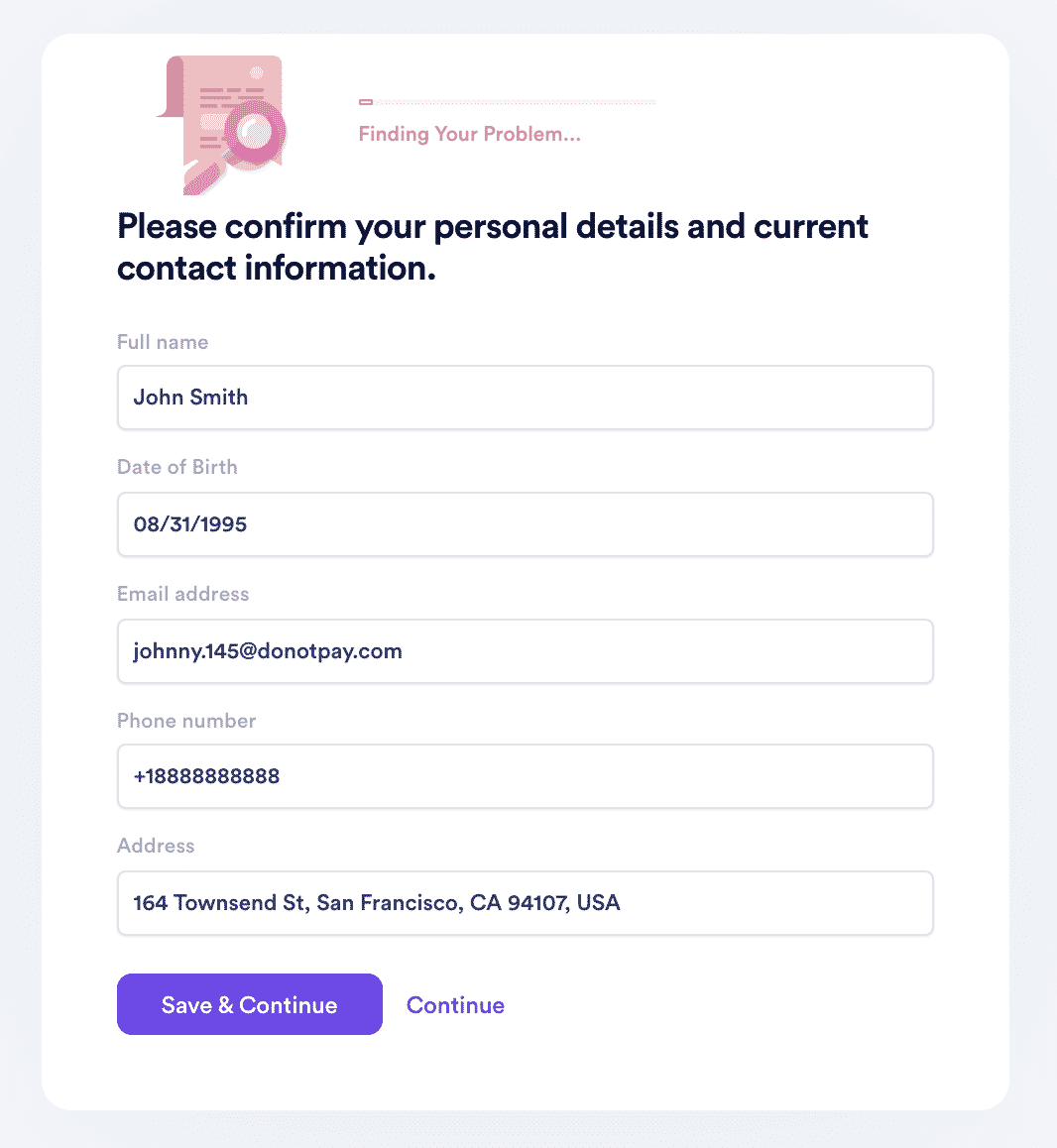 3. Select whether you would like to ask a question about your eligibility, receive a quote for a specific procedure, or set up an appointment.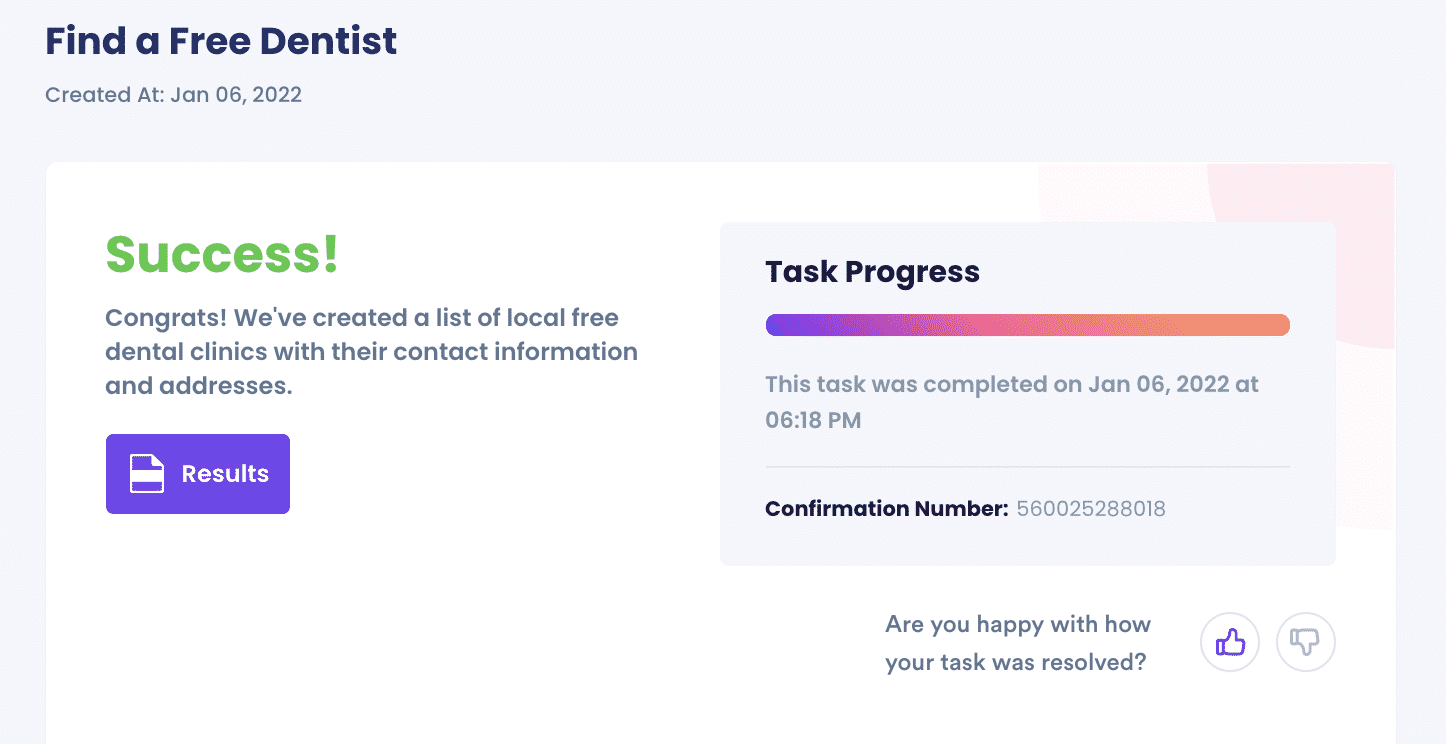 And that's it. DoNotPay will contact the clinic on your behalf and get back to you with the information you requested.
Why Use DoNotPay to Find Free/Low-Cost Clinics Around You?
Fast: We will quickly provide location-specific solutions.
Easy: You don't have to scan multiple websites to find the right pick. We will do everything for you, right from determining eligibility to booking appointments.
Successful: Our experienced team will ensure you find the best fit for your dental needs.
Affordable: Our service charge for finding free or low-cost dental clinics in Litle Rock, Arkansas, is pocket-friendly.
Smart: We will scour every nook and cranny to find the best affordable dental care for you.
DoNotPay Works Across All Companies
DoNotPay will not only help you in Little Rock, Arkansas but also across several other jurisdictions in the US, including Fort Lauderdale and St. Louis, Missouri. We can also help you find cheap dental clinics around you.
What Else Can DoNotPay Do?
Along with helping you find a low-income dentist, we can offer support as you:
These are only some of the consumer services DoNotPay can help you with. Reach out to us today to secure your oral health.