How to Find Free Dental Clinics In Winston Salem, NC
Are you struggling to find affordable dental care due to a lack of insurance or funds? You're not alone. Almost 25% of people in the United States do not have dental insurance, including government benefits. Without this reimbursement, you may not be able to afford dental care at most offices with your current funds, but there are clinics across the country that provide service for free or at heavily discounted rates.
If you are looking for a , DoNotPay can help.
The Best Options for Free or Low-Cost Dental Care in Winston-Salem
While there are for the uninsured, enrolling in the state Medicaid offering will give you more locations to choose from, making it more convenient for you to visit your dentist.
Medicaid Eligibility in North Carolina
If you belong to one of these vulnerable populations, you may be eligible for Medicaid:
Infants and children under the age of 21
Seniors (those age 65 or older)
Pregnant people
People with disabilities
People in need of long-term care
Medicare recipients
Income and asset limits vary by program. North Carolina also offers NC Health Choice to children ages 6 to 18 in families whose income falls between 133% and 211% of the federal poverty level. Residents are automatically eligible if they receive:
Supplemental Security Income (SSI)
Special Assistance for the Aged or Disabled from the state or their county
How to Apply for Medicaid
To apply for Medicaid benefits in North Carolina,
In-person at the nearest Department of Social Services (DSS) office. Forsyth County's office address is 741 North Highland Avenue, Winston-Salem, NC 27101.
By mail - You can print a paper application and mail it to the DSS office.
Online at epass.nc.gov
Before you can apply, you will need to set up an NCID. During the application process, you will be asked for:
Your birth certificate or other proof of citizenship/legal immigrant status
Social Security numbers or proof that you have made an application for a Social Security number
Two pieces of documentation to verify that you live in North Carolina, like tax or utility bills
Most recent bank statements, copies of all pay stubs for last month, and financial statements or award letters from any other sources of income, such as Social Security, retirement benefits, pensions, veteran benefits, and child support
Copies of all medical or life insurance policies for any programs with asset limits
List of all vehicles that anyone in your household owns, including the year, make, model, and vehicle identification number (VIN) for each item. Boats should be included in this list.
List of all real estate properties you own
Free or Low-Cost Clinics Near Winston-Salem
If you are covered by Medicaid or NC Health Choice, you can search for an in-network provider near you. North Carolina also has dental clinics called "Safety Net Clinics" that provide services to low-income individuals, both insured and uninsured. You may need to complete an application to get dental care, and you will have to show proof of income.
Name
Phone Number
Email
Address
Services
Chandler Dental Clinic
(336) 641-3152
1103 W Friendly Ave, Greensboro, NC 27401
Accepts children under 21 with Medicaid.
Cleveland Avenue Dental Center
(336) 703-3090
cadc@forsyth.cc
501 N. Cleveland Avenue, Suite 1, Winston-Salem, NC 27101
Accepts Medicaid and uninsured. Fees are charged on a sliding scale.
Community Care Center
(336) 723-7904
2135 New Walkertown Rd, Winston Salem, NC - 27101
Accepts

patients who do not qualify for insurance

with income at or under 200% of the federal poverty level.
Guilford County Health Department
501 E Green Dr, High Point, NC 27260
Accepts children under 21 with Medicaid.
Rescue Mission Dental Clinic
(336) 723-1848
info@wsrescue.org
718 North Trade Street, Winston-Salem, NC 27101
Accepts low-income and uninsured populations. Clinic is only open on the second and fourth Thursdays of the month.
You may also be able to get care through the Mission of Mercy clinics run by the North Carolina Dental Society Foundation. These clinics take place throughout the state and run for two days at a time. Volunteer dentists provide care free of charge to patients on a first-come, first-served basis. Up to 3,000 patients have been treated at an event, with numbers varying based on funding and the number of volunteers.
Find Free Dental Care With DoNotPay
If you are looking for , here's how you can use DoNotPay to find clinics near you:
1. Search "dentist" on DoNotPay.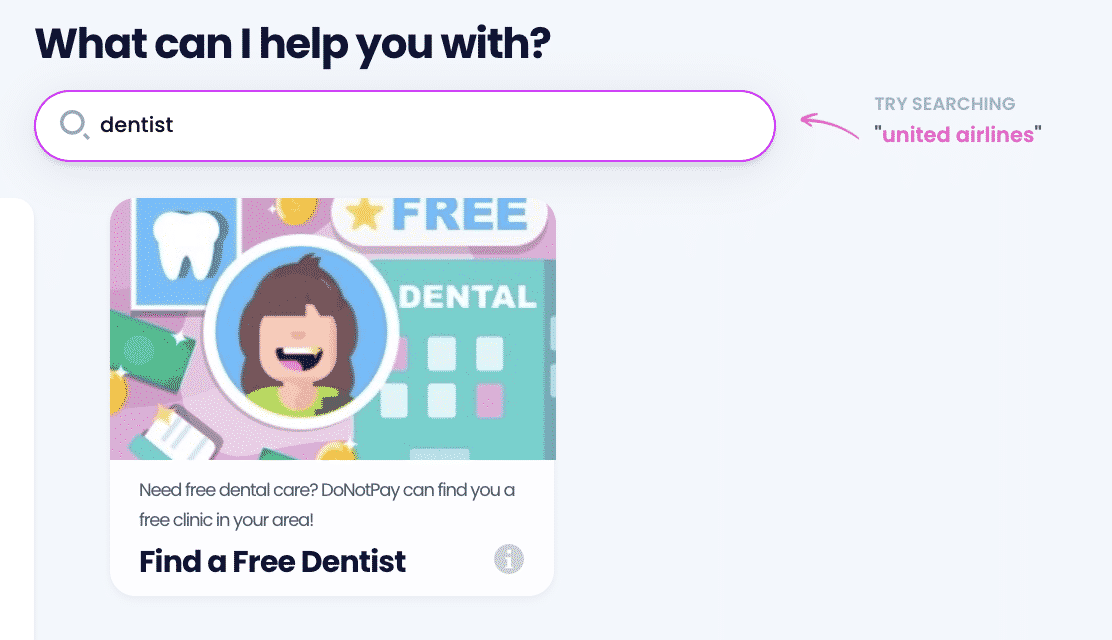 2. Enter your current address, so we can find the clinic nearest to you.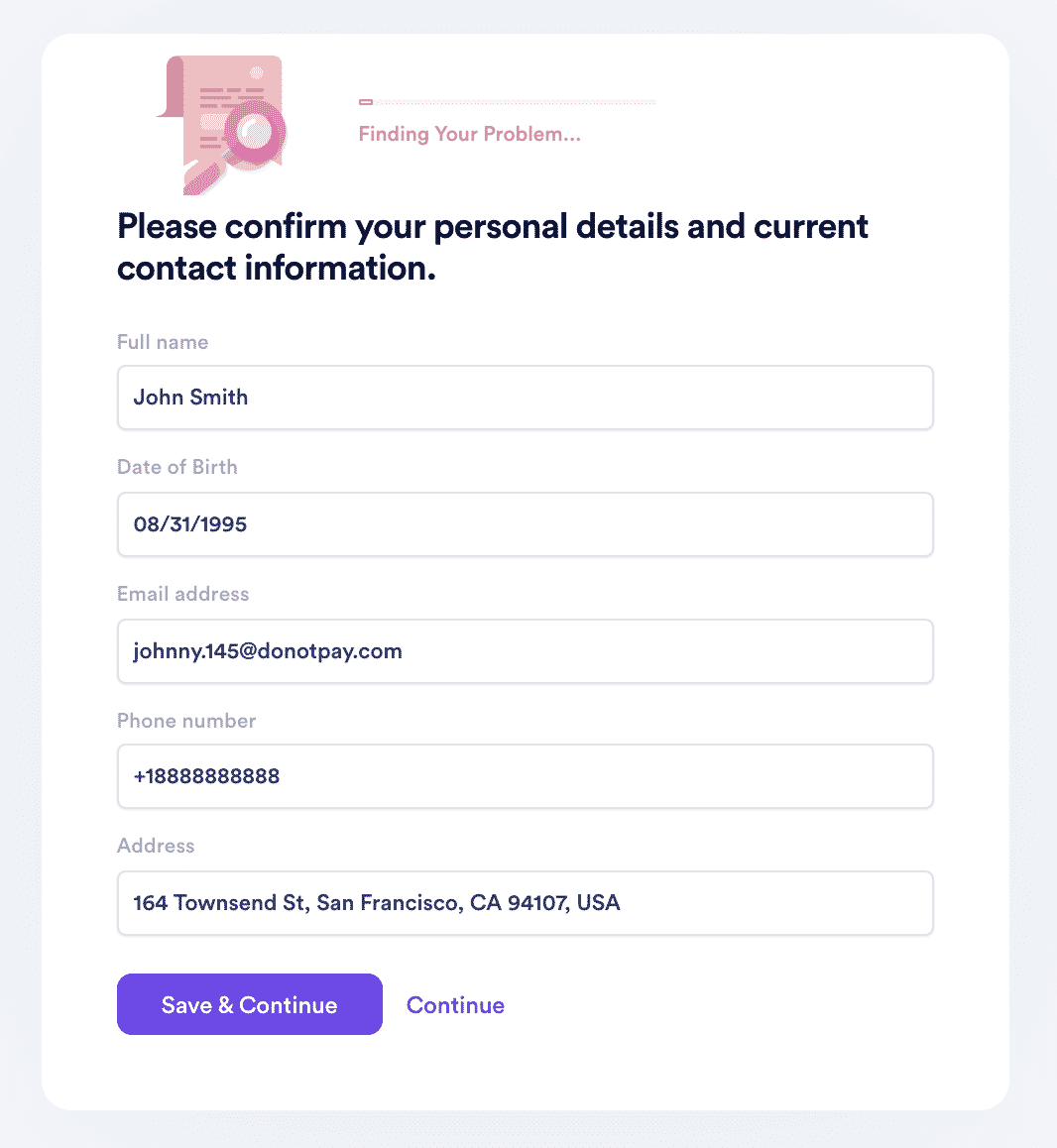 3. Select whether you would like to ask a question about your eligibility, receive a quote for a specific procedure, or set up an appointment.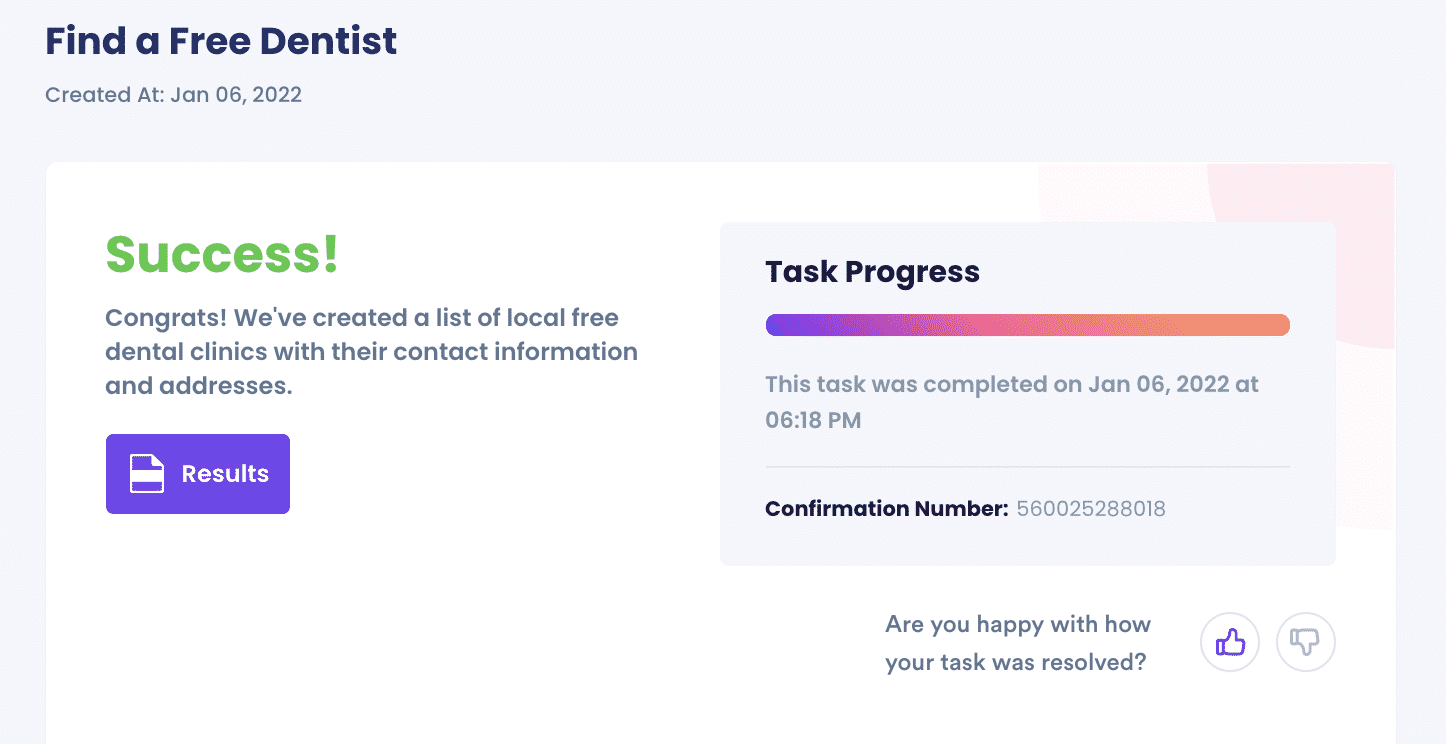 Keep More of Your Funds for Fun With DoNotPay
Dental care, utilities, taxes–there are so many demands on your money that you may feel everyone is enjoying it but you. DoNotPay can help you keep more money in your pocket to do more of what you love. We can assist you with:
Reducing Your Property Taxes

And more
Try today to see how much more you could keep in your wallet!