Where Can I Find a Free Dental Clinic in Wichita, KS
Several medical studies have found a connection between poor oral health and problems of the respiratory system and heart. Visiting a dentist regularly for checkups allows early treatment of any condition while preventing more severe issues like cavities from developing.
Unfortunately, healthcare costs have been rising, and low-income families sometimes can't afford to pay for it. However, many community health centers, federal programs, and charitable organizations can help eligible children and adults access free dental health services and/or facilitate treatment through financial aid dedicated to low-income dentistry. In this guide, you'll learn about the , what services they typically offer, and how DoNotPay can help you efficiently access these essential oral care services from any clinic near you.
Affordable Dental Care in Wichita City
There is more than one location in Wichita city where you can get dental care depending on what you require vs. what they offer. Generally, most places can provide services that range from:
Tooth cleaning
Dental exams
Emergency surgery
Root canals, fillings, and dentures
Extractions
Children's dental care and others as per the clinic
Most community health centers and that offer free and affordable oral health services are funded by the federal and state governments. Additionally, they accept insurance plans for low-income citizens, including Medicare, Medicaid, CHIP, and other state-specific dental care help programs. Apart from these, many volunteer dentists, especially in clinics run by charitable or faith-based organizations, can provide cheap dental health services.
Qualifications for Free or Low-Cost Dental Care in Wichita, Kansas
Every has its own rules that govern who can qualify for free/reduced-cost dental care. However, every location strives to serve as many as possible and not turn anyone away. You may be eligible for free/low-cost dental care if:
Have low earnings and

don't have insurance

, or the current one can't cover dental care costs
Senior citizens over 65 years, especially those with other health conditions
Vulnerable children under the age of 19 whose parents can't afford to pay for their dental needs
People living with disabilities
It's best to contact the clinic before booking an appointment to learn if you qualify and the type of dental services they may be able to provide.
How to Get Free and Affordable Dental Care in Wichita
Those eligible can get dental services for free or at a reduced expense. If you don't have an income or your wage is very low, most of these centers and clinics can allow you to get treatment without paying a penny. At the same time, if you somewhat manage to pay but can't afford the whole amount, the clinic may charge you only what you can afford (commonly referred to as a sliding scale fee).
Here is the template process to follow to get free/affordable dental care:
Locate a free dental center or clinic near you.
Contact the clinic to learn if you're eligible and the type of services they offer.
Book an appointment.
Visit the location during your appointment day/hours and get a dental checkup/treatment/prescription for free or pay based on your affordability.
Free Dental Clinics in Wichita, KS
To help you easily access the clinic of your liking, we have compiled a table with a few clinic locations in Wichita, KS.
| | | | | |
| --- | --- | --- | --- | --- |
| Name | Phone Number | Email | Address | Eligibility |
| HealthCore Clinic (Center for Health and Wellness) | (316) 619-0249 | N/A | 2707 E 21st St N, Wichita, KS 67214 | Uninsured, underinsured, insurance, Medicare, Medicaid |
| Hunter Health Clinic – Central Clinic | (316) 262-2415 | N/A | 527 N Grove, Wichita, KS 67214 | Uninsured, underinsured, insurance, Medicare, Medicaid |
| United Way of the Plains | (316) 267-1321 | Link | 245 N Water St, Wichita, KS 67202-1201 | anyone seeking assistance, including dental care aid |
| Downing Family Clinic at Gordon Parks Academy | (316) 866-2000 | N/A | 2201 E 25th St N Bldg 200, Wichita, KS 67218 | Uninsured, underinsured, insurance, Medicare, Medicaid |
| Gracemed Health Clinic, Inc. | (316) 866-2000 | N/A | 1125 W 26th St N, Wichita, KS 67204 | Uninsured, underinsured, insurance, Medicare, Medicaid |
Next Steps if You Can't Find a Suitable Free Dental Clinic in Wichita, KS
We understand that it can be challenging to scan through each clinic to get the information you need. As such, DoNotPay has deployed a tool, Free Dental Care product, where you can easily feed small data about your location and get the best possible match of a provider near you. You can also request your eligibility, clinic quote, and book an appointment, all from your PC or smartphone with DoNotPay.
Here's how you can use DoNotPay to find free dental clinics:
1. Search "dentist" on DoNotPay.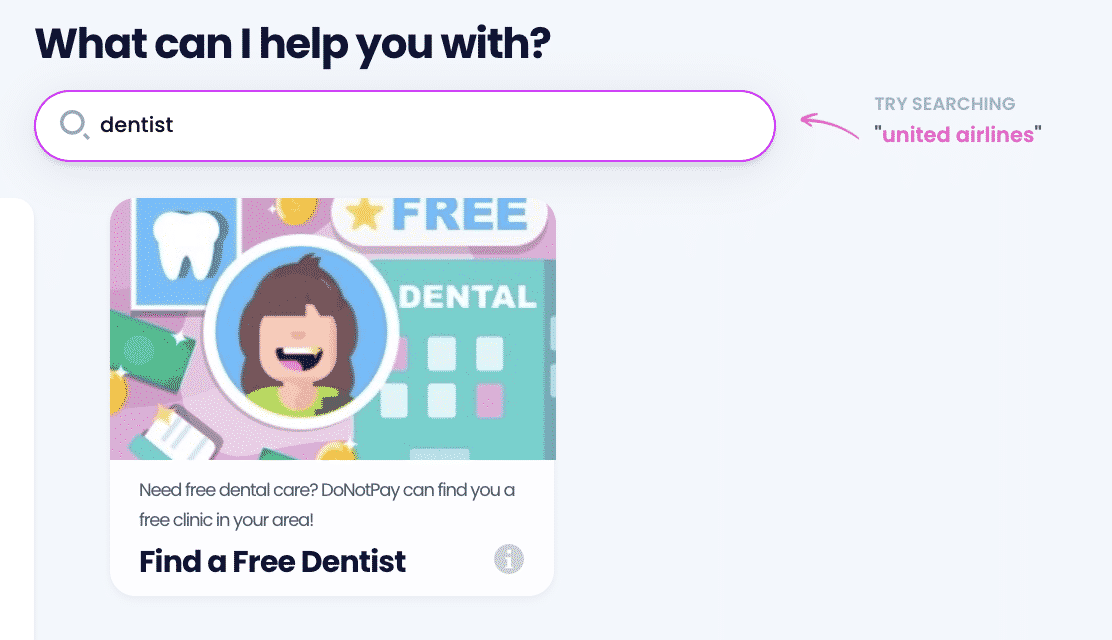 2. Enter your current address, so we can find the clinic nearest to you.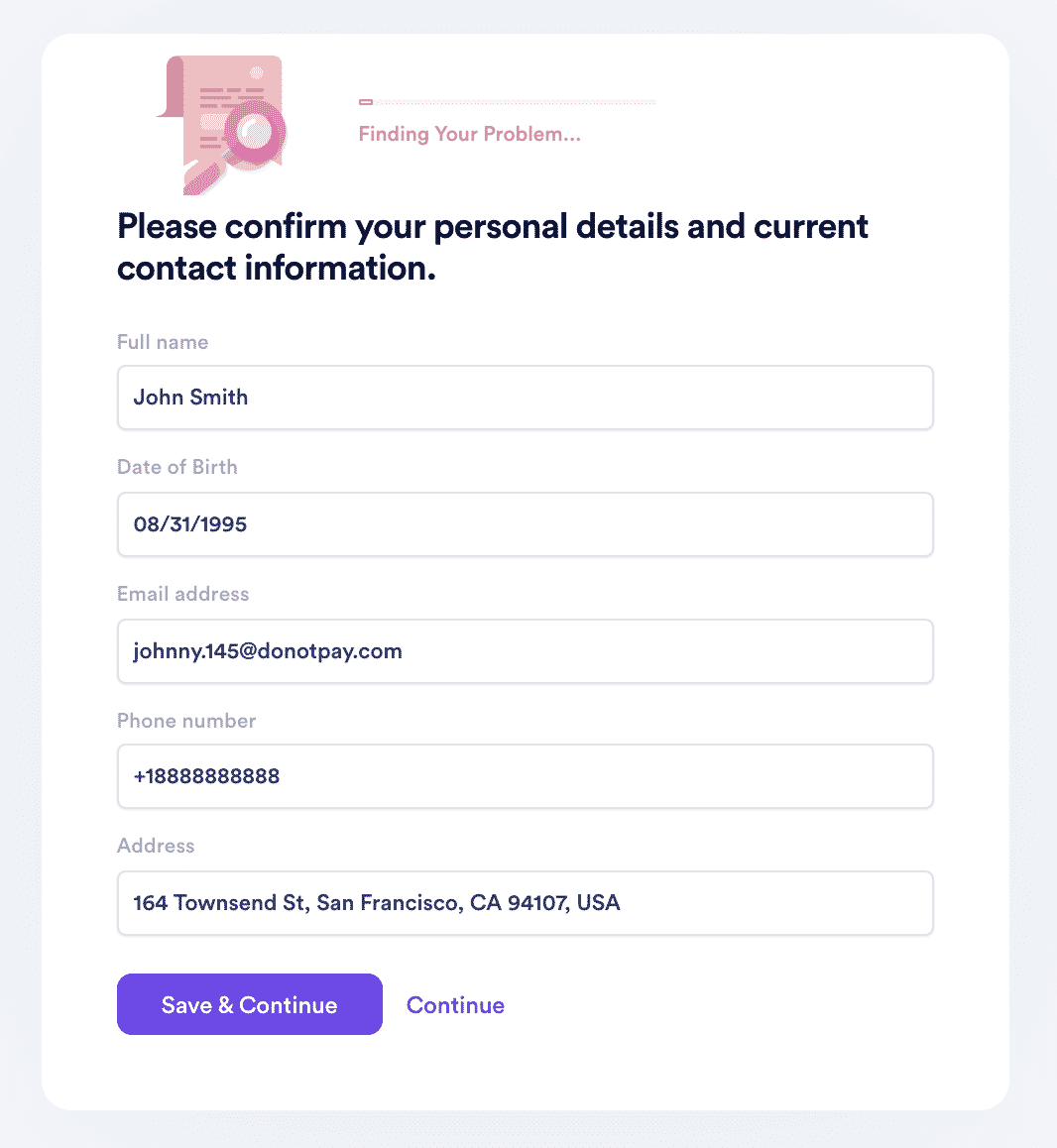 3. Select whether you would like to ask a question about your eligibility, receive a quote for a specific procedure, or set up an appointment.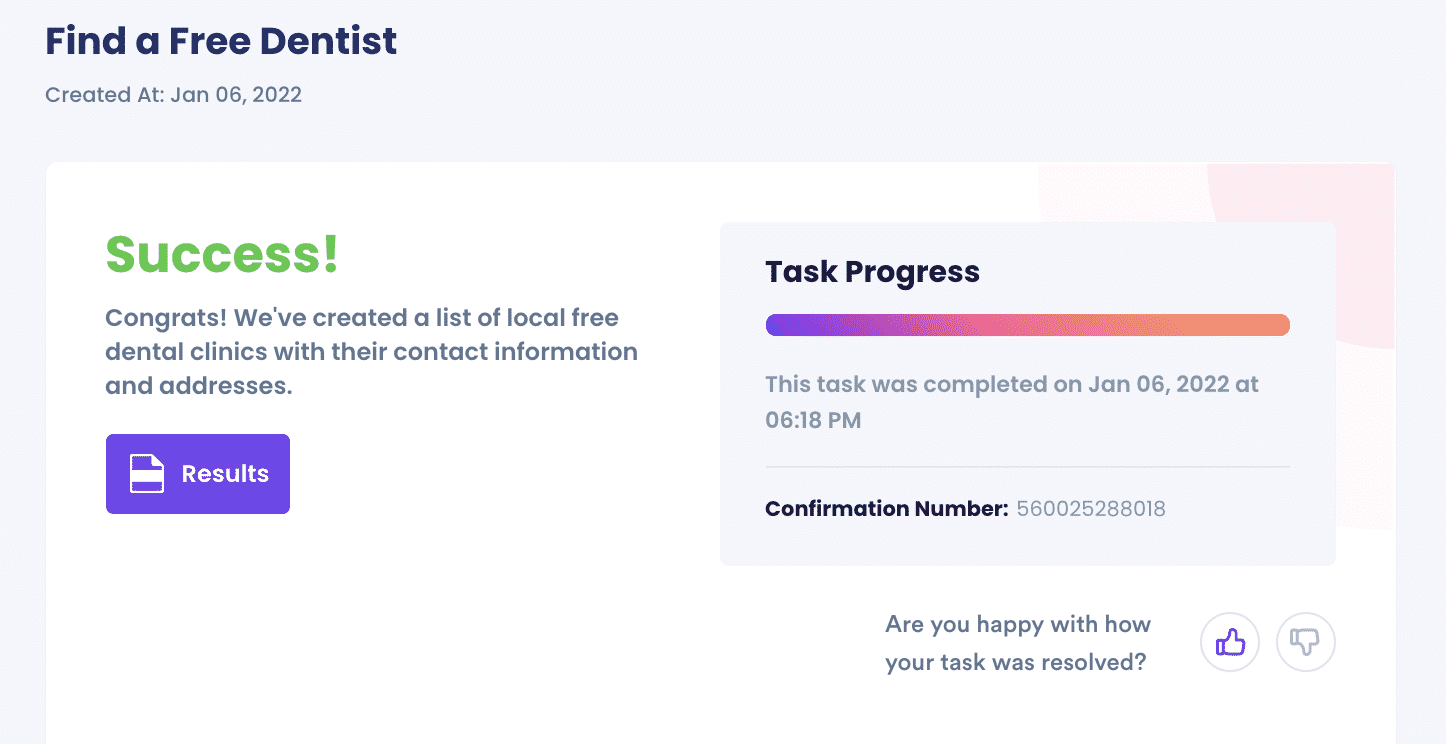 And that's it. DoNotPay will contact the clinic on your behalf and get back to you with the information you requested.
Make Your Life Easier With DoNotPay
We have carefully researched the pain points that most people experience each day to get moving. And therefore, we have created a suitable solution for each, which you can effortlessly and efficiently deploy by signing up today with DoNotPay. Some of these solutions include: