How to Find Free Dental Clinics in Springdale, AR
It is universally recognized that excellent dental health is linked to overall health. Several obstacles may prevent you from focusing on your dental care and obtaining therapy for your dental issues. However, free dental clinics exist in Springdale, AR. People with low incomes experience oral health issues such as coping with chronic dental conditions, tooth discomfort, or rotting teeth without seeking medical help. They only seek dental care when dental problems become unbearable. However, it is critical to see a dentist when a problem emerges.
Are you looking for free dental clinics in Springdale, AR? Do not beat yourself up. DoNotPay is here to help. We understand your need to have good dental health at a cost you can afford. There are , and finding one tailored to your needs can be an uphill task. DoNotPay will make it easier for you to find a free dental clinic around you.
Free Dental Care in Springdale, AR
Most , available will require medical insurance. However, the government and local non-governmental organizations offer programs to help you access free dental care. Services you will find in these clinics include:
Some of the clinics you will find in Springdale, AR for free, or at a cost, you can afford include:
Clinic Name
Description
Community clinic- St Francis House Nwa
It is a sliding scale clinic. Services offered include;

Hygiene education
Oral exam
Fluoride treatment
Dental extraction

They also offer discounts for uninsured patients after factoring in your income and household size. You are, however, required to provide your proof of income during your first visit.

Community Clinic Dental Rogers
Rogers Community dental clinic has two locations: Rogers (adult clinic) and Springdale (Pediatric clinic). The services they offer include:

Oral exams
Hygiene education
Fluoride treatment
Referral for oral surgery

Welcome Health
Welcome Health is located 7 miles away from Springdale. Services at this dental clinic include:

Dental extraction
Dental x-rays
Dental hygiene education
Oral and dental exam
The good news is, everyone is eligible for their services, the insured and non-insured.
Who Is Eligible for Free or Low-Cost Dental Care in Springdale, AR?
Eligibility for free dental care varies as per facility. First, it is advisable to check with your clinic of choice to confirm and discuss your options. There are non-governmental organizations that offer free dental services but you could wait longer. The reason is, these clinics consider the more deserving patients or those that meet their qualifications for free dental care.
You qualify for free dental care in Springdale, AR, if you fall under the following category:
You are elderly; most clinics consider elderly patients.
How to Find Free Dental Care in Springdale, AR on Your Own
To find free clinics that offer free dental care services in Springdale, you can go online and search for clinics in your area. Searching for a cheap dentist on your own can be time-consuming. DoNotPay can help you find free clinics faster. There are several other ways you can get access to free dental care, including:
Free Dental Services
Look up free dental services near you. NGOs and charities are offering free dental services for the population that doesn't have dental insurance. One of the organizations that provide updates for such services is United Way.
Clinical Trials
Research institutions researching certain conditions often offer their services at a free or reduced cost to those that qualify. If you do, you can check them out.
Reduced-Cost Dental Care
You can also lookup for outreach programs offered by charitable organizations, dental schools, and government hospitals. They often offer free dental care. You could qualify.
How to Find Free/Low-Cost Dental Services Near You With DoNotPay
Here's where DoNotPay comes in. To find dental services at affordable dental care with DoNotPay, here is what you will do;
How you can use DoNotPay to find free dental clinics:
1. Search "dentist" on DoNotPay.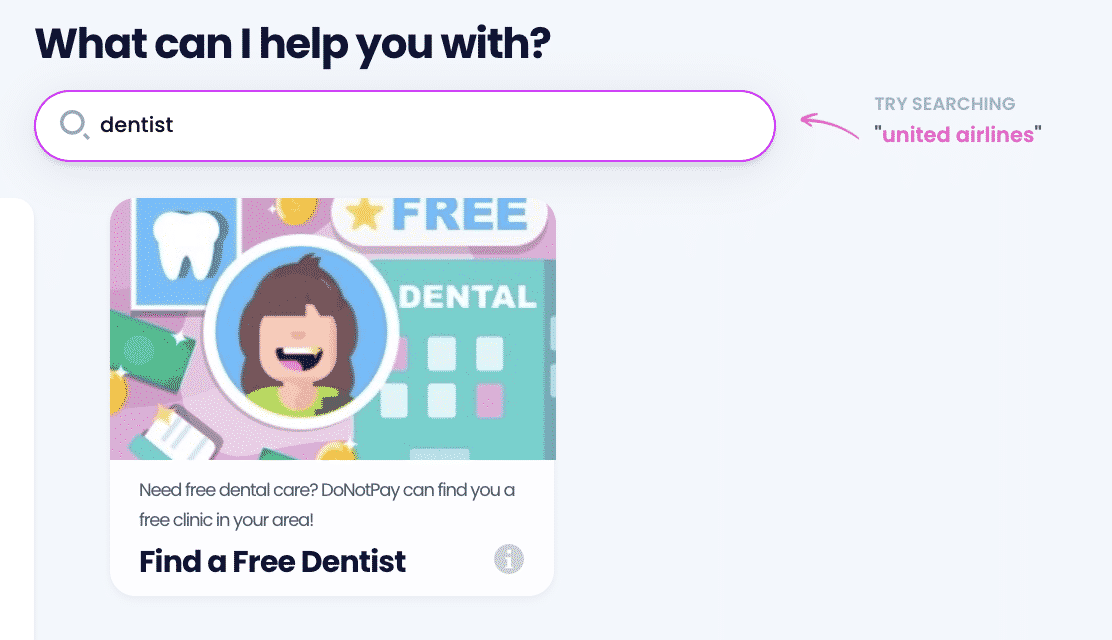 2. Enter your current address, so we can find the clinic nearest to you.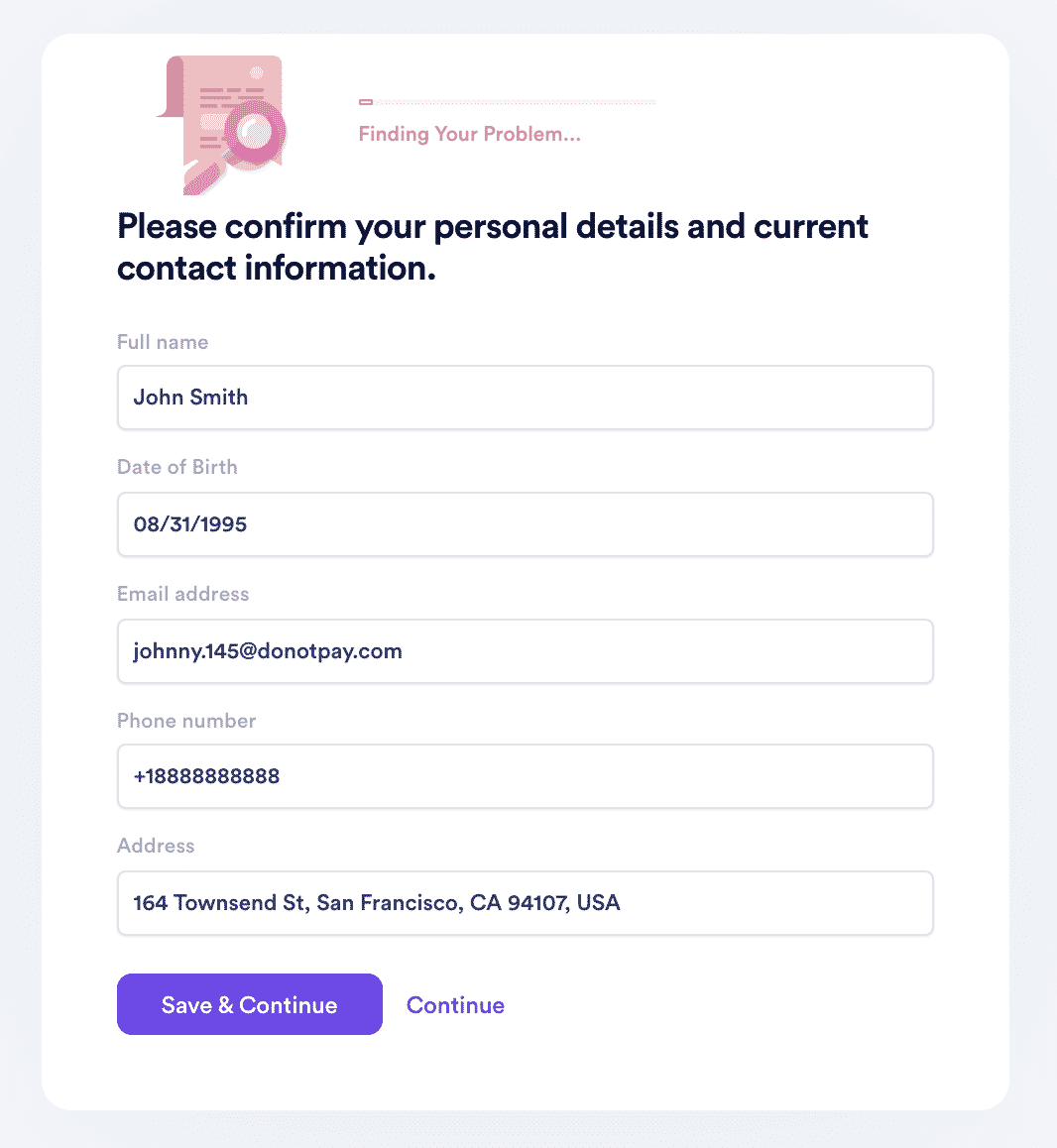 3. Select whether you would like to ask a question about your eligibility, receive a quote for a specific procedure, or set up an appointment.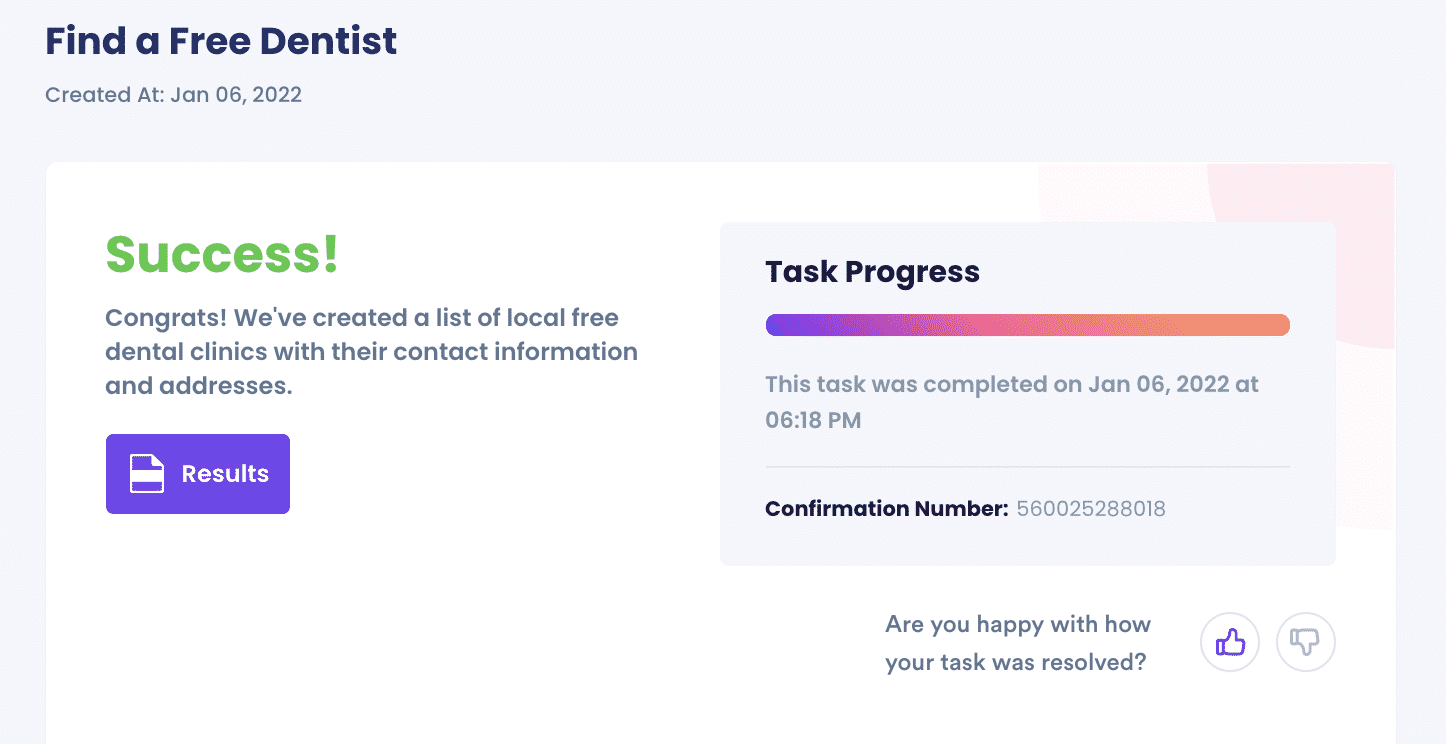 That's all; now sit back and wait. DoNotPay will contact the clinic and get back to you with the information you need.
DoNotPay Works Across All Companies
DoNotPay is at your service. Do you need more information on cheap dental clinics or low-income dentists around you? We are happy to help.
What Else Can DoNotPay Do?
You might also need help with:
Helping you reduce property taxes.
We offer these and other services you might need. Contact us to keep your dental health in check!