How to Find Free Dental Clinics in Pinellas County
, Florida, or in any area, and learning what it takes to qualify for free or low-cost dental care can take some time and effort. But finding a way to pay for needed dental treatment is worth it. Dental problems can contribute to more serious health concerns. So prompt attention to tooth and gum disorders is important for overall health.
Cost is the top reason many potential dental patients postpone treatment. Finding a free dental clinic in Pinellas County FL or wherever you live is essential if you don't have dental insurance, and you have a low income. Unfortunately, the search isn't always easy.
But DoNotPay can help. If you're in need of free dental care or a way to get the dental treatment that's affordable, it's time to turn to us. Affordable dental care should be available to every citizen.
Though many people don't realize it, in most areas of the US, there are ways to get the care you need. We're here to make your search for free or affordable dental care in or near Pinellas County, or in the local city of Clearwater, FL simple and stress-free.
Free or Low-Cost Dental Care for Low-Income Individuals, Senior Citizens, and Children
, Florida, is made easier with DoNotPay. Sometimes, free dental clinics or low-cost dental care programs are set up specifically to provide free or affordable dental care for senior citizens, children, veterans, or similar groups of people. If you fall into one of the categories, a specialty clinic may offer the greatest benefit.
Who Qualifies for Free or Low-Cost Dental Care?
Free dental care is probably available in your area if your income falls beneath a specified level or if you meet other criteria. The federal government doesn't have a law covering income guidelines, so each clinic's income limit for free dental care or low-cost charges will vary.
If your income is above the ceiling set for free care eligibility at local clinics, you may still qualify to receive reduced rates. Many clinics maintain a sliding scale for determining costs depending upon income.
Charity groups, government agencies, whether state, local, or federal, provide free or low-cost dental care programs. Dental schools sometimes operate clinics providing dental services at a low cost. Medical clinics for low-income residents may also provide dental services. Medicare and Medicaid may cover approved dental costs if administered by affiliated providers.
Some free or low-cost dental clinics can be located through United Way's 211.org website. Search state or local directories or "free or safety net dental clinics" online, to find them, also.
How to Get Free or Reduced-Cost Dental Care in Pinellas County
First, you'll need to perform a search to find free or low-cost dental care in Clearwater, Florida, or in or near Pinellas County. Another option is to check out local charities and associations for help in locating a program that can help you cover costs.
The next steps are:
Call the clinics to find out whether you're eligible for free or reduced rates.
Learn how to apply to receive dental services.
Make an appointment. You may be able to apply by phone or online, or the clinic may mail you an application or ask you to pick one up in person.
Here is a short list of sources that help people get free or low-cost dental care in or near Pinellas County, FL, to get you started.
| | | | |
| --- | --- | --- | --- |
| Name | Phone | Address | Services |
| University of Florida Health St. Petersburg Dental Center | 727-893-5050 | 9200 113th Street North, Seminole, FL - 33772 | Dental care for patients with special needs. Medicaid and some insurance plans are accepted. Reduced fees compared to standard fees charged by dental practices. To be considered for treatment, call the center. Fees are due when services are provided. |
| Clearwater Dental Center - Community Health Centers of Pinellas | (727)-824-8181 | 702 Jasmine Way, Clearwater, FL - 33756 | A non-profit clinic. Accepts most insurance plans and offers discounts based on household income. |
| Community Dental Clinic Clearwater | (727) 216-6155 | 1008 Woodlawn Street, Clearwater, FL 33756 | A free dental clinic, funded by the community. Qualification based on income. |
| Pinellas County Health and Human Services Dental Clinic | (727) 469-5800 | 310 North Myrtle Avenue, Clearwater, FL - 33765 | Fees are due at the time of service unless prior arrangements are made. Pay with cash, check with ID, MasterCard, or Visa. Sliding fee scale based on income. |
| United Way Suncoast | 211 | N/A | A source of information about free dental clinics or programs that may offer assistance in paying for dental care costs. |
How to Find Free or Low-Cost Dental Services in Pinellas County, FL
Internet searches can help you locate free dental clinics in or near Pinellas County or the city of Clearwater itself. You can do a search for "free dental clinics near me" to find free or affordable dental care wherever you live.
But then the work begins. You'll need to spend significant amounts of time contacting these clinics, or charity organizations that can help pay you for dental services. You must find out how you might qualify for free dental care or reduced rates. Usually you will need to fill out an application and provide proof of income.
The process of finding a free dental clinic in Pinellas County can be confusing and frustrating. If you don't have the time it takes to make the effort yourself, to contact the clinics that serve the area and determine which one is the best choice .
Next Steps for Finding a Free Dental Clinic in Pinellas County, FL If You Can't Do It Yourself
Many people find the process of finding a free dental clinic daunting. They don't have the time to do the searches, make the phone calls it takes to locate a free dental clinic or find a low-cost way to get the dental care they need and deserve.
Their oral health and overall health shouldn't suffer just because it's so difficult to find locations that provide affordable dental care. That's why DoNotPay offers a solution.
Here are the next steps for getting help from DoNotPay if you can't find a cheap dentist, or a way to get your dental care paid for, yourself.
1. Search "dentist" on DoNotPay.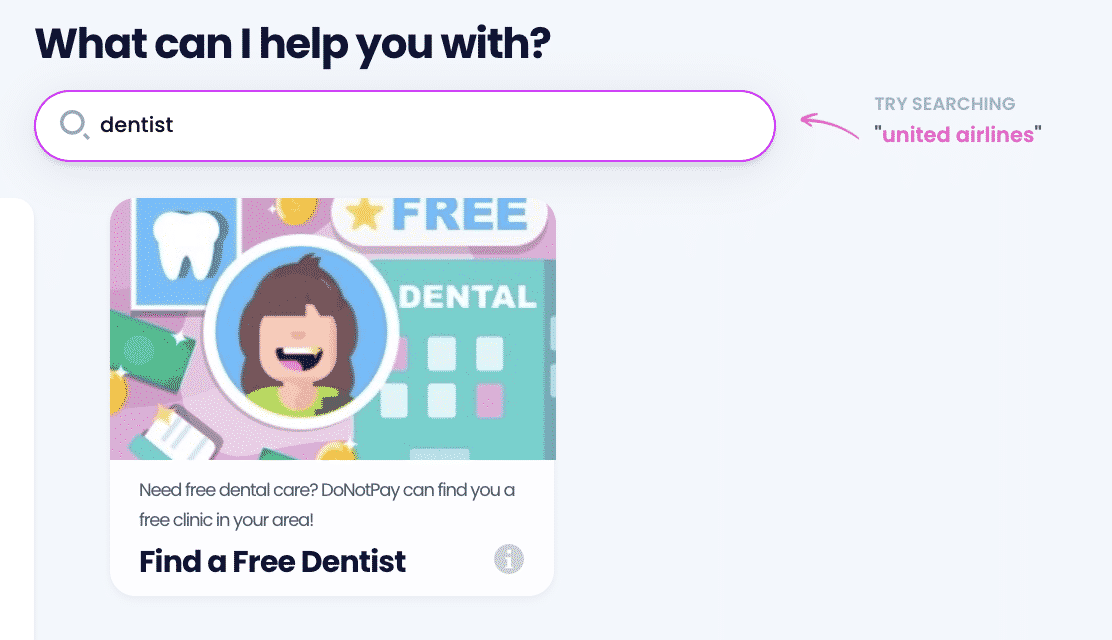 2. Enter your current address, so we can find the clinic nearest to you.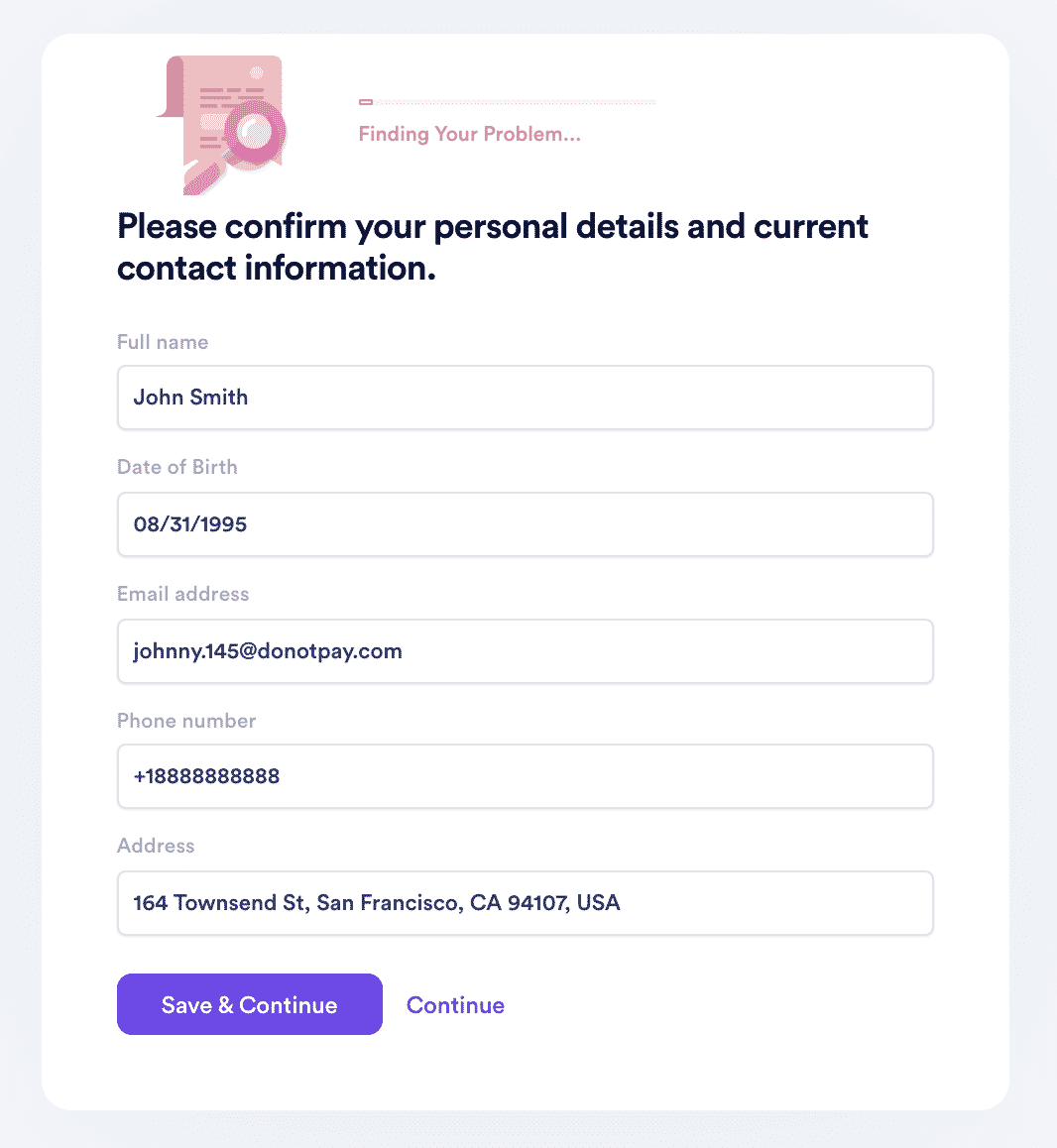 3. Select whether you would like to ask a question about your eligibility, receive a quote for a specific procedure, or set up an appointment.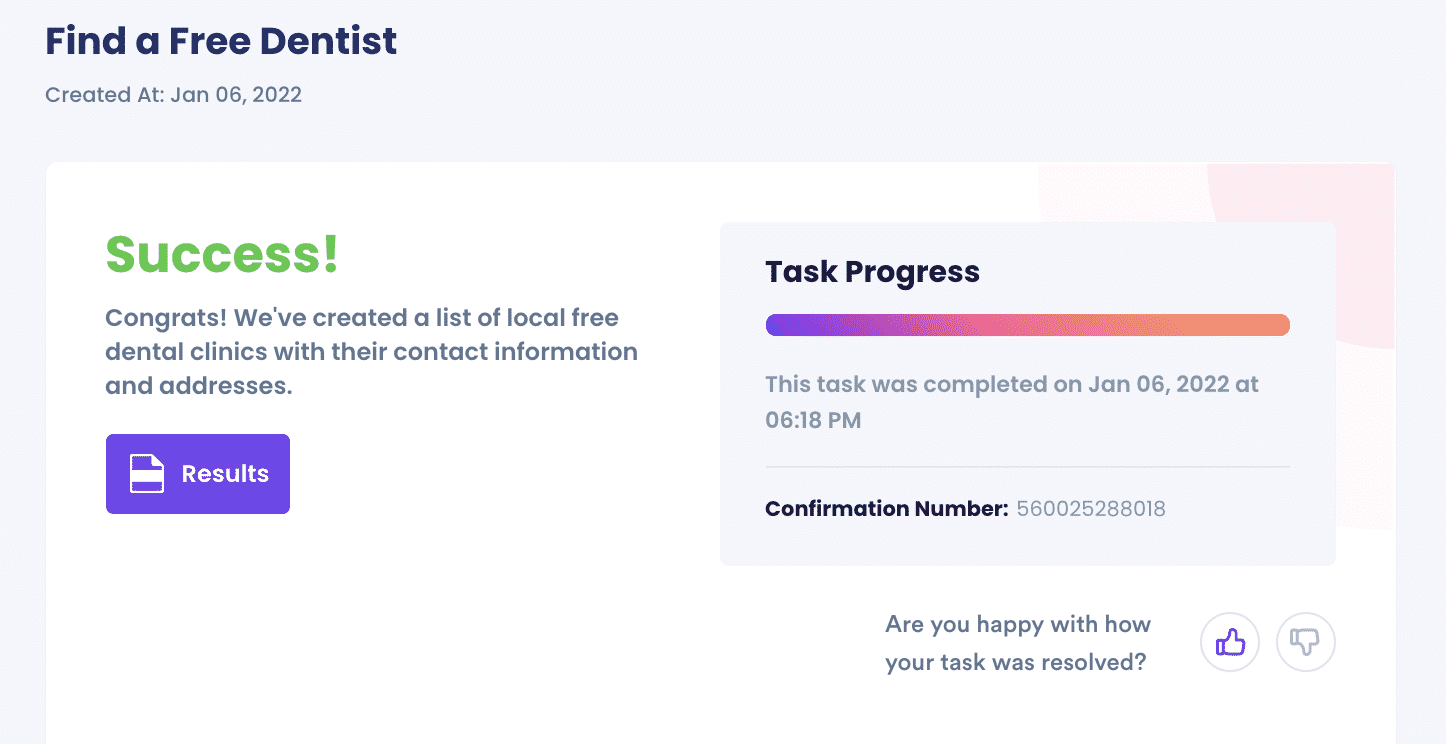 That's all you need to do. We'll get the answers for you.
Why Use DoNotPay to Solve the Problem of Finding a Free Dental Clinic in Pinellas County?
DoNotPay gets results fast. Our process is easy and successful in helping find free dental clinics, programs that help pay for dental care, or in executing any of the many varied services we provide. Sign up for the services of DoNotPay today if you lack the time or expertise to accomplish any of the problems for which we offer helpful programs.
DoNotPay Works Across All Companies With the Click of a Button
A perk of DoNotPay is that we can contact any entity necessary to help you accomplish anything from finding a free dental clinic in Pinellas County to learning how to find and apply for free scholarships at multiple colleges. This ability to contact any person, company, or organization on your behalf makes it likely we can resolve your problem.
What Else Can DoNotPay Do?
Solving the problem of finding a free or cheap dentist is just one of many things DoNotPay can help with. Here are a few links to information on problems DoNotPay can help you with.
Other services that DoNotPay offers are the following:
Get started with DoNotPay today!