How to Find Free Dental Clinics in Orange County, California
Oral health is one of the most ignored parts of our overall health. However, it plays a fundamental role in ensuring the tip-top shape of our general wellness.
Notwithstanding, educating the population on why they should take dental health seriously has been fruitful. And the remaining bone of contention is the affordability of dental care to those seeking the services, especially for low-income families or senior citizens. To cure this, both federal and state governments, charity organizations, and faith-based groups run various free and sponsored dental clinics across the United States.
In California, finding a , Los Angeles, or any other city or county is not complicated. However, you'd want to have enough information about the type of dental services, charges (if it's free), and eligibility criteria before you book an appointment. This is where DoNotPay comes in handy. We can help locate a free dental clinic near you in Orange County, as well as contact them on your behalf to get the information you need.
Low-Income Dental Care in Orange County, CA
With a population exceeding 3 million, Orange County is California's third-most (and US's sixth-most) populous county. Hence, there are dozens of for low-income residents. While most provide other medical services, various clinics provide free/reduced-cost oral care to eligible Orange County residents. These low-income citizens are either uninsured or underinsured and can't afford to pay for most of the dental care they need.
The majority of the dental clinics accept low-income programs like Medicare, Medicaid, or California's own program, Medi-Cal. Some dental schools in the county also run free dental assistance programs.
Dental care provided by each clinic or center varies from one to another, and the clinic determines whether it's entirely free or you'll pay some amount. The oral care by free/affordable dental clinics in Orange County may cover:
Cleaning
General checkup
Minor and some emergency oral surgeries or procedures
Fluoride treatment
Preventive care and much more
Some clinics will often require you to pay part of the bill depending on your total income, commonly called the sliding scale method.
How to Get Free or Reduced-Cost Dental Care in Orange County
You can easily get to see a cheap dentist in Orange County, CA, by visiting any of the dental clinics or community health centers. To locate a one near you:
Contact Community Action Partnership of Orange County (CAPOC) to get medical assistance, including insurance plans for low-income residents and free dental care assistance.
Visit the HRSA page, which lists all the free clinics near you.
You can also choose the city you live in from this list and get the list of all dental clinics within it.
Dental Clinics in Orange County
The table below includes 5 select places in Orange County where you can get free or donated dental care:
| | | | | |
| --- | --- | --- | --- | --- |
| Name | Phone Number | Email | Address | Eligibility |
| Orange County United Way | (949) 660-7600 | N/A | 18012 Mitchell South, Irvine, CA 92614-6008 | Low-income residents in need of healthcare assistance |
| West Coast University Dental Hygiene Clinic | (877) 928-2546 | N/A | 1477 South Manchester Avenue, 4th Floor, Anaheim, CA 92802 | Offers free dental hygiene services to those who may not have the means to visit a private practice dental provider for dental hygiene preventative and therapeutic care |
| AltaMed Medical & Dental Group – Huntington Beach | (888) 499-9303 | N/A | 8041 Newman AVE, Huntington Beach, CA 92647 | Uninsured, underinsured, Medicare, Medicaid |
| Central City Community HC, Inc. | (714) 490-2750 | N/A | 2237 W Ball Rd, Anaheim, CA 92804 | low-income and medically under-served residents that fall below the 200-percent Federal Poverty Level |
| Serve the People Community Health Center | (714) 352-2911 | yuri@serve-the-people.com | 1206 E 17th St Suite 101, Santa Ana, CA 92701 | uninsured, underinsured, insurance, Medicare, Medicaid |
Next Steps If You Can't Locate Free Dental Clinics in Orange County, CA
Getting all the information you need about dental clinics physically by yourself isn't a walk in the park, especially now that the pandemic has changed how we live. However, it's not hard to get all that right from your home! You only need to key a few details about yourself on DoNotPay, and we'll do the heavy lifting for you.
Here's how you can use DoNotPay to find free dental clinics:
1. Search "dentist" on DoNotPay.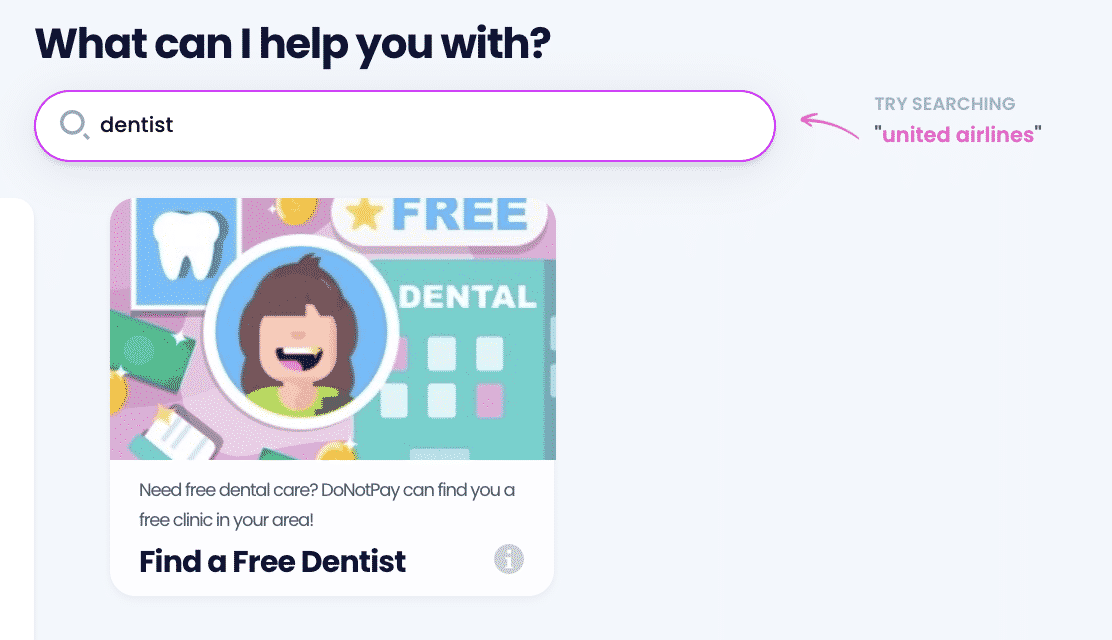 2. Enter your current address, so we can find the clinic nearest to you.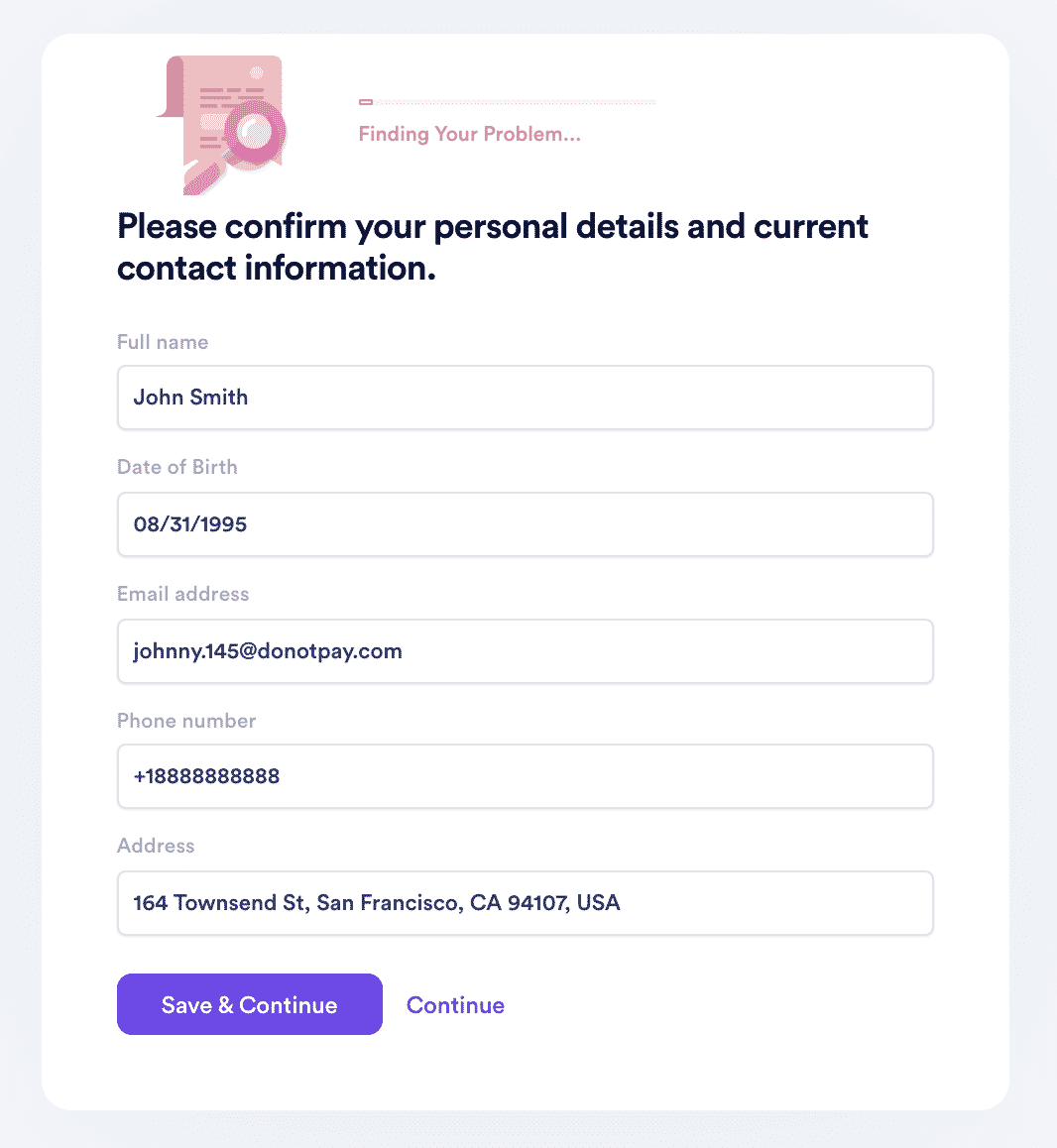 3. Select whether you would like to ask a question about your eligibility, receive a quote for a specific procedure, or set up an appointment.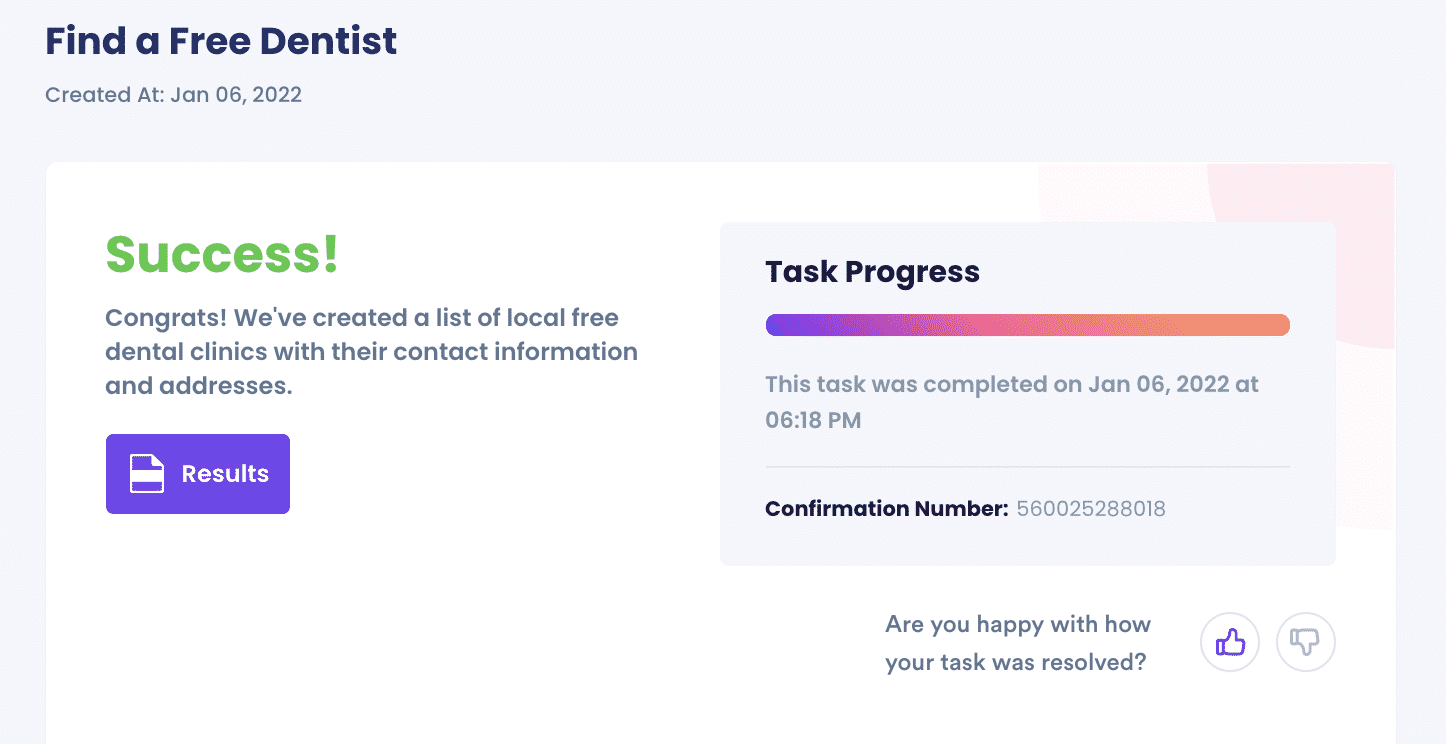 And that's it. DoNotPay will contact the clinic on your behalf and get back to you with the information you requested.
What Else Can DoNotPay Do?
DoNotPay can help you accomplish much more than access to free dental care. We're committed to helping you solve the small but rather complicated day-to-day tasks more straightforwardly. Here are some of our other services: