Find Reduced-Cost and Free Dental Clinic in Kansas City
Are you in pursuit of a ? If you're feeling a bit frustrated with the process, you're not alone. Many people struggle to find free and reduced dental care services in their area.
This is primarily due to the fact that these services aren't advertised as much as traditional dental services. Additionally, taking advantage of free or reduced-cost dental care generally means that individuals and families will need to go through a process in order to qualify, depending on where they go.
Between these two factors, getting quality and affordable dental care can feel next to impossible. This is probably why so many Americans go years without going to a dentist, even those with insurance coverage.
Who Qualifies for Free and Reduced-Cost Dental Services?
Not everyone qualifies for free and reduced-cost dental services. Normally, dental services are covered by an insurance plan in which an individual must pay a copay. For dental services, these copays can get quite expensive. For those who don't have any insurance, dental services may feel out of range.
Free and reduced-cost dental services are targeted toward individuals and families who fall within the low-income range. For a closer look at what is considered low income in Kansas City, Missouri, refer here.
It's important to note that while having a low income generally qualifies for free and reduced-cost dental services, each dental facility may set its own qualifications when determining who's eligible. For instance, a public dental clinic that offers these services has more relaxed requirements. On the other hand, a community center that offers free and reduced dental services may require that you submit proof of income and that you live within the county.
See how DoNotPay can help you find a .
How to Find Free and Reduced-Cost Dental Services in Kansas City
There are a variety of resources available to help individuals and families in and near Kansas City find free and reduced-cost dental services. But for many people, it can be overwhelming to know where to begin searching for dental care if you have no insurance.
The best place to start when looking for affordable dental care is with the common type of facilities that offer these services. Each facility may offer free dental care, reduced-cost dentistry, or both.
1. Non-Insurance Options
The following options may be a great choice for individuals and families who do not have any insurance coverage:
Dental and hygiene schools
Community health centers
Public dental clinics
Faith-based organizations
2. Insurance Options
Government programs like Medicaid, Medicare, and Chip offer insurance plans for individuals and families who have a low income. These programs enable those with a plan to receive free or low-cost medical coverage, which generally includes dental service as well.
Medicaid: This insurance plan provides health coverage for individuals, families, children, pregnant women, and elderly people with a low income, according to their state's guidelines.
Medicare: This is a federal insurance plan for those 65 years and older. Those with specific disabilities may be able to qualify for Medicare as well. Like Medicaid, it provides free and reduced-cost health coverage.
CHIP: This insurance plan is designed specifically for children whose parents earn too much money to qualify for Medicaid, but not enough to buy private insurance. This enables these children to still have access to the insurance coverage they need.
Here are 3 Dental Clinics in Kansas City that offer free and reduced-cost dental services.
Next Steps If You Can't Find Dental Clinics on Your Own
Finding a quality dental clinic in your area that offers free or reduced-cost dental services can, unfortunately, be time-consuming. Not forgetting to mention, many dental clinics that offer these services have set requirements to qualify.
If you can't find a dental clinic in Kansas City that offers the specific services you need or you don't have the time to do extensive research, you have other options. DoNotPay can help you take out the guesswork and quickly find a free or reduced-cost dental clinic in Kansas City on your behalf.
Let DoNotPay Find Free and Reduced-Cost Dental Clinics in Kansas City
If you're having a hard time finding a dental clinic in your area or you simply just do not have the time to research clinics on your own, let DoNotPay make it easier for you. DoNotPay is fast, easy, and successful at finding affordable dental clinics in any city.
Here's how you can use DoNotPay to :
1. Search "dental clinic" on DoNotPay.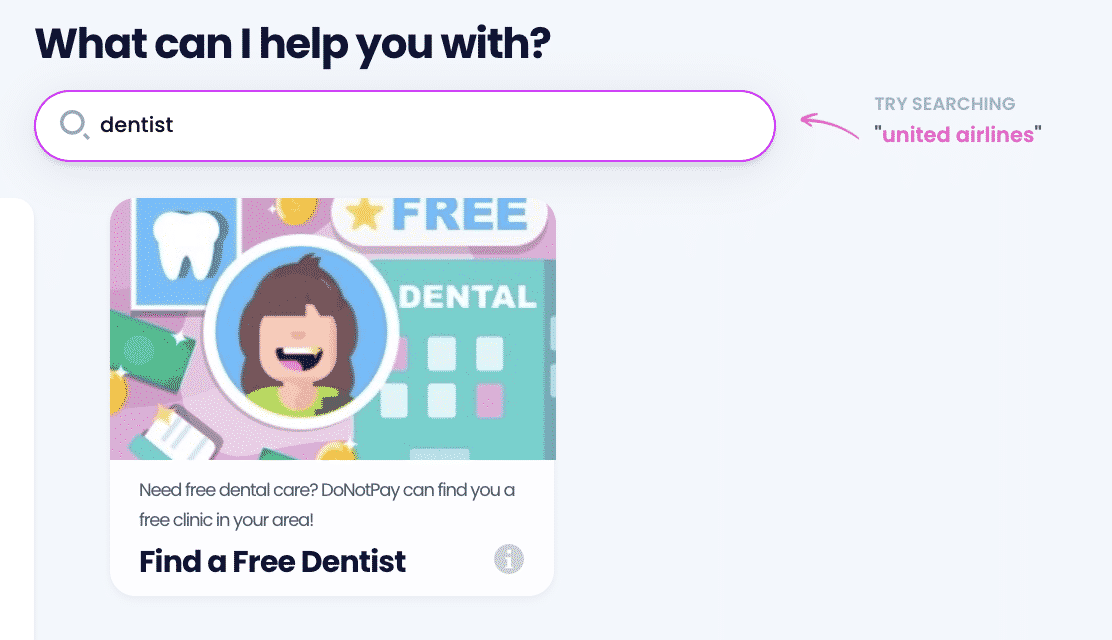 2. Enter your current address, so we can find the clinic nearest to you.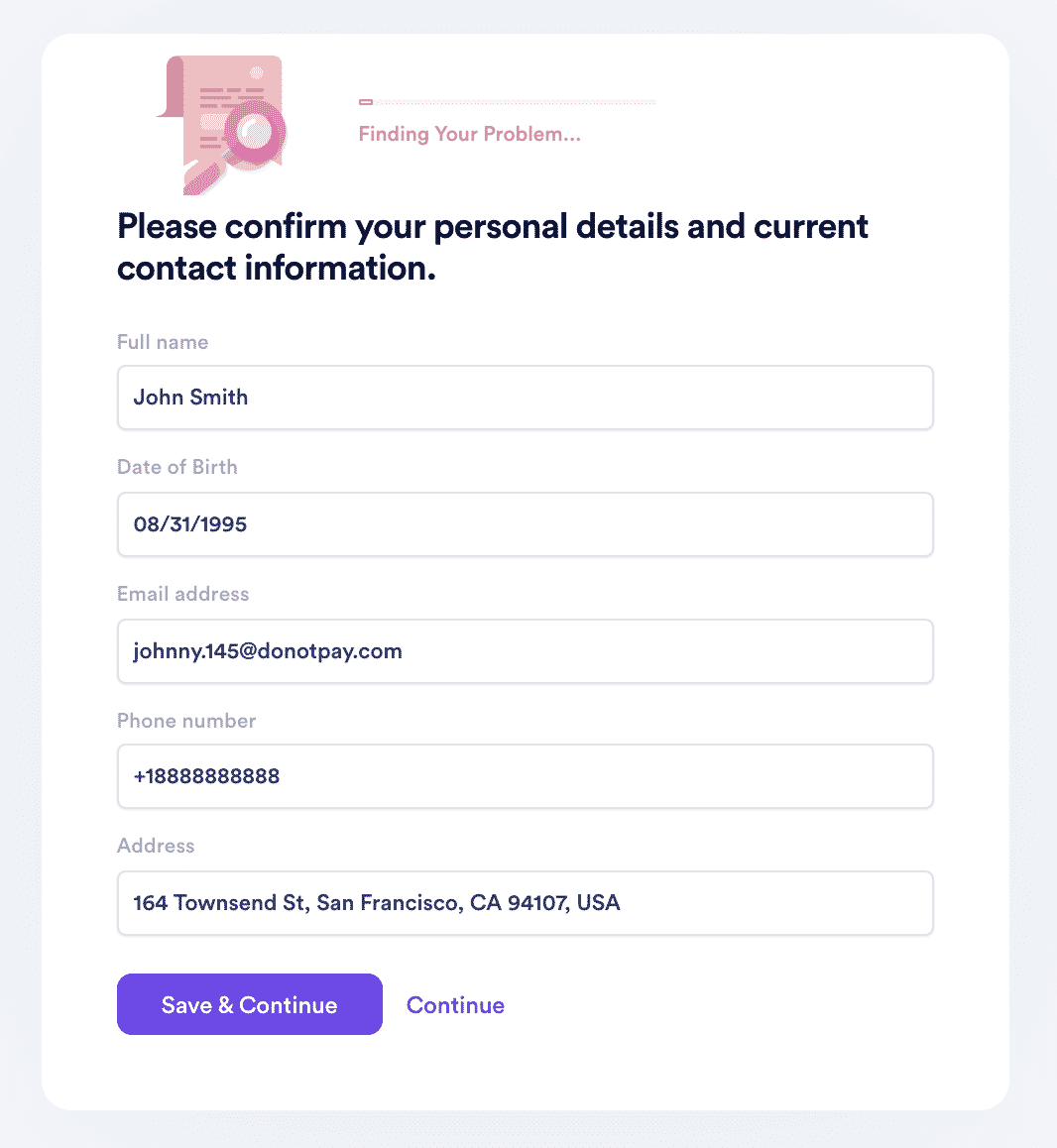 3. Select whether you would like to ask a question about your eligibility, receive a quote for a specific procedure, or set up an appointment.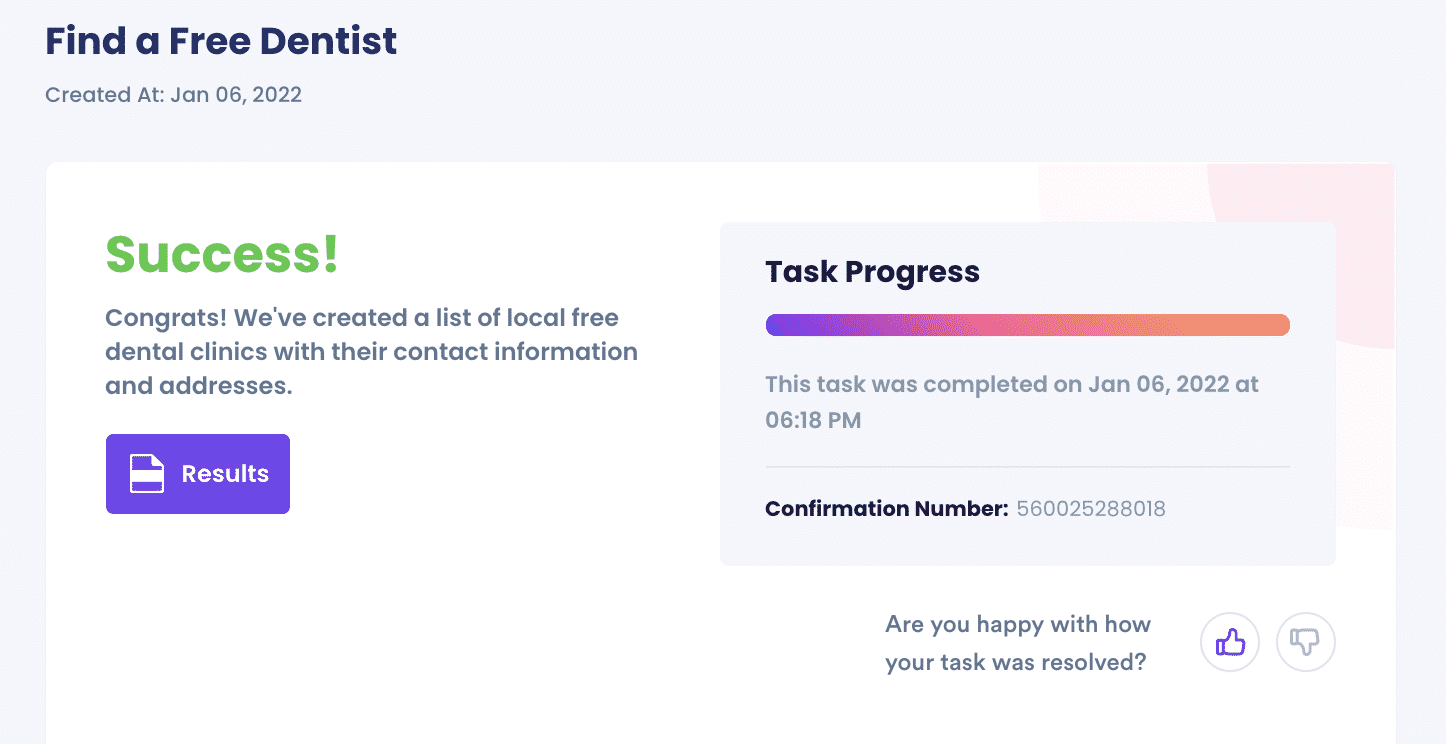 DoNotPay will contact the low-income dentist on your behalf and get back to you with the information you requested.
Why Use DoNotPay?
At DoNotPay, we believe that everyone should be able to easily access free and reduced-cost dental clinics. If you're looking for a dental clinic in Kansas City that offers affordable dental care, read on to learn how you can quickly find free and reduced-cost dental clinics in your area and how DoNotPay can simplify the solution for you.
Ready to find a dental clinic near you? Sign up today to get started!