How to Find a Free Dental Clinic in Indianapolis
Good dental hygiene and preventative care are important for good general health. Research has shown that not practicing good dental care can increase your risk of having kidney disease, diabetes, and heart disease. And face it, you want to take care of that beautiful smile, right? But sometimes finding a low-income dentist can be difficult.
There are thousands of free dental clinics across the nation. DoNotPay has created a database to help you find a , or in any other area of the country. Simply search for Free Dental Care and get started.
What if I Want to Find a Free Dental Clinic in Indianapolis on My Own?
Of course, you can find a on your own. It just requires some time, some research, and some patience. To get started, you will need to contact different organizations to determine what is available, their location, and if you qualify. Start with these agencies:
Federally or state funded health clinics

Health clinics subsidized or funded by government grants and programs. These centers may offer free services or access to a

cheap dentist

, meaning your co-payment will be based on your family income.
You can call the clinics to see what services are offered and if you qualify.

Dental schools, hospitals, and universities

If your area has dentistry students, they probably offer affordable dental care at no or low cost.
May not be based on income levels, but keep in mind, the dental services will be performed by students (with supervision of licensed dentists or hygienists).

Faith- or community-based clinics

Churches and community action agencies often sponsor health and dental care for low-income individuals, seniors, disabled, and homeless population.
Check with your church or a local church or community center to find out more.

Non-profits and United Way

Usually have a list of clinics that offer the services that you need at reduced costs.
Once you have found free clinics in Indianapolis that offer free dental care, contact the clinic to determine if an application is required, find out if you qualify, and get an estimate on the procedure that you need to have. Make an appointment, but keep in mind, some clinics offering free or reduced dental care only operate on a limited basis. You may have to wait a while to get in.
Will I Qualify for Free Dental Care in Indianapolis?
Usually, you will be asked the following questions in determining if you qualify for free care:
Income – Income, family size, household expenses are some things you may be asked to qualify for. You may be asked to provide proof.
Insurance – Medicare, Medicaid, private, group, or

no insurance

may determine if you qualify for free care. Even if you have insurance, you may not be able to afford the cost after coverage, and some clinics may help with that.
Procedure – If your procedure is complicated or requires specialization, you may be required to pay a portion of the cost. Simple procedures may be totally free.
Special groups – If you are elderly, disabled, homeless, or suffer from an illness, there may be special locations that will provide subsidized care.
What if I Cannot Do This Myself?
There are many reasons you may not be able to do this yourself. You may not have the time to do all the research to find a free dental clinic in Indianapolis. Or perhaps you cannot spend countless hours on the phone trying to establish eligibility, set up appointments, or get quotes on your procedure. That's where DoNotPay comes in. Our Free Dental Care product can answer questions about your eligibility, get you a quote, or set up an appointment. We can contact the clinic on your behalf and get the information you need. DoNotPay saves you time, money, and stress.
How Can DoNotPay Help Me?
DoNotPay makes finding a free dental clinic in Indianapolis easy and fast. We work to get you the best outcome possible and get you the information you need in just three short steps.
Here's how you can use DoNotPay to find free dental clinics:
1. Search "dentist" on DoNotPay.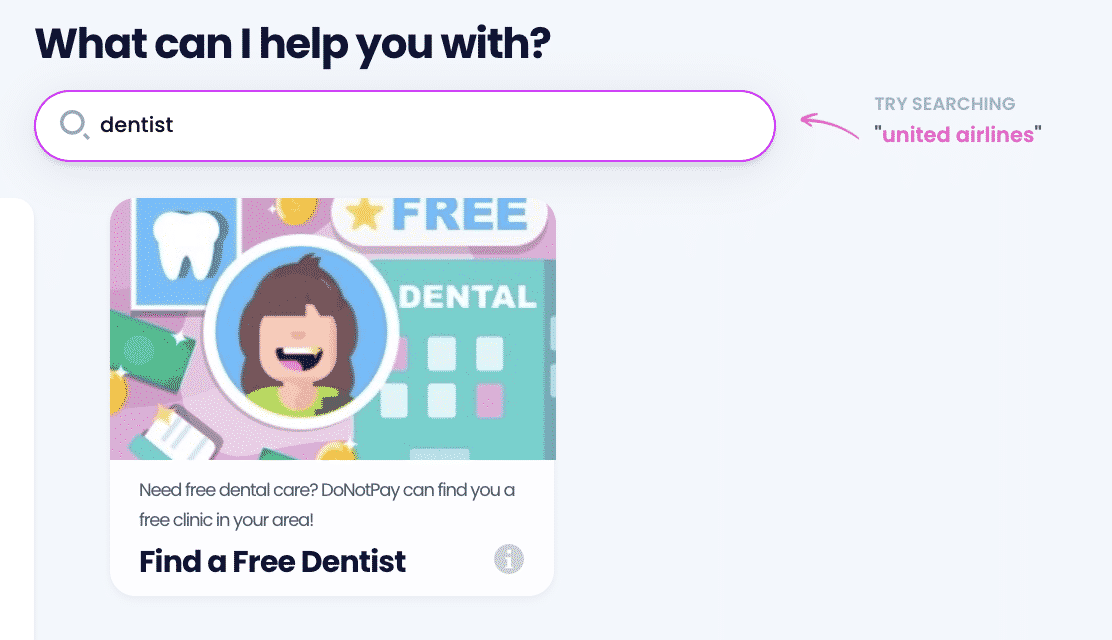 2. Enter your current address, so we can find the clinic nearest to you.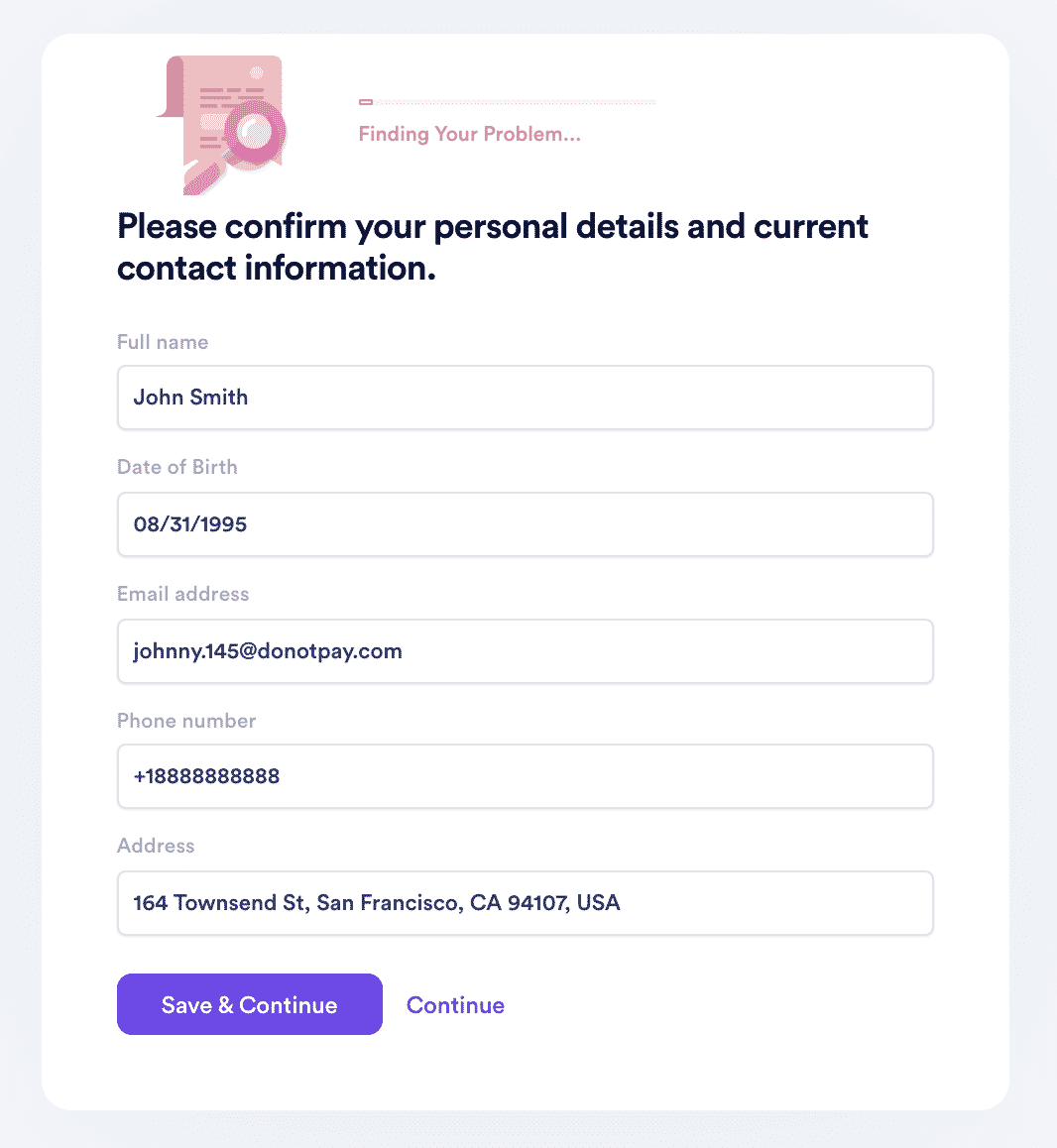 3. Select whether you would like to ask a question about your eligibility, receive a quote for a specific procedure, or set up an appointment.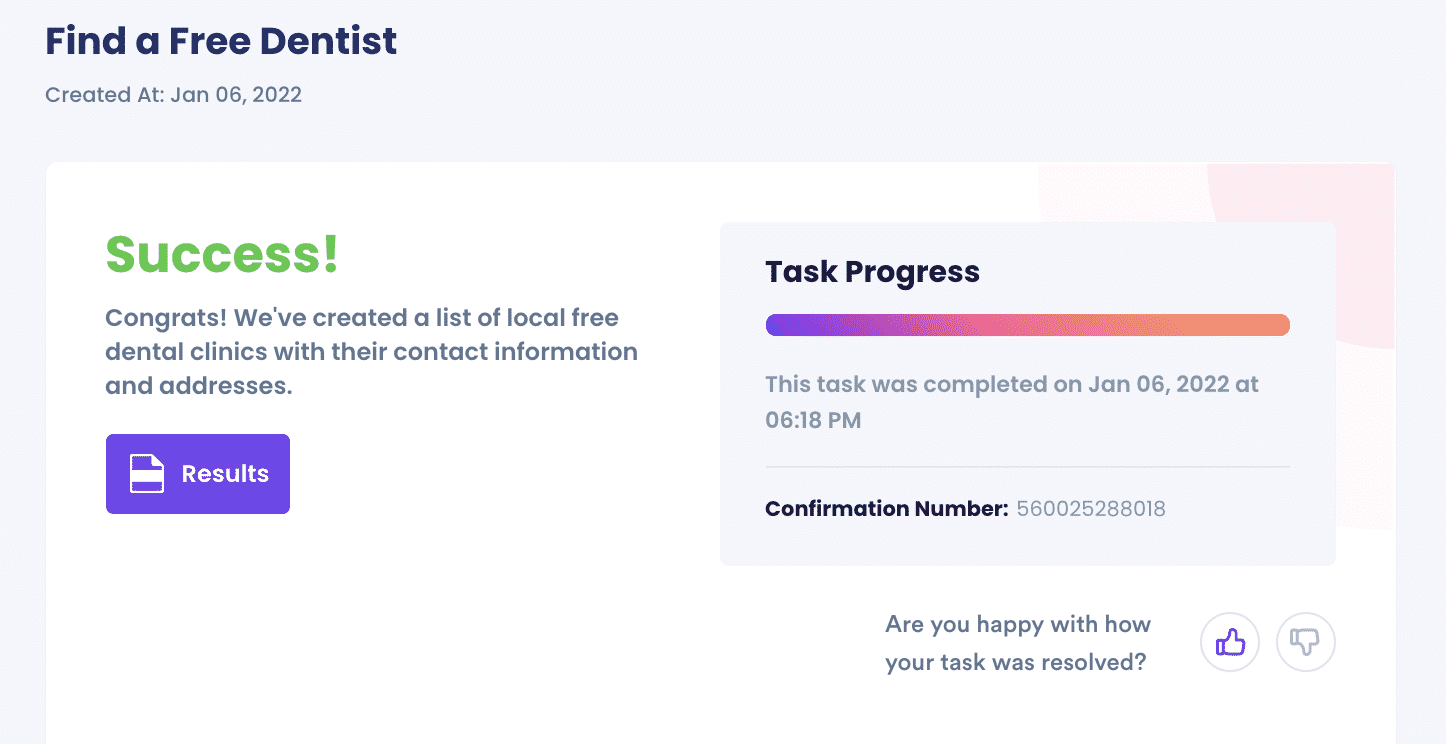 And that's it. DoNotPay will contact the clinic on your behalf and get back to you with the information you requested.
Can DoNotPay With Other Problems?
Absolutely. DoNotPay can help solve problems that take your time and money on a daily basis. And we do it quickly and easily. For example:
DoNotPay can help with these problems and so many more!. How can DoNotPay help you?