How to Find Free Dental Clinics in Greenville, SC
Are you looking for a free dental clinic in Greenville, SC? Finding free or reduced dental care is certainly difficult, no matter what state you're in. But one thing for certain is that everyone deserves access to free and low-cost dental services. The problem is that information regarding affordable dental services isn't always readily available. Not forgetting to mention that residents often have to take advantage of certain programs to get access to the dental care they can afford.
Here at DoNotPay, we want to simplify the process of getting free and reduced-cost dental in Greenville, SC. If you need a for you and your family, read on to learn how to get free or reduced dental care and why DoNotPay is the easiest option to find a dental clinic in your area.
Who Qualifies for Free and Low-Cost Dental Care?
Unfortunately, affordable dental care is generally hard to find, and that includes finding a . Not only that, but many insurance plans do not cover dental maintenance as part of the coverage. This is one of the reasons why so many Americans avoid the dentist's office.
With that said, each state has its own guidelines in terms of who qualifies for free or low-cost dental services. But in general, individuals and families who are considered low-income according to their state can qualify for free and reduced dental services. These individuals may be able to get dental service at specific facilities or take advantage of insurance plans designed for those with a low income, such as Medicaid.
To get a better look at the income guidelines in South Carolina, refer here.
How to Get Free or Reduced Dental Care in Greenville, SC on Your Own
The good news is that there are various options available for Greenville residents to get dental care from a cheap dentist. Let's take a look at a few options.
Free and Reduced Dental Clinics
Non-Profit/Free Dental Clinics: There are various free dental clinics in the Greenville area that give quality dental service to residents in the area. These free clinics are generally operated by charities, churches, and dental organizations. Keep in mind that free clinics often have a waitlist, but it is a good option if you're willing to wait for service.
Public Dental Clinics: Public dental clinics in Greenville, SC are funded with the help of taxpayer dollars. A public dental clinic is a good option if you're looking for a fixed, low price for dental care.
Here is a list of free and low-cost dental clinics in Greenville, SC.
Other Options
There is insurance coverage available to individuals and families in Greenville, SC that can help make dental services much more affordable. Two options include Medicaid and Medicare.
Medicaid: Medicaid is a state-funded insurance plan that provides health coverage for a variety of citizens. Among those citizens are low-income individuals and families who need access to health care. With that said, many Medicaid plans offer dental coverage as well, enabling those with a plan to get the dental care they need. If you have Medicaid, be sure to check with your dental clinic to see if they accept your provider.
Medicare: This is a federal health insurance program created for those who are at least 65 years of age and those with specific disabilities. Like Medicaid, this insurance program, you may have dental coverage as well. But keep in mind that dental coverage with Medicare is limited.
Next Steps if You Can't Get a Free Dental Clinic Yourself
Getting free dental service isn't the easiest process for a variety of reasons.
There often aren't many dental clinics that provide free or reduced dental service.
Free or reduced dental service isn't widely advertised.
There may be certain steps involved with getting free or reduced dental service, depending on the clinic.
This can certainly be frustrating when you're trying to get the dental care you need. But if you're having a hard time finding a clinic in Greenville, SC that offers free or reduced services, no need to worry. There is a better and quicker option.
Let DoNotPay Help You Get Free or Reduced Dental Services in Greenville, SC
Do you need access to a low-income dentist in Greenville, SC but can't seem to find what you're looking for? Let DoNotPay help. Scanning the internet on your own to find dental clinics that fall within your budget can certainly be discouraging.
Finding these clinics often takes research as they're not widely advertised. Not forgetting to mention that some clinics may want you to meet certain requirements, which can add to the frustration. Let DoNotPay take the hassle away from you with the help of our database that scans free and reduced dental clinics in America.
Here's how you can use DoNotPay to find free dental clinics in Greenville, SC:
1. Search "dentist" on DoNotPay.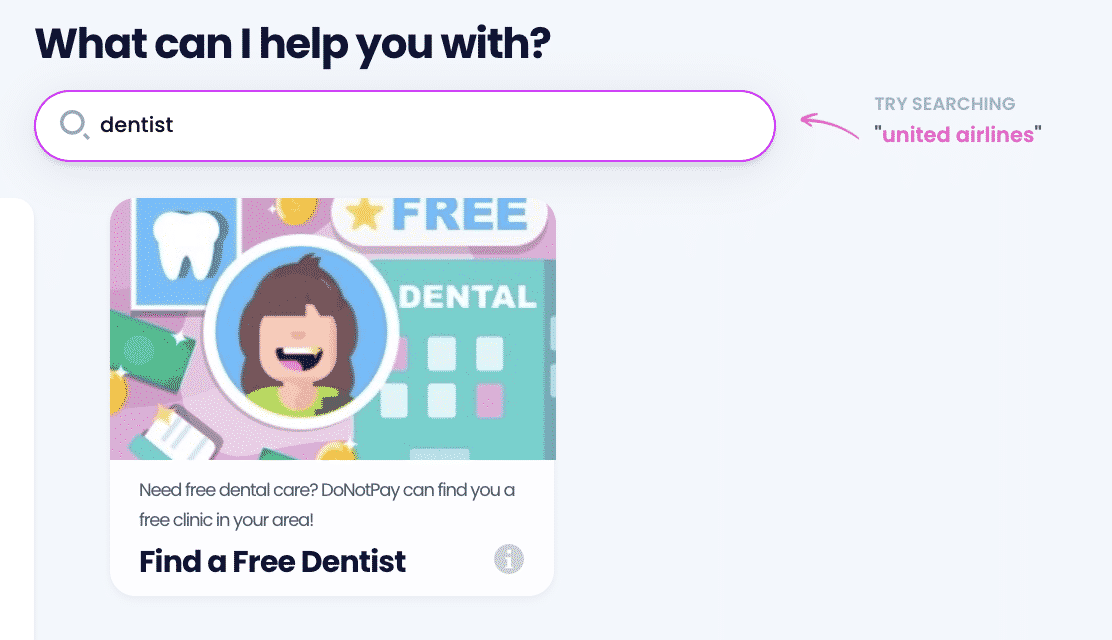 2. Enter your current address, so we can find the clinic nearest to you.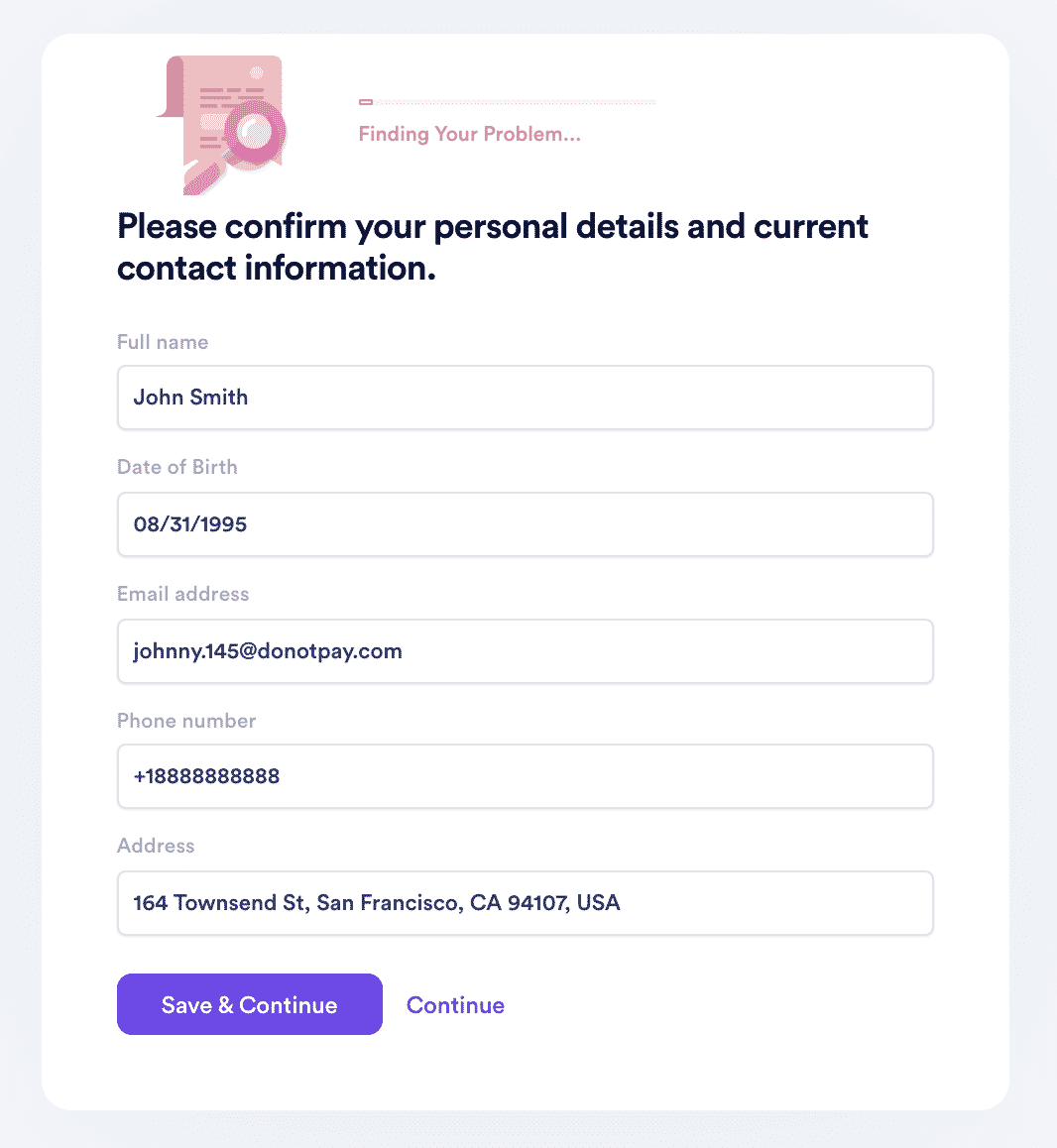 3. Select whether you would like to ask a question about your eligibility, receive a quote for a specific procedure, or set up an appointment.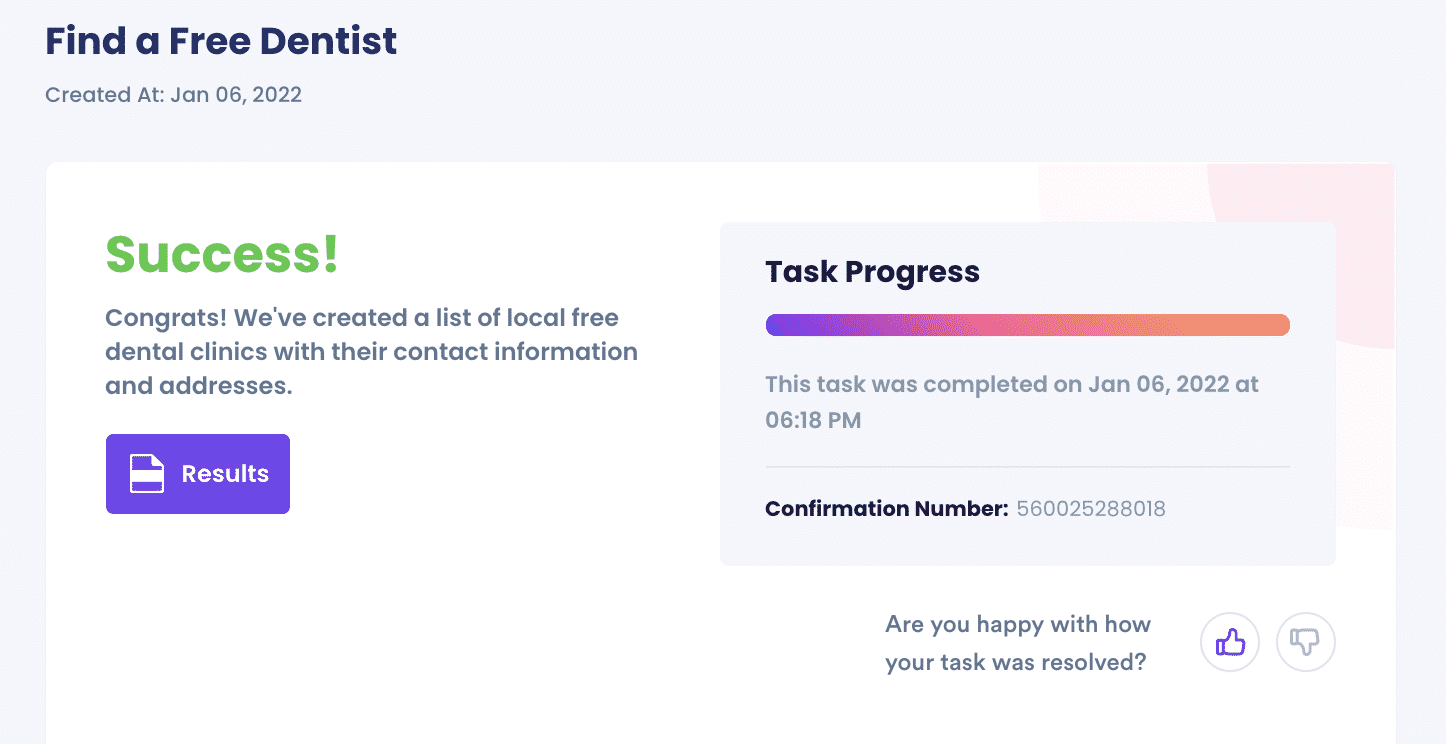 And that's it! DoNotPay will contact the clinic on your behalf and get back to you with the information you requested.
What Else Can DoNotPay Do?
Along with finding affordable dentists for people without insurance, DoNotPay can help you manage tasks like:
Are you ready to find a clinic in your area? today to get started!