Find a Free Dental Clinic in Columbus, Ohio, With the Help of DoNotPay
Proper oral hygiene is essential for a healthy mouth, teeth, and gums. However, with dental care costs spiraling, most Americans find it challenging to get regular dental care. This results in an increase in common dental diseases, including tooth decay, cavities, and gum diseases.
But did you know there are free dental clinics across the US, with at least one in every state offering basic procedures and teeth cleaning? These clinics are an excellent way to maintain your oral hygiene without having high out-of-pocket costs or expensive insurance. But how do you find a , easily and conveniently? Read on as we dig deeper.
Free or Low-Cost Dental Care for Low-Income Individuals/Senior Citizens/Children
Finding a , can be overwhelming. With a heightened unemployment rate and only a small portion of Americans having dental benefits through their employer, accessing proper dental care can be challenging. Low-cost dental care refers to affordable dental care offered to citizens by a federal government, state government, dental schools, and local organizations at reduced prices.
Dental schools – most dental institutions run clinics where students attend to the public at reduced prices as they gain experience before graduation. You might get charged half or way less for fillings, root canals, and other services than what established dentists charge. You can use Commission on Dental Accreditation to find a school near your state.
Medicare – is a health insurance program for people aged 65 and above and for people with specific disabilities. However, Medicare dental coverage is limited and doesn't cover most dental care procedures.
Medicaid – is a state-run program providing medical benefits and occasional dental services to eligible individuals. States provide their guidelines and outline who is qualified and what services they offer. Most states provide limited emergency dental services for Americans aged 21 and above, while others offer comprehensive dental services.
Who Qualifies for Free or Low-Cost Dental Care?
The eligibility for free or low-cost dental care depends on the program type and the requirements. Charitable health centers and non-profit clinics in Ohio offer low-cost or free dental services to uninsured patients and low-income households. They provide preventative cleanings, emergency root canals, oral surgery, and other services.
Several other free dental clinics offer free or affordable dental care to children, senior Ohio citizens, and the disabled. For instance, the Columbus City Dental Clinic in Columbus, Ohio, offers free health and dental care assistance to the less fortunate, uninsured, elderly, and low-income families. They offer a range of dental care services, including basic cleaning, wisdom teeth removal, and emergency root canal.
How to Get Free or Reduced-Cost Dental Care in Columbus, Ohio
To get free or low-cost dental care in Columbus, Ohio, there are several eligibility criteria you need to meet depending on the facility you are using and the services you need. Some provide free services to the homeless, less fortunate, and elderly, while others offer reduced-cost dental care to the uninsured. You can apply online through the facilities website or in person by visiting their physical addresses.
Name
Phone Number
Email
Address
Who is Accepted
Lower Lights Christian Health Center
(614) 274-1455
N/A
1160 W. Broad Street Columbus, OH - 43222
Low-income, uninsured, elderly
Columbus City Dental Clinic
(614) 645-7487
N/A
240 Parsons Av

Columbus, OH 43215

Less fortunate, single mothers poor, uninsured, elderly
Stowe Mission Dental Clinic
(614) 445-8400
N/A
Columbus, OH – 43206
Elderly, uninsured, children
Parsons Avenue Dental Center
(614) 645-5500
N/A
240 Parsons Ave., 2nd Floor

Columbus, OH - 43215

Low-income, uninsured
West Broad Street Health Center
(614) 645-2300
N/A
2300 West Broad Street

Columbus, OH - 43204

Uninsured, low-income, elderly, children
Next Steps for Finding Free Dental Care in Columbus, Ohio if You Can't Do It Yourself
While dental schools, charitable organizations, federal and state governments have established free dental care to cater to less fortunate, low-income, and uninsured families, finding such a facility in Columbus, Ohio, can be daunting.
The process can be lengthy and leave you even more devastated, writhing in pain. But what if there was a more convenient way to find free dental care clinics in Columbus, Ohio, hassle-free? Without even breaking a sweat? Meet DoNotPay.
With DoNotPay finding a free dental clinic in Columbus is as easy as 1,2,3, and you won't break a sweat. Provide only a few details, and DoNotPay will contact the clinic about your query and get back to you.
Find Free or Low-Cost Dental Care in Columbus, Ohio with the Help of DoNotPay
DoNotPay offers a super-easy way of finding a cheap dentist in Columbus at the comfort of your home. You won't need to contact the facility on your own or do any leg work. DoNotPay simplifies the whole process and ensures you get a convenient free or low-cost dental clinic near you.
Here's how you can use DoNotPay to find free dental clinics:
1. Search "dentist" on DoNotPay.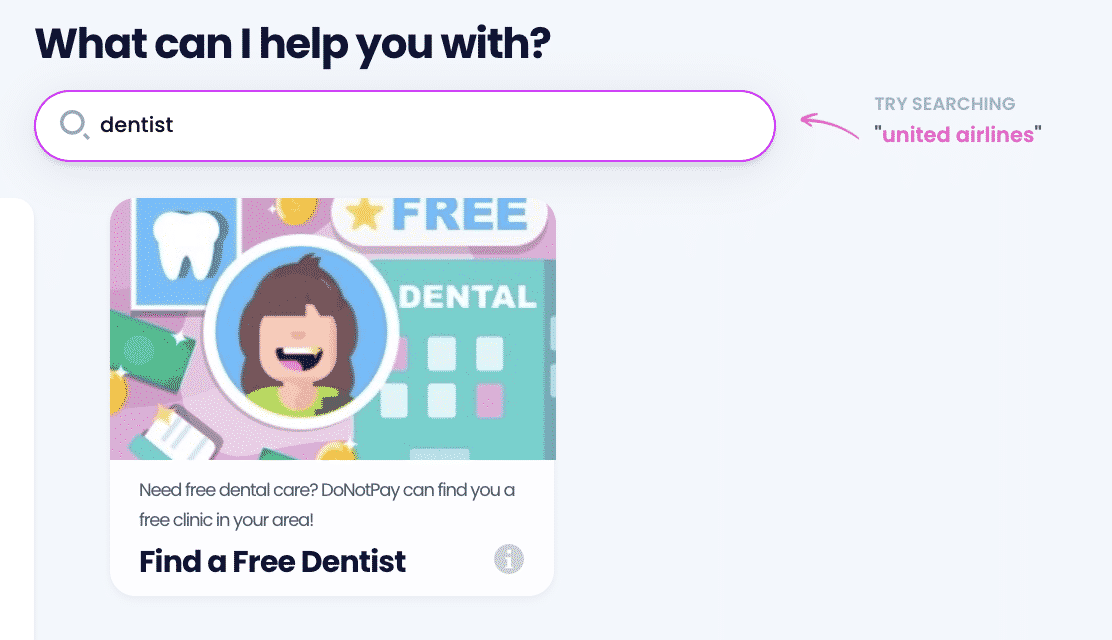 2. Enter your current address, so we can find the clinic nearest to you.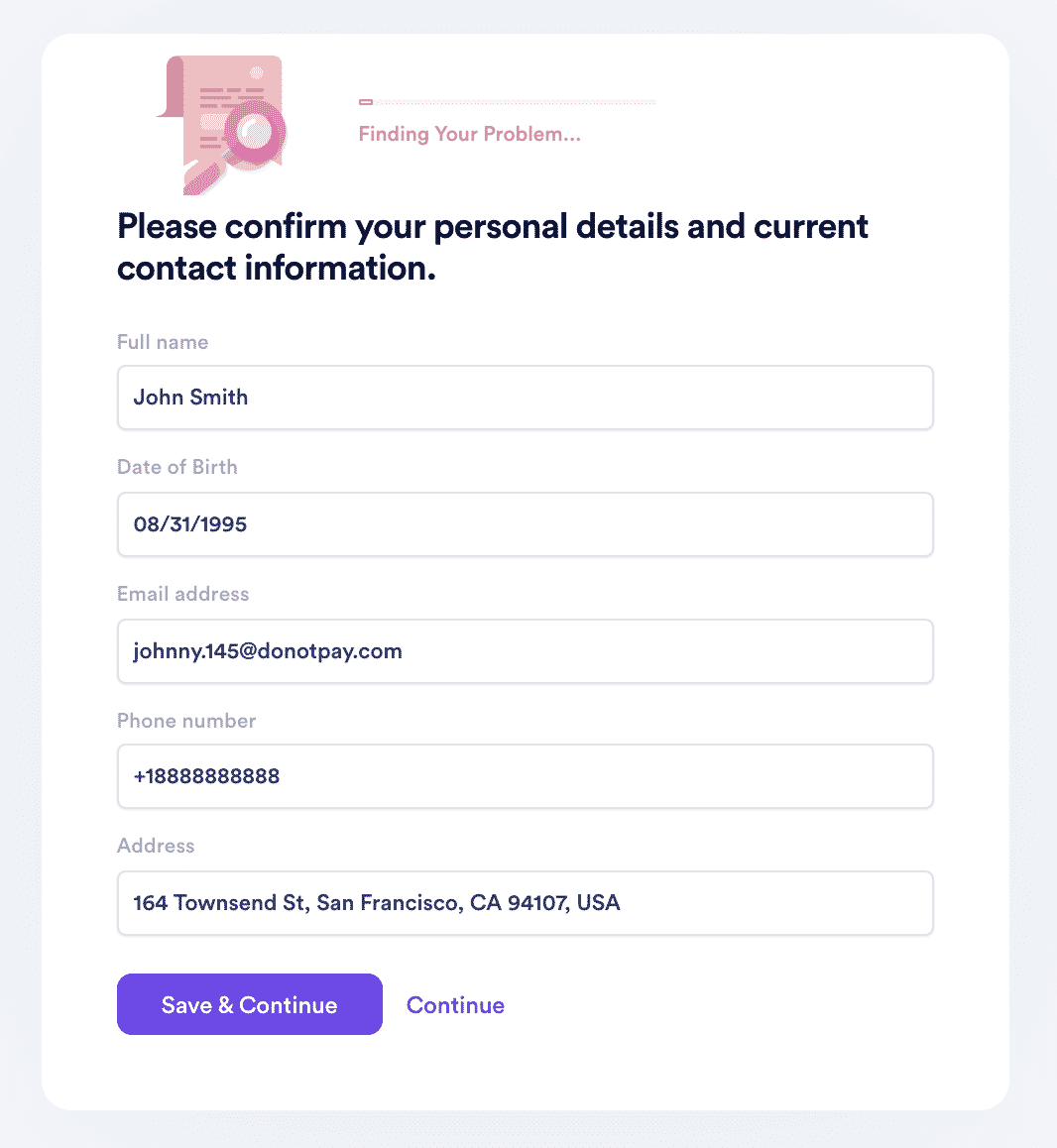 3. Select whether you would like to ask a question about your eligibility, receive a quote for a specific procedure, or set up an appointment.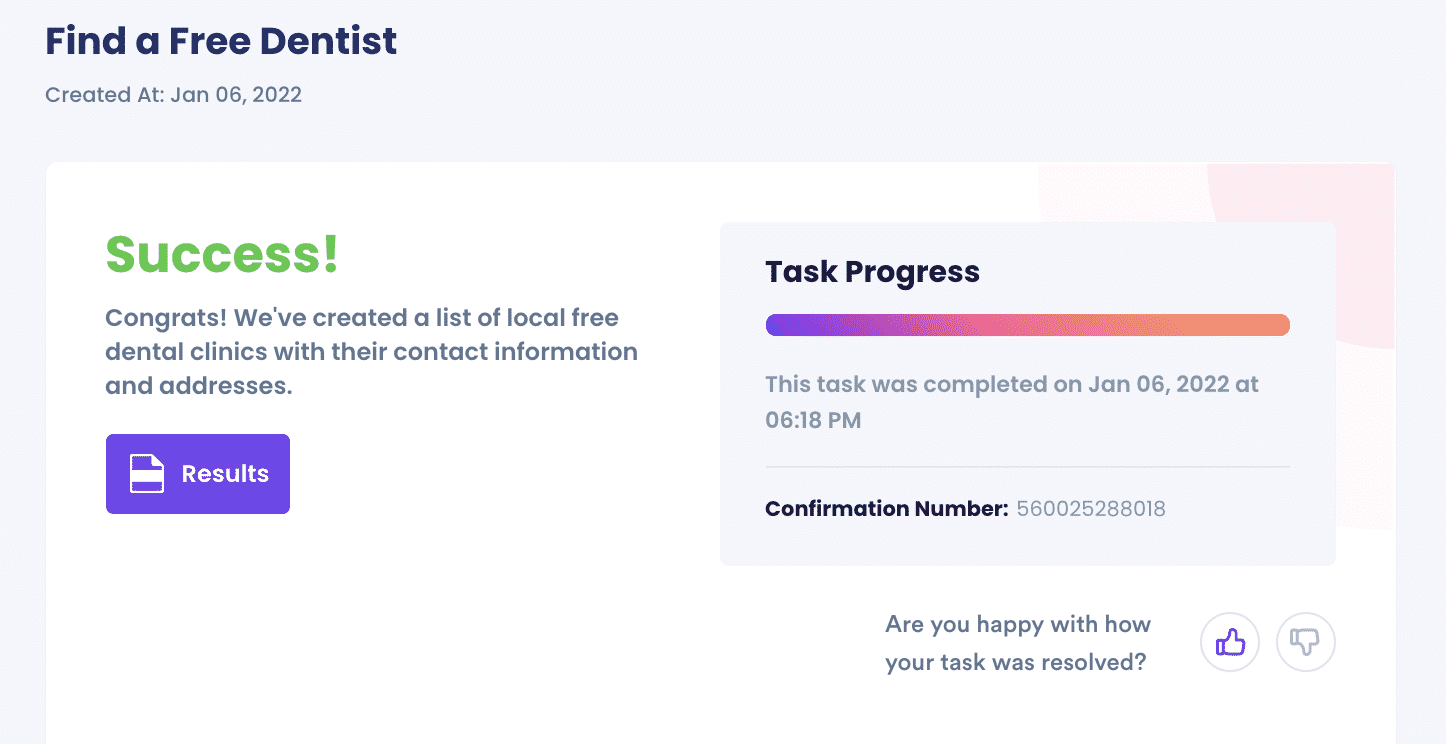 And that's it! DoNotPay will contact the clinic on your behalf and get back to you with the information you requested.
Why Use DoNotPay to Find a Free Dental Care Clinic
Some of the benefits of leveraging DoNotPay services in finding a free dental care clinic in Columbus or a low-income dentist include:
Fast. You won't need to spend hours trying to find a clinic on your own. DoNotPay will do all the legwork for you with only a few clicks.
Easy. DoNotPay eliminates the need to fill out lengthy and tedious paperwork. All you need to do is provide a few of your details and query, and DoNotPay will contact the clinic on your behalf.
Successful. With a considerable customer base and high success rate, rest assured we shall ensure you find a free clinic offering the services you need.
What Else Can DoNotPay Do?
Finding a free dental care clinic is just one of many things DoNotPay can help you with. You can use DoNotPay to solve other problems, including:
Reduce property taxes

.
Sign in or sign up today for DoNotPay to solve any issues you might be having!