How to Find a Free Dental Clinic in Charleston SC
You will find a lot of dental clinics in Charleston SC. However, not all are able to provide free or low-cost services because they do not have the funds to cater for free services. Most people who live in Charleston SC and earn a low income or those without insurance find it hard to access even the basic dental services such as checkups, cleaning, sealants, and x-rays. The reason for this is, dental services are expensive.
Finding a , is not that difficult if you know where to search. However, if you don't know where to look or don't know the eligibility requirements needed for that free dental care, it can be hard to find a clinic that will match your needs. But there's help. You can use fast, automated, and accurate services like DoNotPay to help you with all the hard work. DoNotPay will help you find a free or affordable dental clinic in Charleston SC, allow you to ask any questions, and even get you an appointment. Follow along to learn the 3 simple steps to use DoNotPay services.
How To Find a Free Dental Clinic in Charleston SC on Your Own
There are a couple of ways of finding a . These options include
Local directories: You can search for free dental clinics in Charleston SC on the internet. Most dental directories provide a list of clinics, their services, location, and how to make an appointment.
Find a dental school: You can contact the Medical University of South Carolina and see if they offer free dental services. Most dental schools have no problem offering free, low-cost services to residents around their school.
Ask around: This is the most obvious way of finding a free dental clinic near your location. Ask your friends, family, and coworkers if they know any dentist that offers services without charging fees. If they refer to a clinic, then go ahead and give them a call or visit their website.
Explore local organizations: Numerous organizations offer free or discounted dental services in Charleston SC. Some of these organizations include
In the table below, you will find the top five low-income dentists in Charleston SC that will offer you free or affordable dental care.
Name
Phone Number
Address
Services
North Charleston Dental Outreach
(843) 740-7114
2003 Grayson Street

North Charleston

First Come-First Serve/ Limited number patients seen
The Dream Center Clinic
(843) 225-1115
5505 N Rhett Ave

North Charleston

Emergency Adult Only: First 3 Mondays of each month, 6:00-8:00 PM

First Come-First Serve/Picture ID, income and SC residency verified:

current utility bill, current pay stub W2 or tax return

Fetter Health Care Network Dental Center
(843) 723-9582
700 Rutledge Avenue

Charleston

Offers income-based fees-verify income or form notarized at library for unemployed/accepts Medicaid
MUSC College of Dental Medicine
(843) 792-2101
29 Bee Street

Charleston

Offers all dental services
Trident Technical College Department of Dental Hygiene
(843) 574-6465
7000 Rivers Avenue, Health Sciences Bldg. 630
Must call for appointment, reduced fees-only
Next Step If You Can't Find a Free Dental Clinic in Charleston SC on Your Own
If you can't find a free or affordable dental clinic, DoNotPay can help you find one. DoNotPay is a service that helps people find free or discounted dental care. All you have to do is type in your zip code and it will show you all the clinics nearby that offer free or discounted services.
Here's how you can use DoNotPay to find free dental clinics:
1. Search "dentist" on the DoNotPay product.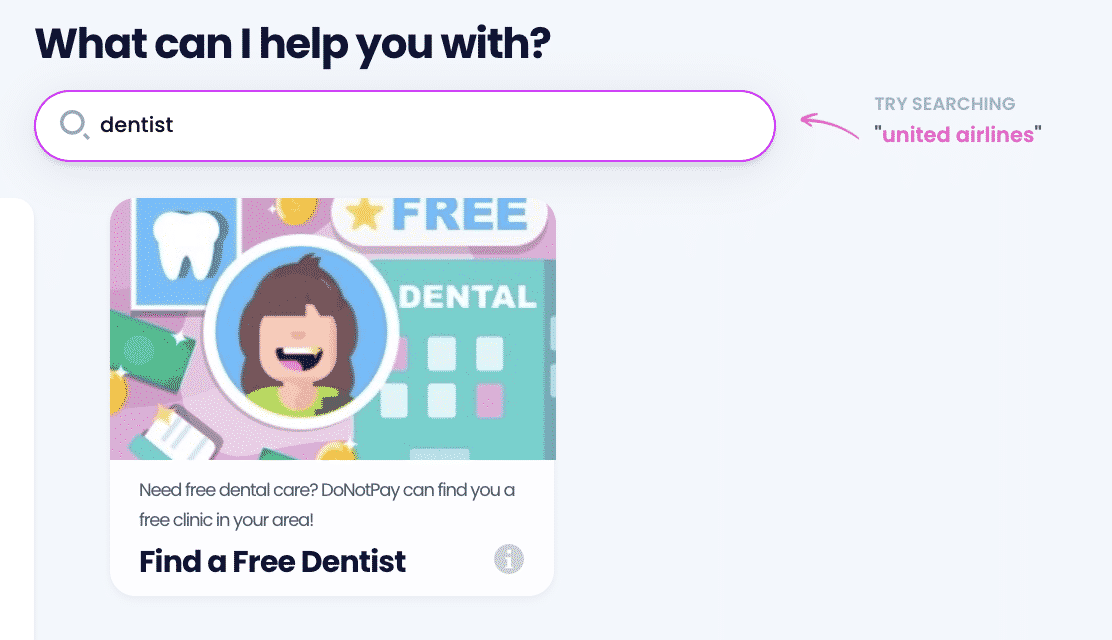 2. Enter your current address, so we can find the clinic nearest to you.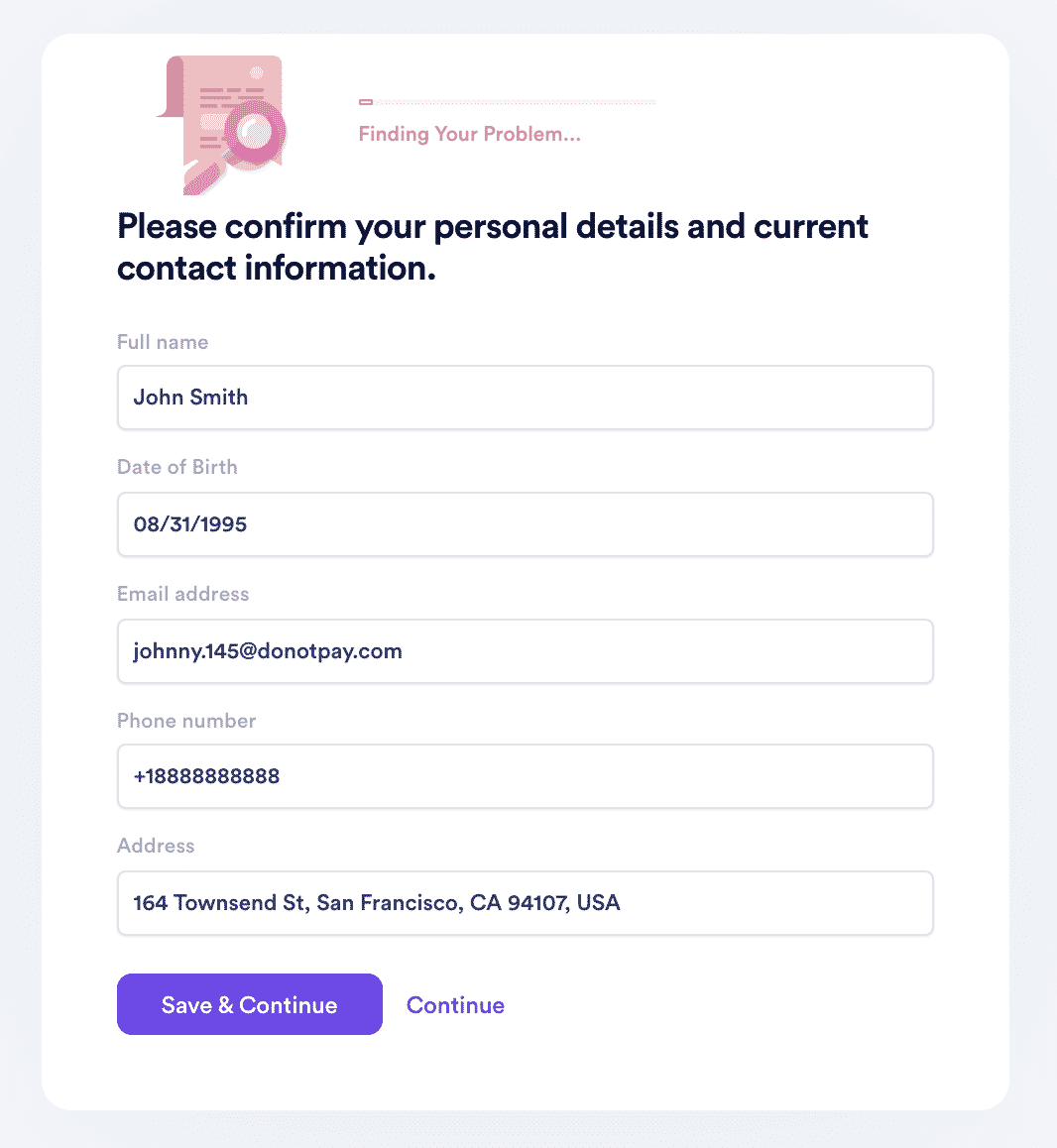 3. Choose to ask a question about your eligibility, receive a quote for a specific procedure, or set up an appointment with the clinic.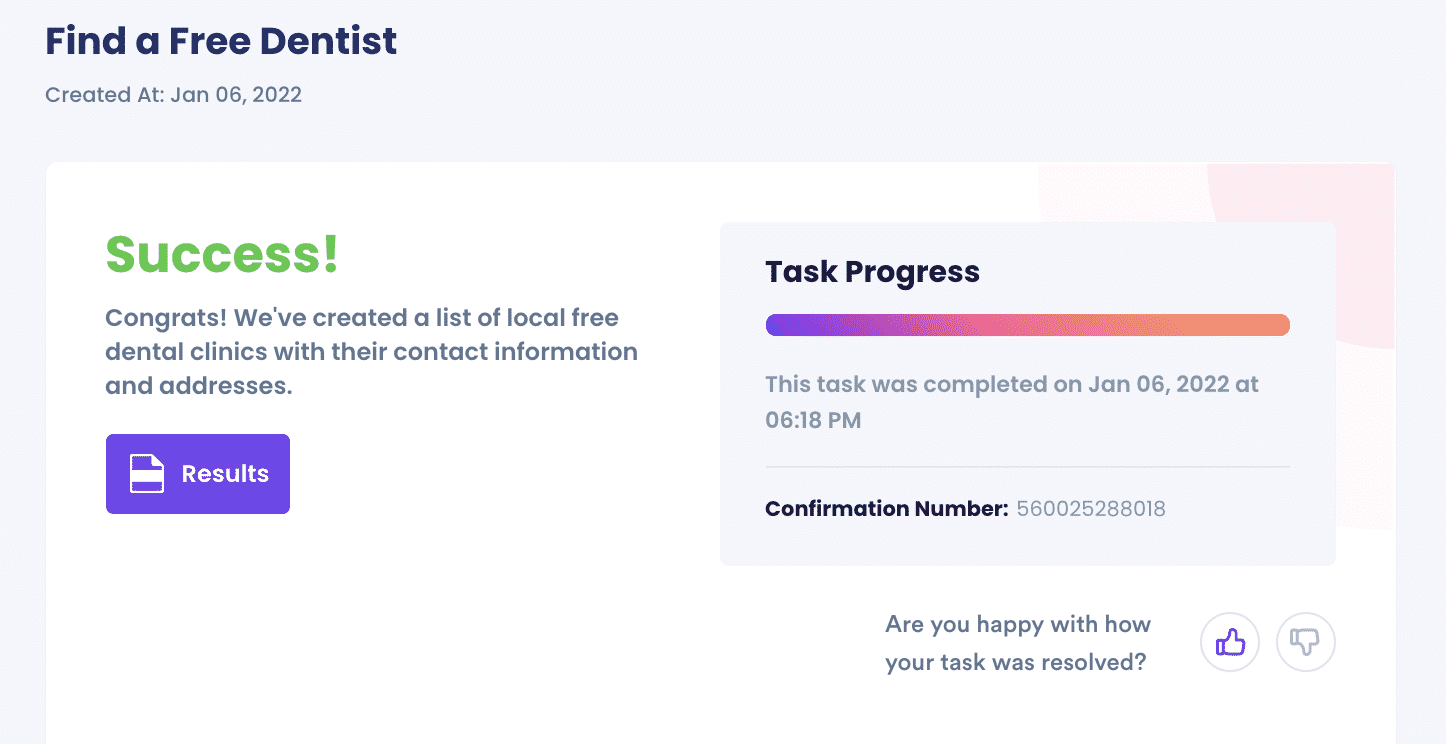 Why Use DoNotPay to Find Free Dental Clinics in Charleston SC?
There are numerous reasons why you should use DoNotPay when looking for a free dental clinic in Charleston SC. Some of these reasons are because DoNotPay is:
Easy to use: You don't have to struggle to search online and offline for free a dental clinic near you that offers the services you need. DoNotPay does all the hard work for you and shows you a list of clinics that offer free or discounted dental care.
Accurate: We only list clinics that offer free or discounted dental care. You can be sure that the information is up-to-date and accurate.
Convenient: You can use DoNotPay from the comfort of your own home. No need to go from one place to another looking for information on free dental clinics.
Trustworthy: DoNotPay is a free service that has helped thousands of people find free or discounted dental care. You can trust us to help you find the best clinic near you.
Secure: We protect your personal information and we will never sell or share it with third parties.
Finding a free or low-cost dental clinic near you shouldn't be hard. However, the process can be challenging especially if you're using resources that usually provide limited information about the dental clinic, such as name address, and phone number only. The most effective way to find a free dental clinic near you is to use DoNoPay because it provides all the information of your local dentist including eligibility detail and their pricing policy.
No dental-related question is too big or small for DoNotPay. If you have a problem with finding a free dental clinic in Charleston SC, reach out to us and we'll do our best to help you solve it. Don't wait another minute, get the relief your teeth need today by .
What Else Can DoNotPay Do?
Finding a free dental clinic is just one of many services DoNotPay provides. We handle a wide variety of online needs, whether you require assistance getting refunds, want to remove repossession from your credit report, or need services such as:
Improving your mortgage credit score

Settling a divorce agreement

And many more
DoNotPay strives to make your life easier!