How to Find Free Dental Care in Richmond, VA
Nearly 50% of American adults don't get the dental care they need because they can't afford it. Many are uninsured, and many others are insured but can't afford to meet their deductible and make copayments before they can get free dental care. Fortunately, for qualified individuals, there is .
The trick is finding it. If you're having trouble finding a free dental clinic in Richmond, you're in luck. In this comprehensive guide, we're going to walk you through how to find an affordable dentist with no insurance in Richmond yourself and how DoNotPay can help you quickly, successfully, and easily.
Who Qualifies for Free Dental Care in Richmond, VA?
Medicare can help you get , if you are at least 65 years or old or disabled. However, an estimated 747,000 Virginians neither qualify for Medicare nor have dental insurance.
If you do not qualify for Medicare, you need to find a dental clinic that works with the VDA (Virginia Dental Association) Foundation. For instance, you can get free dental care for your child at a VDAF clinic if they qualify for Medicaid.
What Can I Do if I Can't Get My Child Covered by Medicaid?
If you can't get your child covered by Medicaid, you may be able to cover your child through FAMIS, the Virginia-funded health insurance program. While it isn't always easy to pay for insurance and a copayment for dental care and your deductible, it is better to have dental insurance for your child if they ever need emergency care.
Where Can I Find a Cheap Dentist in Richmond, VA?
There are many places you can find a cheap dentist in Richmond, VA. In the table below, you will find the top five low-income dentists in and near Richmond that will offer you free or affordable dental care.
| | | | |
| --- | --- | --- | --- |
| Name | Phone Number | Address | Services |
| Glenwood Medical & Dental Center | 804-780-0840 | 2711 Byron St. Richmond, VA 23223 | Preventive dental care, teeth cleaning, and other oral health services for low-income families on a sliding scale |
| West Grace Health Center | 804-783-2505 | 517 West Grace St. Richmond, VA 23220 | Comprehensive dental care, including restorative, preventive, and emergency dental care at little cost to people in need |
| Vernon J. Harris Medical Center | 804-780-0840 | 719 N. 25th St. Richmond, VA 23223 | Teeth cleanings, fluoride treatments, and other preventive dental treatments for needy families |
| CrossOver Health Care Ministry | 804-622-0803 - 8600 | Quioccasin Road Richmond, VA 23229 | Preventive and restorative dental treatments for families in need of affordable oral health care |
| St. James The Less Free Clinic | 804-559-0995 | 125 Beverly Rd. Ashland, VA 23005 | Free exams, extractions, cleanings, and implants for adults who live in Hanover County |
Richmond is in Henrico County. However, if you call or email St. James The Less Free Clinic and explain why you need dental care, they may take you and provide you with free dental care.
Use DoNotPay to Find Free Dental Care in Richmond, VA
Finding a free dental clinic in Richmond yourself isn't easy. Fortunately, affordable dental care exists, and DoNotPay can help you find it in just three simple steps:
1. Search "dentist" on DoNotPay.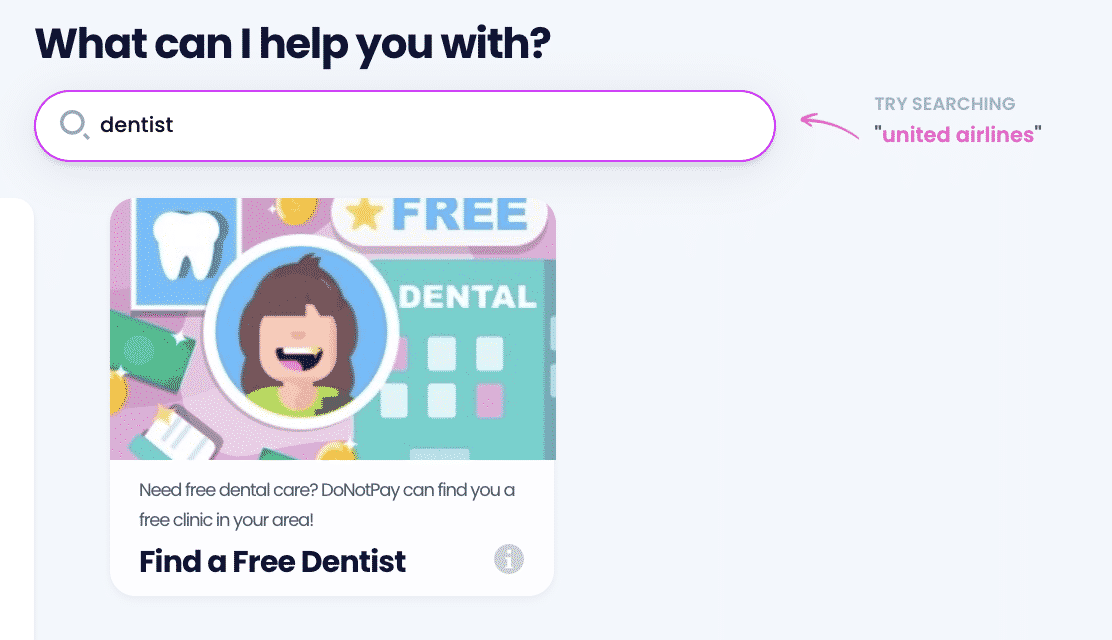 2. Enter your current address, so we can find the clinic nearest to you.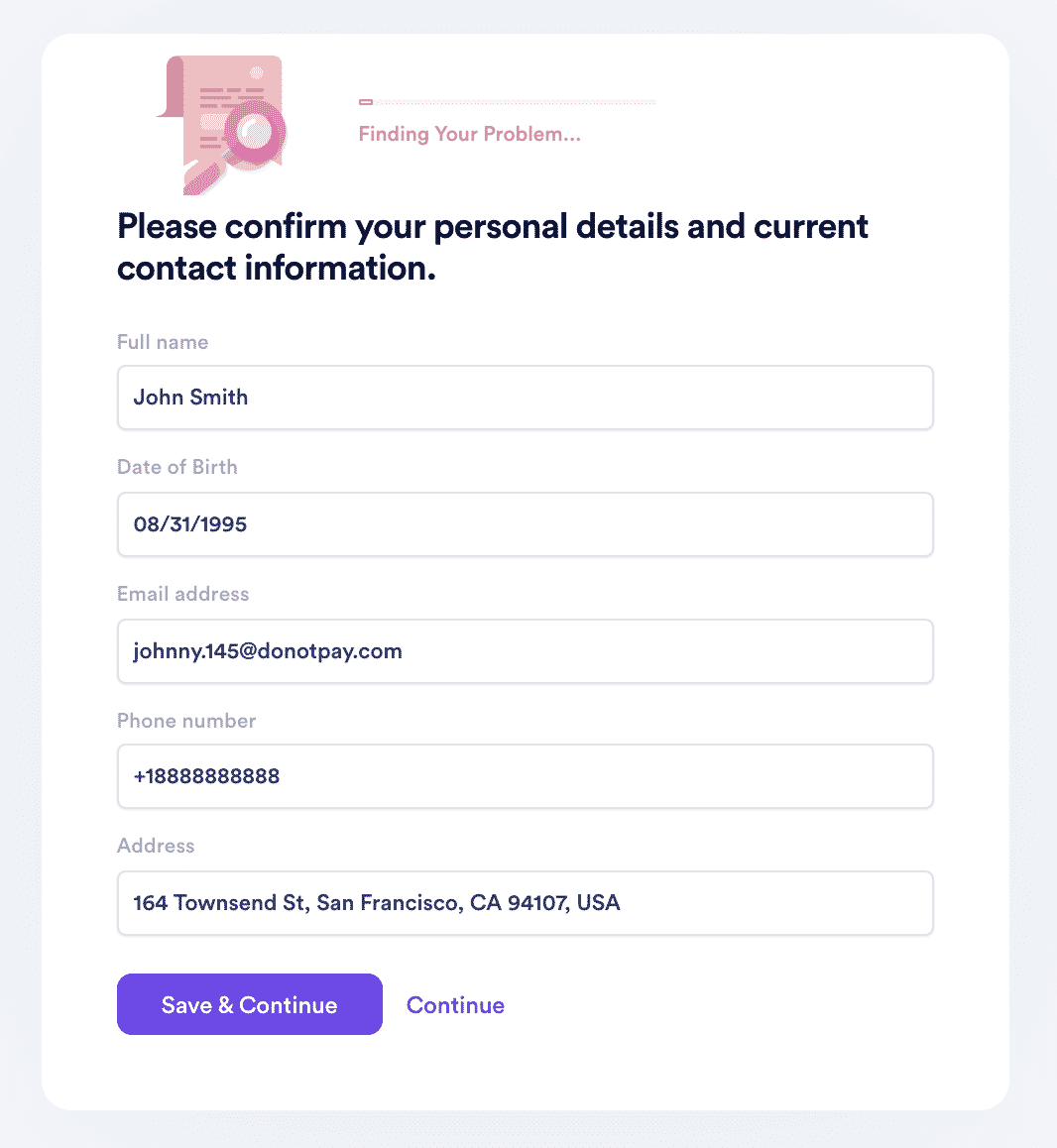 3. Select whether you would like to ask a question about your eligibility, receive a quote for a specific procedure, or set up an appointment.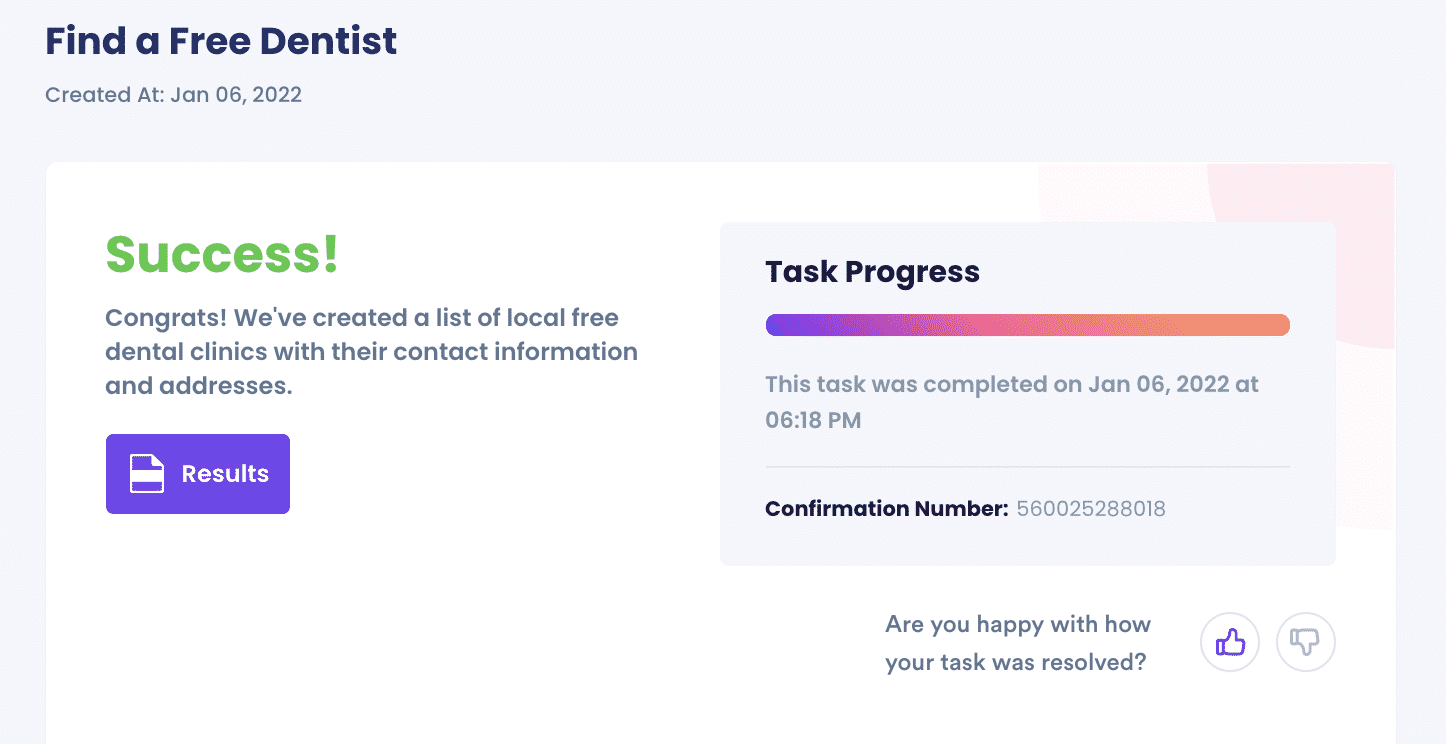 Why Use DoNotPay to Find Free Dental Care in Richmond, VA?
You should use DoNotPay to find free dental care in Richmond, VA because the process is fast, simple, and successful.
Fast: With DoNotPay, it will only take a couple of minutes to find a nearby dental clinic that can provide services to you or your child for little-to-no cost.
Simple: It could not be easier to use DNP to find an affordable dental clinic nearby. You only have to follow three steps, and DNP walks you through each of them.
Successful: You could spend hours driving around town and walking into a dozen dentist's offices, asking if you qualify for affordable care. Unfortunately, you may not qualify for free or cheap dental care. With DNP, you can rest assured that we will schedule an appointment for you at a clinic that will provide you with affordable care.
DoNotPay Can Help You Find Free or Cheap Dental Care Anywhere in the Country
DNP is the perfect resource if you need help finding affordable dental care in Richmond. That said, you can use DoNotPay to find affordable dental care anywhere in the country. For instance, DoNotPay can help you get free cleanings every six months in New Orleans, LA if you ever leave Richmond. Also, if you go on vacation, DNP can help you schedule a low-cost appointment for an emergency tooth extraction in Las Vegas, NV. You can also use DNP to schedule appointments in:
Atlanta, GA
Carlisle, PA
Ithaca, NY
What Else Can DoNotPay Do for Me?
There is no better resource for finding free dental care in Richmond than DoNotPay. That said, scheduling dental care for you and your loved ones doesn't even scratch the surface of what DoNoyPay can do. You can also turn to DoNotPay if you need help:
Reducing your property tax liability