How to Get Free Dental Care in Houston
Finding free dental care — Houston style — is a bit more difficult than finding its world-famous chicken-fried steak. While it's easy to remember that Houston is home to the United States' 9th largest city, finding dental care can be challenging in the heart of Texas amongst so many other people and difficult, discouraging backdrops for finding health services. Nonetheless, countless low-income people look for every day, and it's not a small figure that seeks affordable dentistry even in one of the main hubs of Texas.
As part of DoNotPay's free dental care product, we offer an array of advice on not only finding a low-cost dentist in Houston, but low-income dentists in many American cities. Many cities and clinics offer a variety of free dental clinics, or reduced, low-priced, and affordable clinics. In general, many Universities and dental schools provide affordable dental care, as well as federal or state programs that help service underserved populations when it comes to affordable dentists. Yet, when it comes to Houston, here is the guide for where to get free dental care in Harris County.
Free or Low-Cost Dental Care for Low-Income Individuals, Senior Citizens, and Children in Houston
There are a variety o that exist due to charity organizations, religious funding, federal programs, and other state-provided programs for the low-income. Free emergency dental care in Houston has a variety of organizations that support the care; but, the result is the same, being dental care that helps millions. We also recommend Houston's FQHC (free clinics in Houston), which services the same populace and also helps people afford dental care.
Here are our top five free or sliding-scale clinics in Houston:
Health Care for the Homeless
1934 Caroline Street

Houston, TX, 77002

Free care for the homeless t
Southeast Health Center
5901 Long Drive

Houston, TX, 77087

Income-based care
Eastwood Health Center
412 Telephone Road

Houston, TX, 77023

Sliding scale for low-income clients, families.
Bee Busy
8785 W. Bellfort

Houston, TX, 77031

Wellness clinic (also providing dental care), income-based care
Central Care
South Park

8610 MLK

Houston, TX, 77033

Income-based care
If none of these clinics will help, work out a payment plan, or adjust for fees, then consult Medicare or Medicaid. If dealing with a parent or elderly person and one's wondering where can seniors get free dental care in Houston, Texas, then it might be easier to enroll them in Medicare first. Sometimes, clinics can be reluctant to enroll new patients or uninsured patients; therefore, if one is low-income, then try enrolling in government insurance first. The marketplace insurance, BidenCare, can also be useful in this regard.
Who Qualifies for Free/Low-Cost Dental Care?
Those who qualify for free, emergency dental care in Houston and surrounding areas are typically going to have to be eligible for federal programs.
To be eligible for Texas Medicaid, based on benefits.gov, one must:
Have an income that falls within the annual parameters
Have an income that falls between parameters based on the federal poverty line
Have an income between parameters per household members
Household size is congruent to the maximum income level a person can sustain
Household size maximum allocation is $25,503 for 1, $34,492 for 2, $43,481 for 3, $52,470 for 4, $61,460 for 5, $70,449 for 6, etc., or (+$8,989 per individual beyond that)
Typically register with DHS or other Harris County services
When it comes to faith-based services and cheaper dentists in Houston practices, they will typically base their sliding scale on the federal guidelines. However, charities and local free clinics are worth consulting when someone already has insurance and is having a hard time finding free dental care.
Here are some tips:
Houston has a variety of clinics and services that might help with the cost of care.
Try looking for services at reduced costs at the student clinics.
Try asking about care at the hospitals.
Even with outstanding bills or fees, try calling the billing department.
Many programs offer what they refer to as "scholarships" for care and will knock down a bill.
Ask billing departments if one qualifies for need-based services.
Different hospitals and clinics may have more flexible guidelines than federal care and cover services at reduced fees even if one makes too much to be eligible for Medicaid or Medicare. Remember, being uninsured is different from being on these programs.
Let DoNotPay Find Low-Cost Dental Clinics in Houston
It can be intimidating to find dental care when one is underinsured, uninsured, or on government health care. It can even be challenging when one has private insurance. Feeling lost, puzzled, and having a toothache? Let DoNotPay quickly find you a cheap, Houston dentist.
Here's how you can use DoNotPay to find free dental clinics:
1. Search "dentist" on DoNotPay.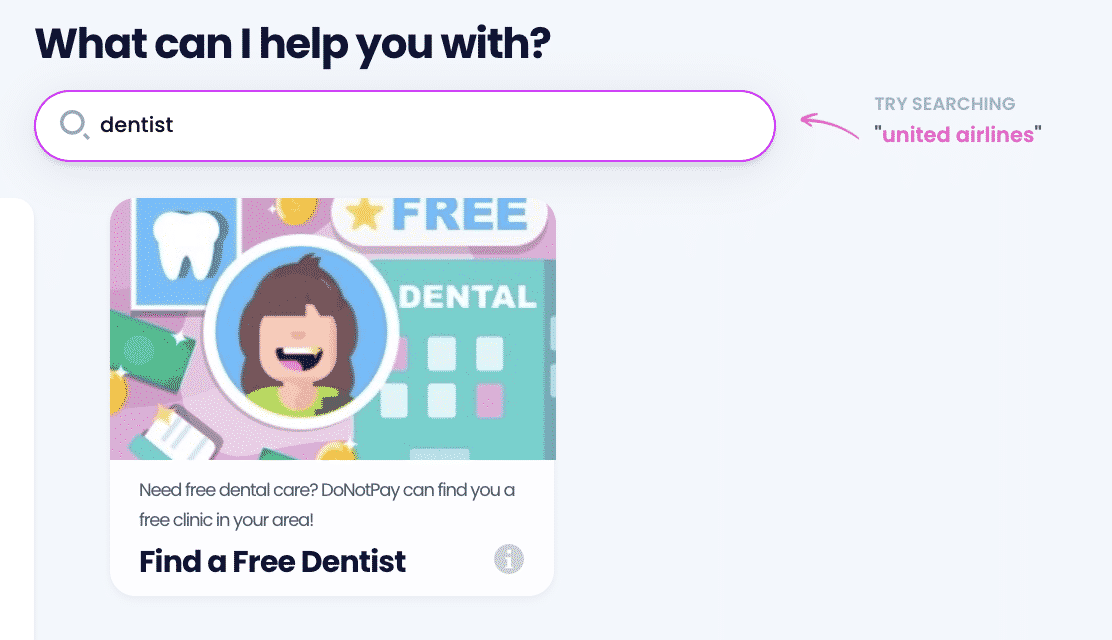 2. Enter your current address, so we can find the clinic nearest to you.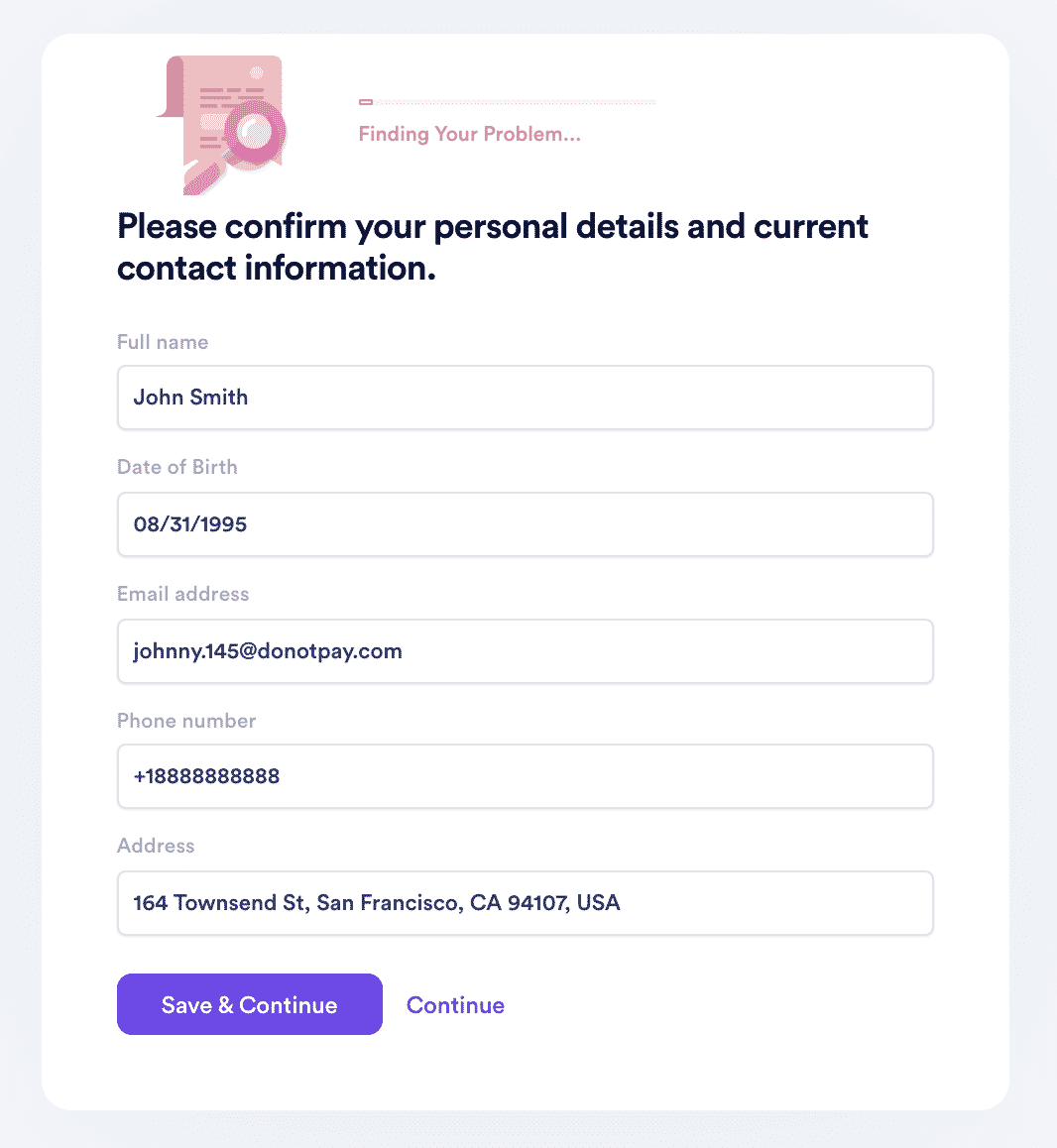 3. Select whether you would like to ask a question about your eligibility, receive a quote for a specific procedure, or set up an appointment.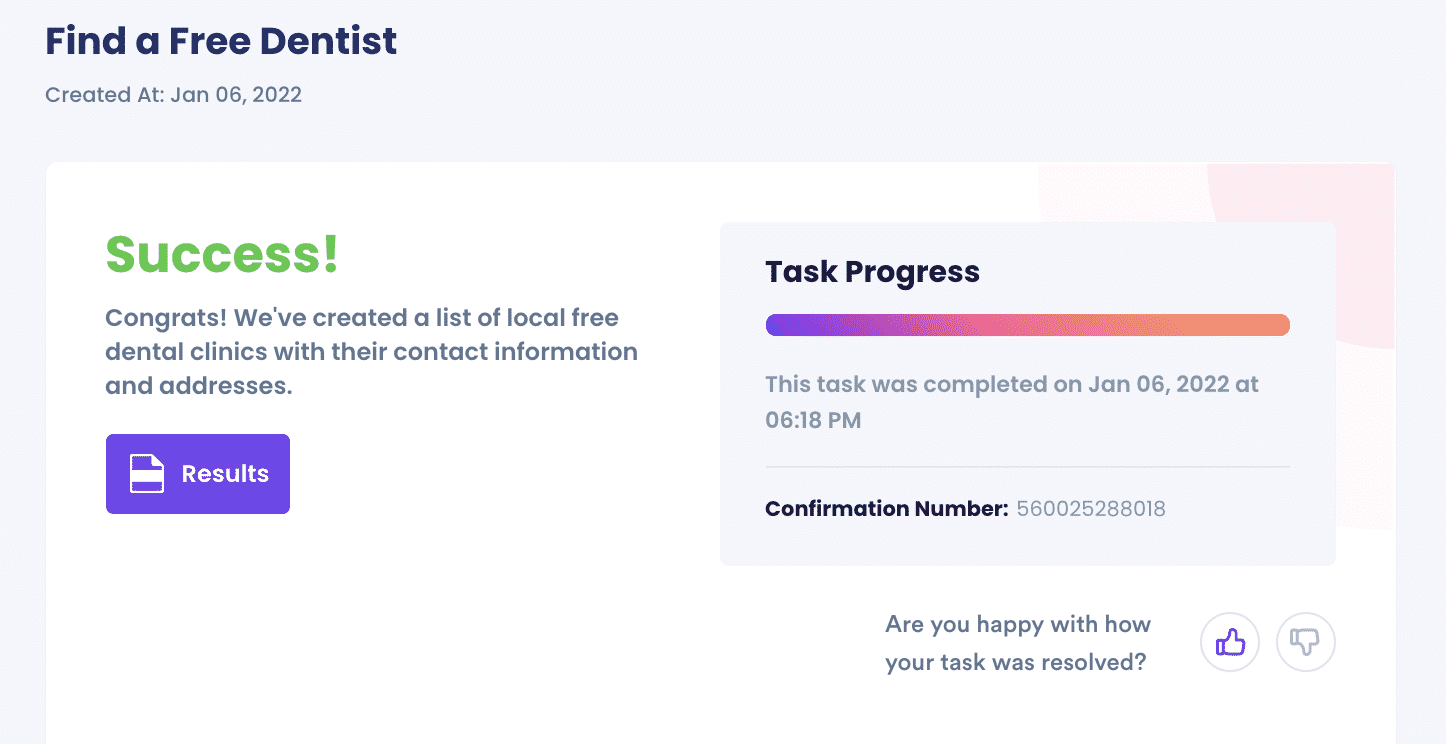 And that's it. DoNotPay will contact the clinic on your behalf and get back to you with the information you requested.
What Else Can DoNotPay Do?
DoNotPay can help you solve several issues, including:
You don't need to waste your time and energy on an errand or task. Contact us now and let us manage it for you.