How to Access Free Dental Care In Florida Easily
A chipped tooth. A cavity. Getting a tooth knocked out. Regular dental appointments can make a world of difference when these things happen or prevent them from happening at all. Unfortunately, it can be hard to get access to a cheap dentist without a large payment, especially without insurance. If you are uninsured or looking for , DoNotPay can help you find a clinic.
Low-Cost Dentistry Options in Florida
Enrolling in the state Medicaid program is the best way to find a . There are also clinics that serve the uninsured and the underinsured or those not covered by government benefits.
Benefits of Medicaid and How to Apply
If you are enrolled in Medicaid, you will be signed up for a dental plan. Services available through Medicaid dental plans vary by age, with only emergency dental services covered for those over 21. If you are over 21, you may have expanded coverage to cover cleanings, fillings, x-rays, and other services with prior approval from your dental provider. Those under 21 have a wide variety of services available to them, ensuring their teeth have a healthy foundation.
You can apply for Medicaid online or with a paper form. After enrolling in Medicaid, you can sign up for a dental plan in one of three ways:
Over the phone with an agent by calling 1-877-711-3662. Phone lines are open Monday to Thursday from 8 am to 8 pm and Friday from 8:00 am to 7:00 pm.
Through the automated phone system at 1-877-711-3662 at any time
Online through the Florida Medicaid Member Portal
You should have the Florida Medicaid or Gold Card Number and birth year for every person you are enrolling. You may also need a PIN if you received a letter to enroll. Contact your local Department of Children and Families office if you do not have this information.
How to Determine Your Medicaid Eligibility
To be eligible for Medicaid in Florida, you must be
A US citizen or legal alien
Uninsured or underinsured
Below the income threshold – For a family of two (one parent and one child), the annual income limit is $23,169. For each additional family member, the limit increases by $6,038.
In addition to the income limit, you must also meet one of these conditions:
Be pregnant
Be responsible for a child under 19
Be 65 or older
Have a disability
Have someone in the family with a disability
Locating a Free Dental Clinic in Florida
Dental Clinics That Accept Medicaid
If you are enrolled in a Medicaid dental plan, you can contact your provider to find a clinic near you that accepts your insurance. You will be serviced by one of these three dental networks:
| | |
| --- | --- |
| DentaQuest | 1-888-468-5509 |
| Liberty | 1-833-276-0850 |
| MCNA Dental | 1-855-699-6262 |
Check your insurance card to see which provider insures you.
Dental Options That Do Not Require Insurance
The Florida Dental Association runs Project Dentists Care, which may serve a location near you. Since 1993, association members have given their time to clinics throughout the state so that residents who are not eligible for government coverage can have access to dental care.
The dental association also runs Florida Mission of Mercy, a 2-day event with the goal of providing dental care to 1,000 low-income Florida residents, and has partnered with Dental Lifeline Network (DLN) to bring Florida Donated Dental Services (DDS) to residents. DDS provides dental care to the elderly, the medically fragile, and those with disabilities who cannot otherwise get care. You may find that there is a waiting list when you try to apply.
Free or Low-Cost Dental Clinics in Florida
Consider these options for affordable dental care in Florida:
| | | | |
| --- | --- | --- | --- |
| Gainesville Community Ministry Inc. | 352-372-8162 | 238 S.W. Fourth Ave. Gainesville, FL 32601 | Accepts Alachua County residents. Service fees on a sliding scale based on the federal poverty level |
| Good Samaritan Health Clinic of Pasco Inc. | 727-848-7789 | 5334 Aspen St., New Port Richey, FL 34654 | Accepts Pasco County residents |
| St. Petersburg Free Clinic | 727-327-0333 | 5501 4th St. N., St. Petersburg, FL 33701 | Accepts South Pinellas County residents who are not covered by insurance and do not qualify as low-income |
| The Sulzbacher Center – Downtown | 904-394-8060 | 611 E. Adams St., Jacksonville, FL 32202 | Accepts Duval County residents. Service fees on a sliding scale. |
| Tampa Community Health Center - Lee Davis Health Center | 813-272-6240 | 3402 N. 22nd St., Tampa, FL 33605 | Medicaid is accepted and fees are charged on a sliding scale. |
Find Free Dental Care in Florida With DoNotPay
If you are searching for free or low-cost dental care in Florida, here's how you can use DoNotPay to find free dental clinics:
1. Search "dentist" on DoNotPay.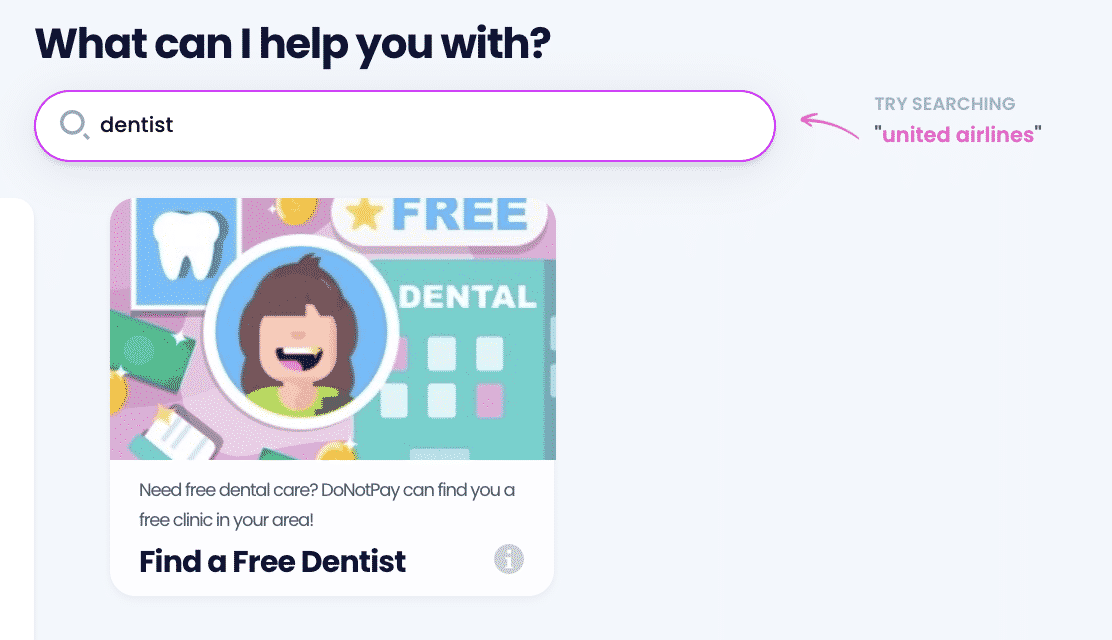 2. Enter your current address, so we can find the clinic nearest to you.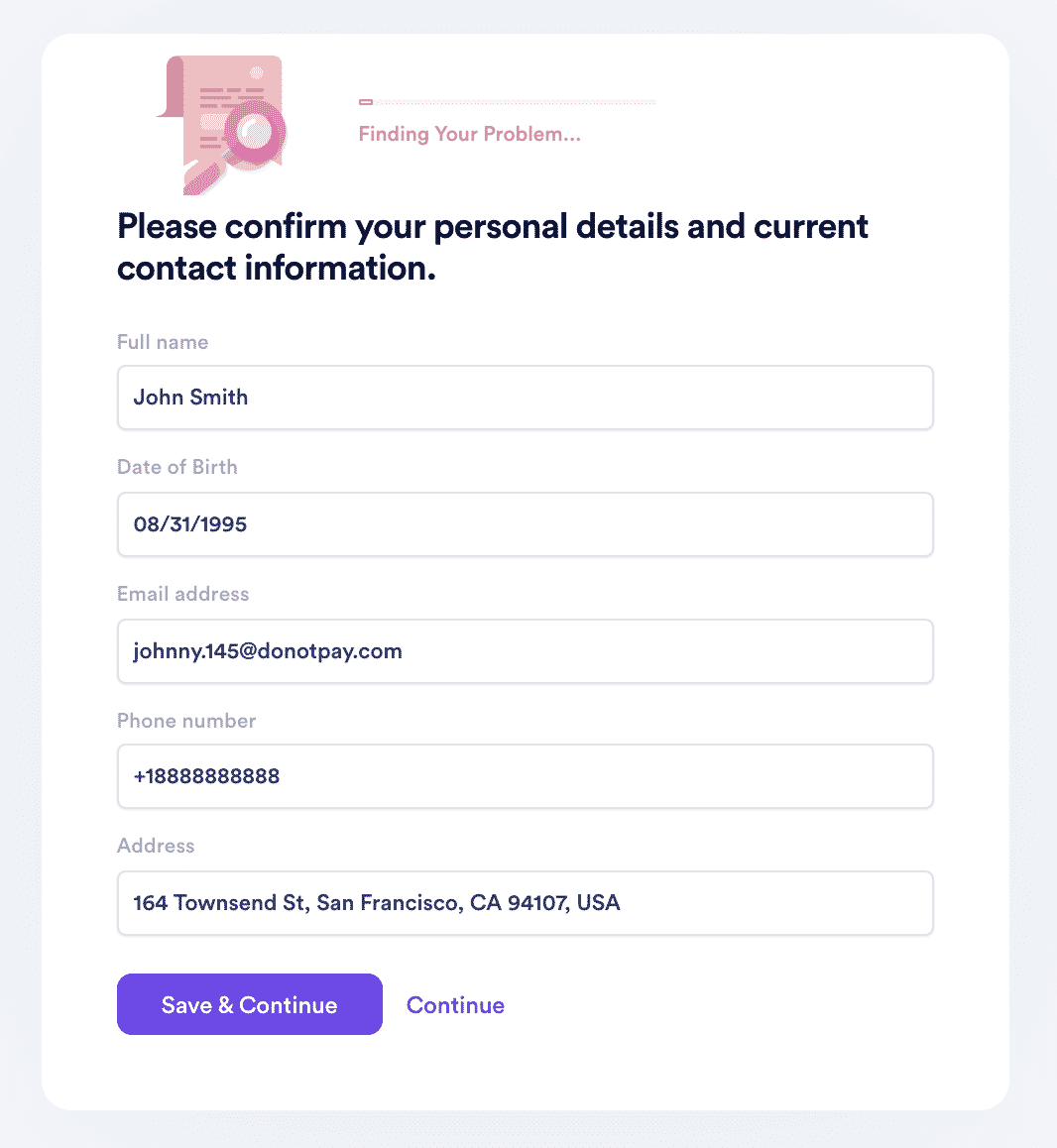 3. Select whether you would like to ask a question about your eligibility, receive a quote for a specific procedure, or set up an appointment.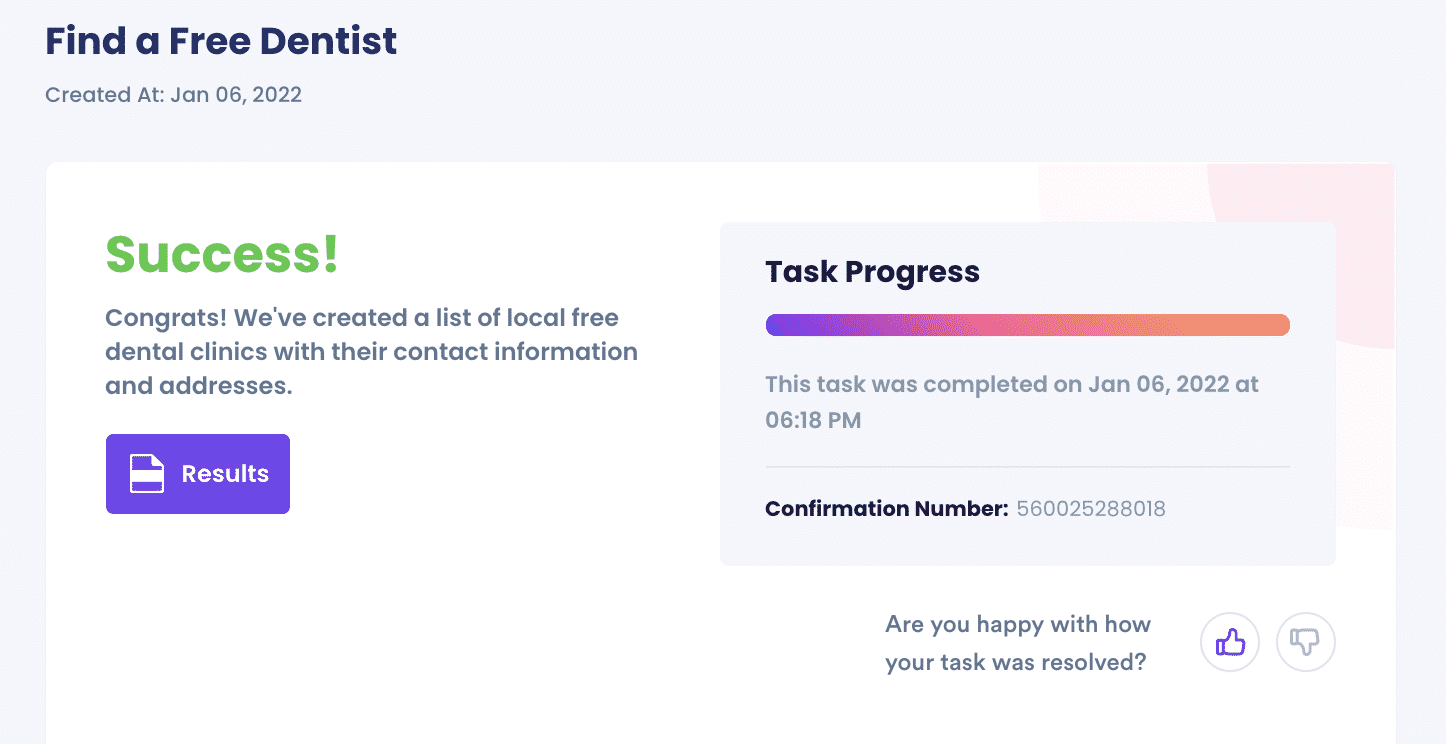 Manage Your Money More Efficiently With DoNotPay
It can be hard to keep track of where your money is going. Everything is essential and everyone wants their money immediately, so it can be hard to tell if you have better options. DoNotPay is here to save you time on saving money. We can help you with these and more:
Reducing your property taxes
Try DoNotPay today to see how much simpler your finances could be.