How to Find Free Dental Care in Colorado in 3 Easy Steps
Did you know that nearly half of Americans between the ages of 18 and 64 don't have dental insurance? Unfortunately, it's not easy to find an affordable dentist with no insurance in Colorado. In this comprehensive guide, we're going to walk you through how to find on your own and how to do it quickly, easily, and successfully with DoNotPay.
Who Qualifies for Free Dental Care in Colorado?
Finding is easy. Colorado offers a dental health care program for low-income seniors. To qualify for free dental care under Senate Bill 14-180, you must be:
A Colorado resident
At least 60 years of age
No more than 250% over the current federal poverty level for your household size
You also must be:
Without private dental insurance
Ineligible for the Old Age Pension Health and Medical Care Program
Ineligible for dental services covered by the state's Medicaid program
Among the services you can get for free if you qualify for senior dental care are:
Sedation
Periodontal treatment
Soft tissue treatment
Prophylaxis
Emergency oral care
Oral examinations and diagnoses
Treatment planning
X-rays
Full or partial dentures
Permanent tooth removal
Fillings
Who Qualifies for Low-Cost Dental Care in Colorado?
The Colorado Dental Association backs a number of nonprofit dental clinics and dental charities to help all state residents receive care. Some clinics only offer services to families under a certain income level that live in a certain geographical area.
Some clinics only offer low-cost services to mentally or physically disabled individuals, children, or the homeless. The great thing about clinics and charities that offer dental services for financially struggling individuals is the services are priced based on a sliding scale. If you don't qualify for free dental care, you will be charged what you can afford to pay for your dental care.
How to Get Free or Low-Cost Dental Care in Colorado Yourself
The first step you must take to get free or low-cost dental care in Colorado is to find local dental clinics. You can crack open a phone book if you have one, but the listings may not be accurate.
You can also drive around your city, look for dentists or orthodontists, and ask the receptionists whether they offer affordable services for low-income families. Here are eight of the most popular dental clinics with free or cheap dentists in the state:
| | | | |
| --- | --- | --- | --- |
| Name | Phone Number | Address | Service Offered |
| Aurora Family Health Services (South Medical Center Dental Services) | 303-360-6276 | 15132 E Hampden Ave, Aurora, CO 80014 | provides affordable dental care to the needy |
| Colorado Coalition for the Homeless | 303-293-2220 | 2130 Stout St, Denver, CO 80205 | provides free toothbrushes, dental surgery, preventative dental care, gum and oral health services for low-income, poor, immigrants, and migrant workers |
| Dental Lifeline Network | 303-534-5360 | 1800 15th St, Denver, CO 80202 | provides referrals to low-income dentists for the disabled, poor, low income, uninsured, and families on Medicaid |
| Denver Indian Health and Family Services | 303-953-6600 | 2880 W Holden Pl, Denver, CO 80202 | provides oral health screenings and preventative dental care to indigent indigenous people |
| Durango Oral Health Clinic | 970-335-2442 | 2530 Colorado Ave, Durango, CO 81301 | provides oral hygiene care to the indigent |
| Mission Medical Center | 719-219-3402 | 2125 E LaSalle St, Colorado Springs, CO 80909 | provides free dental care to the needy |
| Arvada Health Center and Dental | 303-431-0844 | 11005 Ralston Rd., Arvada, CO 80004 | provides affordable dental care to low-income families, including fluoride treatments, extractions, and exams |
| Tri-County Health Department - Kids In Need of Dentistry | 720-619-5333 | 4201 E 72nd Ave Unit D, Commerce City, CO 80022 | provides oral care, including preventative treatment and diagnostic exams, to families in need |
How to Use DoNotPay to Find Free Dental Care in Colorado
Finding a free dental clinic in Colorado shouldn't be like pulling teeth. With DoNotPay, it couldn't be easier; you just have to follow three simple steps:
1. Search "dentist" on DoNotPay.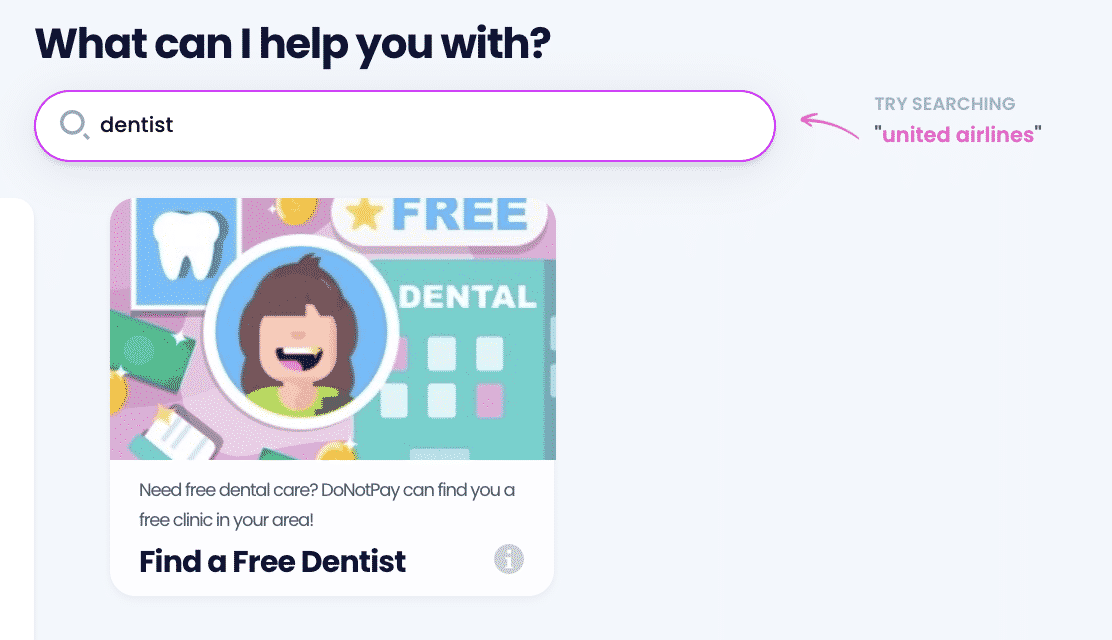 2. Enter your current address, so we can find the clinic nearest to you.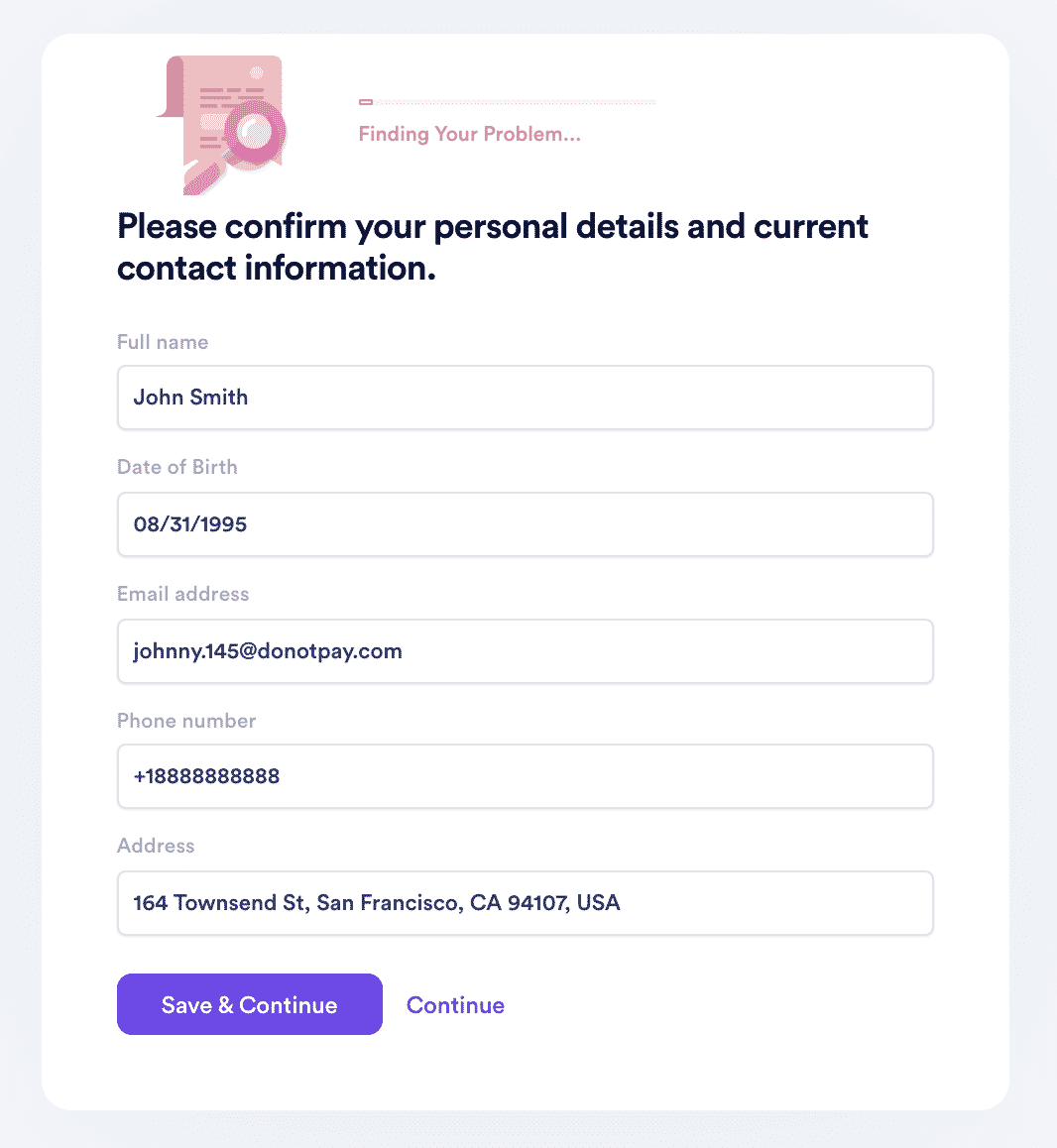 3. Select whether you would like to ask a question about your eligibility, receive a quote for a specific procedure, or set up an appointment.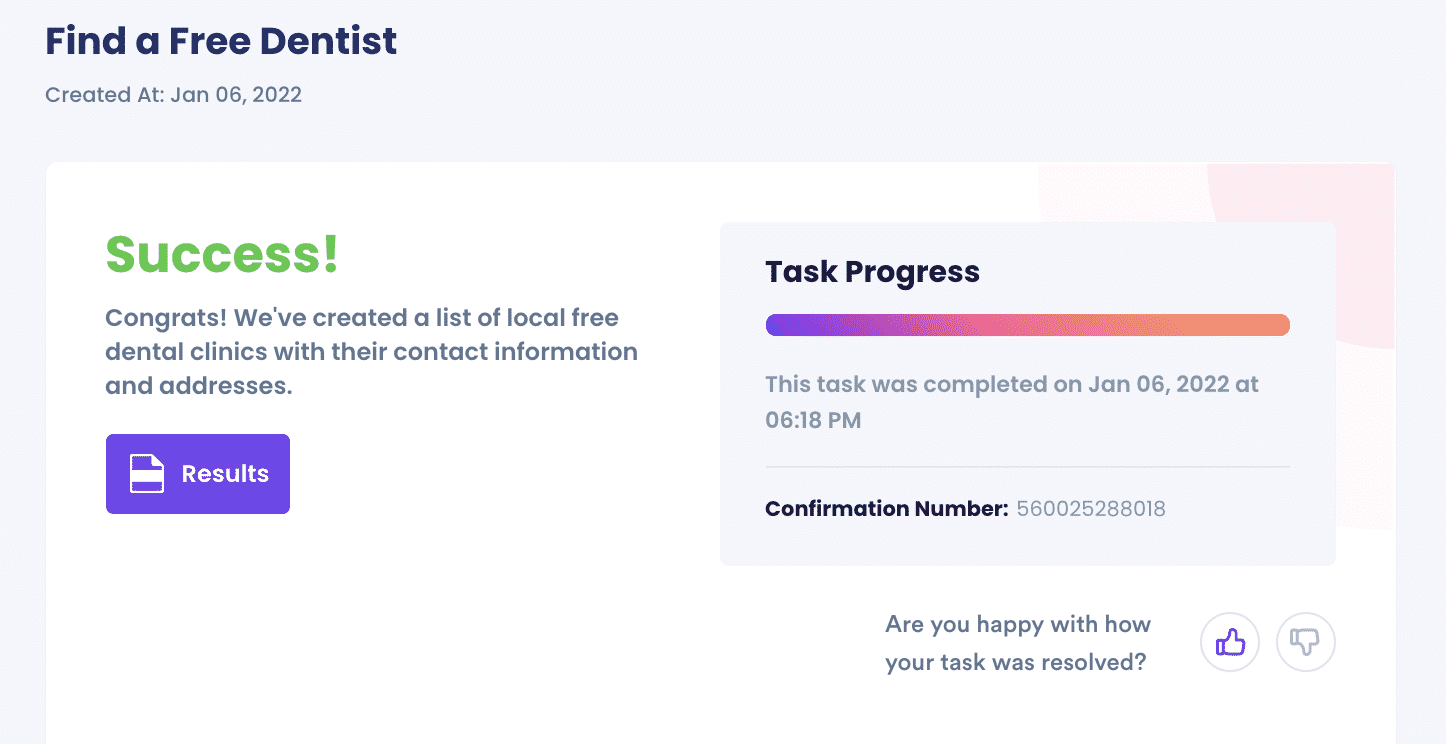 With just a few taps on your phone screen, DoNotPay will find a free clinic nearby that you qualify for, and DoNotPay can even schedule your appointment on your behalf.
DoNotPay Works Across All Geographical Regions With Just the Click of a Button
It's important to note that DoNotPay isn't just the perfect resource if you're looking for free or cheap dental care in Colorado. You can use DoNotPay to find cheap or free dental care anywhere in the country. For instance, you can use DoNotPay to find a cheap orthodontist in Atlanta, GA if you're on vacation and need an emergency tooth removal.
You can also turn to DoNotPay if you move to California or New York and need to find a dentist to perform routine cleanings and diagnostic exams for your family affordably. It doesn't matter where you are in the country or what oral health services you're looking for, DoNotPay is your go-to resource.