Get Free Dental Care In Chicago Today
An estimate of 74 million Americans has no dental coverage, which translates to 23% of the total population. As a result, 80% of Americans delay dental care in Chicago due to the inability to afford dental services. In 2010, 2.1 million emergency room visits resulted from dental pain. These cases could be avoided if free dental clinics were set everywhere to cater to routine care and hygiene.
The Chicago Dental Society Foundation has opened free dental clinics to improve the accessibility of its residents to free and affordable dental care services. However, finding a dental clinic that offers free dental services is hard, as not all of them provide services for free. Fortunately, DoNotPay has your problem covered since it helps you find in an automated and less frustrating way.
Find Free Dental Care For Children, Senior Citizens, and Low-Income Individuals
The Chicago Dental Society Foundation has been in the frontline in opening many free dental clinics in most parts of the state. The facilities are staffed with volunteer dentists and hygienists who offer free dental care services to the low-income citizens of Lake, Cook, and DuPage counties.
Additionally, many non-profit federally Qualified Health Centers and other organizations have been established in various parts of Illinois. They offer to the uninsured, adults, seniors, people on Medicaid, children, and low-income citizens. If you belong to any of the above categories, you are free to access these facilities and get dental care.
Many families and individuals in Chicago lack health and medical insurance, and neither do they have government assistance such as Medicare and Medicaid. These dental care services near you provide opportunities for these individuals to meet their dental care needs. Some of the services that are offered on these sites include:
Checkups
Root canal
Cleaning
Oral surgery
What Are the Qualifications to Getting Free Dental Services?
You are eligible to get free dental services in Chicago if you fulfill these requirements below:
The above requirements certify that you are an official resident of Chicago and belong to the disadvantaged group of individuals in the area. A variety of resources have been set aside to cater to dental care needs for these groups, which include:
Medicare, Medicaid, CHIP
Local Health Departments
Dental Schools
1. Medicare, Medicaid, CHIP
These programs are federally funded to help people of low income in Illinois. The Medicare insurance program covers older adults above 65 years and those living with disabilities. Medicaid covers dental services for people under the age of 21. On the other hand, CHIP helps children without insurance up to the age of 21.
2. Dental Schools
You can access numerous dental schools and get high-quality and affordable dental treatment. Students in these schools offer free or low-cost dental services to low-income individuals as they gain experience.
3. Local Health Department
Federally-funded community health services have been set up across Illinois to provide dental care and other medical services.
How to Access Free or Affordable Dental Services In Chicago
You can access free dental clinics in Illinois by contacting affordable dental clinics listed on the government health website. These websites link you to no-profit federally qualified Health Centers, volunteer dentists, and dental charities near you. All these facilities provide low-cost dental services to low-income individuals in Illinois. If a location is not near you, referrals numbers are provided on the website to help you reach other free dental care clinics. If you belong to the low-income class in Illinois, you can contact the following sites to get information on dental care services:
| | | | |
| --- | --- | --- | --- |
| Name | Phone | Address | Services Offered |
| Will County Health Department / Will County community health clinic | For information, dial (815) 727-8670 | 1106 Neal Ave, Joliet, IL 60433 | A government-affiliated program. Cleanings, X Rays, checkups, fluoride, and other dental care may be available. Accepts Medicaid and other insurance. |
| Cook County Department of Public Health | Dial (847) 934-7969 | 3250 N. Arlington Heights Rd., Arlington Heights, IL 60004 | |
| Cook County Department of Public Health | Call (312) 864-6000 | Professional Building is at 1950 W. Polk St., Chicago, Illinois 60612 | |
| Cook County Department of Public Health | Intake number is (312) 572-4500 | Ruth M. Rothstein CORE Center 2020 W. Harrison St., Chicago, Illinois 60612 | |
| Cook County Department of Public Health | (708) 753-5800 | Cottage Grove Health Center is at 1645 S. Cottage Grove Ave., Ford Heights, Illinois 60411 | |
| Stickney Township Public Health District Dental Clinic II | Call the clinic at 708.458.4126 | Located at Stickney, Illinois 60638 | Dental care is available from this clinic for children in kindergarten through the 8th grade and those 55 and up. |
How to Find a Reduced Dental Clinic With the Help of DoNotPay
Finding a reduced-cost dental clinic can be hectic since not all dental clinics offer the services you want. Fortunately, DoNotPay provides a solution to your problem quickly and straightforwardly.
Here's how you can use DoNotPay to find free dental clinics:
1. Search "dentist" on DoNotPay.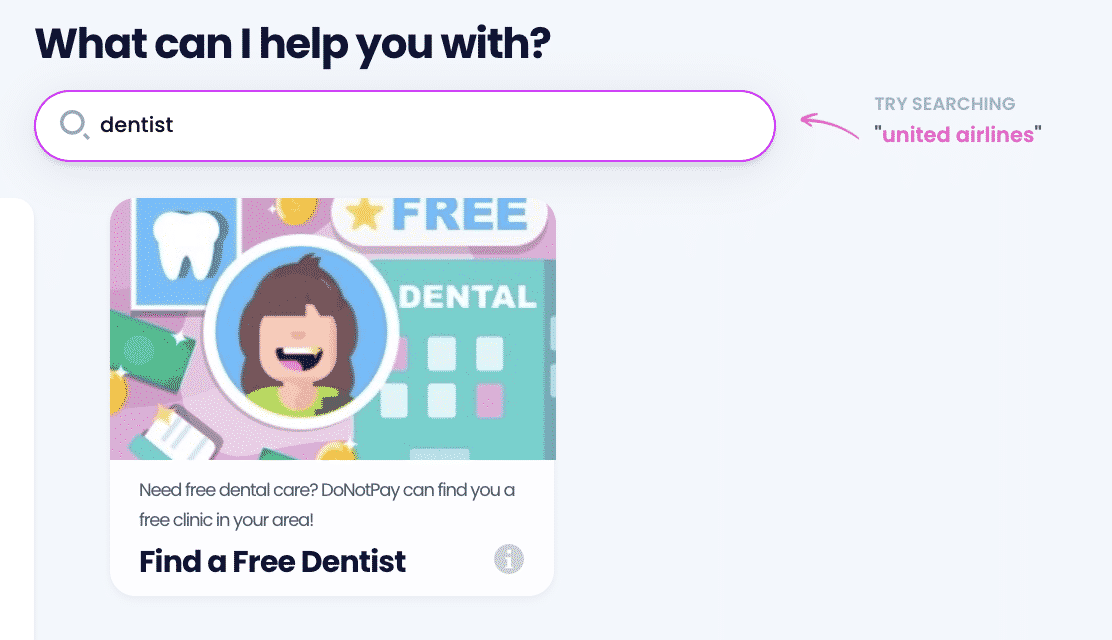 2. Enter your current address, so we can find the clinic nearest to you.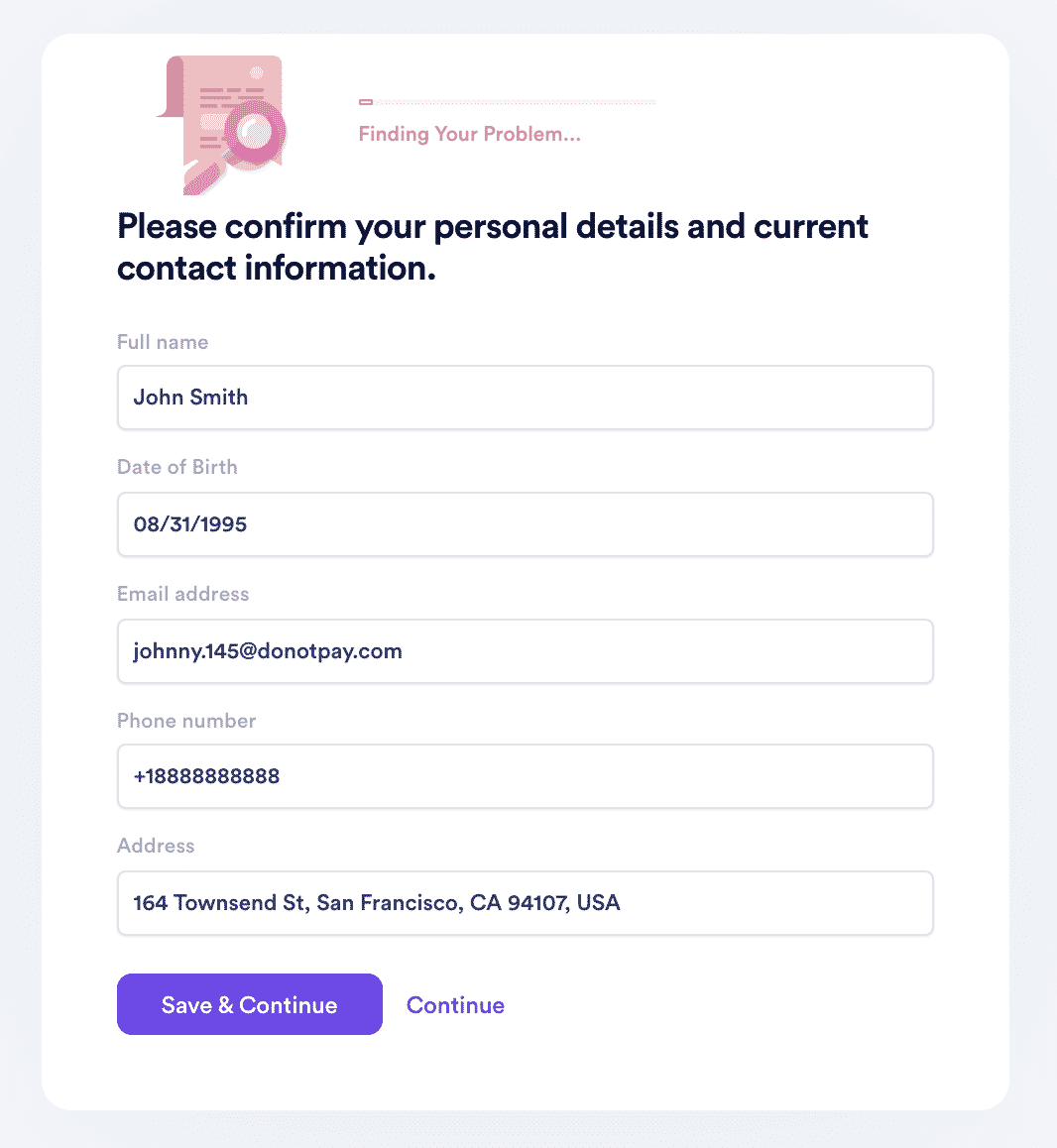 3. Select whether you would like to ask a question about your eligibility, receive a quote for a specific procedure, or set up an appointment.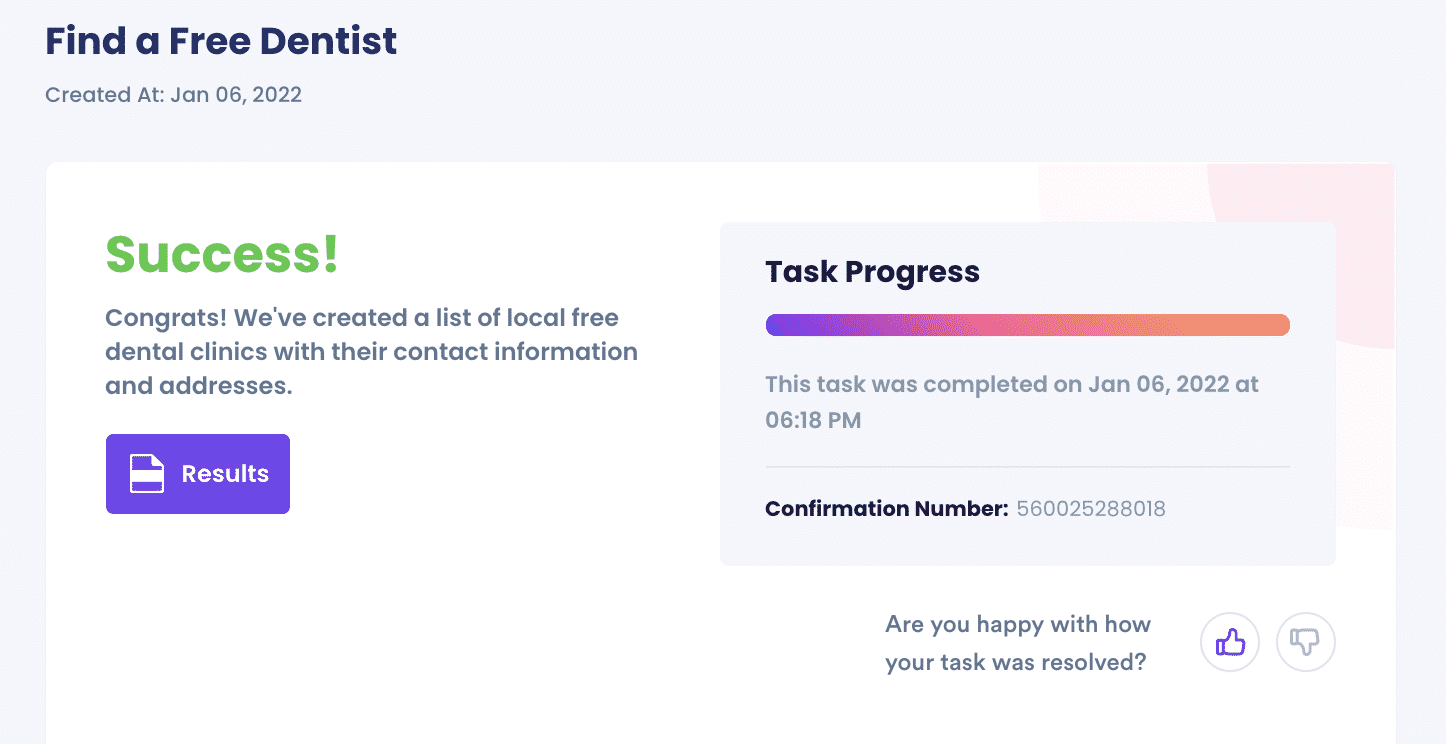 What Other Solutions Can DoNotPay Offer to You
Below is the list of other solutions that DoNotPay can offer to you:
Learn how to find an inexpensive dentist with no insuranc

e requirement.

Learn how to find a cheap dentist

.
Finding reduced-cost dental care has been made easier for you than before. Sign up today and permit us to find one quickly and less frustratingly for you.