How To Find Free Cosmetic Dental Work
Sometimes, free cosmetic dental work is the only alternative to improve the appearance of your mouth, gums, teeth, or smile. People with decaying, damaged, crooked, or discolored teeth have turned to for a solution. Also, individuals who experience pain or have difficulty speaking or eating may need a procedure.
The ADA says 33% of young people avoid smiling because of unhappiness with their mouths. Almost 23% of adults curtail social activities for the same reason.
Why? Unfortunately, many people cannot afford cosmetic dental work. And many insurance companies consider the procedures an unnecessary luxury.
DoNotPay disagrees. That's why we're in the business of finding free cosmetic dental care and affordable dental care in general.
Free Cosmetic Dental Work
services offer everyone the opportunity to improve their overall facial condition through modern and safe operations. It allows you to rely on qualified clinicians experienced in the care you require without risk.
One has to be careful. It's easy to believe you've partnered with a trustworthy dentist. But there are many shysters happy to manipulate your desires to their benefit. They'll charge for services you don't need, perform non-comprehensive examinations, and even apply crowns to healthy teeth.
Getting your teeth fixed at no cost to you doesn't mean someone isn't paying for it and a bad dentist will try to take advantage of that. That's why DoNotPay looks for the signs of a bad or dishonest dentist, as it helps you find free cosmetic dental work.
Who Qualifies for Free Cosmetic Dental Work?
Anyone who has, needs, and cannot afford procedures for the following is eligible for free dental work.
Tooth decay
Damage repair
Severe discoloration
Crooked, missing, or misshapen teeth
Cosmetic teeth whitening/bleaching
Dental veneers
Implants
Crowns
Teeth shaping or bonding
Unique orthodontic treatment
Some of these procedures are expensive. Many view them as unnecessary. Your insurance may not cover the work. Many will flat-out dismiss claims unless it's a serious matter.
But if there's any such thing as free money for dental work, DoNotPay will find it for you.
How To Find Free Cosmetic Dental Work
Here are several methods for receiving necessary cosmetic dental work when the budget is beyond your reach.
1. Cosmetic Dentistry Grants
Anyone can apply for a grant to improve their oral health and appearance. Look to organizations like the CDG Grant Program. The Smile Program will help you even if you have dental insurance. You might be able to get free government grants for dental care.
2. Have a Conversation With Your Dentist
This isn't necessarily a lead to free cosmetic dental work, but you may be able to negotiate with your dentist. Most dentists want to help and may be willing to do so with a payment agreement.
3. Community Clinic
You may be able to locate a clinic offering cosmetic dental work for free or at a low cost. Another option is a nearby dental school where students perform needed dental work under the supervision of a trained dentist.
4. Search Engine
Put "free cosmetic dental surgery" in Google and see what comes up. You'll probably get returns that include United Way, ADCFmom, and other opportunities.
5. Dental Plans
Dental plans aren't insurance but can help lower dental costs. Typically, you pay a yearly fee and get dental care at lower costs.
6. Dental Loans
A loan for dental work is an option. Once approved, you pay the dentist and repay the loan in increments over time. This can be helpful if you're looking for an affordable dentist with no insurance.
Here's an overview of other free or low-cost dental care from the following resources:
Bureau of Primary Health Care
This service supports federally-funded community health centers across the United States that provide reduced-cost or free dental care.
Medicare, Medicaid, CHIP
These three are administered by the Centers for Medicare & Medicaid Services.

Medicare: A health insurance program for those 65 and above or those with specific disabilities. Dental coverage is limited and does not cover dentures or most routine dental care.

Medicaid: A state-run program that provides dental care, in some cases. to individuals and families. Each state sets the guidelines as to who is eligible and what are the covered services.

CHIP: This program provides dental services to children up to 19 years who are uninsured. The dental services covered vary depending on the state.

Dental schools
A good source of quality, reduced-cost dental services. Students gain experience treating patients and providing care at a lower cost. These students are closely supervised by experienced, licensed dentists. Faculty and post-grad clinics are also available at most schools.
Dental hygiene schools
Dental hygienist students may provide supervised, low-cost preventive dental care as part of their training.
Clinical trials
The National Institutes of Dental and Craniofacial Research (NIDCR) sometimes looks for participants with specific craniofacial, oral, and dental conditions for their clinical trials. Participants may get limited low-cost or free dental services for the specific condition being studied.
State and local resources
Enquire with your local or state health departments for any programs in the area that offer reduced-cost or free dental care. They may also offer financial assistance for dental services.
United Way
The organization may be able to direct you to reduced-cost or free dental care in your community. Check their website for local chapters in your area.
Next Steps for Free Cosmetic Dental Work if You Can't Find It Yourself
There are several things you can do if the above tips don't help. Consider these steps to find a cheap dentist:
Get a recommendation from your dentist. They may know exactly where you can go for free cosmetic dental work.
See if you can find a program funded by philanthropists. For instance, there's a free mobile dental and vision clinic on the West Coast.
Visit your community health center and see what programs they know about.
Veterans or low-income seniors may be able to find a program specific to them.
Find Free Cosmetic Dental Work With the Help of DoNotPay
Here's how you can use DoNotPay to find free cosmetic dental work at free dental clinics.
1. Search "dentist" on DoNotPay.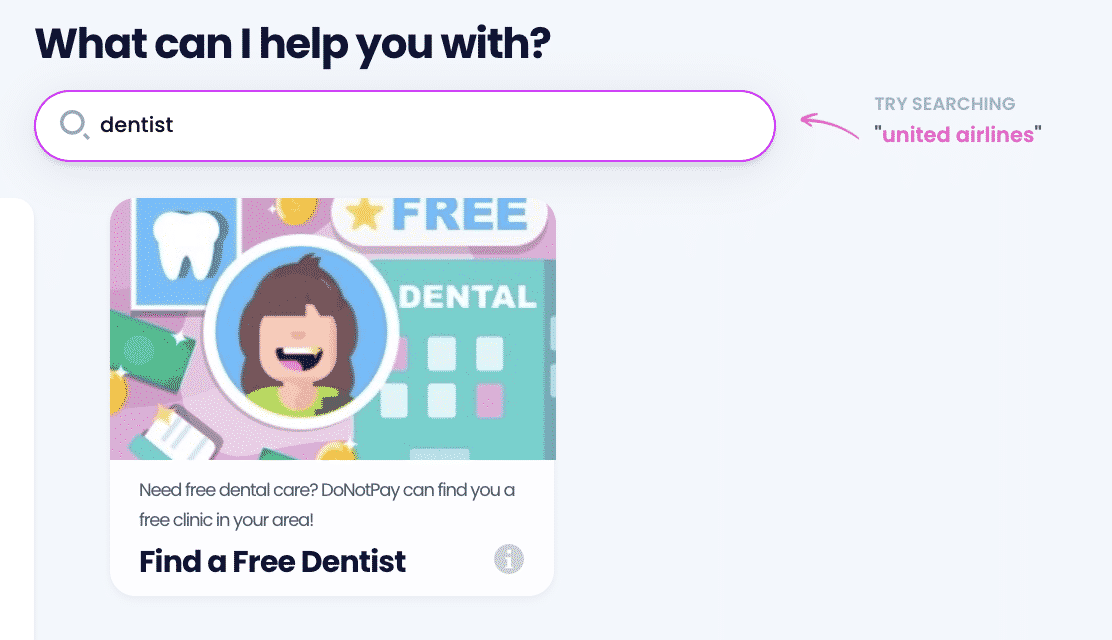 2. Enter your current address, so we can find the clinic nearest to you.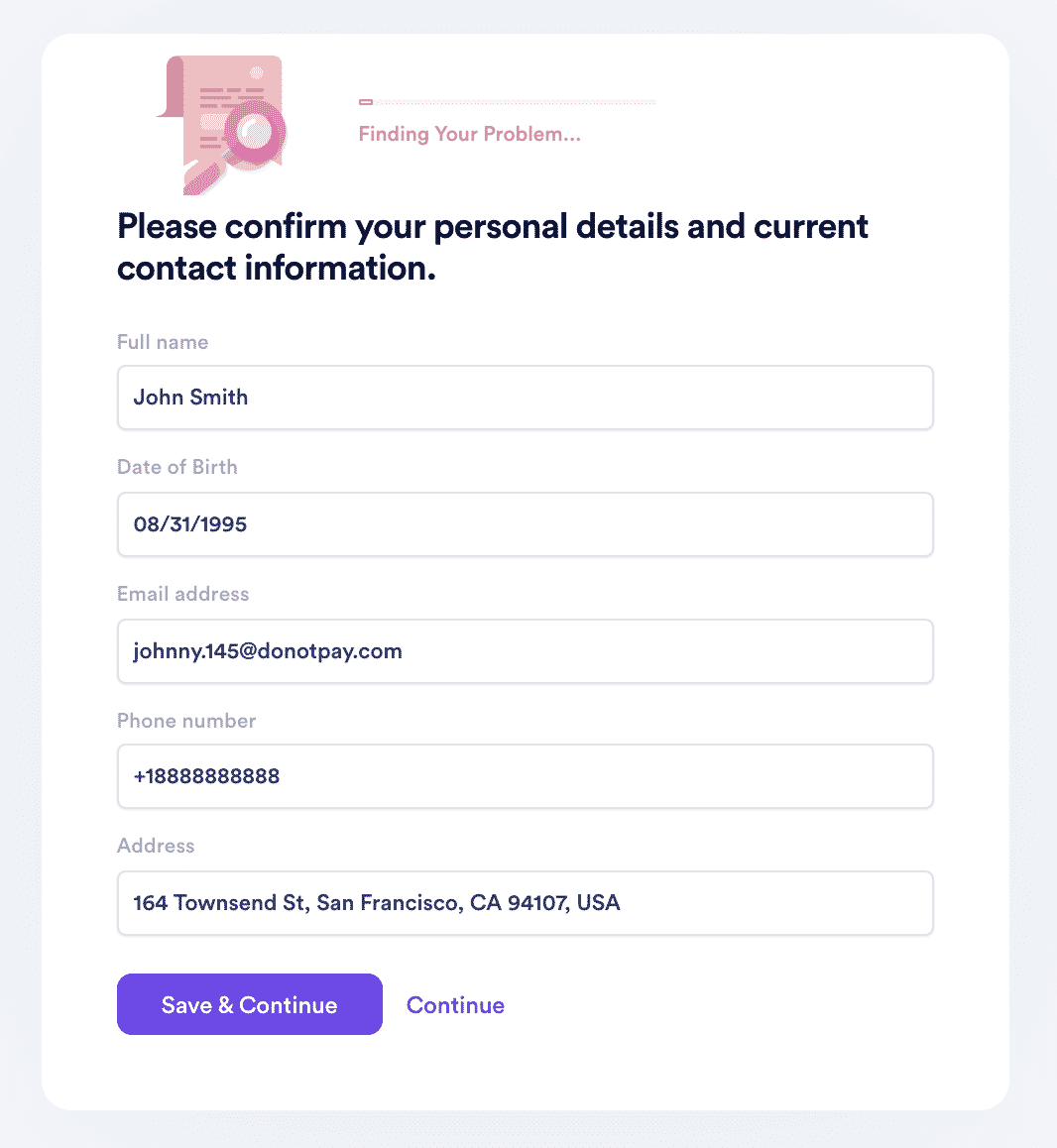 3. Select whether you would like to ask a question about your eligibility, receive a quote for a specific procedure, or set up an appointment.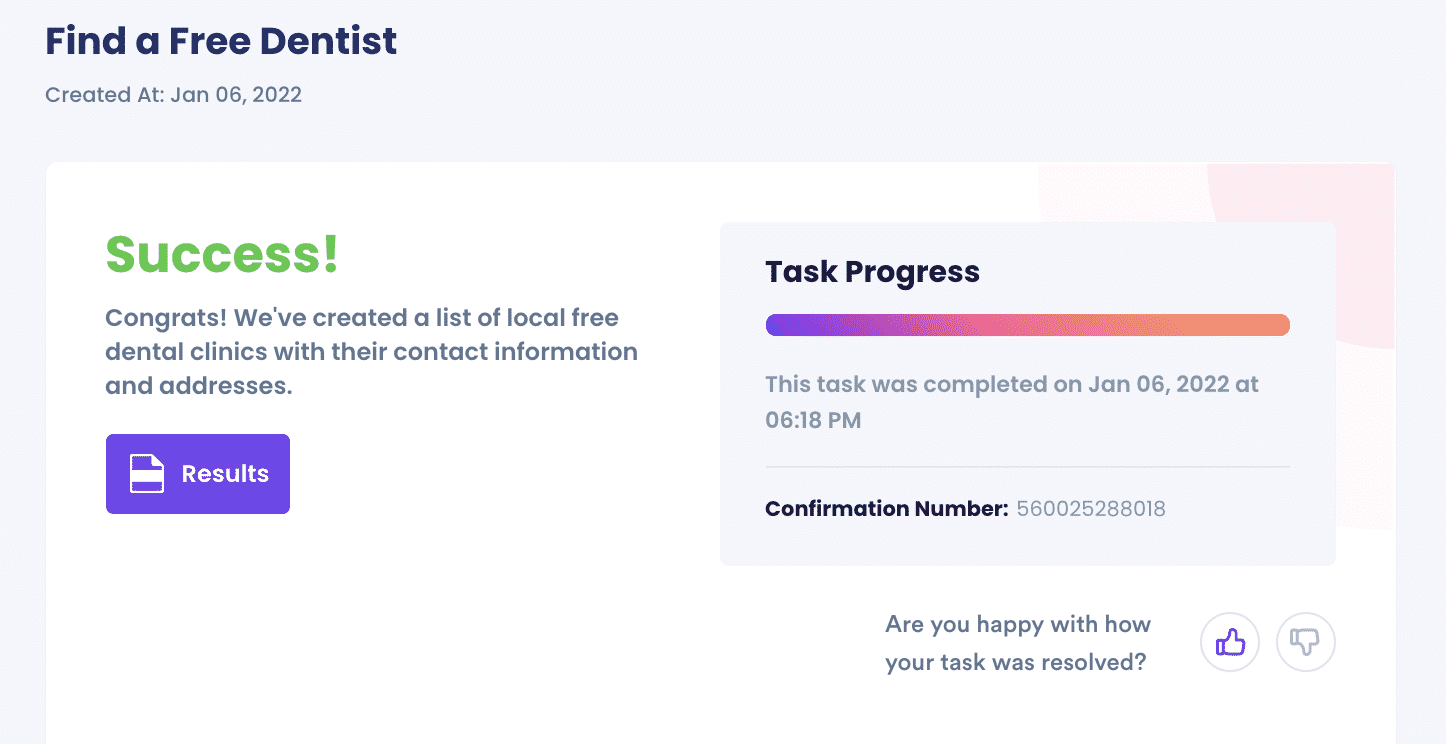 That's it! Expect DoNotPay to contact the clinic on your behalf and get back to you with the information you requested.
Why Use DoNotPay To Find Free Cosmetic Dental Work
We want to make sure everyone has access to oral care, regardless of their financial status. We have a fast, simplified process that puts you on the road to great oral health in a few clicks. Whether you need a cheap dental implant program or want to look into cosmetic dentistry grants, DoNotPay has the resources to streamline the process.
DoNotPay Is an All-in-One Solution
We work with all companies, entities, and groups at the click of a button. We support churches, small businesses, and the guy who mows the lawn! DoNotPay can help anyone and any enterprise resolve their issues with fast and user-friendly resources that only require a few minutes of your time.
What Else Can DoNotPay Do?
Solving problems isn't always easy, but DoNotPay makes it easier. Besides finding free cosmetic dental work and low-income dentists, we also help with:
Let the DoNotPay app help you find free cosmetic dental work today!