Free or Low-Cost Dental Care Options for Students
As a student, you may have a lot of expenses that you have to deal with. Keeping up with your regular dental care can become an ongoing challenge--and getting dental care for any serious issues that crop up can be even more difficult. Cost is the top reason why many people avoid getting dental care when they need it--and students are no exception. Learn more about your options with DoNotPay.
As a student, you may have several options for securing low-cost dental care. Low-cost dental care can make it easier to manage any dental needs, from your regular cleanings to serious dental issues, in a more affordable way.
Try some of these options.
Check out CHIP coverage, if you're under 19 (or have a child under 19 who has dental care needs).
Check out local dental schools. Many schools, potentially including your own, will provide free or low-cost dental care to others while students are learning how to perform those services.
Check out a local dental hygiene school or program, where you can often secure free or low-cost preventative dental care.
Contact your local health department and ask whether there are free or low-cost dental programs available in your area.
Visit the United Way website to learn about free or low-cost dental care options near you.
Use Dental Lifeline to find an inexpensive option near you.
When Do Students Qualify for Free or Low-Cost Dental Care?
Free and low-cost dental care can make it easier for you to manage your dental needs as a student. You may qualify for free or low-cost dental care if:
Name
Description
Income
You have low or no income as a student.
Dental School Access
You have access to a dental hygiene school or local dental school.
Dental Coverage
You use CHIP, Medicare, or Medicaid for your dental coverage.
Disability
You have a certified disability.
Free Dental Coverage in School
You have a program through your school that provides free or low-cost dental care. Keep in mind that some schools may have a

cheap dentist

or connect you with a free dentist nearby.
Student Health Insurance
Your student health insurance plan offers free or low-cost dental care. Check your student health insurance plan, especially if you are no longer covered by your parent's plan.
Many local organizations may also help with dental care for specific individuals, including children and students, seniors, and individuals with disabilities. You may, however, find yourself dealing with strict program requirements and long wait times—which could prove particularly prohibitive in an emergency.
DoNotPay Can Help You Find Free Dental Care Near You
Here's how you can use DoNotPay to find free dental clinics:
1. Search "dentist" on DoNotPay.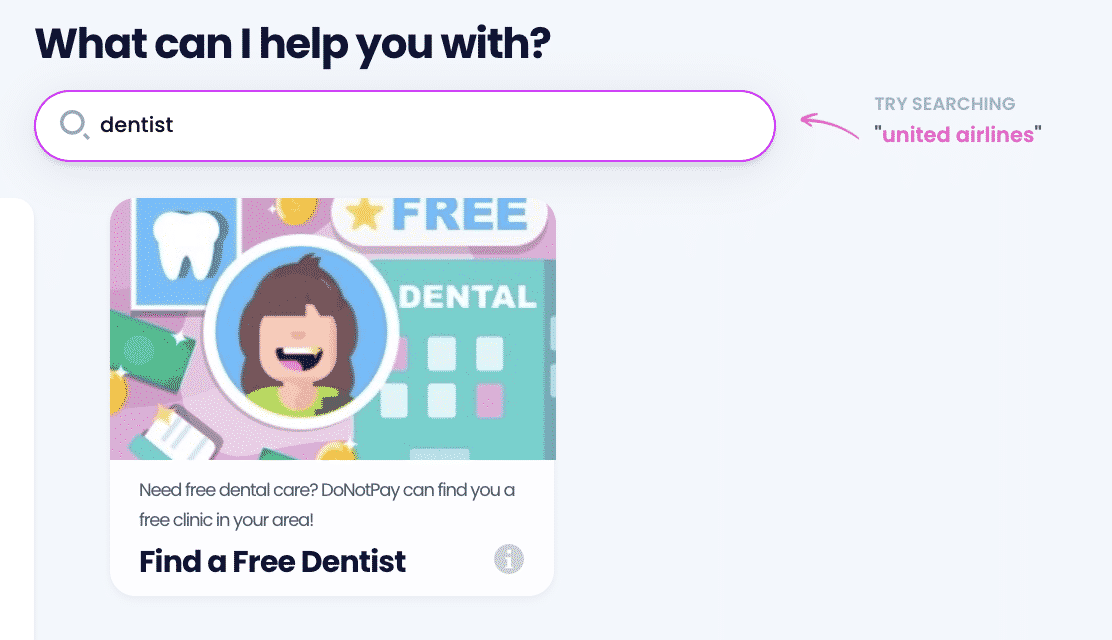 2. Enter your current address, so we can find the clinic nearest to you.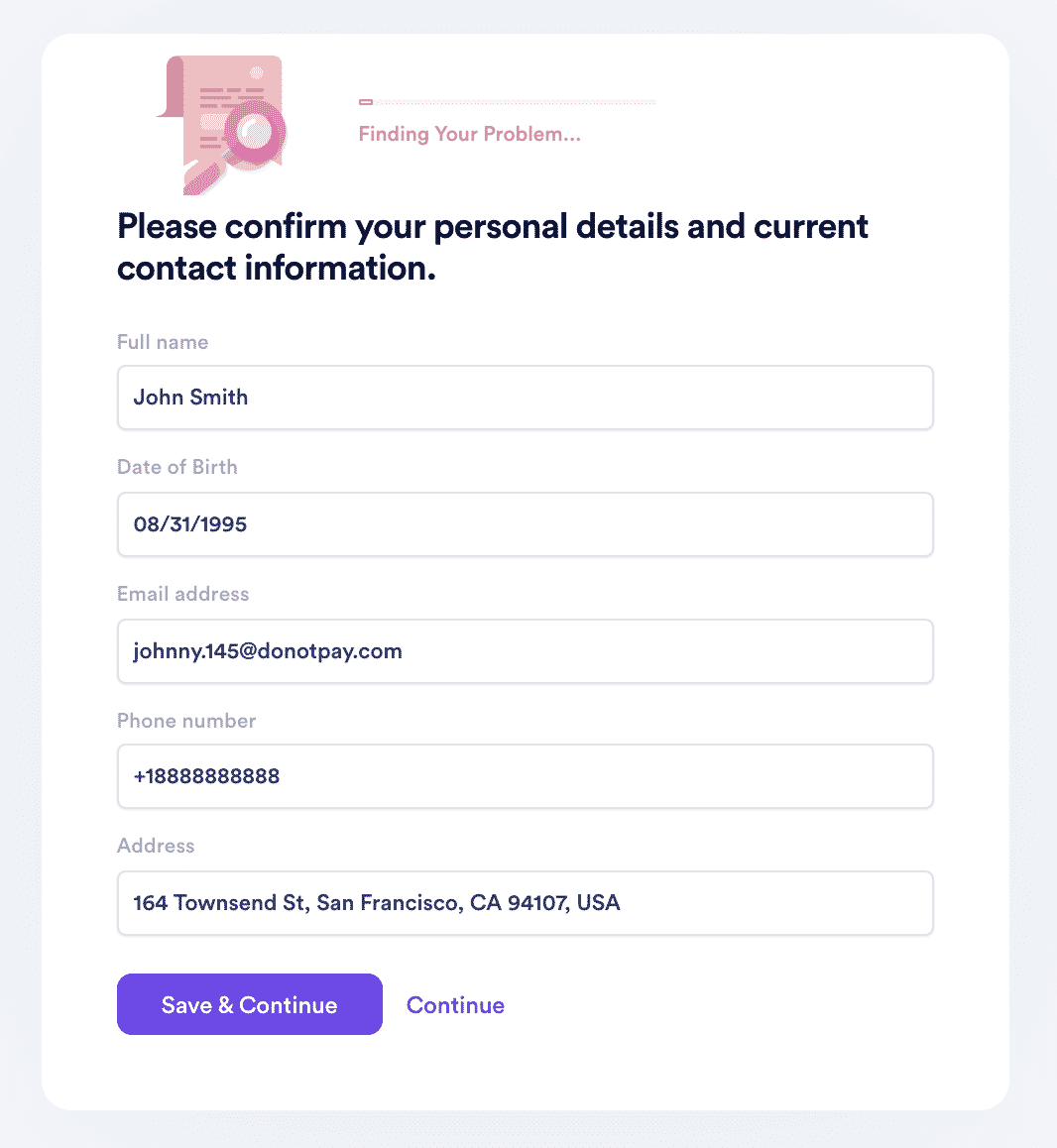 3. Select whether you would like to ask a question about your eligibility, receive a quote for a specific procedure, or set up an appointment.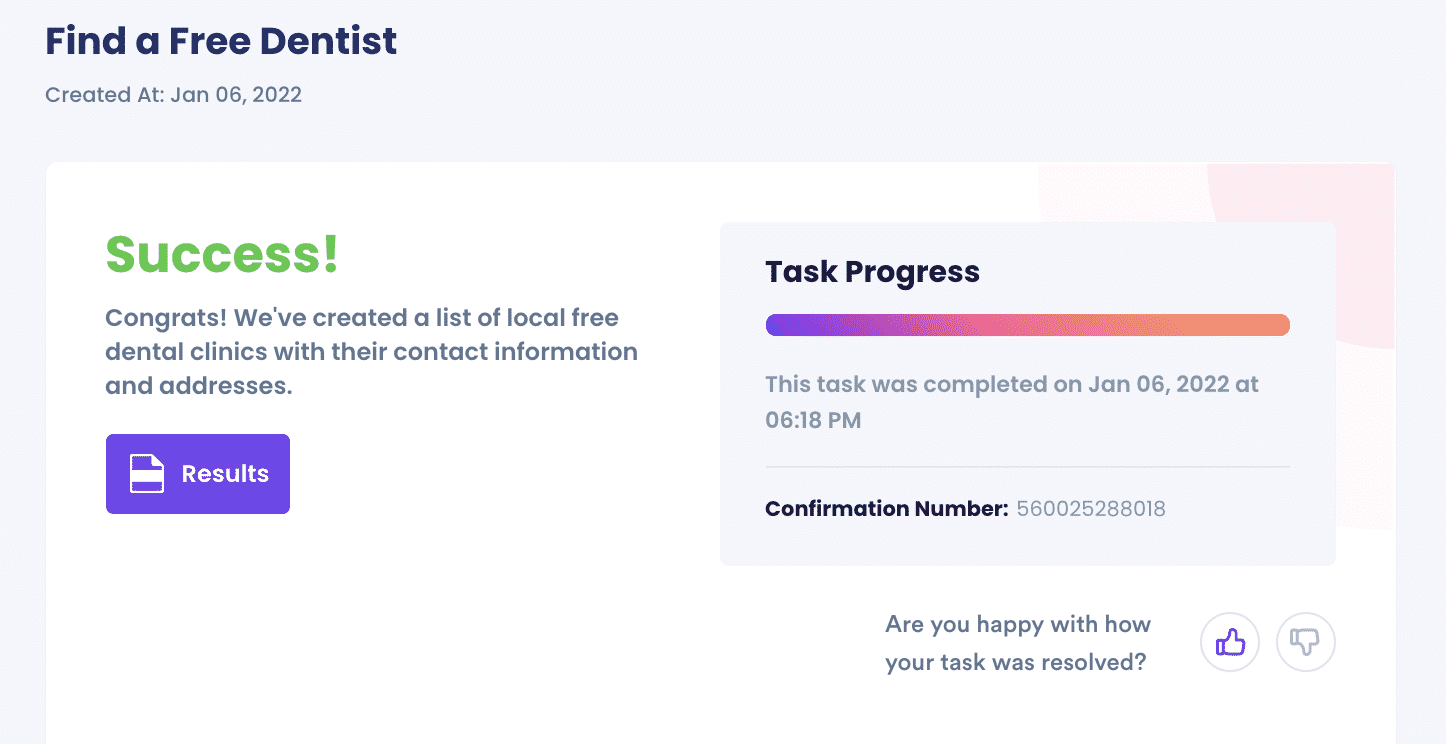 And that's it! DoNotPay will contact the clinic on your behalf and get back to you with the information you requested.
Why Use DoNotPay to Find Free Dental Care as a Student?
As a student, there are a number of reasons why you may struggle to find free dental care. You might not be sure what programs are available to you or how to access them. You may be far from home, dealing with a dental need that hasn't gotten any better with time--and having someone to help you find that vital service can be invaluable.
DoNotPay makes it simple. Check out these reasons to use DoNotPay to find free dental care as a student.
You can rely on DoNotPay to provide you with accurate information.
It's much easier and less stressful to use DoNotPay than to dig through many of the resources available to you on your own.
DoNotPay will take care of asking key questions for you so that you can get the information you need faster.
What Else Can DoNotPay Do?
You may find yourself facing a number of difficulties and challenges as a student, especially if you've never been on your own before. DoNotPay can help make it easier to tackle many of those common tasks. Not only can DoNotPay help you find a low-income dentist, free dental clinic, or an affordable dentist when you don't have insurance, it can help with a variety of other tasks, including:
Get help with all those new activities you have to take on as a student through DoNotPay.
Locate and Schedule Free Dental Work With DoNotPay Today
Do you need dental work, but can't afford it? DoNotPay can help you locate affordable dental care through your school or within your local area. Check out our platform today to learn more about the services we provide or to .