Disney Copyright Infringement
—When Mickey Is Playing Hard To Get
Disney characters permeate the popular culture so much that it's becoming difficult to avoid them. The Walt Disney Company has become a conglomerate empire by acquiring Marvel superheroes and the Star Wars franchise, and it's always been strict about copyright infringement.  
Copyright laws in the United States, especially the Digital Millennium Copyright Act (DMCA), are not to be trifled with. The company that owns a vast amount of the most popular characters ever created knows how copyright works and how to copyright its intellectual property. 
The next time you want to use some Disney content that is under the DMCA protection, think twice or get ready for that dreaded copyright notice in your mailbox.  
What Falls Under Disney Copyright Infringement?
Any unauthorized use of Disney's intellectual property or violation of exclusive authorship rights can count as copyright infringement. Intellectual property refers to various items that can be either trademarked or copyrighted, depending on their nature. 
The table below provides the most common examples for both categories:
Copyright
Trademark

Movies

Songs

Literary works

Art including photography and digital imagery

Video games

Logos

Slogans

Brand names

Words, phrases, designs, or symbols used for distinguishing one brand from others
If you don't mind risking at least a YouTube copyright claim and making a video using an image and the name of Mickey Mouse, you will be committing both trademark and copyright infringement. 
No copyright lasts forever. The good news for Disney fans is that Mickey Mouse should pass into the public domain at the beginning of 2024. The short animated film Steamboat Willie, where the beloved mouse showed up for the first time, premiered in 1928. After several extensions by the Congress, there haven't been new motions to prolong Disney's ownership over the first iteration of their most recognizable character. 
Knowing how ferocious Disney Studios copyright infringement lawyers are and how intricate the copyright legislation is, don't get your hopes up just yet.  
How To
Report Copyright Infringement to Disney
Companies like Disney have enough means to go after copyright infringers on their own. Many technological solutions, such as bots and embedded codes, provide automatic tracking and issuing of takedown notices, so there's no need to employ people to sift through gazillions of websites.
Disney also counts on its die-hard fans to notice and report copyright infringement of its creative content. If you want to help Disney fight piracy and copyright violations, you can submit leads using one of these channels:
Email

Telephone

818-560-3300

Mail

The Walt Disney Company Antipiracy Group

500 South Buena Vista Street

Burbank, California 91521-0644
Can I Get Compensated for Reporting Copyright Infringement to Disney
?
While some agencies like the Software and Information Industry Association (SIIA) offer exorbitant amounts of up to $1,000,000 for corporate end-user piracy whistleblowers, Disney doesn't offer similar reward programs for reporting copyright infringement at the moment. 
Disney Sues Over Copyright Infringement
Lawyers working for Disney have their hands full without any doubt. Newspapers are packed with reports of lawsuits involving Disney and various companies, individuals, and even public schools in the United States and abroad. 
The list below includes some of the popular copyright infringement cases that prove how protective Disney is over its intellectual property:
Disney Enterprises, Inc. vs. Mouseprint Media LLC

—In 2020, Disney won the lawsuit against Florida-based retailer Mouseprint Media—also known as DisGear—because they used copyrighted lyrics and images from Star Wars, Frozen, and other Disney-owned movies. While the judge didn't mention money settlements, the small retailer had to shut down and give over their merchandise

Disney's Cars vs. Chinese Autobots

—In 2016, Disney and Pixar Animation won the copyright case against the Chinese producer Bluemtv and distributor G-Point over Disney's animated movie characters and posters. The court in Shanghai ordered a payout of $190,000  

Disney vs. Emerson Elementary

—In 2020, Berkeley's Emerson Elementary School screened the newest Lion King remake at a PTA event. While the infringement case didn't escalate to a lawsuit, a licensing company that represents Disney ordered the school to pay a fine of $250 for publicly screening copyrighted content without a license
How To Ask Disney for Copyright
If you want to use Tinker Bell's face, as portrayed in the animated movie from 1953, on your merchandise and avoid legal action from Disney, you need to contact the company for a proper license. 
A license serves as a contract that specifies how you can use copyrighted content and how much money you need to pay for it. Even though you're willing to be charged, it doesn't mean that Disney will approve your licensing request. 
The company doesn't disclose the licensing prices for Disney characters before you submit your request. To do so, you can follow these steps:
Open the

Disney Studio Licensing

website

Scroll through the frequently asked questions to find contact details of the department responsible for the content you're interested in

Contact the relevant party by mail, phone, or email
If you wish to get a price quote for using a video clip or a still, you can fill out a lengthy online form available on this web page. 
Disney Copyright Infringement and the Fair Use Doctrine
The fair use doctrine allows the general public to use copyrighted content under certain circumstances, but what qualifies as fair use is not always so clear. The most important factors to be considered when invoking fair use defense are:
The original work's nature

The purpose and character of the use

The amount of the used part 

The consequences for the copyrighted work's value
If you decide to use Disney's copyrighted content and rely on fair use, make sure to research it well in advance, maybe even consult a copyright law professional. Parody work, commentary, non-commercial, and educational use are generally fine, but whether the occasion falls under fair use or infringement is determined on a case-by-case basis.
How To Protect Your Work With DoNotPay

If you find yourself in a situation where your creative content needs protection, DoNotPay has an easy yet efficient solution. Copyright infringement cases between individuals rarely end up in court, and it is usually enough to send a DMCA takedown notice to the infringing party to resolve the issue. 
Creating a well-written DMCA notice with DoNotPay is as simple as it can be:
Sign up for DoNotPay in any

web browser

Select

DMCA Takedown

Answer a few questions about your work and the infringement

Provide us with your contact details

Hit

Sign and Submit
Takedown notices don't require official copyright registrations, so you don't have to worry even if you don't have direct proof of ownership. 
Accomplish More With DoNotPay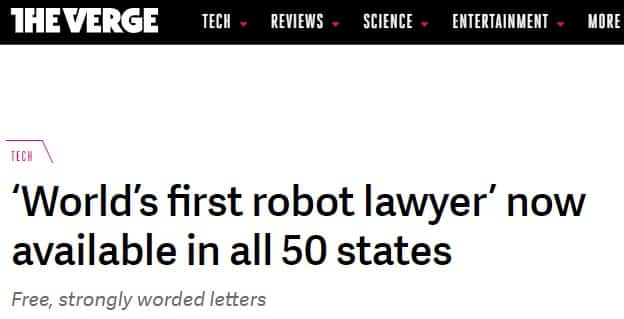 Problems with administration don't stop with copyright infringement, and the world's first robot lawyer knows it. 
If you access DoNotPay from your web browser, you will have a chance to explore other useful features of our platform, including:
Disputing traffic tickets

Fighting speeding tickets