Is a YouTube
Copyright Claim
Giving You a Headache? The Answer Is Here!
A copyright claim is a way for copyright holders to exercise their rights and stop copyright infringement. Under copyright laws, such claims can be formalized through a lawsuit or a Digital Millennium Copyright Act (DMCA) notice. 
If someone is using your original content in their YouTube videos, you can choose to act by submitting a copyright claim—also called Content ID claim—or a copyright takedown notice.
YouTube Copyright Dispute
Options
If you're not sure how copyright works on YouTube, you should know that several options exist for claiming copyright infringement, with varying severity levels. The following table points out the biggest differences between available methods:
Method
Description

Copyright claims

Content ID claim

Result of an automatic scan against YouTube's database of copyrighted content

The goal is to track and monetize the video

Copyright strike doesn't apply to the infringing channel

Manual claim

Result of manual scans by copyright owners with high-level knowledge of YouTube's Content ID matching system

Timestamps are obligatory to demonstrate copyright infringement

Copyright takedowns 

Copyright law regulates them, not YouTube

Videos under takedown notice usually get blocked or removed

Copyright strike applies to the infringing channel
Those who regularly post videos on YouTube or suspect copyright infringement could benefit from learning more about how to copyright their work officially, how long copyright lasts, and how valid copyright notices are in reality.  
What To Do if a Copyright Owner Using Content ID Claimed Some Material in Your Video

Content ID claims on YouTube are usually not a big deal. While in some cases content owners can mark videos containing their work for blocking or removal, most often they want to collect statistical data, monetize the video by collecting ad revenue or restrict its availability in certain areas. 
If your video gets a Content ID claim, you can choose between the following courses of action, depending on the circumstances:
Dispute the claim

Trim out the infringing content

Swap the music that is causing the infringement for content from YouTube's Audio Library

Remove the questionable content

Share revenue (applicable for members of the YouTube Partner Program)

Leave it as it is (good for situations when you agree with the claim and don't find the repercussions too serious)
What if I Own Content on YouTube and It Gets a Copyright Notice
?
Your content on YouTube might get a copyright notice or a Content ID claim even when there's no case of infringement. The Content ID system is not perfect and doesn't recognize whether you have a license for the music used in your video or not. It may mark your videos by mistake. 
While the users who have access to making manual claims should abstain from abuse, some might try to fool the system and falsely claim ownership. According to YouTube Help, such behavior may result in legal liability and termination of the partnership.
If you get a copyright claim on YouTube that you don't agree with or find unjustified, you can dispute it. 
How To Dispute a Copyright Claim on YouTube 
Before disputing a Content ID claim, you should make sure that you have enough proof to back up your statement and familiarize yourself with what fair use and public domain encompass. 
Once you're ready, follow these steps to dispute a copyright claim:
Open

YouTube Studio

and log in if required  

Click on

Videos

in the left sidebar 

Hover above

Copyright claim

in the

Restrictions

section next to the video 

Hit

See details

and then

Select action

in the pop-up window

Choose

Dispute

Follow the rest of the on-screen instructions
To ensure a successful resolution, check out this table of valid and invalid dispute reasons:
Invalid Dispute Reasons
Valid Dispute Reasons

You purchased a copy of the song or video on CD, DVD, or other formats 

It is not your intention to monetize the video

You credited the copyright owner by putting a disclaimer in the video or description box

The video is your original content and you own the rights

You have a license or permission to use the content

The video is protected by fair use or other exceptions to copyright

The content in question belongs to the public domain  
What Happens After Disputing a Copyright Claim?
Once you click on Submit, the alleged copyright owner has 30 days to review it and respond to your dispute. They can choose one of the following actions as a response:
Submit a copyright takedown request

Uphold the claim 

Release the claim

Do nothing 
If they uphold the claim, you will have a chance to appeal it, depending on your account's age and verification status. If the owner doesn't act on your dispute, the copyright claim will expire automatically. 
Which Videos Won't Get Copyright Claimed
?
While it's impossible to predict whether your content will get flagged manually or by the Content ID system, there is a lot you can do to minimize copyright infringement claims or increase your chances of success if you dispute them:
Avoid copyrighted material and use licensing services or royalty-free music sites

Remove the copyrighted content using YouTube's tools or reupload an edited video

Contact

Creator Support

, ask for help in the

Help Community

, or tweet

@teamyoutube

Post your videos as private at first to deal with possible Content ID claims before the videos go public    

Save all obtained licenses or copyright registration certificates for the used content
File a DMCA Notice With DoNotPay if Your Copyrights Get Abused

If you run into a video that uses your original work and want to make them stop, you won't have to rely on YouTube's automated system for copyright claims. DoNotPay allows you to create and send well-written and highly efficient copyright takedown notices under the DMCA protection.
When faced with copyright infringement, many people hire expensive lawyers or attempt to familiarize themselves with copyright law requirements and terminology. Methods like these will cost you a lot of time and hundreds of dollars, while using our service requires just these few steps:
Create your DoNotPay account in any

web browser

Select

DMCA Takedown

after you log in

Provide basic info about your original content and links to relevant websites

Check your contact details and confirm your identity 

Hit

Sign and Submit
DoNotPay will ensure the protection of your copyrights even if you haven't registered your creative work with the United States Copyright Office or don't own other proof of ownership. 
Don't Stop With Copyright Protection—Use DoNotPay for More!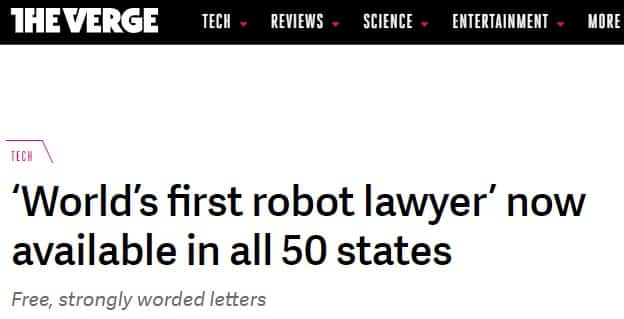 DoNotPay carries the name of the world's first robot lawyer. Copyright infringement is one of our specialties, but we can help you with so much more.
Our service was built around the protection of consumer rights, and it provides shortcuts for various administrative troubles, whether you're having issues with parking tickets or securing refunds for purchases that went wrong. 
You can access all of our features from any web browser and make your life easier right away. The list of DoNotPay solutions to various bureaucratic issues includes:
Contesting traffic tickets

Fighting speeding tickets