How to Find Dentists Who Pull Teeth for Cheap
Having a tooth pulled is never pleasant. After all, there's a reason that using the phrase "like pulling teeth" doesn't mean that something is enjoyable. Of course, trying to find a cheap dentist is almost never a fun process either. Low-income dentists can be hard to locate in general, and finding an affordable dentist when you have no insurance can be a lot of work.
If you need a , now you have an easy way to find a solution: DoNotPay.
Cheap Dental Care For Individuals
If you're looking for a , there are a number of types of organizations that may be able to help. Dental schools, for example, may offer services performed by dental students at reasonable rates.
Local organizations or agencies also often offer free or cheap dental care for low-income individuals. These can include churches and public health clinics. Sometimes dentists' local professional organizations will also provide volunteers for dental clinics that operate on a monthly or quarterly basis, often in conjunction with churches.
In addition, Medicaid covers a certain amount of dental care for children under 21 as part of its Early and Periodic Screening, Diagnostic and Treatment (EPSDT) benefit.
Who Qualifies for Cheap Dental Care?
The answer to this question really depends on the organization that is providing the care. Each organization will come up with its own ways to determine who has to pay for care and how much they need to pay. Many times this is based on income. Sliding scale fees are common with low-cost dental clinics, which may verify your household income and the number of people living in your household before letting you know how much you are expected to pay.
In other cases, an organization may offer services only to residents of certain ZIP codes. Such is the case with the Mercy Clinic of Fort Worth, for example.
Other organizations, such as dental schools, will often be open to anyone at a reduced rate. What you give in return for the reduced rate is your time: because the services are performed by students who are still in the process of learning, your appointment may last considerably longer than it would at a full-price dental office.
Finding a Dentist Who Pulls Teeth for Cheap on Your Own
If you need to find a dentist near you who pulls teeth for cheap, one approach you can try is to look through different website directories of local charities, public health centers, and dental schools in your area that offer free or low-priced services. With this approach, you may lose a lot of time reading through website descriptions to try to find out who has room on a waiting list and what services are offered at each organization. There would also be the question of whether you'd qualify for reduced-cost services based on your income and residency status.
Below are some examples of resources you can consult if you want to find a dentist who pulls teeth for cheap on your own.
1. The U.S. Department of Health and Human Services
The U.S. Department of Health and Human Services website helps you identify local health departments and dental schools in your area. It also helps explain federally-funded insurance programs such as CHIP, Medicaid, and Medicare, and whether they apply to dental services.
2. The United Way
The United Way's 211 services can be a good way to identify local charitable organizations offering dental services.
3. The Dental Lifeline Network
The Dental Lifeline Network is a network of volunteer dentists who offer free services to those who qualify. Due to high demand, In some instances, their waitlists are closed, so you can't necessarily be assured of service here.
Here's an overview of other free or low-cost dental care from the following resources:
Bureau of Primary Health Care
This service supports federally-funded community health centers across the United States that provide reduced-cost or free dental care.
Medicare, Medicaid, CHIP
These three are administered by the Centers for Medicare & Medicaid Services.

Medicare: A health insurance program for those 65 and above or those with specific disabilities. Dental coverage is limited and does not cover dentures or most routine dental care.

Medicaid: A state-run program that provides dental care, in some cases. to individuals and families. Each state sets the guidelines as to who is eligible and what are the covered services.

CHIP: This program provides dental services to children up to 19 years who are uninsured. The dental services covered vary depending on the state.

Dental schools
A good source of quality, reduced-cost dental services. Students gain experience treating patients and providing care at a lower cost. These students are closely supervised by experienced, licensed dentists. Faculty and post-grad clinics are also available at most schools.
Dental hygiene schools
Dental hygienist students may provide supervised, low-cost preventive dental care as part of their training.
Clinical trials
The National Institutes of Dental and Craniofacial Research (NIDCR) sometimes looks for participants with specific craniofacial, oral, and dental conditions for their clinical trials. Participants may get limited low-cost or free dental services for the specific condition being studied. To find clinical trials, visit this page: NIDCR Studies Seeking Patients.
State and local resources
Enquire with your local or state health departments for any programs in the area that offer reduced-cost or free dental care. They may also offer financial assistance for dental services.
United Way
The organization may be able to direct you to reduced-cost or free dental care in your community. Check their website for local chapters in your area.
But going through all of these options yourself can be frustrating. DoNotPay is here to help simplify the process of finding affordable dental care.
Next Steps If You Can't Find Cheap Dentists Yourself
There are several things you can do if the above tips don't help.
Get a recommendation from your current dentist. They may know someone from their network where you can go for cheap dental work.
See if you can find a program funded by philanthropists. For instance, there's a free mobile dental and vision clinic on the West Coast.
Visit your community health center and see what programs they know about.
Veterans or low-income seniors may be able to find a program specific to them.
Find a Cheap Dentist With the Help of DoNotPay
Thankfully, now you have DoNotPay on your side to help you find a cheap dentist. DoNotPay takes the hassle out of the process of learning about eligibility and setting up appointments.
Here's how you can use DoNotPay to find free or reduced-cost dental clinics:
1. Search "dentist" on DoNotPay.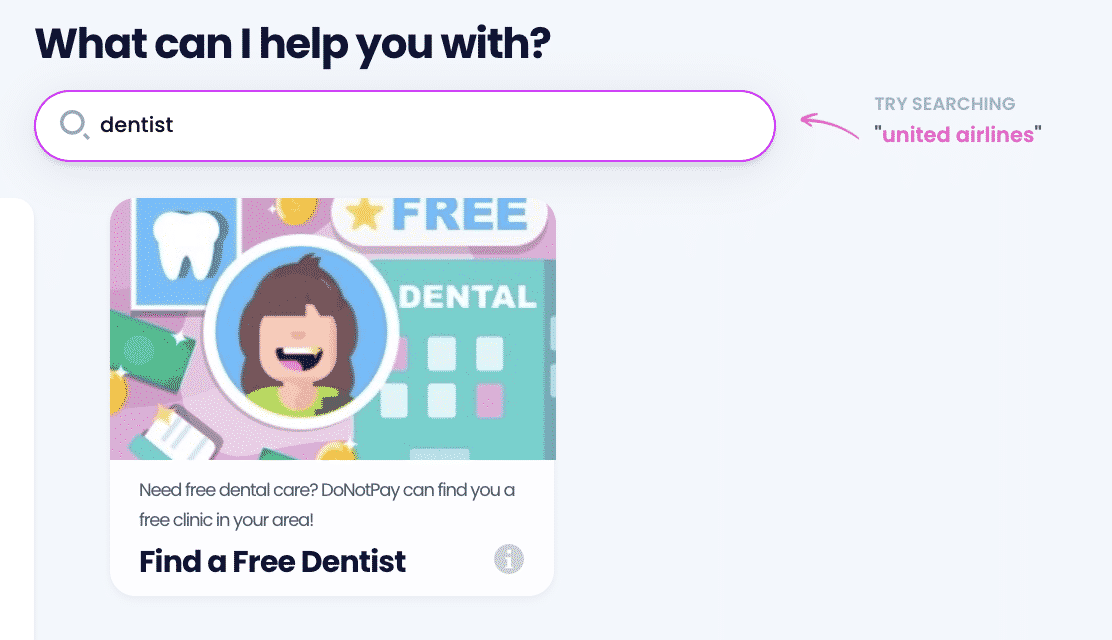 2. Enter your current address, so we can find the clinic nearest to you.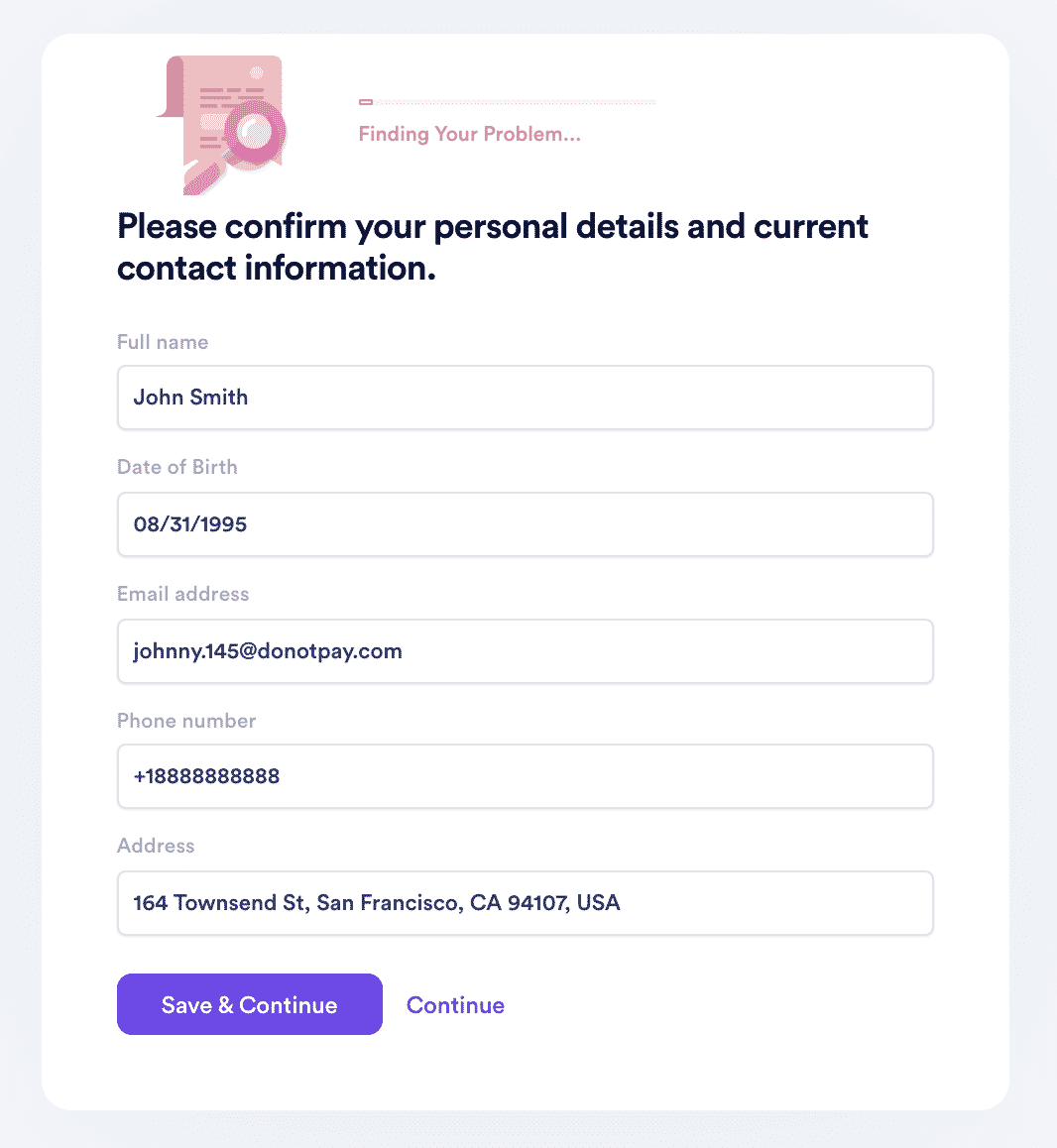 3. Select whether you would like to ask a question about your eligibility, receive a quote for a specific procedure, or set up an appointment.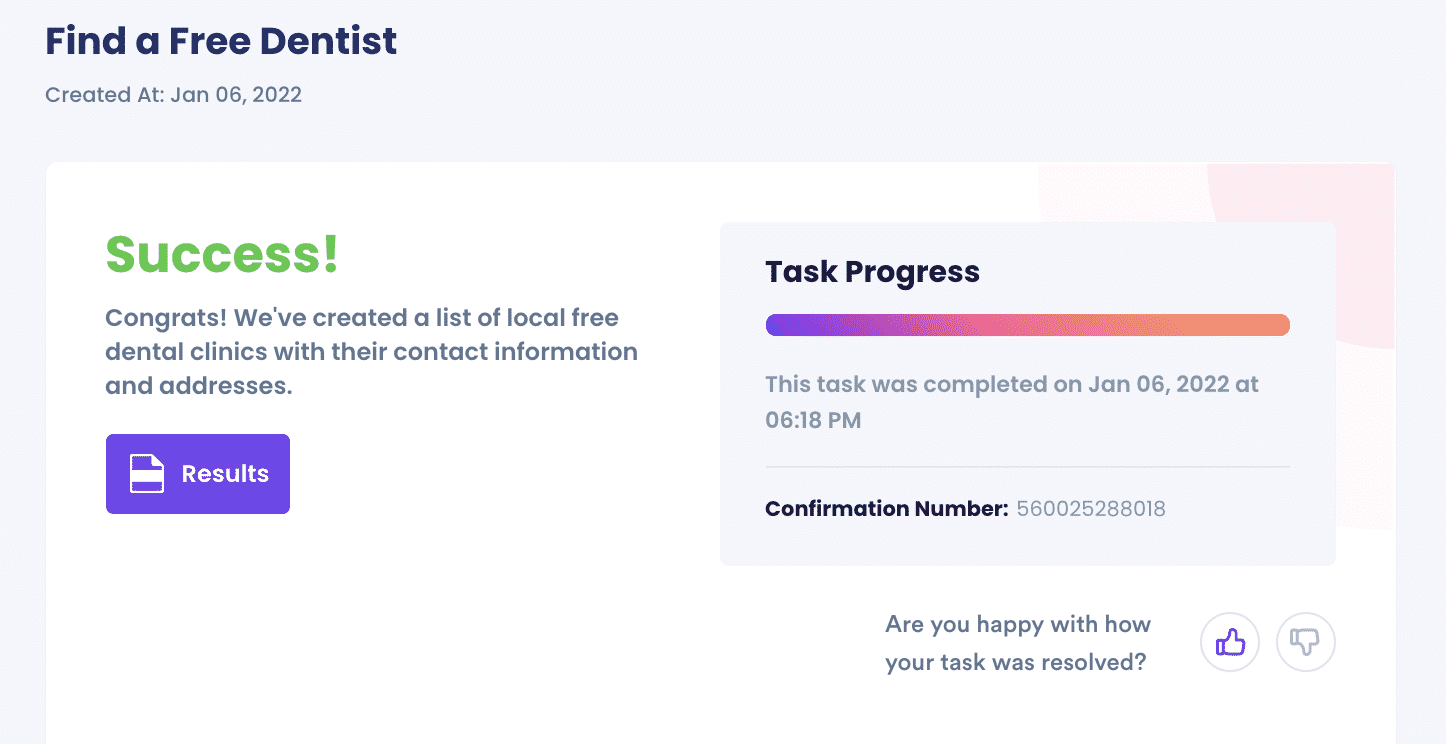 And that's it! DoNotPay will contact the clinic on your behalf and get back to you with the information you requested.
Why Use DoNotPay To Find a Cheap Dentist
DoNotPay has a number of advantages over other ways of finding a cheap dentist. These include the fact that DoNotPay is
Fast - Helps you find service efficiently.
Simple - Our platform is easy and intuitive to use.
Successful - We'll find a low-cost dental clinic in your area so that you can get the dental services you need for improved oral health.
DoNotPay Works Across All Locations and Types of Dental Clinics With the Click of a Button
DoNotPay isn't limited to finding inexpensive dentists on your behalf. In many cases, it can locate free dental clinics as well.
DoNotPay also works in locations all over the United States. If you're in need of any type of dental service at an affordable rate, no matter where you're located, you can give DoNotPay a try to see what free or cheap dental clinics it may turn up in your area.
What Else Can DoNotPay Do?
DoNotPay can assist you with a lot more than just finding a dentist to pull teeth for cheap. It can help you save time, money, and effort in so many ways. Below are just a few of the other ways in which DoNotPay can make your life easier.
Give DoNotPay a try today to see all the ways it can help you save money and effort on finding dental care and so much more!