Credit Limit Increase on IHG Card Guide
Chase Bank offers a complete line of IHG Rewards credit cards that provide an extensive list of attractive benefits for cardholders. Each product comes with varying interest rates, rewards, and repayment terms. Many existing customers want to request a  but don't know where to start.
DoNotPay can streamline the application process, showing you how to increase your credit limit with IHG. You will no longer have to worry about exceeding your balance and getting charged unnecessary over-limit fees.
A higher credit limit will also improve your credit score, making now the perfect time to get started. Let DoNotPay show you how to request a  in a few simple steps.
How Credit Limit Increases Work
IHG cardholders cannot exceed the predetermined credit limit assigned to their credit card account.
As with other major credit card lenders such as Capital One, American Express, and Discover, IHG uses the information found on your initial application to determine a credit limit. Credit history obtained from consumer reporting agencies also plays a significant role.
For example, the credit limit for IHG Rewards Card members typically ranges between $3,500 and $5,000. Applicants with an excellent credit history and high income may be eligible for a credit limit of $10,000 when opening an IHG account.
As with most lenders, a credit report is pulled every time you request a credit limit increase on an IHG card. It will result in a hard pull that can lower your credit score by several points.
IHG Credit Card Options
InterContinental Hotels Group (IHG) owns a distinctive portfolio of well-known hotels and resorts, including:
Holiday Inn
Crowne Plaza
Candlewood Suites
The IHG Rewards Club Credit Card offers points for every dollar spent, redeemable for free hotel stays, housewares, electronic gadgets, and much more.
There are several popular IHG products available:
1. IHG Premier Card
Earn up to 25 points for every dollar spent at any IHG hotel or resort worldwide. New card members can receive 150,000 bonus points in the first three months of opening an account.
2. Traveler Card
Earn up to 15 points for every dollar spent at any IHG hotel or resort worldwide. Also, earn 1 point for every dollar spent and 2 points for every dollar spent on gas, grocery, and restaurant purchases.
3. Elite Status
Cardmembers will earn elite status after spending $10,000 on purchases, entitling them to additional travel benefits.
Why Requesting a Credit Limit Increase on IHG Cards is a Good Idea
Increasing your credit limit will help you to avoid maxing out your credit card and incurring unnecessary fees. Other benefits include:
Decreasing your credit utilization
Improving your debt to income ratio
Enabling larger purchases
Having access to funds in the case of an emergency
Improving your overall credit score
Many lenders, such as Bank of America and Wells Fargo, will automatically increase your credit limit after 6 to 12 months of using your card responsibly. In contrast, IHG will send out an offer for an automatic credit limit increase once you have established a history of making on-time payments.
Who Can Request a Higher Credit Limit?
Chase recommends asking for a credit limit increase on your IHG card when you have increased income, developed creditworthiness, and achieved a credit score in the good to excellent range.
Cardholders that recently applied for a credit limit increase with other creditors should not request a credit limit increase on IHG cards. A series of hard inquiries on your credit report indicates financial difficulties, typically causing the application to be denied.
You should also not request a credit limit increase with IHG, if three things have recently occurred:
You changed jobs and have a lower annual income
Your credit score falls below good (around 700)
You have a history of delinquent payments to IHG
How to Request a Credit Limit Increase on an IHG Card On Your Own
The only way to request a credit limit increase is to call the number on the back of your credit card. Chase currently does not accept online submissions for a credit limit increase on IHG cards.
All requests are subject to approval, and the financial institution will pull a credit report to determine eligibility. DoNotPay simplifies the process without affecting your credit score.
How to Request Higher Credit Limits on an IHG Card Using DoNotPay
If you want to request higher credit limits but don't know where to start, DoNotPay has you covered in 6 easy steps:
1. Go to the Credit Limit Increase product on DoNotPay.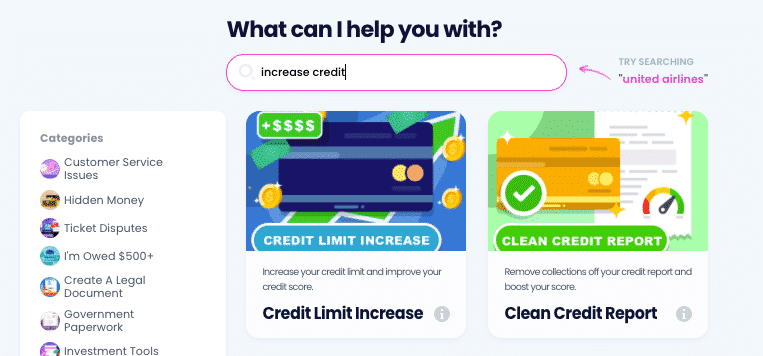 2. Select which type of card you own and your credit provider.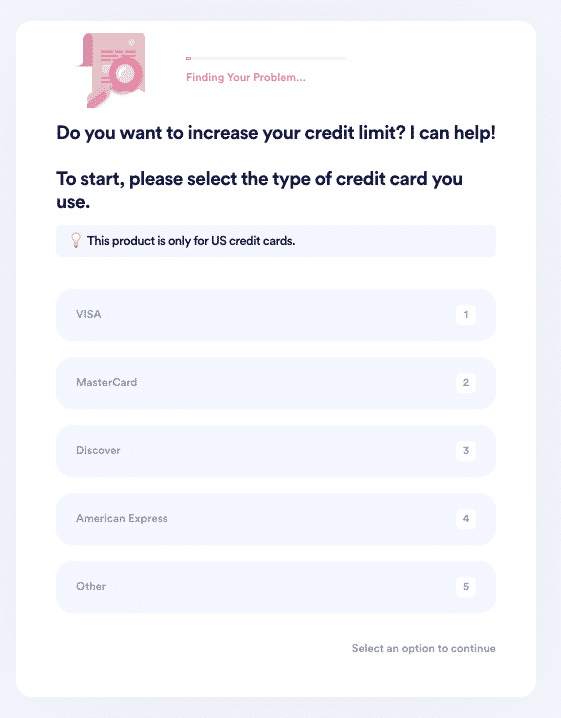 3. Tell us more about your card, such as when you first created this card, your current credit limit, what you would like your new limit to be, your card number, and whether you've missed past payments.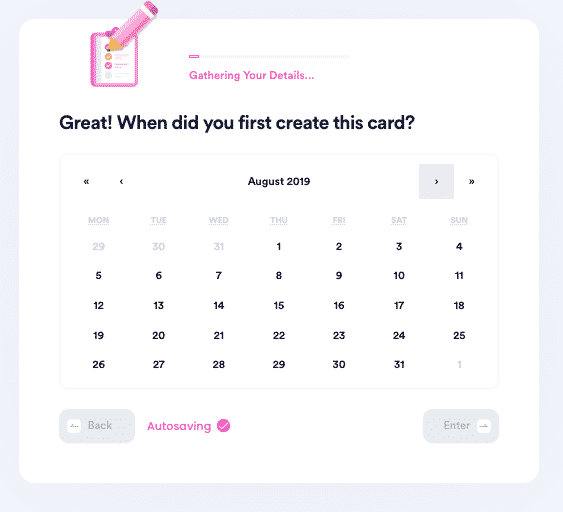 4. Tell us more about your current income and expenses and why you would like to request a limit increase.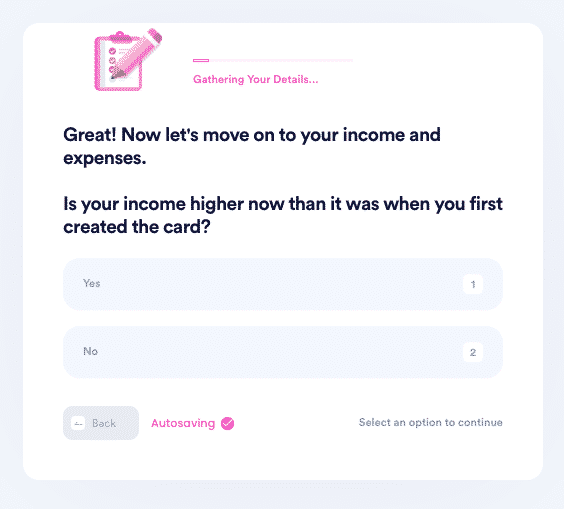 5. Indicate whether you want to allow hard inquiries to be made into your credit history. Upload a copy of your ID and provide your e-signature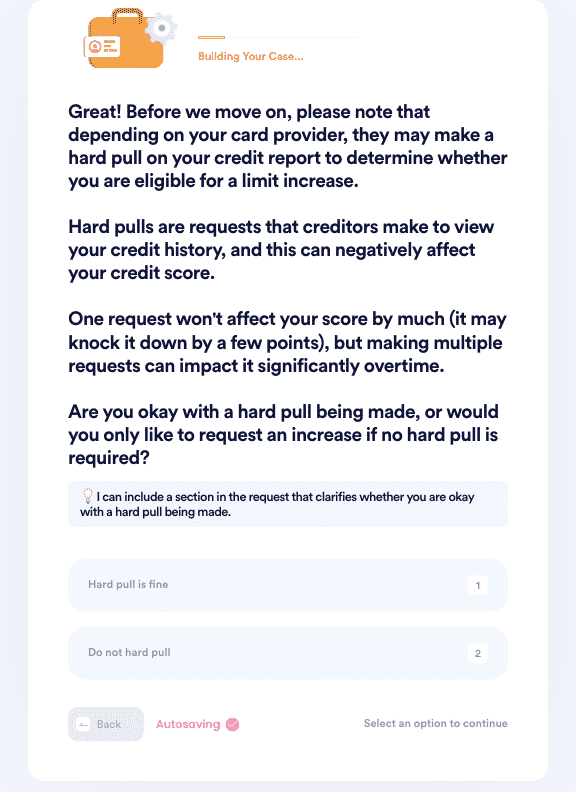 6. Submit your task! DoNotPay will deliver the request letter on your behalf. You should hear back from the card provider with confirmation or a request for more information within a few weeks.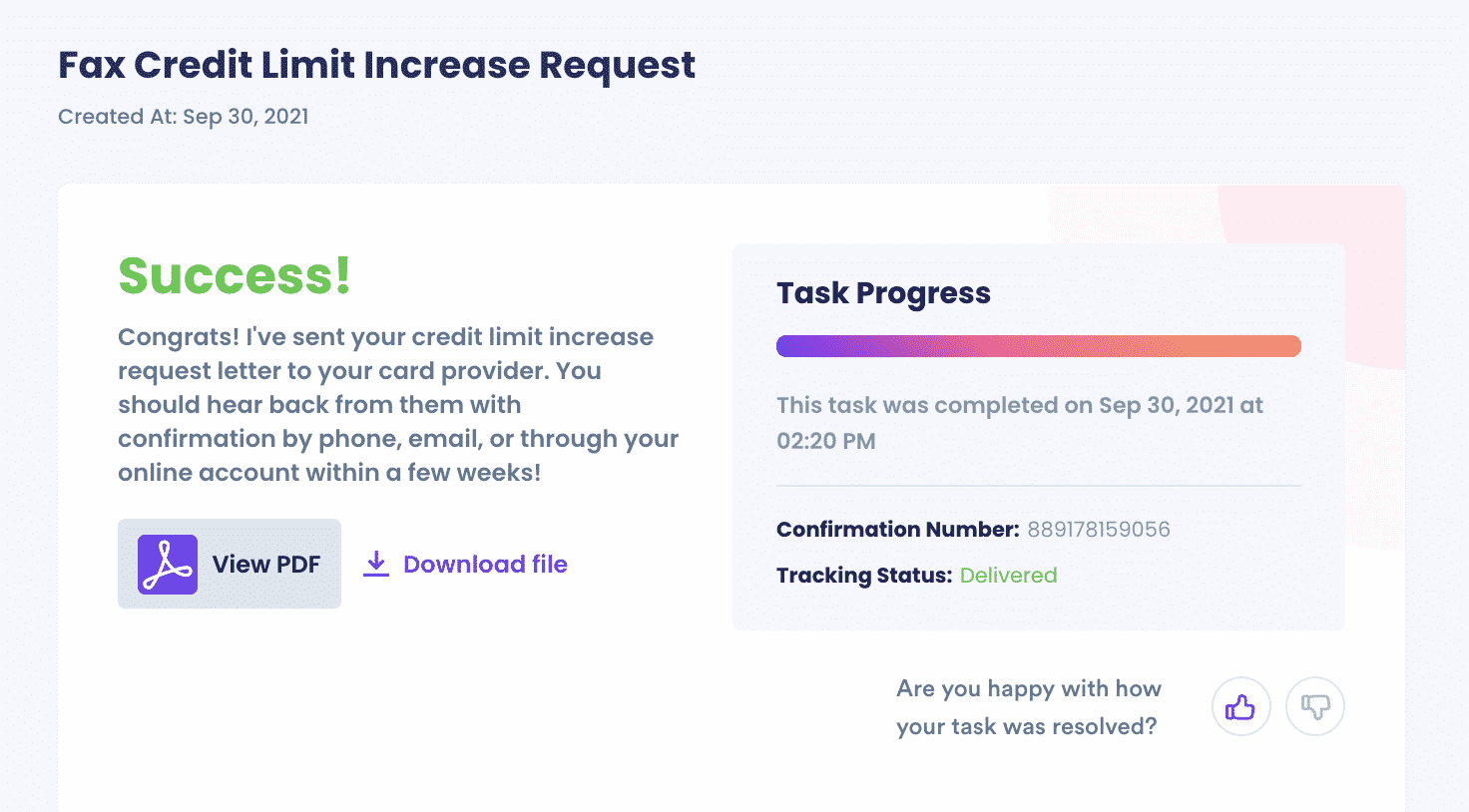 Why Use DoNotPay to Ask for A Credit Limit Increase on IHG Card
DoNotPay can process your request for a credit limit increase on an IHG card quickly and efficiently. The automated system guides you through a series of simple questions to verify your personal and financial information. A request is then sent to Chase on your behalf, without ever affecting your credit score without your permission. The entire process is fast, easy, and successful.
| | |
| --- | --- |
| It's Fast. | You don't need to waste time on the phone waiting for customer service. |
| It's Easy. | The automated system is available any time of day or night so that you can use the service at your convenience. |
| It's Successful. | You can rest assured knowing your request is taken care of and expect an answer from Chase within a few weeks. |
What Else Can DoNotPay Do?
In addition to requesting a credit limit increase on IHG cards, DoNotPay can help with:
DoNotPay customers have had success requesting credit limit increases with countless banks including, Apple Card, Citi, and Credit One.
The easy-to-use system makes applying for a credit limit increase simpler than ever. DoNotPay streamlines the process, making sure Chase receives the information it needs to consider your application for a . Don't delay and get started today on the path to financial freedom.