How to Find a Free Dental Clinic in Cleveland, Ohio
If you've needed extensive dental work, you know how hard it can be to find a cheap dentist. Some dentists will charge an arm and a leg even for small procedures. exist, but they can be hard to locate by yourself.
Even after you've found a free clinic, you must check your eligibility requirements before you can make a visit. It's a surprisingly complicated process that forces many patients to put off important treatment. With DoNotPay, it's easier than ever to find a low-income dentist near you.
Do I Qualify for Free Dental Care in Cleveland?
If you can't afford dental bills on your own, the government may be able to assist you. You can try contacting:
Medicaid
Individuals who make less than a certain amount each year can enroll in Medicaid for affordable dental care. Ohio Medicaid dental coverage includes:
Cleanings
Wellness exams
Crowns
Fillings
Extractions
Dental Surgery
Root Canals
Dentures
Braces (for individuals under the age of 21)
For most services, a copay of just $3 is required.
Medicare
Medicare usually does not cover routine procedures, but it can cover any dental service that you receive in a hospital. Additional services might also be covered if you have a Medicare Advantage Plan. To qualify, you either have to be at least 65 years old or be diagnosed with certain disabilities.
CHIP
CHIP provides Ohio citizens who are 18 or younger with free (or nearly free) dental care. Almost every dental procedure is covered, except bridges and mental crowns.
MetroHealth
This is a public non-profit healthcare system available exclusively in Cleveland, Ohio. It matches patients with a financial aid program based on Federal Poverty Guidelines.
You are eligible for a 100% reduction of your dental bill if:
Your income is 100% of the Federal Poverty Guidelines
Your income is 101%-300% of the Federal Poverty Guidelines
You can receive a 75% reduction of your bill if your income is 301-400% of the Federal Poverty Guidelines. If your income is over 400%, only 65% of the bill will be covered.
To receive the full range of benefits, you must be a resident of Cuyahoga County. Even if you don't provide insurance information, MetroHealth offers Presumptive Charity care for emergency situations.
Having a high income doesn't necessarily mean that you're in a good place to pay for dental care. You may have just paid for another medical emergency, or might have lost your home. Unfortunately, many government assistance agencies won't take such circumstances into account when determining your eligibility for free dental services.
In that case, you might need to contact:
Dental Schools
Dental students are often well-qualified to perform routine dental procedures at a reduced cost. A licensed dentist will oversee the procedure to make sure that everything goes smoothly.
Clinical Trials
If you have certain long-term dental conditions, you may be able to enroll in a clinical trial. Since the trial conductor is asking for the privilege of working on your teeth, you won't have to pay a cent.
How to Get Free Dental Care in Cleveland, Ohio
There are a few that offer completely free dental care, or procedures at a reduced cost. To find them, try:
1. Searching for 'free dental clinics near me'.
2. Emailing or calling the dental clinics that you find in your search.
3. You can also call MetroHealth and ask them to find an associated clinic near you.
4. If you visit the United Way's 211 website, it might also have a list of affordable dental clinics in your area.
Here are some free and low-income dental clinics in Cleveland:
| | | | |
| --- | --- | --- | --- |
| Name | Phone Number | Address | Services |
| The Circle Health Clinic | (216) 721-4010 | 12201 Euclid Ave, Cleveland, OH 44106 | Accepts: Medicaid, lack of insurance |
| MetroHealth Dental Clinic Main Campus | (216) 778-4725 | 2500 Metrohealth Dr, Cleveland, OH 44109 | Accepts: Federal Poverty Guidelines eligibility |
| Care Alliance Health Center (Central Clinic) | (216) 535-9100 | 2916 Central Ave, Cleveland, OH 44115 | Accepts: Medicaid, Medicare, Buckeye Health, lack of insurance, private insurance |
| Hough Health Center | (216) 535-9100 | 2916 Central Ave, Cleveland, OH 4411 | Accepts: Private insurance, Medicaid, Medicaid Managed Care Plans |
| Case Western School of Dental Medicine Dental Clinic | (216) 368-3200 | 8300 Hough Avenue, Cleveland, OH 44103 | Accepts: No insurance accepted, but patients are only charged an operational fee |
DoNotPay: The Better Way to Find Free Dental Clinics in Cleveland, Ohio
Even after extensive research on your part, it can be difficult to find affordable or free coverage. With charity organizations especially, it's not uncommon to be placed on a wait list for free dental care.
You'll be left to wait weeks with a tooth problem, which might get worse over time. Fortunately, DoNotPay understands how important it is to get dental care ASAP.
Here's how you can use DoNotPay to find free dental clinics:
1. Search "dentist" on DoNotPay.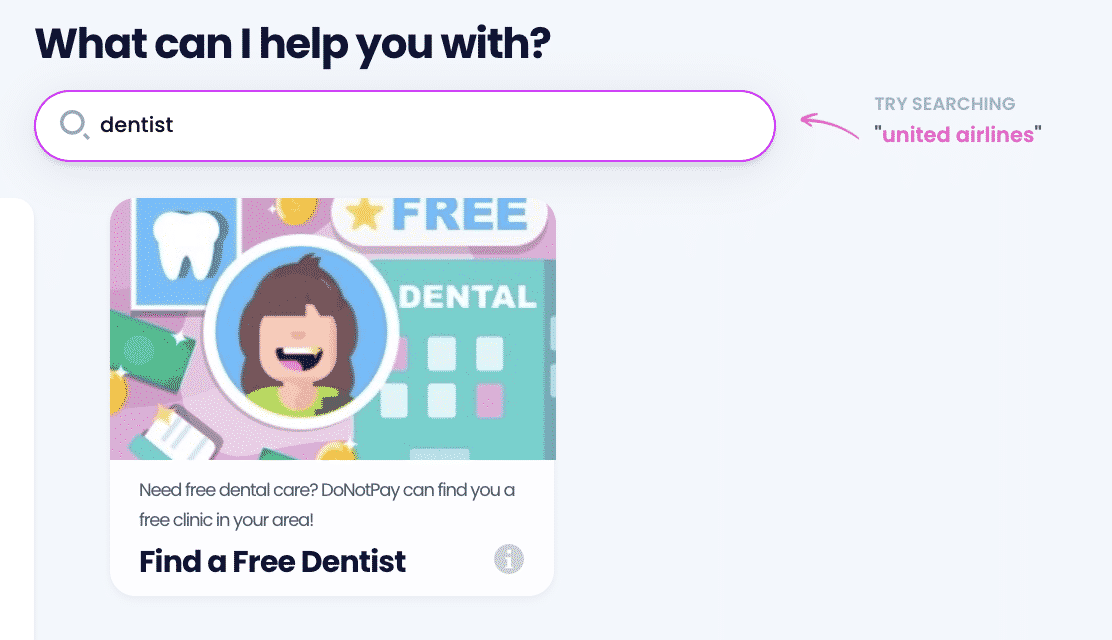 2. Enter your current address, so we can find the clinic nearest to you.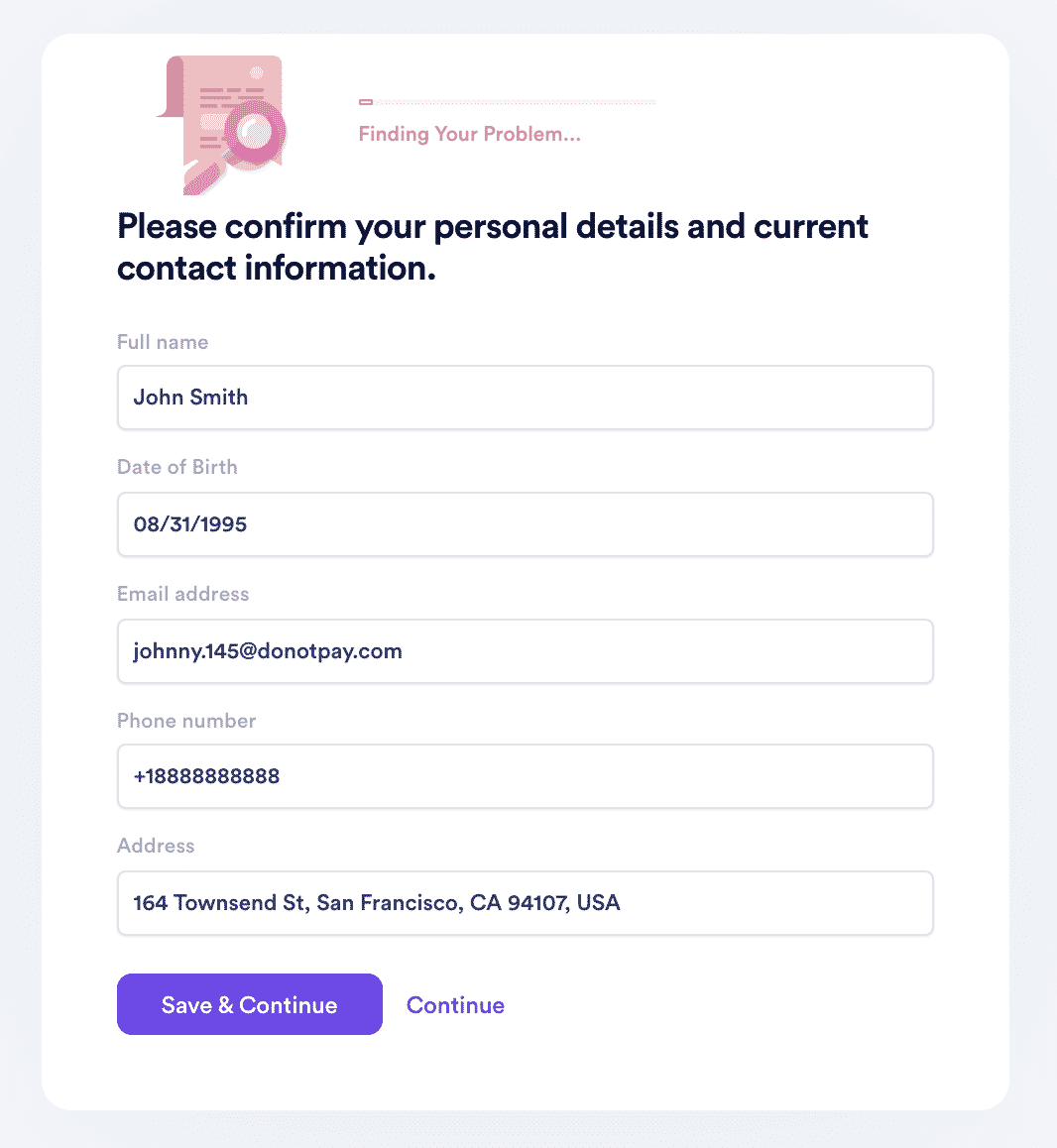 3. Select whether you would like to ask a question about your eligibility, receive a quote for a specific procedure, or set up an appointment.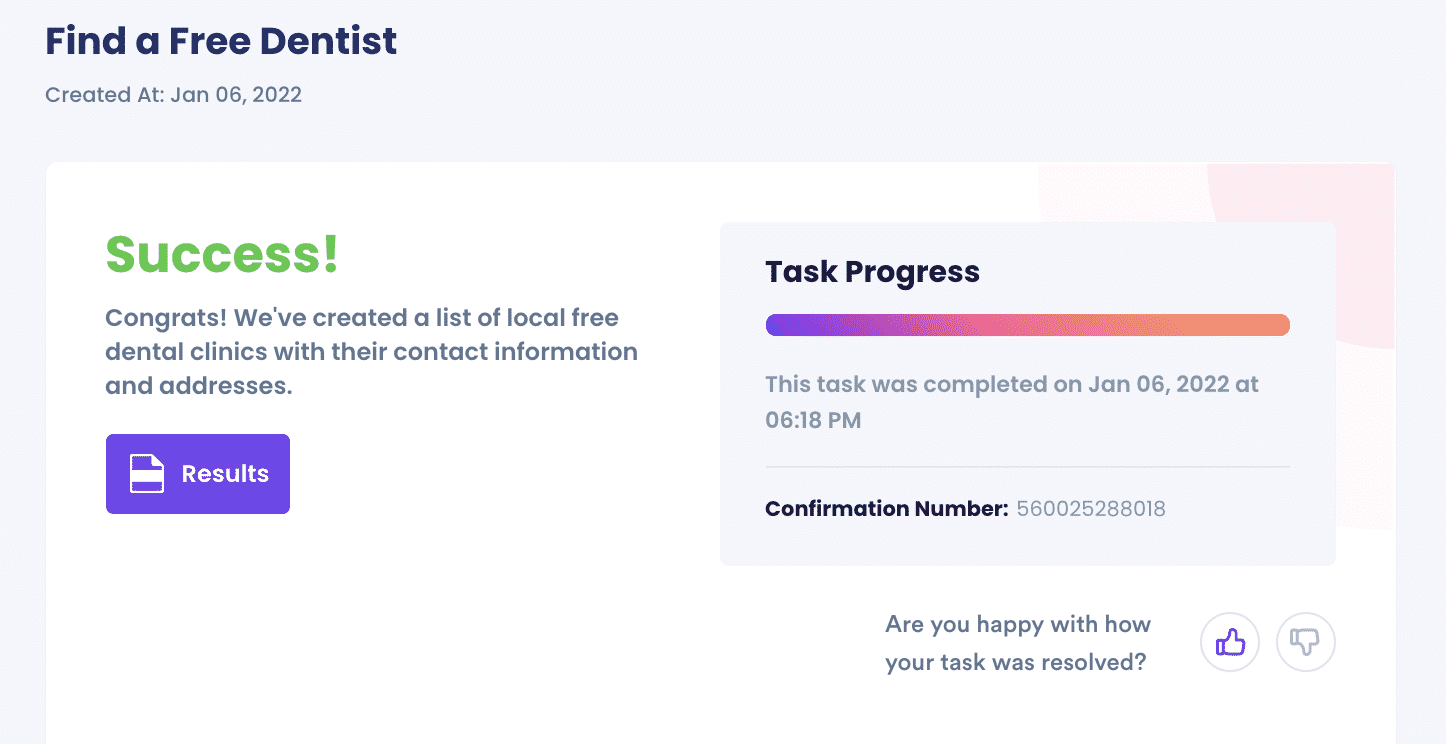 When you use DoNotPay, it always:
Makes appointments and calculates eligibility requirements in just a few clicks.
Applies to any clinic on your behalf, no heavy loads of paperwork required.
Reliably uncovers every option for free dental care in your area, every time.
DoNotPay Can Locate Affordable Dental Clinics Anywhere
Even if you don't live in Cleveland, you can still use DoNotPay to locate other affordable dental clinics throughout Ohio. Additionally, we can find free dental clinics in any other U.S. state.
Solving Any Problem Takes Moments With DoNotPay
DoNotPay aims to get rid of as much financial stress for all of our users. Feel free to explore our products for clinical trials, assistance with bills, college financial aid, and more!