How to Claim Your CITGO Lubes Rebate
There are over $500 million worth of rebates that go unclaimed in the United States every single year. Often, people don't even know about them, or they don't want to go through the trouble of actually trying to claim one, but that's almost the same as wasting money. You may be wondering now, does CITGO Lubes offer any rebates?
DoNotPay can easily help you find out which companies offer rebates. You can get the money you're owed with no hassle at all! Don't let your go unclaimed; find out what rebates you're eligible for and go for it.
What is CITGO Lubes Rebate?
To claim a , you'll need to submit an application through their website. You can also contact the customer service team at (800) 331 - 4068 to find out exactly how to work through the process. The rebate only applies to lubricants purchased through CITGO, and you must provide a receipt that shows a CITGO product.
Some of their latest rebates include:
| | | |
| --- | --- | --- |
| CITGO Product | Rebate Amount | Maximum Rebate Amount |
| SUPERGUARD Conventional and Synthetic Blend | $5/12 times per year | $60 |
| SUPERGUARD UltraLife High Mileage | $8/12 times per year | $96 |
| SUPERGUARD Full Synthetic | $12/12 times per year | $144 |
| TRANSGUARD Automatic Transmission Fluid | $8/12 times per year | $96 |
| CITGARD Conventional and Synthetic Blend | $5/12 times per year | $60 |
| CITGARD Full Synthetic | $12/12 times per year | $144 |
Who is Eligible for a CITGO Lubes Rebate?
Anyone who has purchased a CITGO lube product from participating locations is eligible for a rebate. You must have a receipt showing you purchased a CITGO lube product, and the rebate you receive can be no larger than $20 at one time.
How to Submit a Claim for a CITGO Lubes Rebate
You can submit a rebate claim by going to CITGO's website. You'll be able to track your claim if you create an account and submit it online, or by the tracking number if you kept it when sending off with the rebate information and service receipt to CITGO.
To submit your claim online:
Go to CITGO Lubes' website.
At the bottom of the home page, under "information", click on "rebate information".
Click on "submit claim."
Select "register" under "register for a rebate".
You'll then be prompted to create an account, but you can click "no thanks" if you don't want to.
Enter the offer code, purchase date, and country of purchase when prompted.
Enter the product information requested.
Enter the required personal information.
Select a payment option.
Review your claim and submit it.
Print your rebate confirmation, and mail it to the address shown on your confirmation with the service receipt.
How to Track CITGO Lubes Rebate
To track a rebate for CITGO lubes, go to their rebate page and click the red button that says "track". You can either log in to your CITGO account or input the tracking number for your rebate.
Get Your CITGO Lubes Rebate With the Help of DoNotPay
Did you know you can easily claim a rebate offer for CITGO lubes through DoNotPay? You don't have to go through the process of filling out any tedious applications or creating an account for something you'll only use once; DoNotPay will take care of it for you.
Here's how it works:
1. Search rebates on DoNotPay and select the type of rebates offer you want to claim (is it for a car, electronic gadget, household appliance, etc).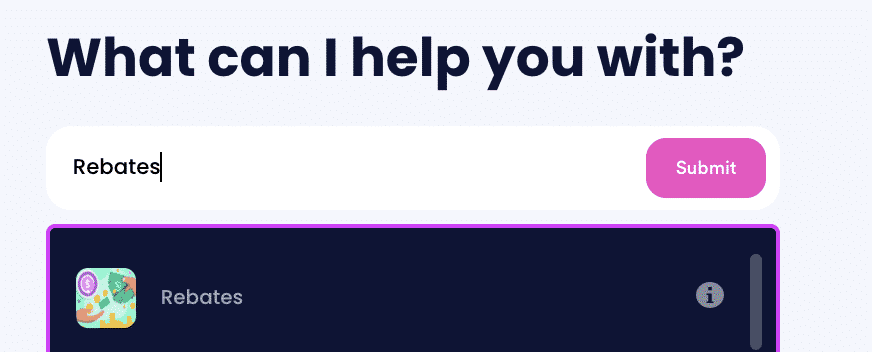 2. Tell us more about the purchase, including the product name, brand, serial number (if relevant), and whether you bought it online or in-person.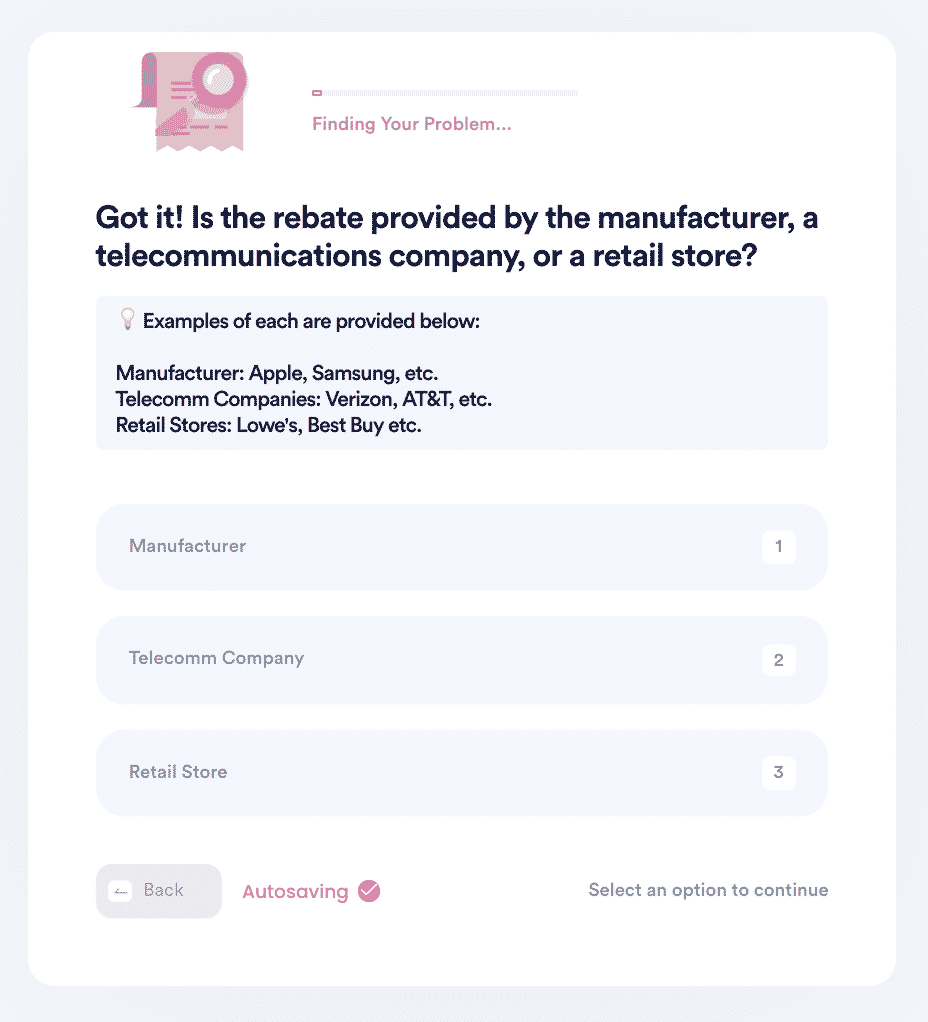 3. Select whether the rebate is online or mail-in. Upload your evidence documents, including receipts, and any necessary forms, and confirm your contact information.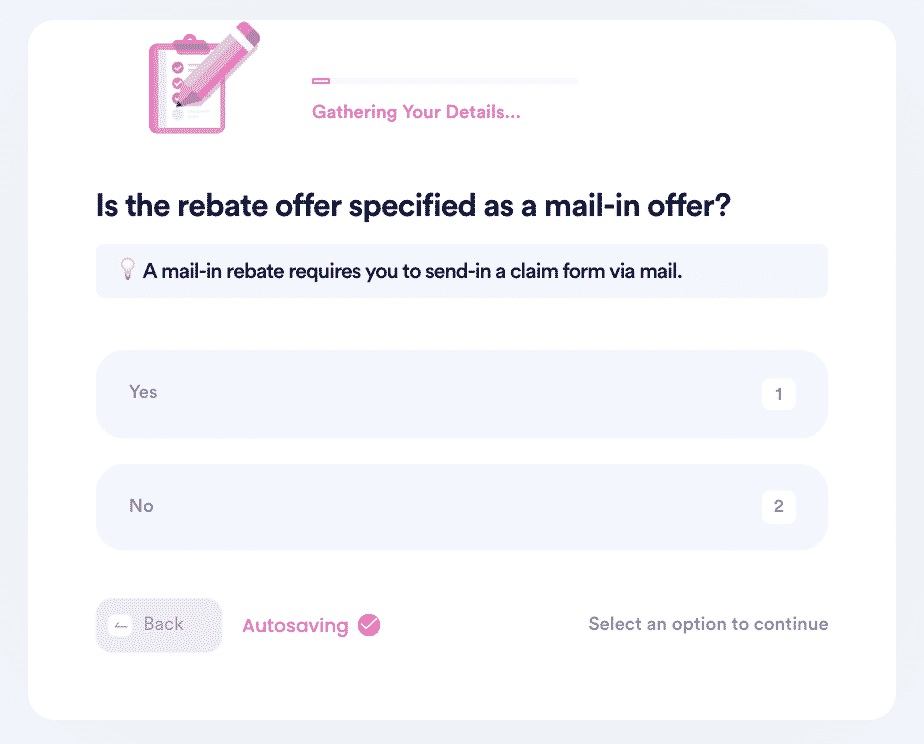 And that's it! DoNotPay will file your rebate claim on your behalf by mail or online depending on the rebate campaign. You should receive your rebate by check within 30 days!
DoNotPay Works Across All Companies
CITGO Lubes aren't the only products you can claim a rebate for with DoNotPay. They can actually claim a rebate on your behalf with almost any company that's offering one. And, if you don't know what rebates you're eligible for, DoNotPay will look into it for you!
DoNotPay can claim rebates for:
As well as many other companies. There's almost no limit to the number of companies DoNotPay can file a rebate claim on your behalf for.
What Else Can DoNotPay Do?
Almost anything! No matter what problem you may run into, DoNotPay is there to get you through it. They're not just interested in getting you a rebate check from CITGO. Along with that, DoNotPay can help you take someone to:
Don't waste your time trying to maneuver your way through a tedious process; let DoNotPay get the job done for you!