CAPCOM FCU: Increase Credit Limit Instructions
CAP COM Federal Credit Union (CAPCOM FCU) is a member-owned, nationally-recognized credit union that offers customers a complete line of financial products, including credit cards.
When existing CAPCOM FCU cardholders request a , a new application is required to determine eligibility. Like most other banks, such as Citi, Wells Fargo, and Bank of America, this pulls your credit history report and results in a hard inquiry, often negatively affecting your overall credit score.
DoNotPay offers an automated system that can quickly request an increased credit limit at CAPCOM FCU in a few simple steps. A credit report is never pulled without your permission, keeping your credit score intact. If you want to know how to increase your credit limit with CAPCOM FCU, let DoNotPay help you get started.
How Credit Limit Increases Work
Regardless of whether your credit card is with American Express, Discover, or CAPCOM FCU, the financial institutions all follow the same guidelines when it comes to credit limits. Every bank must notify you in writing of the maximum amount of credit they will extend to you, which is your credit limit.
If credit card customers go over the predetermined limit, they will accrue unnecessary fees and possibly an increased interest rate. If the balance continues to go over the limit, some banks will automatically decrease the credit limit available.
Credit limits impact your debt-to-income ratio and play a vital role in determining eligibility for future loans. Borrowers with a strong credit history typically receive higher credit limits. In contrast, high-risk borrowers are often given lower credit limits until establishing creditworthiness with the lender.
CAPCOM FCU Credit Card Options
CAPCOM FCU offers several credit card options to meet the needs of its members, with low, fixed interest rates and no annual fees. Cardholders receive travel benefits, fraud monitoring, and discounts at participating retailers. The products available include:
1. Platinum
Members receive 1 point for every dollar spent, redeemable for cash rewards. A 5,000 point bonus is available within the first 90 days of opening an account.
The annual percentage rate is 9.90%, and credit limits typically range between $1,000 and $30,000. There are no balance transfer or cash advance fees, and the foreign transaction fee is the exchange rate plus 1% of the transaction.
2. Classic
The classic CAPCOM FCU credit card is ideal for members with lower credit scores. It is an excellent alternative to a variable-rate credit card with a fixed interest rate of 13.9% and a credit limit that ranges between $500 and $15,000.
It is a good option for customers that want to rebuild their credit and increase their credit score by establishing creditworthiness.
3. Classic Secured
For customers just starting out, this credit card is a viable option. You deposit cash into the account as collateral and establish a credit history with on-time monthly payments. The minimum deposit is $500, and the maximum amount is $15,000.
The fixed interest rate is 13.9%, which is very competitive considering Capital One charges 26.99% interest for secured credit cards.
Who Can Request a Higher Credit Limit?
Every time you request that CAPCOM FCU increase your credit limit, a new application is required, and credit history is obtained from all three consumer reporting agencies. Keep in mind that every hard inquiry negatively affects your credit score by several points.
DoNotPay recommends not requesting a credit limit increase unless you have:
Established creditworthiness with CAPCOM FCU for at least six months
Not requested a credit limit increase in the past six months
A good credit score, typically above 700
Recently changed jobs and your annual income has increased
A debt to income ratio that does not exceed 30%
How to Request that CAPCOM FCU Increase Your Credit Limit On Your Own
Existing cardholders can access the CAPCOM FCU online system to request a credit limit increase on their credit card. The online application requires verification of personal and financial information before it is processed. Remember, a credit history report is also required.
DoNotPay takes the hassle out of confusing applications and helps customers through a simple process of getting approved for a credit limit increase with CAPCOM FCU.
CAPCOM FCU: Increase Credit Limit the Easy Way With DoNotPay 
The DoNotPay automated system is easy to use and gets quick results. Best of all, it is available 24/7 from the convenience of your laptop.
How to Request Higher Credit Limits Using DoNotPay
If you want to request higher credit limits but don't know where to start, DoNotPay has you covered in 6 easy steps:
1. Go to the Credit Limit Increase product on DoNotPay.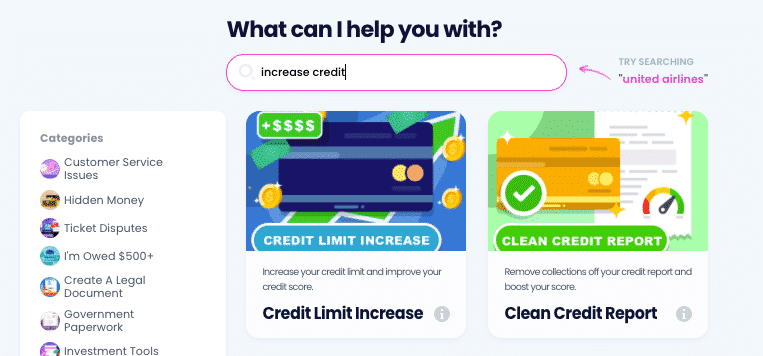 2. Select which type of card you own and your credit provider.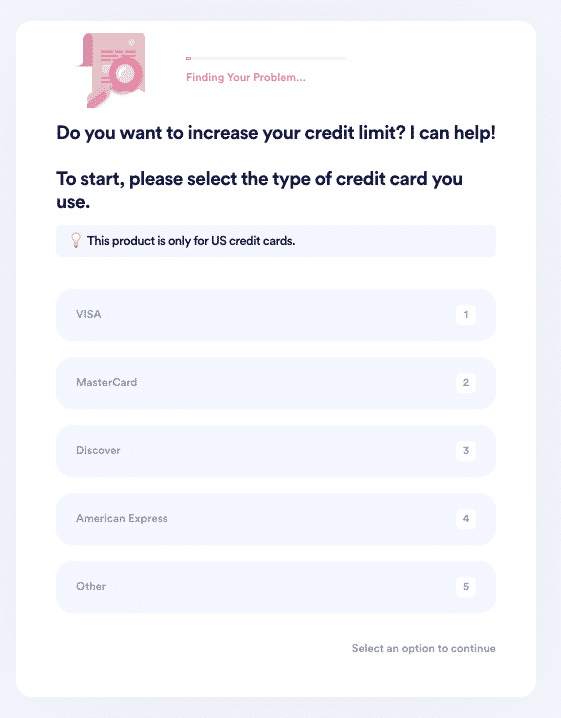 3. Tell us more about your card, such as when you first created this card, your current credit limit, what you would like your new limit to be, your card number, and whether you've missed past payments.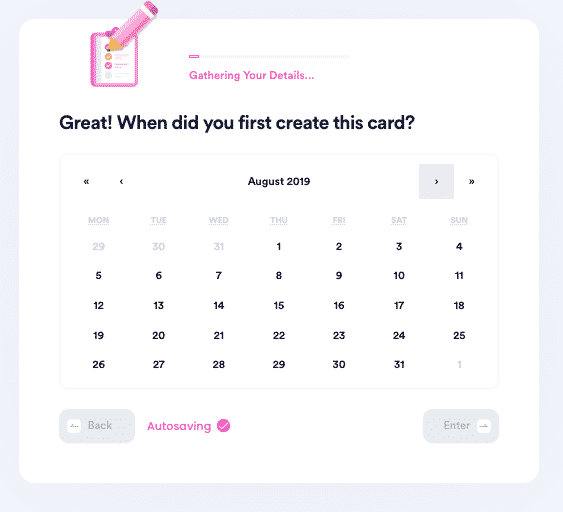 4. Tell us more about your current income and expenses and why you would like to request a limit increase.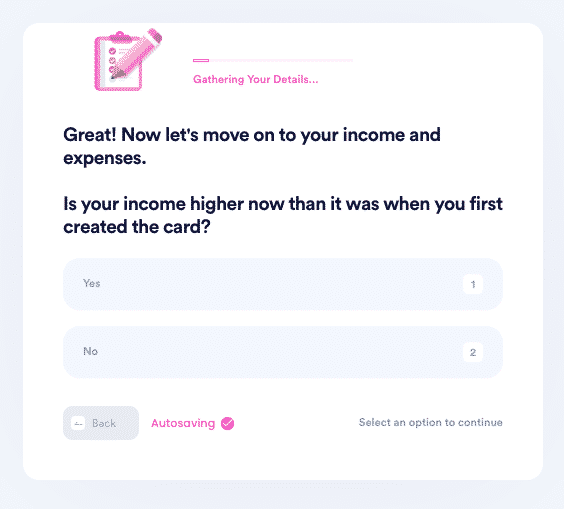 5. Indicate whether you want to allow hard inquiries to be made into your credit history. Upload a copy of your ID and provide your e-signature.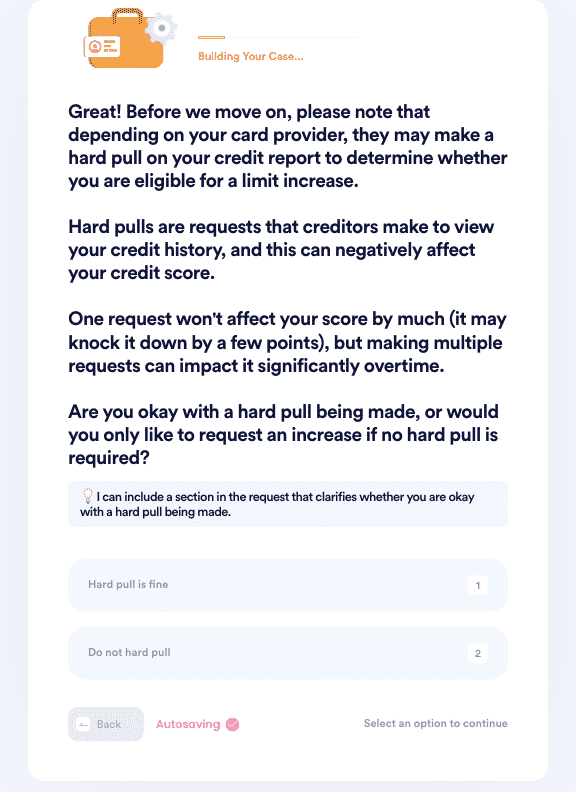 6. Submit your task! DoNotPay will deliver the request letter on your behalf. You should hear back from the card provider with confirmation or a request for more information within a few weeks.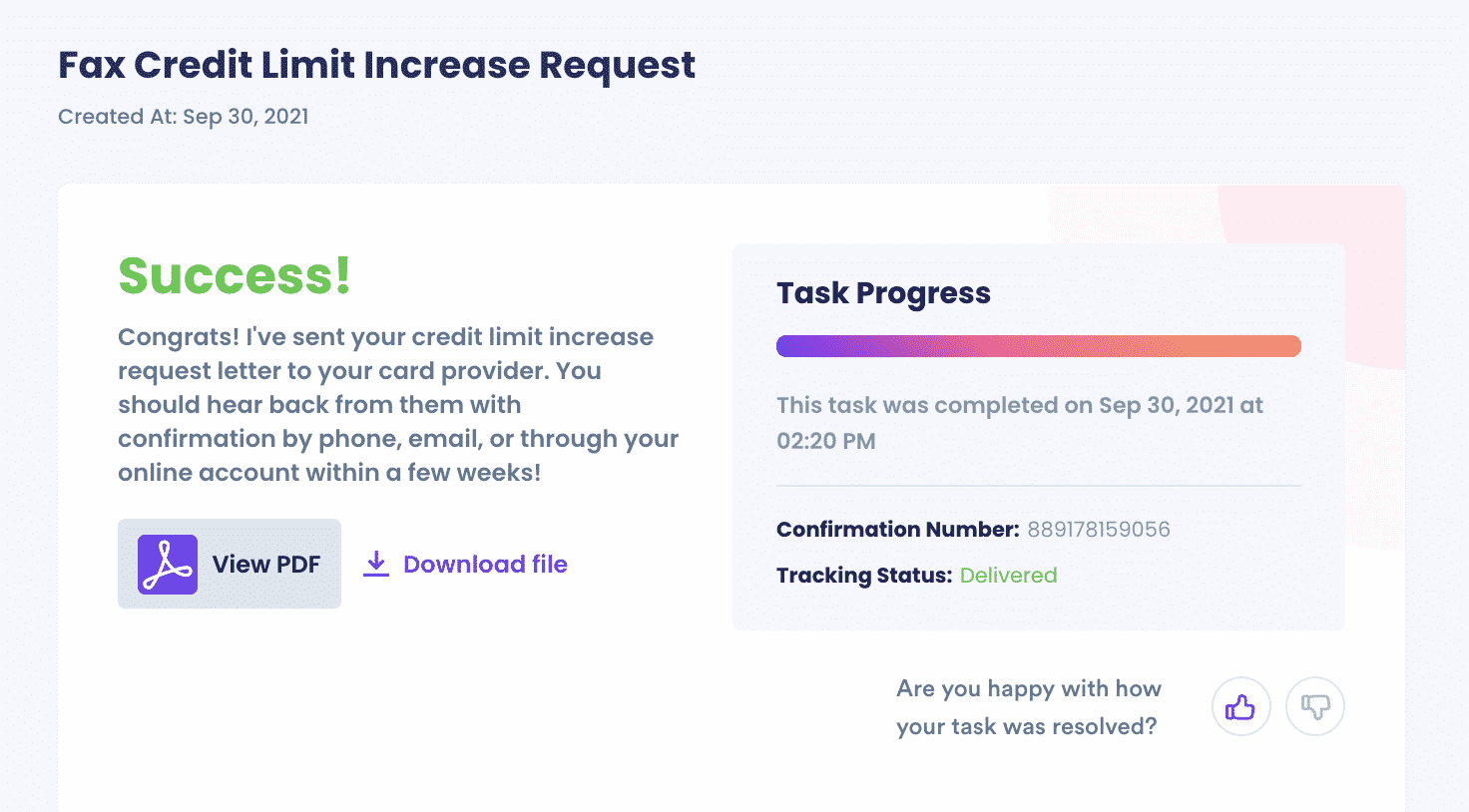 Why Use DoNotPay to Ask for a Credit Limit Increase with CAPCOM FCU?
DoNotPay is with you every step of the way when requesting CAPCOM FCU increase credit limit. The automated system walks you through a set of prompts to verify employment status, income, and personal identifying information.
After the application is processed, DoNotPay sends a request to CAPCOM FCU on your behalf without affecting your credit score. The entire process is fast, easy, and successful.
| | |
| --- | --- |
| It's Fast. | You don't have to waste time trying to navigate complicated websites. |
| It's Easy. | The automated system is available 24/7 for your convenience. |
| It's Successful. | The request is sent to CAPCOM FCU immediately for eligibility determination. |
What Else Can DoNotPay Do?
DoNotPay can also help you request a credit limit increase from credit card companies such as Apple Card, Chase, Credit One, and many more. The automated system is also effective in other challenging banking situations, such as:
Having an innovative solution like DoNotPay on your side is worth its weight in gold. You will never have to try and figure out online forms again, and lengthy on-hold wait times are a thing of the past. DoNotPay makes getting a quick and easy!