How to Request a Best Buy Credit Limit Increase Without Lowering Your Credit Score
Would you like to buy sound systems, appliances, computers, and other electronics on best buy but feel restricted by the low credit limit? This article will explain how you can increase your best buy credit limit. Best Buy is a consumer electronics retailer with over 1,000 stores around the US and Canada. Best buy allows customers to buy goods online and in retail stores using custom and general-use credit cards issued by Citibank. Cardholders can buy goods on credit using various best buy financing options and earn rewards for making purchases.
Requesting a credit limit increase can be complicated because some requests may trigger a hard pull from the issuer. Fortunately, DoNotPay offers a fast, convenient, and automated  credit card limit increase request process that ensures your credit score is not affected.
How do Credit Card Limit Increases work?
The credit card limit is the amount of money you can spend using the credit line extended by the issuer. Most credit cards are affiliated with a partnering bank or financial institution that provides the funds. Your credit card limit can increase over time if you are responsible for using the credit line and clearing your debts on time. A bigger credit limit enhances your purchasing power, enabling you to buy expensive items on credit. An increase in credit limit also lowers your credit utilization ratio, which enhances your credit score. 
Most credit card issuers will raise your credit limit automatically if you have a good record of making reasonable purchases and paying bills on time. Those who meet the criteria have their limits increased automatically after a couple of months.
Best Buy Credit Card Limit Increase Requests
 credit cards are used for buying electronics online and in the company's physical stores. Cardholders get 5-6% discounts for purchasing using the card and deferred interest promotions that charge 0% interest if the balance is paid on time.
Who Can Request a Higher Credit Limit?
Typically, people who recently acquired a card, hold a secured credit card, or had a credit card limit or decrease imposed are ineligible for credit card increases. For other requests, the bank may consider several factors such as:
credit history
delinquent payments
credit score
income
utilization rate
hard inquiries
Those with good credit history often get increases after a soft inquiry, but requestors with a weak credit history may be subjected to a hard inquiry. Hard inquiries involve giving the issuer permission to check your credit history and score.
When Can I Request a Credit Limit Increase From Citi Bank?
You may be eligible for a credit limit increase after 6-12 months if your limit has not been increased automatically. The bank will review your credit history, payment history, and income to see if you deserve an increase.
What Information Will Citi Bank Ask For?
The bank will request you to provide account details and other information that may support your case, such as:
credit report
bill payment history
changes in income, such as getting a new job or pay to raise
Things to Consider Before Requesting a Credit Limit
Timing- check if you have cleared all your monthly payments on time. If you have pending bills, clear them and wait till you have a clean record. If you have recently lost a job, it may not be wise to make a request.
Hard Pull- there is always a risk that a request to increase the credit limit will trigger the bank to start a hard inquiry into your credit report. This can hurt your credit score, especially if you have other lines of credit.
Credit score/payment history- make sure you have cleared all pending bills and that your credit score has not been lowered recently.
How to Request a Best Buy Credit Limit Increase From Citibank on Your Own
Best Buy credit cards are eligible for credit limit increases. Cardholders can request credit limit increases online or by calling Citibank at (888) 574-1301. 
1.    Log in to your credit card account.
2.    Select 'Card Services' and click 'Credit Limit Increase.'
3.    Provide the required information and hit 'Next' to see if you qualify for a limit increase.
4.    Check the limit you have been offered and accept it or request a larger amount.
You will get a response from the bank in a few seconds. If the request is approved, the new credit limit will be effective immediately.
Requesting by Phone
Call Citibank customer service (888) 574-1301 and request a credit limit increase on your account. The staff will check your account and determine if you deserve an increase. The increase will be effected in a few minutes. If you insist on a bigger increase, the bank may want to do a 'hard pull' on your credit history. This can lower your credit score. However, the bank will first request your approval because it cannot review your credit report without your permission.
Benefits of a Credit Limit Increase
1.    Lower credit utilization rate.
2.    Access to interest-free funds for emergencies and big purchases.
Request a Credit Limit Increase With the Help of DoNotPay
Requesting a credit limit increase on your own can be complicated because you may not have kept a proper record of all your bills. It is better to use our system because we ensure that all your payments are cleared, and the request is timely. If you want to request a higher credit limit but don't understand the process, DoNotPay has you covered in 6 easy steps:
1. Go to the Credit Limit Increase product on DoNotPay.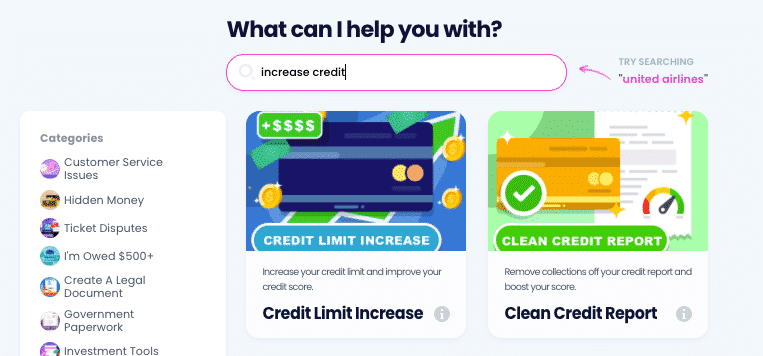 Select which type of card you own and your credit provider.

 

Tell us more about your card, such as when you first created this card, your current credit limit, what you would like your new limit to be, your card number, and whether you've missed past payments.

 

Tell us more about your current income and expenses and why you would like to request a limit increase.

 

Indicate whether you want to allow hard inquiries to be made into your credit history. Upload a copy of your ID and provide your e-signature

 

Submit your task! DoNotPay will deliver the request letter on your behalf. You should hear back from the card provider with confirmation or a request for more information within a few weeks.
Why Use DoNotPay to Request an Increase in Credit Limit?
Fast- you don't have to spend hours looking for where to apply online or waiting for your call to be picked.
Easy- you don't have to struggle trying to figure out complex requirements or keeping track of all the steps.
Successful-you can be confident that we will get you the best credit limit increase without lowering your credit score.
DoNotPay Works Across Companies, Government Agencies, and Affiliates With the Click of a Button
DoNotPay can help you resolve credit card issues with all types of banks, retailers, and e-commerce platforms. We can help increase credit card limits with Chase bank the same way we solve credit card issues with Capital One, American Express, Apple card, PNC Bank, Credit One, Wells Fargo, and Bank of America. All you have to do is click on the on your browser.
What Else Can DoNotPay Do?
Helping with credit limit requests is just one of the many problems you can solve with DoNotPay. Some of the other issues you can address on our platform include: