The BECU Increase Credit Limit Process is Quick With DoNotPay's Help
Boeing Employees Credit Union (BECU) has been serving the financial needs of its customers since 1935. As an alternative to traditional banking, the not-for-profit credit union offers several types of credit cards with varying interest rates, benefits, and rewards. Because of BECU's nonprofit status, many cardholders aren't sure how to navigate the  process.
If you are wondering how to increase your credit limit with BECU, we've got you covered. The current BECU increase credit limit process involves an application that can negatively affect your credit score. Thankfully, DoNotPay can help you bypass the hard inquiry hit on your credit report, leaving your credit score intact.
DoNotPay offers assistance to existing customers that ask for a credit limit increase. With the easy-to-use automated system, BECU will receive all of the information needed to determine eligibility. Requesting that  has never been easier.
How Credit Limit Increases Work
A credit limit is the maximum amount of money a customer can utilize on a credit card. Every lender has specific criteria to determine the credit limit, using the information found on the banking application. Credit limits can not only affect credit scores but can have an impact on future loans.
Lenders typically assign lower credit limits to high-risk borrowers or consumers that have a limited credit reporting history. Customers with higher credit scores usually get offered a higher credit limit, giving them greater spending flexibility.
BECU Credit Card Options
BECU has a credit card product the fits the lifestyle of all its customers:
Visa: The credit card used by many BECU customers offers a 0% introductory rate, with low everyday interest rates that range between 7.99% and 19.99% based on creditworthiness.
Cash Back Visa: This credit card has no annual fee and offers unlimited 1.5% cashback. Customers can also earn a $300 bonus after spending $3,000 in the first three months of account activation.
Secured Credit Card: Customers with poor or limited credit history can get a secured credit card to help improve their credit score. There are no monthly or annual fees.
Affinity Partner Visa Cards: BECU has partnered with The Boeing Company, Washington State University, and the University of Washington to let customers show their pride.
According to the BECU Credit and Security Agreement, the credit union can increase or decrease the available credit limit at any time. Borrowers cannot access more credit than has been extended to them.
Who Can Request a Higher Credit Limit?
Existing customers can ask for a credit limit at any time. Be aware that each time you request that BECU increase your credit limit, your credit report is accessed. Each inquiry can lower your credit score by several points.
New customers will typically not be approved for a credit limit increase until they establish six months of creditworthiness. Customers with secured credit cards or those who have had a credit limit increase or decrease in the past several months are usually ineligible for consideration.
BECU looks at the following factors when determining eligibility for a credit limit increase:
Payment history
Credit score
Credit history
Annual income
Debt to income ratio
Number of hard inquiries on the credit report
BECU determines your FICO Score 8 using data received from the TransUnion consumer reporting agency. Credit history for authorized users is not reported to credit bureaus.
How to Request a BECU Credit Limit Increase On Your Own
There are three ways to request a BECU credit limit increase:
1. Online
You can fill out an online application through the BECU Online Banking system. If you aren't already enrolled, you will need to create a unique User ID and password to gain access.
2. By Phone
You can call BECU at 800-233-2328 to request a credit line increase. The customer service agent will ask several questions to process an application. Be prepared to provide:
your social security number
current income
identifying information
This method can be time-consuming and often frustrating, with long on-hold wait times and hard-to-navigate voice prompts. A hard inquiry on your credit report will occur when requesting a BECU increased credit limit in this manner.
3. In Person
BECU is one of the largest credit unions in the nation, with more than 59 branch offices in two states. You can visit any location to ask for a credit limit increase. BECU requires that you make an appointment in advance to speak with a loan officer.
This method is complicated because you must visit a location during regular business hours, which is often hard to accomplish when working full time.
Request a BECU Increase Credit Limit with the Help of DoNotPay
DoNotPay is the perfect solution for existing customers that want to quickly and easily request a BECU increase credit limit. The automated process is simple to use, available 24/7, and, best of all, does not affect your credit score without your permission.
How to request higher credit limits using DoNotPay:
If you want to request higher credit limits but don't know where to start, DoNotPay has you covered in 6 easy steps:
1. Go to the Credit Limit Increase product on DoNotPay.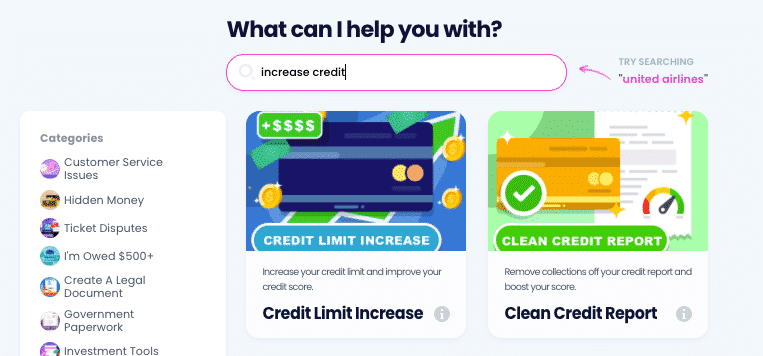 2. Select which type of card you own and your credit provider.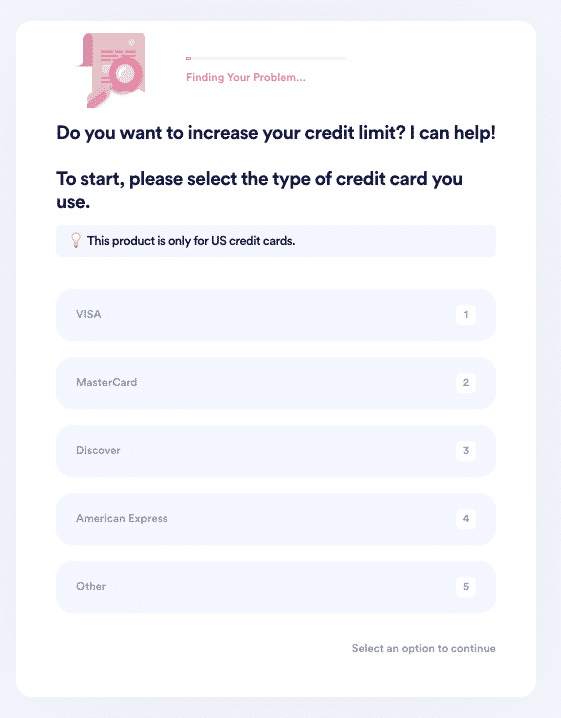 3. Tell us more about your card, such as when you first created this card, your current credit limit, what you would like your new limit to be, your card number, and whether you've missed past payments.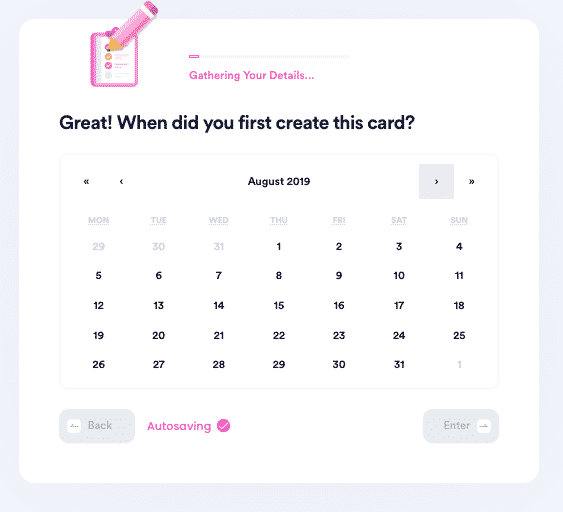 4. Tell us more about your current income and expenses and why you would like to request a limit increase.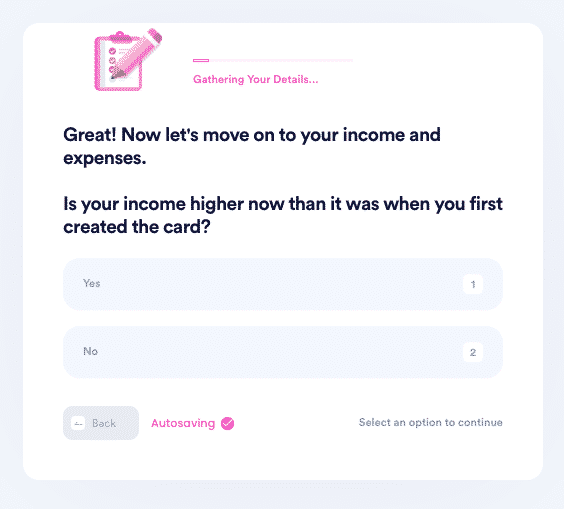 5. Indicate whether you want to allow hard inquiries to be made into your credit history. Upload a copy of your ID and provide your e-signature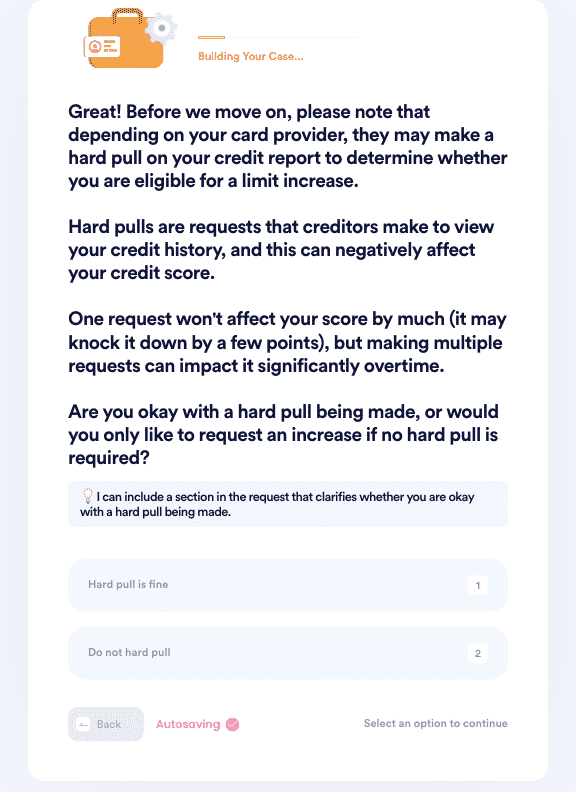 6. Submit your task! DoNotPay will deliver the request letter on your behalf. You should hear back from the card provider with confirmation or a request for more information within a few weeks.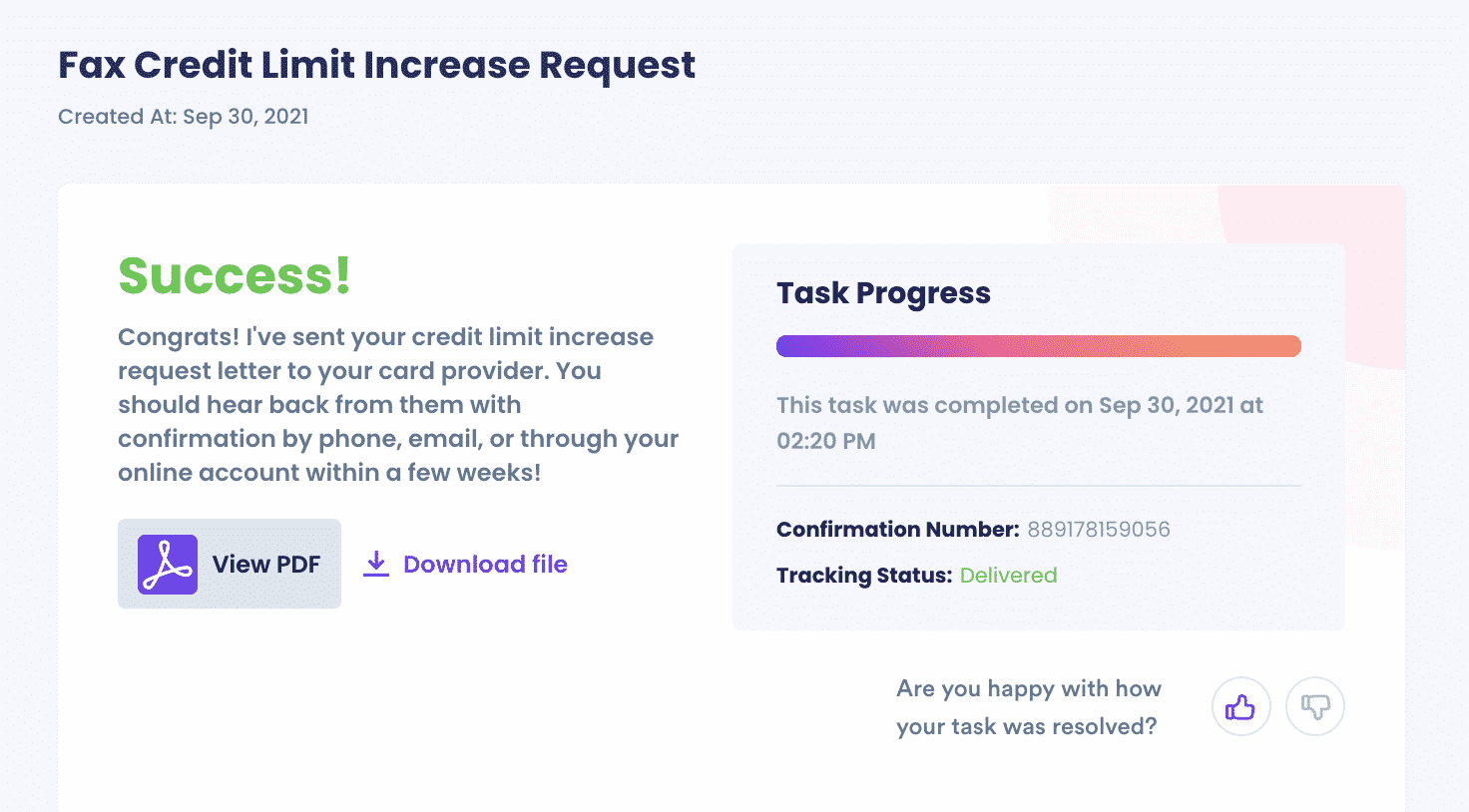 Why Use DoNotPay to Ask For a Credit Limit Increase with BECU?
DoNotPay will ask a few simple questions about your income, employment status, and current credit card. A request will be sent to BECU on your behalf without affecting your credit score. The entire process is fast, easy, and successful.
| | |
| --- | --- |
| It's Fast. | No need to waste time trying to navigate complicated websites, schedule an appointment, or wait for on-hold customer assistance. |
| It's Easy. | The automated system prompts you through a series of questions and can be accessed any time of day or night, at your convenience. |
| It's Successful. | You can rest assured knowing your request has been handled promptly and efficiently. |
What Else Can DoNotPay Do?
DoNotPay can help you with more than just the . DoNotPay's customers have been successful in requesting a credit limit increase from the following financial institutions:
DoNotPay is a simple to use and valuable addition to your financial arsenal. Let the automated system do the work for you, making a  quick and easy.