How to Find the Most Affordable Dentists in Richmond, VA
Good dental care is one of the unsung heroes of the healthcare ecosystem. A healthy mouth can reduce your risk for several conditions including heart disease and worsening diabetes, but dentist visits don't come for free. Whether you've just moved to the city or you're a longtime resident whose financial circumstances have recently changed, DoNotPay can help you find an .
Low-Cost Dental Care for Virginia Residents
The Virginia Dental Association estimates that almost 750,000 Virginia residents under 65 are without health insurance or dental benefits. The association offers access to an . If you are uninsured, see if you are eligible for Medicaid. This will not only cover some of your dental needs but also get you access to low-cost medical coverage.
Determining Your Medicaid Eligibility
Virginia residents have three methods for determining their eligibility:
Submit an application
Call the Cover Virginia Call Center at 1-833-5CALLVA (1-833-522-5582). The call center is open Monday to Friday from 8 am to 7 pm and Saturday from 9 am to 12 pm.
Apply online at CommonHelp, which partners with the Department of Social Services for several benefits
There is also a simple screening tool available online if you'd like a better idea of your eligibility before you call or apply. You will be asked six questions about the people in your home, including:
The number of adults under 65
The number of children, both those already born and those to be born
The household's gross monthly income - For a family of three, the annual income limit is $30,305, increasing $6,266 for each additional family member.
This tool evaluates you solely on income, but CoverVA does note that even if you are not eligible based on your income, you may qualify because of age, disability, or former Medicaid coverage while in foster care.
Applying for Medicaid
Once you've determined you're eligible, if you have not already applied for Medicaid, you can do so in one of three ways:
Mail a paper application to the nearest Department of Social Services location
Apply over the phone by calling Cover Virginia
Apply online through CommonHelp
FAMIS Eligibility
If you need affordable dental care for a child and cannot get Medicaid coverage, you may still be able to get dental coverage through the state. Virginia has a FAMIS (Family Access to Medical Insurance Security) program that provides medical, dental, and vision coverage to children who qualify. To be eligible, children must
Be US citizens or lawfully residing immigrants
Be under 19
Live in Virginia
Live in a family under the income threshold - For a family of 3 (including a parent and the parent's spouse), the annual income limit is $45,018. The limit increases to $9,307 for each additional child in the home.
You can apply online through CommonHelp or at healthcare.gov.
How to Get Affordable Dental Care
Medicaid or FAMIS Coverage
The Smiles for Children program covers both children and adults. Adult coverage covers most routine procedures, including
Cleanings
X-rays
Fillings
Dentures
Children get comprehensive care, with the program covering everything but orthodontics. To get a list of dentists in your zip code that accepts Medicaid, you can call DentaQuest at 1-888-912-3456.
If your child needs orthodontic care, you can apply for Smiles Change Lives. There is an income limit for this program, but that is not the only eligibility criteria. Applicants must be under 19, cannot have any unfilled cavities, and must have a "moderate to severe" need for braces. There is a $30 application fee, and if you are accepted, you must contribute $650 to the orthodontic program. All fees are nonrefundable.
Affordable Dental Care Without Medicaid
There are several free dental clinics that stay free below a certain income threshold, usually 200% of the federal poverty level. You can call the United Way at 211 to get details about the location nearest you and schedule an appointment with an affordable dentist with no insurance requirements.
Free or Low-Cost Dental Clinics in or Near Richmond
| | | | | |
| --- | --- | --- | --- | --- |
| Name | Phone | Address | Email address | Who Is Accepted |
| Free Clinic of Central Virginia | (434) 847- 5866 | 1016 Main Street, Lynchburg, VA 24504 | | Accepts uninsured residents and residents at 200% federal poverty level or below |
| Love of Jesus Health Clinic (Commonwealth Clinic) | (804) 674-7499 | 10930 Hull Street Rd, Midlothian, VA 23112 | | Free to low-income and uninsured residents |
| Main CrossOver Downtown | (804) 655-2794 | 108 Cowardin Ave, Richmond, VA 23224 | info@crossoverministry.org | Accepts residents at 200% federal poverty level or below |
| Vernon J. Harris Health Center | (804) 780-0840 | 719 N. 25th St., Richmond, VA 23223 | info@cahealthnet.org | Accepts insurance - fees are on a sliding scale |
| West Grace Health Center | (804) 783-2505 | 517 W. Grace Street, Richmond, VA 23220 | | Accepts homeless and uninsured residents |
Find an Affordable Dentist With DoNotPay
If you'd like to skip the research and find a low-income dentist in Richmond quickly, here's how you can use DoNotPay to find free dental clinics:
1. Search "dentist" on DoNotPay.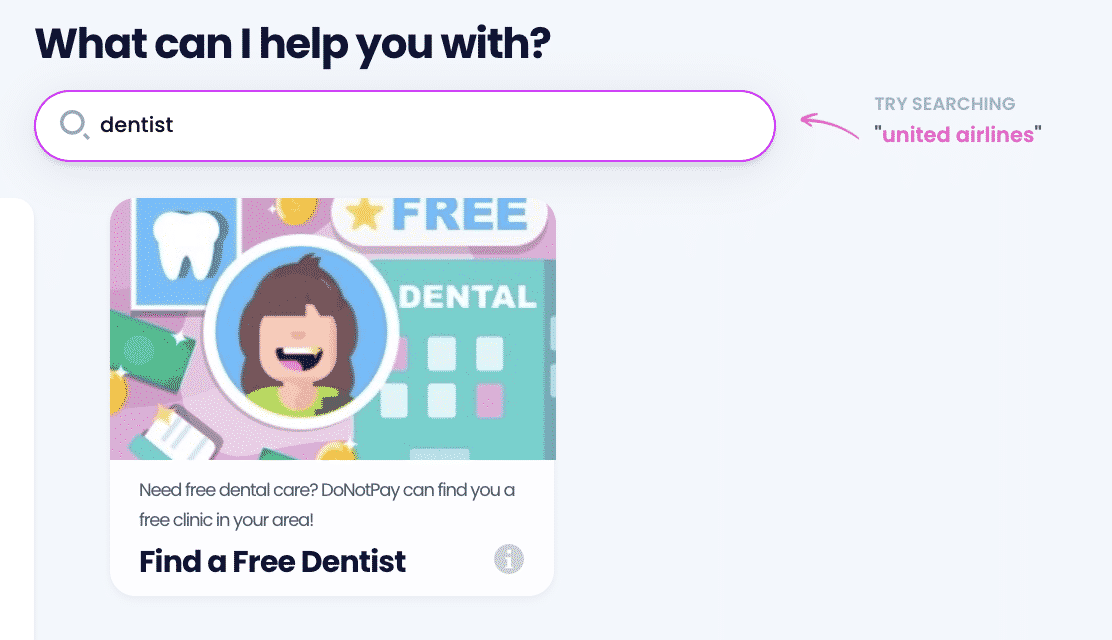 2. Enter your current address, so we can find the clinic nearest to you.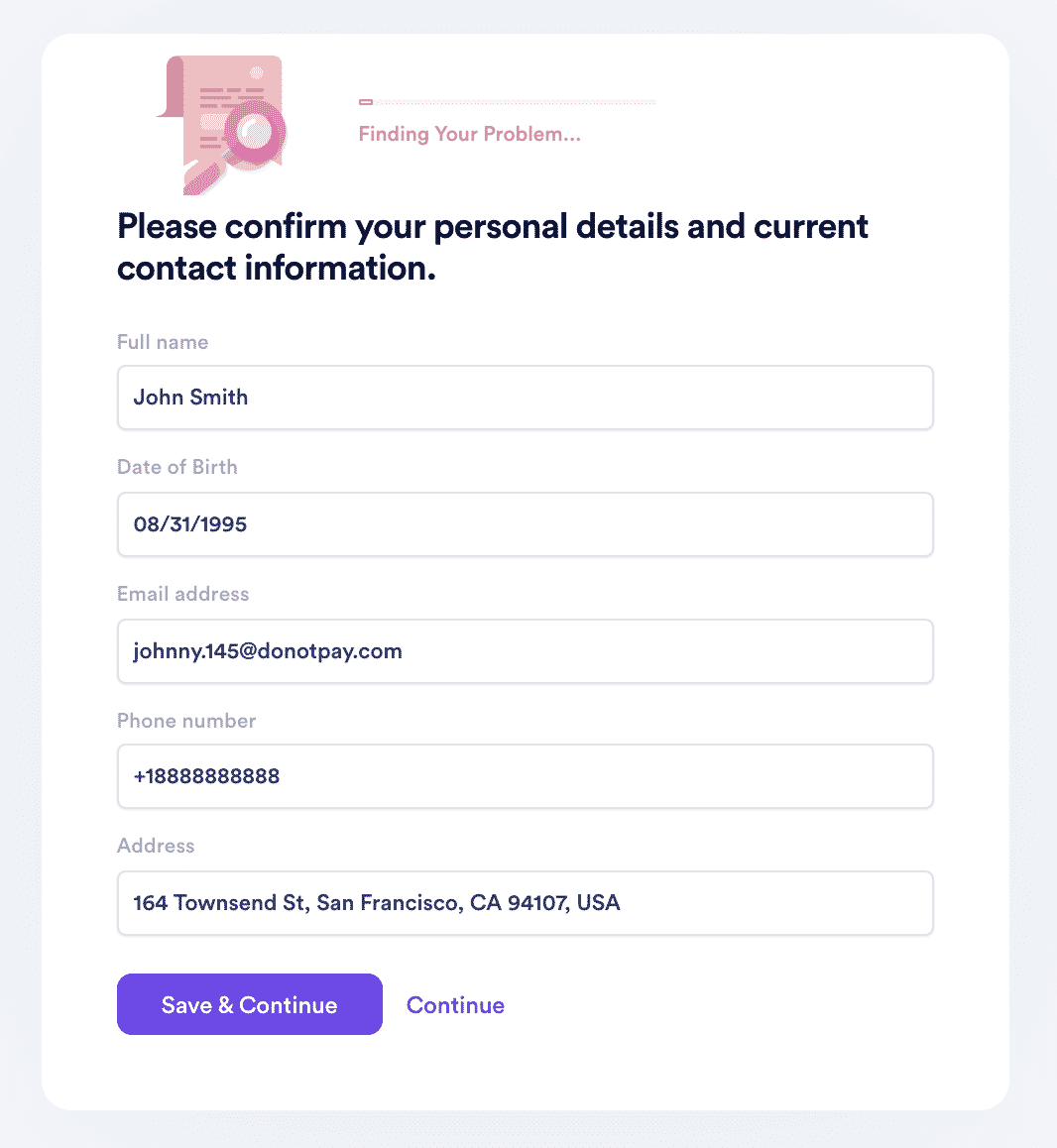 3. Select whether you would like to ask a question about your eligibility, receive a quote for a specific procedure, or set up an appointment.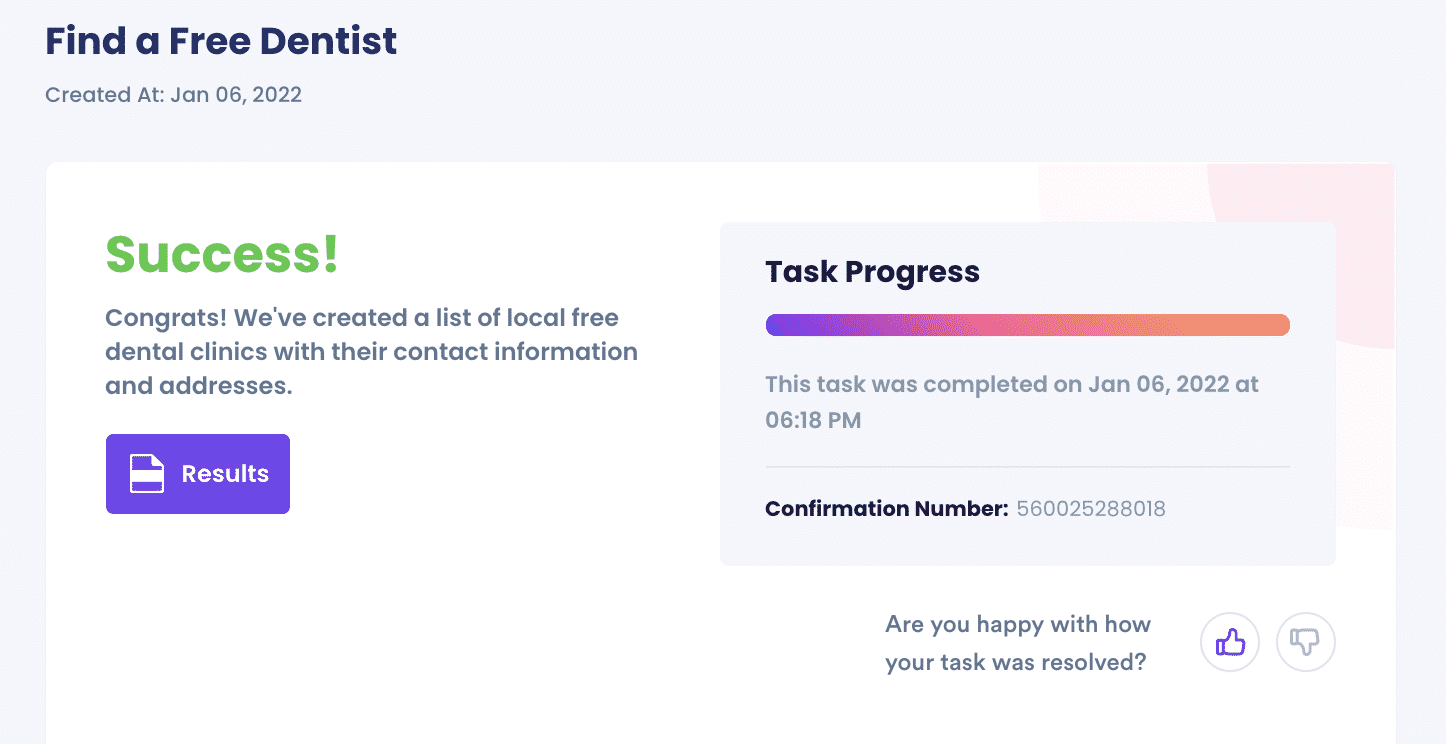 Keep More Money in Your Wallet With DoNotPay
Many of the things we deem essential come at a cost, but that cost isn't fixed. DoNotPay can help you whittle down your expenses in a number of ways beyond finding a cheap dentist, including:
Reducing Your Property Taxes

And more
Try DoNotPay today to see how much you could save!