Can You Claim Veteran Cremation Benefits?
For the fallen soldiers who are willing to make the ultimate sacrifice in the name of their country and the families of those people, the least they deserve is a proper burial. The logistical challenges of a veteran's final send-off are something to avoid in the eyes of most people, but it's better to have some idea of how the process goes prior to making any arrangements. This article will summarize the benefits available to veterans and military service members, how to apply for the veteran cremation benefits, and how DoNotPay can assist anyone looking to apply for these benefits. 
What Death Benefits Are Available for the Cremated?
The request and application of death benefits, the overall category for burial and cremation benefits, are drawn out by the US Department of Veterans Affairs. Of course, many of the benefits only work for the former option, so here is the list of benefits for those who choose to cremate their loved ones:
An American flag to drape around the urn during the funeral service. The flag is then given to the next of kin or a close friend as a memento.
An engraved memorial certificate signed by the current President.
Honors services such as members of the military serving as pallbearers, the folding and presentation of the U.S. burial flag, and the playing of Taps.
The Eligibility Requirements for Cremation Benefits
The Veterans Administration oversees 155 national cemeteries and 34 soldier's lots and monument sites, and 21 only accept cremated remains. Certain cemeteries come with their own specific options, and in the case of cremation, those options include keeping the remains in a columbarium or scattering them across the ground or at sea.
Veterans, service members, or their close family members are eligible for the veteran cremation benefits if they meet one of these requirements:
They were honorably discharged after at least one enlistment term or period of obligation in the Selected Reserve
They were honorably discharged and served on active duty
They were discharged due to injury or disability in the line of duty
A service member who died while on active duty, active duty for training, or inactive duty for training
The spouse of a veteran. This is true even if the veteran dies first or if the spouse chooses to remarry
A child under the age of 21
A child in school under the age of 23
A disabled child of any age
The National Cemetery Scheduling Office has the primary responsibility for verifying eligibility for burial in VA national cemeteries.
The VA created Planning Your Legacy: VA Survivors and Burial Benefits Kit, to assist Veterans and their family members in pre-need planning and record storage.
How to Apply for Cremation Benefits
Once you've made sure that cremation benefits are available in this situation, you can then move on to formally applying for them. The VA's pre-need program is the organization's resource for starting this process before the needs become immediate. You can apply by filling out VA Form 40-10007. To fill it out properly, you will need the following pieces of information:
The name of the national cemetery you want the remains to be sent to. Some state Veterans' cemeteries have their own rules about eligibility, so be sure to look those up if those locations interest you.
Social Security number
Date and place of birth
Evidence of military status and service history, like service dates or their rank
Discharge papers
If you're filling the form out on behalf of someone else, then you must provide your name, address, phone number, supporting evidence that shows why the person in need of the benefits can't apply, and what your relationship to that person is. This can be done either by filling out VA Form 21-22 (Appointment of Veterans Service Organization as Claimant's Representative) or VA Form 21-22a (Appointment of Individual as Claimant's Representative).
| | |
| --- | --- |
| Online | The VA's official website allows you to request benefits on this page. |
| Mail | Fill out an application and send it to the National Cemetery Scheduling Office in St. Louis, MO 63151, PO Box 510543. |
| Fax | Even in 2021, you can fax your finished applications at 855-840-8299. |
The amount of time needed by the VA to review your application varies depending on the number of applications they have at the time and the amount of information in your application. If you're approved, you will receive a folder filled with a decision letter, brochure and benefits information sheet, and a copy of the documents you sent in. If the application is rejected, then you will get a letter of denial and a form that explains how to appeal the decision.
If you have any questions, you can call the VA's toll-free hotline on weekdays from 8:00 am to 5:30 pm EST at 800-535-1117.
The Cost of Cremation Benefits and Services
The cost of cremation varies depending on where you are in the country, but the practice is much more affordable than a traditional funeral most of the time. The VA will not pay directly for cremation, but some families are entitled to a burial allowance to cover some of the expenses. 
For a non-service -related death, the burial allowance is $300, and $2,000 for deaths related to military service. The allowance drops to $1,500 if the death occurred before September 11, 2001. The VA will also pay for the transportation of remains to the national cemetery nearest to their home. For service-connected deaths, there is no time limit for filing reimbursement claims, but in any other case, the claims must be made within two years of their cremation. Expenses paid by an employer or a state agency will not be reimbursed.
Requirements
To be eligible for burial allowances, you must be one of the following:
The late Veteran's spouse (surviving spouses shouldn't have to apply because they are reimbursed automatically)
A child of the Veteran
The Veteran's parent
The official executor or administrator of the Veteran's estate
The Veteran in question also has to fulfill one of these requirements:
They died as a result of a service-connected disability (a disability-related to service)
They died while getting VA care, either at a VA facility or at a facility contracted by VA
They died while traveling to get treatment/care with proper authorization at the VA's expense
They died while receiving or with a claim for VA compensation or pension pending at the time of death if they would've been entitled to benefits before the time of death
The Veteran was getting a VA pension or compensation when they died, chose to get military retired pay instead of compensation
Evidence
When filling out the form for burial benefits (VA Form 21P-530), this paperwork has to be provided:
The Veteran's discharge papers (DD214 or other separation documents)
Their death certificate
Any documents or receipts related to the cost of transporting the Veteran's remains
A statement of account (preferably with the letterhead of the funeral director or cemetery owner) that includes:
The Veteran's name
The type of service or item purchased
Any credits
The unpaid balance
How to Apply
You can send in your application from the VA's website, or by mailing the form and other documents to the nearest VA regional office.
DoNotPay Can Make Applying for Cremation Benefits Easier
As you can see, there are a lot of forms to fill out and documents to collect to apply for cremation benefits. DoNotPay's services can help to take some of the load off of your shoulders during an emotionally tiring process. Our platform uses artificial technology to help our customers with many issues related to the welfare of Veterans and their families, such as health insurance, home loans, assisted living, benefits for the disabled, education, and pension.
DoNotPay can fill out documents on your behalf and then mail or fax them to your chosen destination.
If you want to know how to find veteran cremation benefits with DoNotPay but don't know where to start, DoNotPay has you covered in 3 easy steps:
1. Search for and open the Military Protection product on DoNotPay.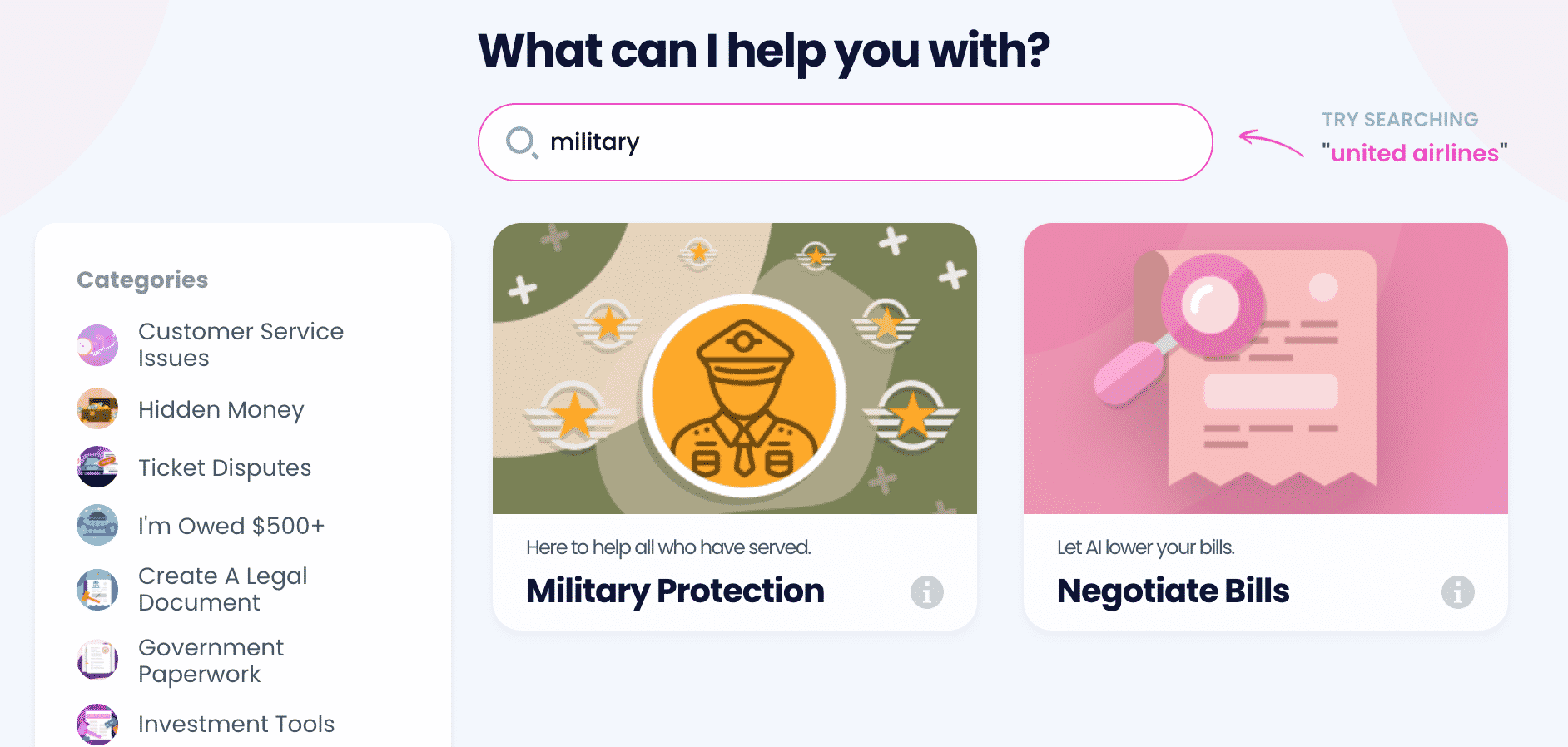 2. Select whether you want to 1) locate the nearest VA office, 2) access veteran benefits, or 3) locate service records.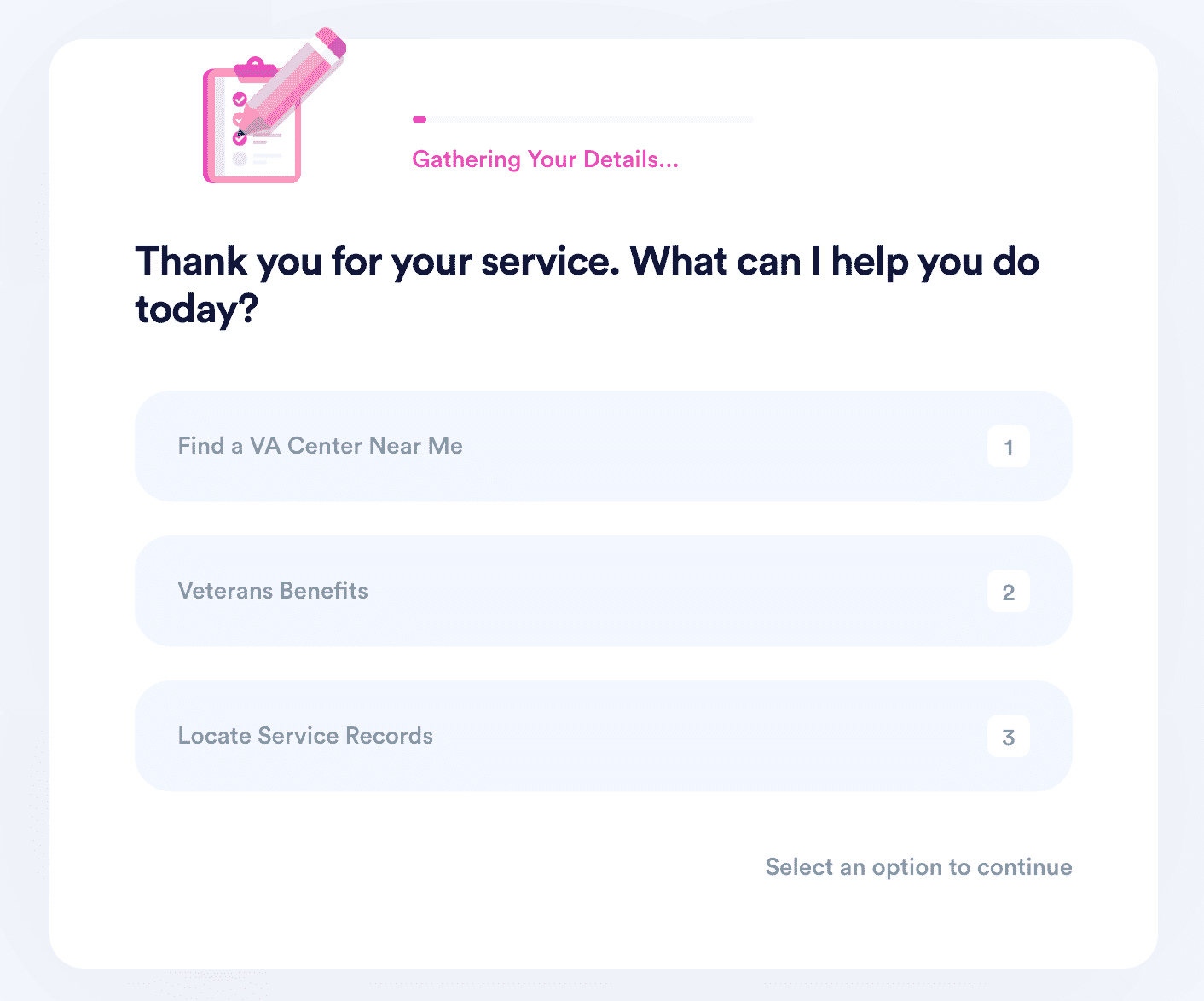 3. Answer a simple set of questions so our chatbot can collect the necessary information to help you and find the nearest office or fill out the appropriate forms.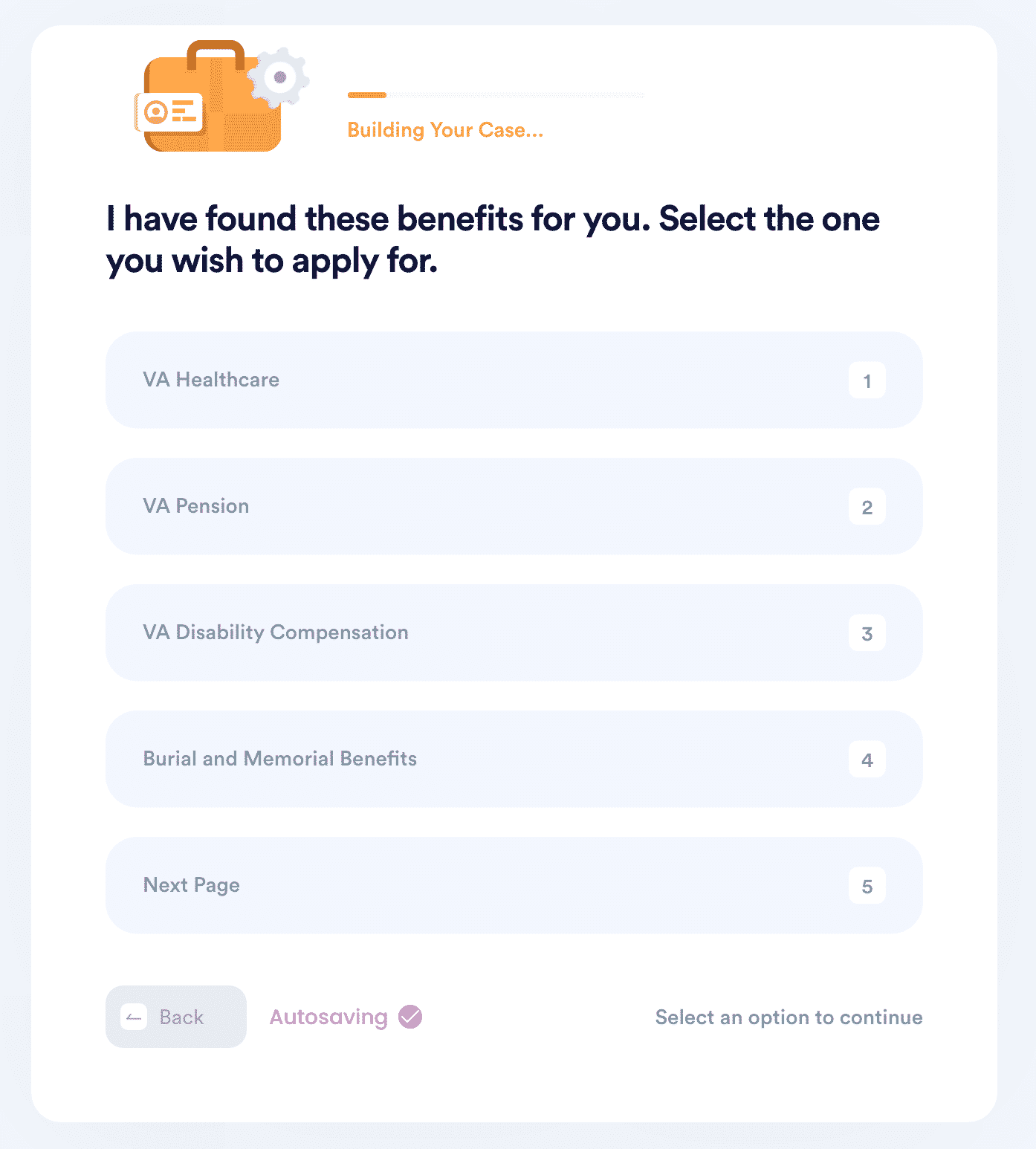 If you prefer to deal with the document on your own time, you can also download the paperwork and print it out for yourself. This is just one of many examples of how DoNotPay can simplify more menial tasks. You can read about the other dozens of features we provide on our website.