Would You Be Qualified for Military Protection If You Marry a Veteran?
Getting married always comes with lots of details to iron out. There's the ceremony, the matters of where and how you will live as a couple, and many other issues to discuss. If you're marrying a military veteran, you may be asking an additional question. You may be wondering ?
As a veteran, your spouse enjoys veteran's benefits, including things like health insurance and death benefits. Where do you factor into all this? And what are the steps you need to take to be sure you're covered? Honestly, sometimes it can all feel overwhelming.
You do have options, however. You could always spend a few hours going down a rabbit hole with online searches. But you really don't have to. Fortunately, with DoNotPay, taking care of these issues is easier than ever.
Discovering Your Veteran Spouse Benefits
Out of respect for their service to their country, veterans have always enjoyed significant benefits here in the United States. This is as it should be. Things like home loans and benefits for assisted living are available to them in ways that the general population cannot access. But here's the thing. Because these benefits flow through the bureaucracy of the federal government, the ways that veterans and their spouses access these benefits are not always straightforward.
As the new spouse of a veteran, you are no doubt wondering about veterans' benefits for spouses and exactly what you have to do to make sure you're both covered.
To access veteran benefits by yourself, you have two basic options. In short, you can do things the hard way or the easy way.
Doing Your Own Research
In educating military spouses about accessing their benefits, the US Department of Defense encourages them to do their own research and conduct a lot of footwork.
Obtain a copy of your marriage certificate, get a military identification card from the ID card facility and memorize your spouse's social security number.
Learn to read your spouse's leave and earnings statement. Visit the Department of Defense Military Compensation or Defense Finance and Accounting Service to learn more.
Visit your Military and Family Support Center and ask about the new spouse orientation program.
This is definitely the option we'd label the "hard way."
Whether your spouse is active duty or a veteran, it doesn't make much difference when it comes to red tape. Things are apparently so confusing that the VA has established an entire Survivors' and Dependents' Educational Assistance Program to navigate the complex system.
But just as there's a "hard way," there's also an "easy way."
Working with a Third Party
Fortunately, given the rise of the internet and the swift development of apps and online resources, there are now third-party options available to help you cut through the bureaucratic red tape and find out more about veterans' benefits for spouses.
That's exactly what DoNotPay does.
It creates an easy path for you to walk on your way to accessing your benefits.
Navigates the system for you
Sets up easy steps for you to follow
Guides you clearly and easily through those steps
While you have several options to pay your bills, only DoNotPay can guarantee you speed, ease, and security.
| | |
| --- | --- |
| Speed | DoNotPay takes minutes to set up, and after you've selected recurring payments you never have to worry about missing a bill ever again. |
| Ease | Both the app and website were built with clarity and convenience in mind. If you have any questions that you aren't able to find answers to on your own, you can reach out directly to a support team at support@donotpay.com |
| Security | DoNotPay keeps your data private, so you never have to wonder if a payment will go missing or some other third party will have access to your private financial information. |
Struggling to Find Out If You Get Benefits If You Marry a Veteran?
Perhaps you've been married to a veteran for a while and have been struggling to access your benefits. This could include matters such as accessing benefits for disabled veterans and their families or learning about a veteran's burial benefits.
If you're feeling frustrated and overwhelmed, the last thing you want to do is wade into a complicated process requiring you to keep track of paperwork, get copies, figure out exactly where you need to mail things and when.
What you need is a simple, streamlined procedure.
That's the beauty of DoNotPay.
Use DoNotPay If You Marry a Veteran and Want to See If You Get Benefits
No matter where you're currently living, , you don't have to struggle alone.
If you want to find veteran benefits in any state but don't know where to start, DoNotPay has you covered in 3 easy steps:
1. Search for and open the Military Protection product on DoNotPay.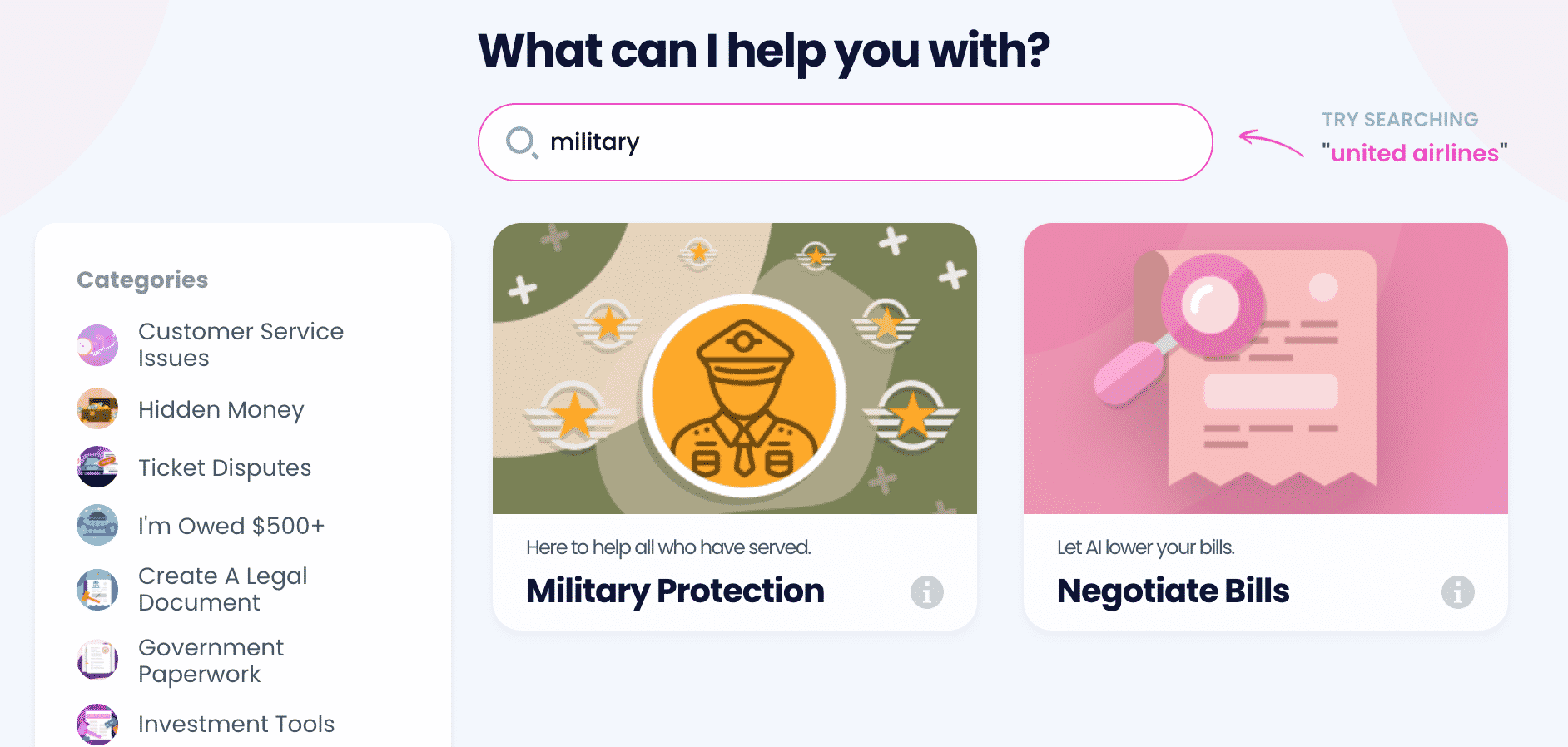 2. Select whether you want to 1) locate the nearest VA office, 2) access veteran benefits, or 3) locate service records.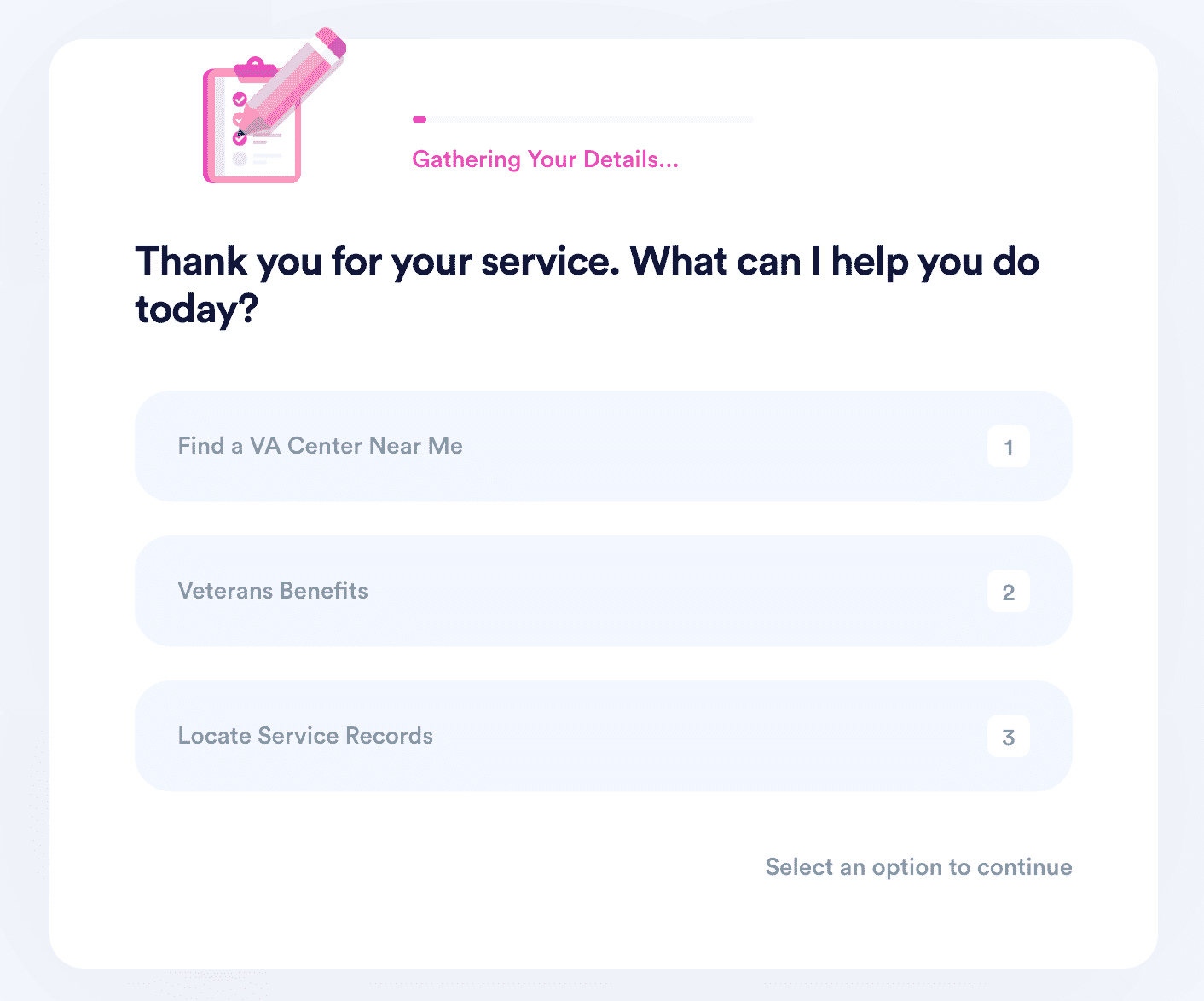 3. Answer a simple set of questions so our chatbot can collect the necessary information to help you and find the nearest office or fill out the appropriate forms.
We Have All the Resources You Need
With just a few clicks of a button, DoNotPay can quickly and efficiently help you get access to your benefits when you marry a veteran.
That includes
Education benefits

Veterans' pensions

Health care benefits
All related benefits
And that's not all.
DoNotPay can help you with a wide array of issues, including common and everyday problems like paying bills, recovering lost passwords, and tracking down and replacing documents like birth certificates and pet licenses.
Come check out all we have to offer!