All About Plasma Donation In Greenville, SC
The idea of donating plasma for money and saving lives in the process is appealing. However, if you don't know much about it, plasma donation in Greenville, SC, can seem intimidating. Online search doesn't help either, as all you'll find is a list of simple steps without much detail.
Considering how big a decision donating plasma is, you need better information, which is hard to come by. DoNotPay is a great resource for people looking for in-depth information about plasma donation in Greenville. In addition to helping you find a plasma donation center near you, we'll also provide insight into things like plasma donation, plasma donation requirements, how often can you donate plasma, donate plasma for money, and how to donate plasma.
What is Plasma/Why Donate Plasma?
Plasma is the largest single component of blood. It consists of 92% water, 7% proteins, and 1% vitamins, mineral salts, hormones, sugars, and fats. Plasma serves many functions in the body, including:
| | |
| --- | --- |
| Coagulation | Vital proteins like factor X, thrombin, and fibrinogen in plasma help with the blood clotting process to prevent further bleeding. |
| Immunity | disease-fighting proteins like immunoglobulins and antibodies help fight pathogens. |
| pH Balance | Plasma components serve as buffers that allow plasma to keep the pH within normal ranges, supporting cell function. |
| Blood pressure and volume maintenance | Albumin, a protein in plasma, maintains oncotic pressure, which keeps fluids from leaking to other parts of the skin and body where fewer fluids often collect. It also ensures blood flows through blood vessels. |
| Body temperature | It balances heat loss and gain, maintaining body temperature. |
| Transportation | Plasma transports hormones, electrolytes, and other essential substances throughout the body. It also transports wastes to the kidneys, lungs, liver, or skin. |
Donating plasma, or "the gift of life" as it's commonly referred to, helps save lives. Your plasma is used to create therapies that treat various diseases and conditions like cancer, bleeding disorders, severe burns, trauma, shock, etc.
Plasma Donor Eligibility Requirements
While donating plasma is voluntary, not everyone is eligible. You'll need to visit a plasma collection center in Greenville, SC, to determine your eligibility. In general, you:
Have to be between the ages of 18 and 75
Must weigh at least 50kgs or 110 pounds
Must not have piercing or tattoos within the last four months
Must have a valid ID and permanent address
Complete a rigorous medical history screening
Must pass a medical exam – you cannot donate if you have or have had heart disease, TB, malaria, or certain types of cancers. Click here to learn more.
Adhere to a recommended diet including 50-80grams of daily protein
Test non-reactive for transmissible viruses including HIV and hepatitis
Your plasma will only be used to manufacture therapies once you meet the requirements. This ensures the quality and safety of therapies that patients need to treat life-threatening diseases.
Plasma Donation Locations in Greenville, SC
DonatingPlasma.org makes it easy to find donation centers near you. All you need to do is key in the name of the state or the Zip Code and run a search.
Here are some places where you can donate:
You can also search specific sites for locations in your area. For example, you can try CSL Plasma, BioLife Plasma, or even Red Cross to check whether they have locations near you. The American Red Cross doesn't pay plasma donors.
How Much Do You Get Paid for Plasma in City
The highest-paying blood plasma donation centers in Greenville, SC, are CSL Plasma and BioLife Plasma Services. Although compensation varies from one center to the next, donors can make up to $400 a month or more, as seen below:
CSL Plasma pays $20 to $45 per donation but has additional reward programs and periodic promotions. First-time donors earn up to about $50 for each of their five donations and can make up to $1,100 in their first month.
BioLife Plasma pays $20 to $50 per donation and has a one-time coupon for new donors that can help you make up to $900 per month.
Things to Keep in Mind Before Donating Plasma
Before your plasma donation to Greenville, SC, you need to ensure the following:
Your body is in the best shape.
You're ready for a medical and physical exam.
You're a community-based donor, meaning you live within a specific distance of the chosen plasma center. Usually, you can only donate if you live within a 30-mile radius of the center.
You present all the necessary documents, including Photo ID, Social Security Number, and proof of residency.
Complete a questionnaire covering your sex life, drug use, STDs, jail time, and other potentially sensitive topics.
Where Should I Donate Plasma?
While there are many donation centers, you cannot just walk into any center and donate. You need to contact the center to confirm that your home address is within the recruitment area before visiting, as this varies per location.
Check out DonatingPlasma.org to locate donation centers near you. Once you identify one, schedule your appointment online through their website and double-check the requirements. You can also contact them for any questions or inquiries about plasma donation.
How to Donate Plasma on Your Own
Donating plasma should be an easy process. But that's never the case. In addition to finding the right location, you also need to arm yourself with the correct information about eligibility requirements. On top of that, plasma collection companies are not created equally. Some pay better than others. So you have to compare them to determine which one suits you. But this would be hard without access to information. DoNotPay can help ensure you're familiar with all the requirements.
Next Step In Donating Plasma if You Can't Do It Yourself
As part of our clinical trials product, DoNotPay can help you find the best plasma sites near you. We offer compensation estimates and outline the eligibility requirements/donation process to know exactly what to expect. We'll also help you contact them if you have any questions or concerns regarding your eligibility, store hours, compensation, or first-time bonuses.
Here's how you can use DoNotPay to become a plasma donor:
1. Search "plasma donations" on DoNotPay and find the nearest donation clinic through our clinical trials product.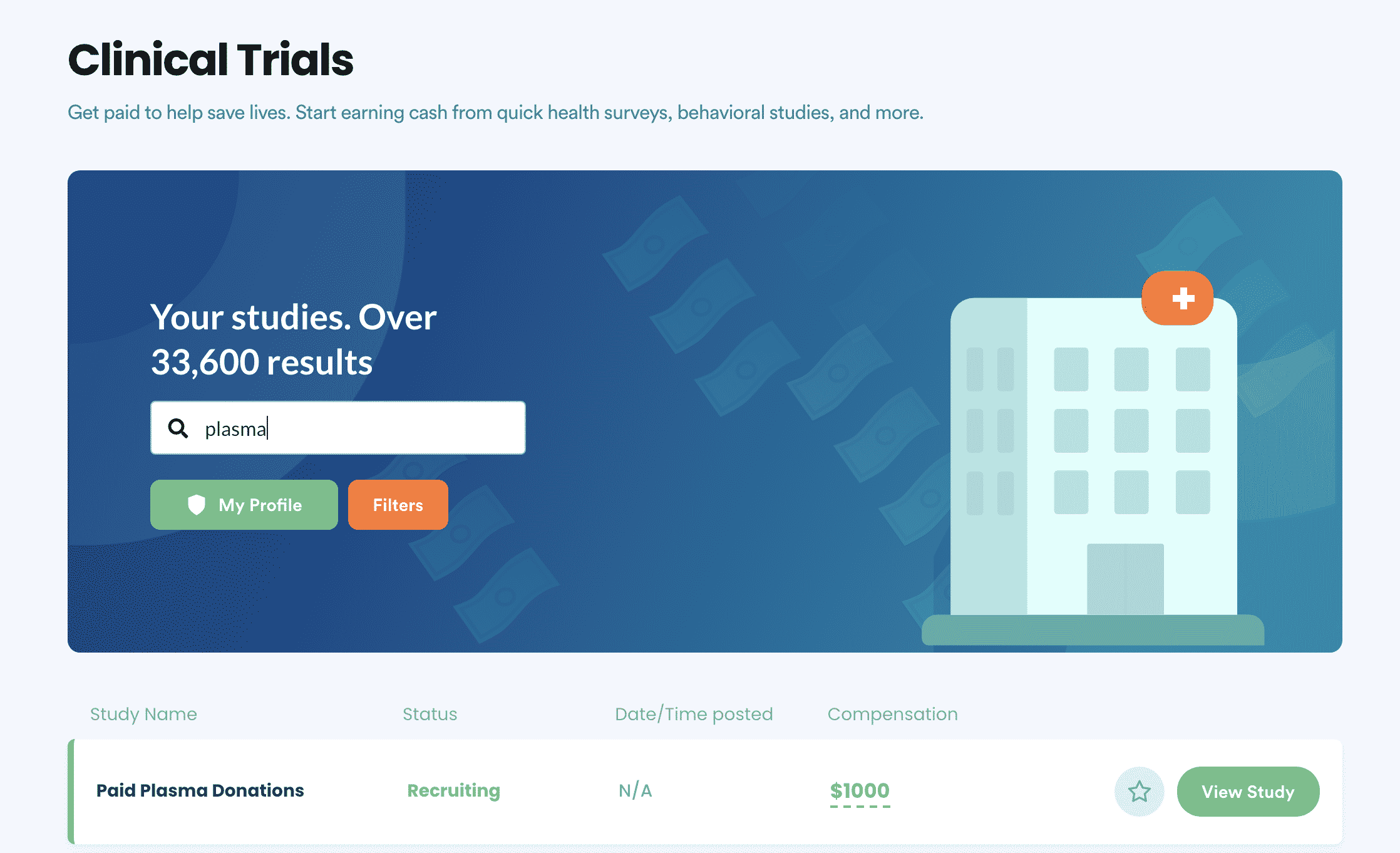 2. Select the "Contact Now" button to learn more about eligibility criteria, contact the clinic with questions, or sign up for first-time donor bonuses.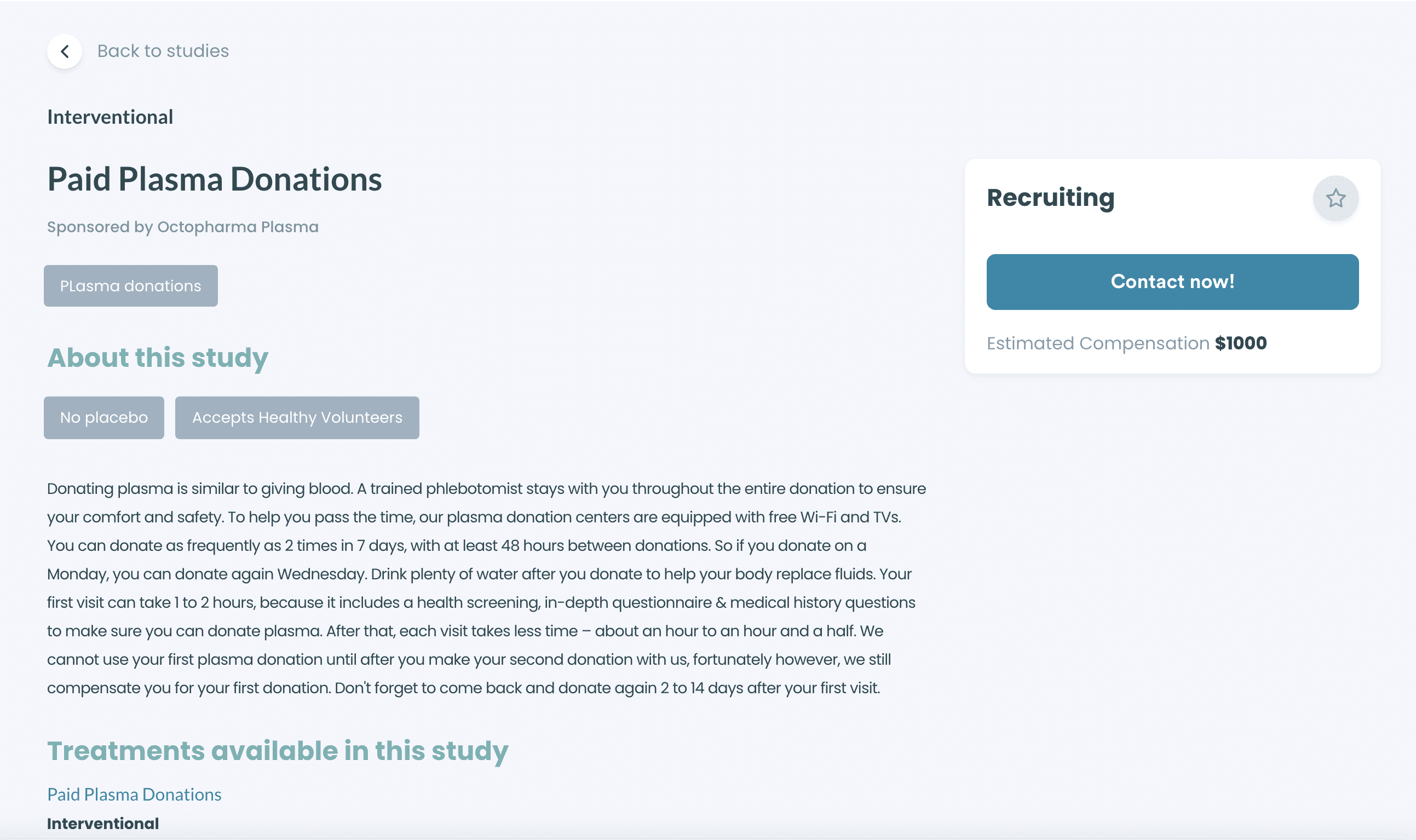 3. Verify your information and submit your inquiry! DoNotPay will contact the clinic on your behalf and make sure your questions get answered.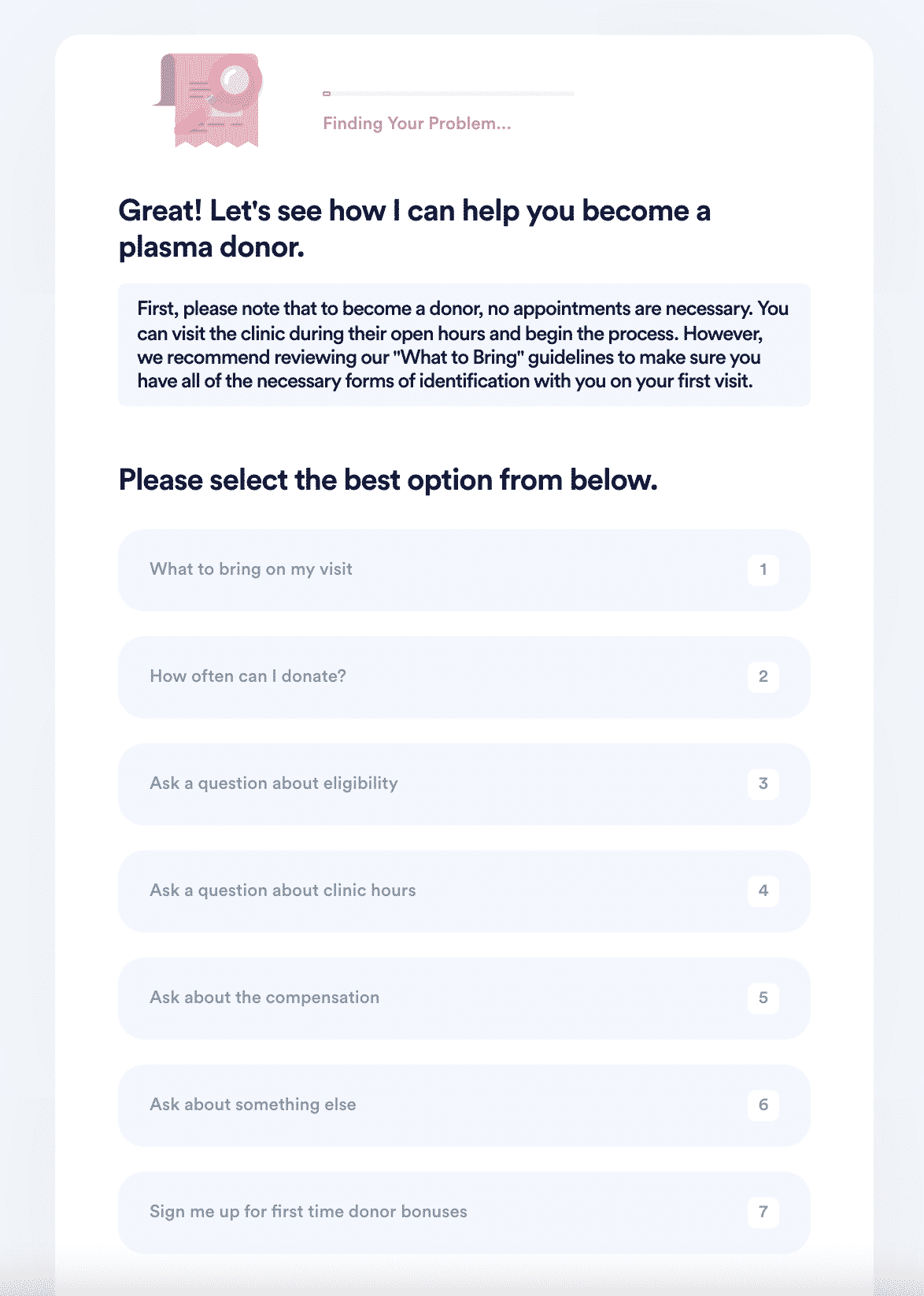 Why Use DoNotPay for Plasma Donation Asheville, NC
DoNotPay takes the stress out of the process of locating a plasma donation site. We also make it easy to critical information about eligibility requirements and compensation. With DoNotPay, you don't have to worry about:
Spending hours trying to identify a plasma donation site near you.
Being disqualified from donating because of not having the necessary information.
Filling out forms.
Contacting plasma donation centers.
Missing a chance to donate plasma for cash.
DoNotPay Works Across All Companies/Entities/Groups With the Click of a Button
DoNotPay does a great job helping with plasma donation in Greenville, SC. But that's not the only thing we are good at. We can also provide insights into issues like:
What Else Can DoNotPay Do?
Other than donating plasma for cash, DoNotPay can also help you solve a variety of issues across different industries and fields with a touch of a dial; these include:
Sign up today to get started!