How to Negotiate Salary from Contract to Full Time
Working under a contract has many benefits for you to consider. However, contract work isn't always the most consistent in terms of when you'll have a paying job. That's why many people make the as soon as they are offered the opportunity to do so.
The switch from a contract position to a permanent job comes with salary concerns. First, you must negotiate to receive a fair rate commensurate with your responsibilities. Though this may seem like a daunting prospect, DoNotPay can show you how to make these negotiations as straightforward and hassle-free as possible. We can also provide you with the tools you'll need to successfully ensure you're paid what you're worth once you transition to full-time work.
How to Negotiate Your Salary
With contract-to-hire positions, the possibility of converting a worker to a permanent position usually comes after the completion of the agreed-upon contract. In this way, you'd have an advantage over others vying for the same position. The company is already familiar with your work, and there is a system in place for compensating you.
The potential downside is the fact that there are people behind you willing to take the position if the company deems you too expensive to keep on permanently. That's why salary negotiations when going from contract to full time are always a delicate business. If you ask for too much, you may risk the entire opportunity. However, asking for too little may defeat the purpose of negotiating for your salary in the first place.
Here are a few tips for .
Know Exactly How Much to Ask For
After all, you can't negotiate for something if you don't know what it is. Of course, the amounts vary from industry to industry, but, in general, you should negotiate for a salary within a range rather than a single number. First, look at salary rates for your specific industry, and break them down into hourly amounts. Then, depending on the company's needs, your skillset, the competitiveness of the market, and even your employer's urgency, you could aim for a higher or lower amount.
Gather as Much Information
Gather as much information about the company as you can. Are they looking for individuals with niche skills, qualifications, or abilities that you can provide? Highlight that fact. You may think that you've already proven your value to them through your contract work, but sometimes you have to go above and beyond to show that you deserve to make more.
Remember to Consider Any Benefits When Discussing Salary
A job may offer you less money than you were expecting, but their benefits package may more than make up for it in the long run. Decide whether you are willing to take a pay cut from your usual rate in exchange for long-term benefits and factor that into your negotiations.
Some of these benefits might include:
Flexible Schedule
Sign-on Bonus
Paid time off
Reimbursement for continuing education
Shift schedules
Nursing equipment

List the Reasons You Would Be a Valuable Asset to the Company
More importantly, detail how your transition into full-time work will be more seamless for those reasons. Your employer will already be familiar with some of what you can bring to the table, so all you have to do is shine a brighter light on those qualifications.
Be Very Clear About Your Goals
Be very clear about your goals within the company when negotiating your salary. If you can show that you have a distinct purpose in taking the full-time position, your employers may wish to incentivize you to pursue that purpose.  
Extra Tips for Negotiating Salary From Contract to Full-Time
Here are some bonus tips for a better chance of higher pay:
| | |
| --- | --- |
| Be backed with hard data | Show evidence of what you are worth. Compile past achievements that justify your salary transitioning to full-time and how much you further help the institution. |
| Timing | Knowing when to ask is critical when asking for a higher salary. For example, don't ask for a negotiation meeting when the fiscal year is about to end when budgets are already settled. |
| Be confident | If you know you are worth more than they are offering, don't be reluctant to negotiate for higher pay. Advocating for yourself is a sign of confidence that can help you get the salary point you wanted. |
When to Negotiate Your Salary
It's vital to make these negotiations as early as you can. The exact time frame may differ depending on your field, but you'll want to do it sometime before the onboarding process. You don't want to start your job only to find out that you're making less than you had hoped to make.
While it's possible to ask for a higher salary later, that discussion will have to come much later. You don't want to miss out on money and benefits because you waited too long to negotiate.
Making the Negotiations Run Smoothly With DoNotPay
There is a lot of research and thought that has to go into negotiating the salary you want. Job transitions are already stressful enough as it is, without having to worry about another complication. That's why DoNotPay provides a solution to your salary negotiation needs in just a few simple steps:
1. Search "negotiate my salary" on DoNotPay.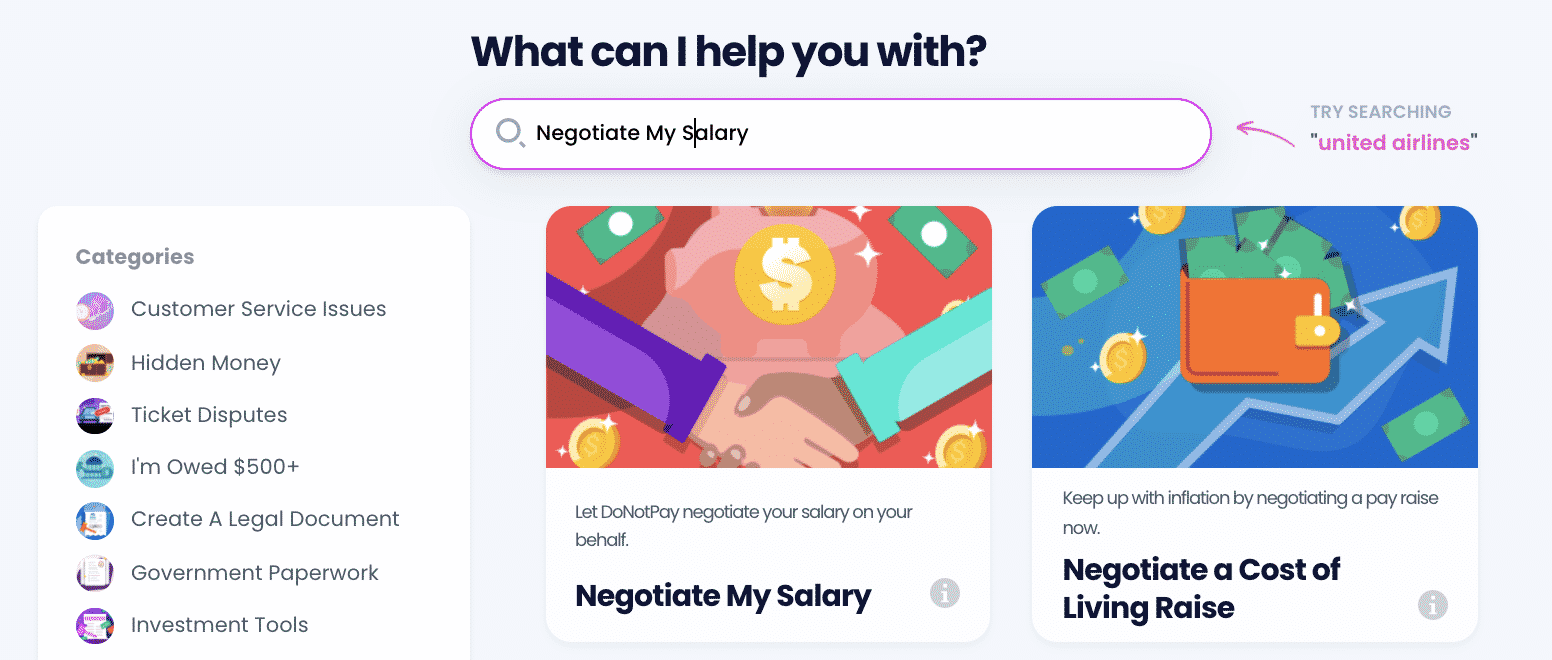 2. Enter the name of your company and the industry you work in, so we can find the right wage statistics for your role.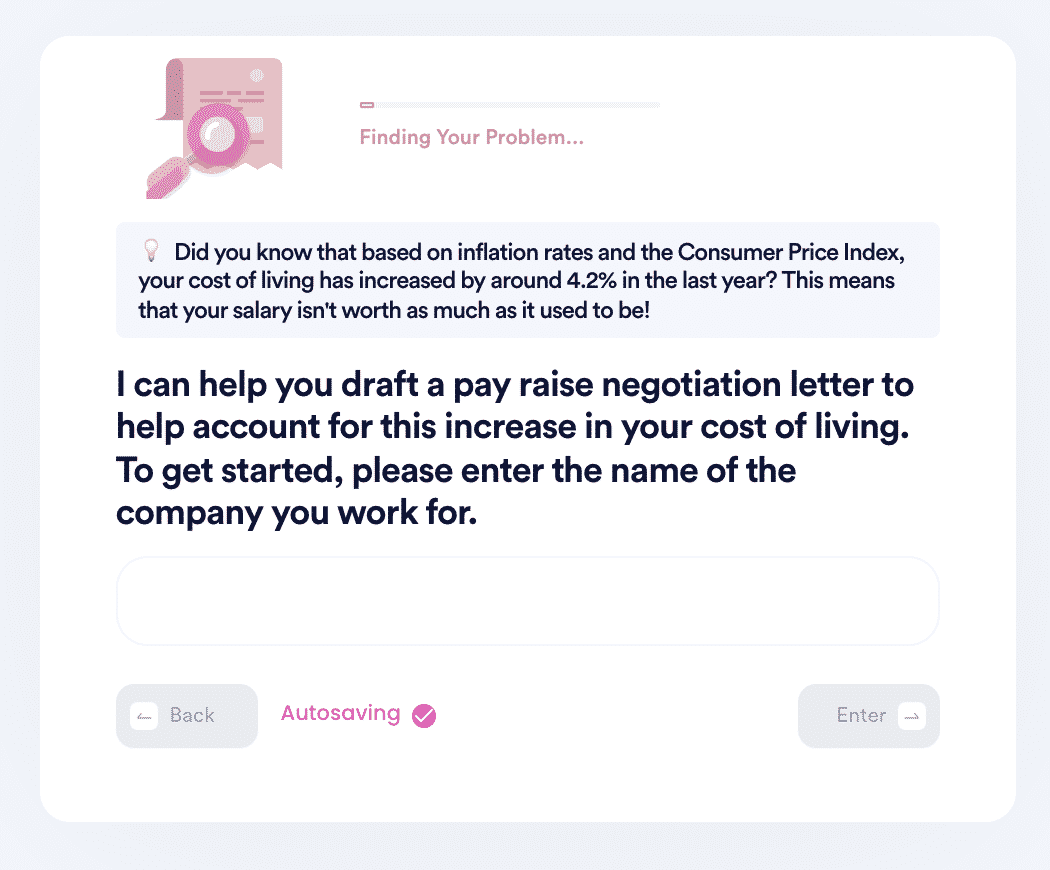 3. Answer a series of questions regarding your qualifications and achievements, relocation expenses, and other job offers if applicable.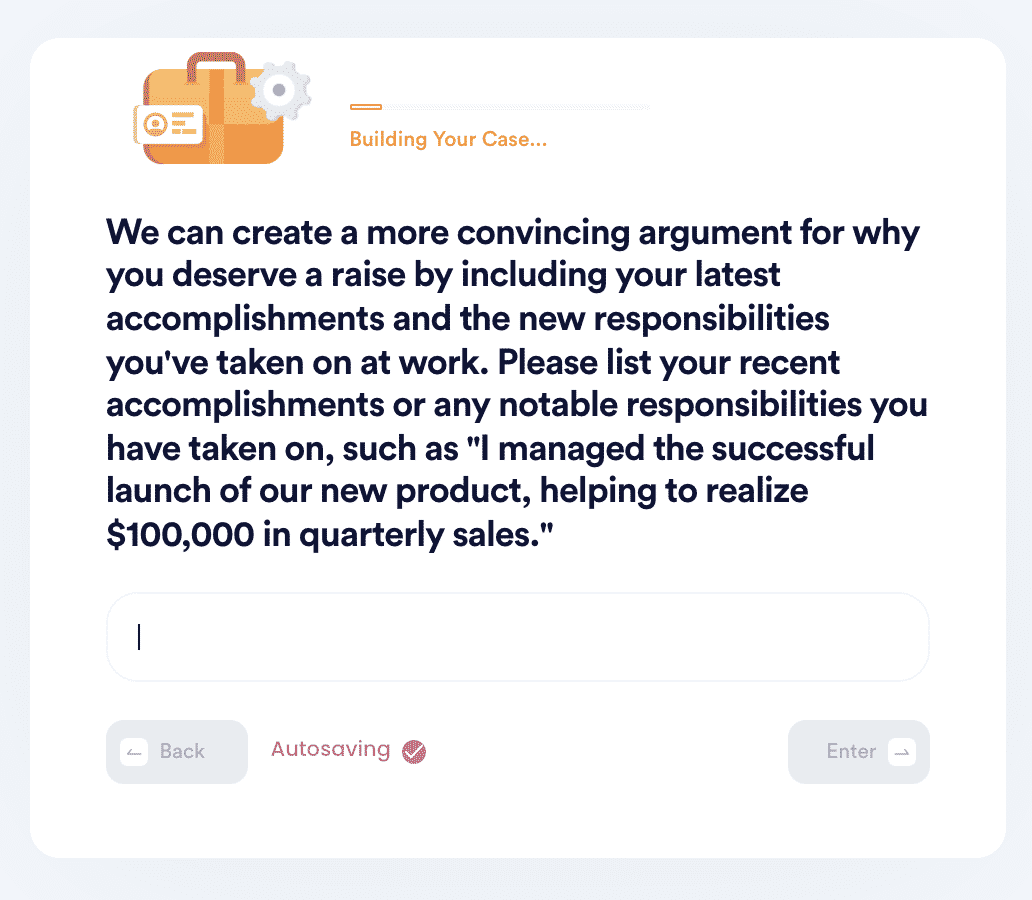 4. Enter the new base salary you would like to request.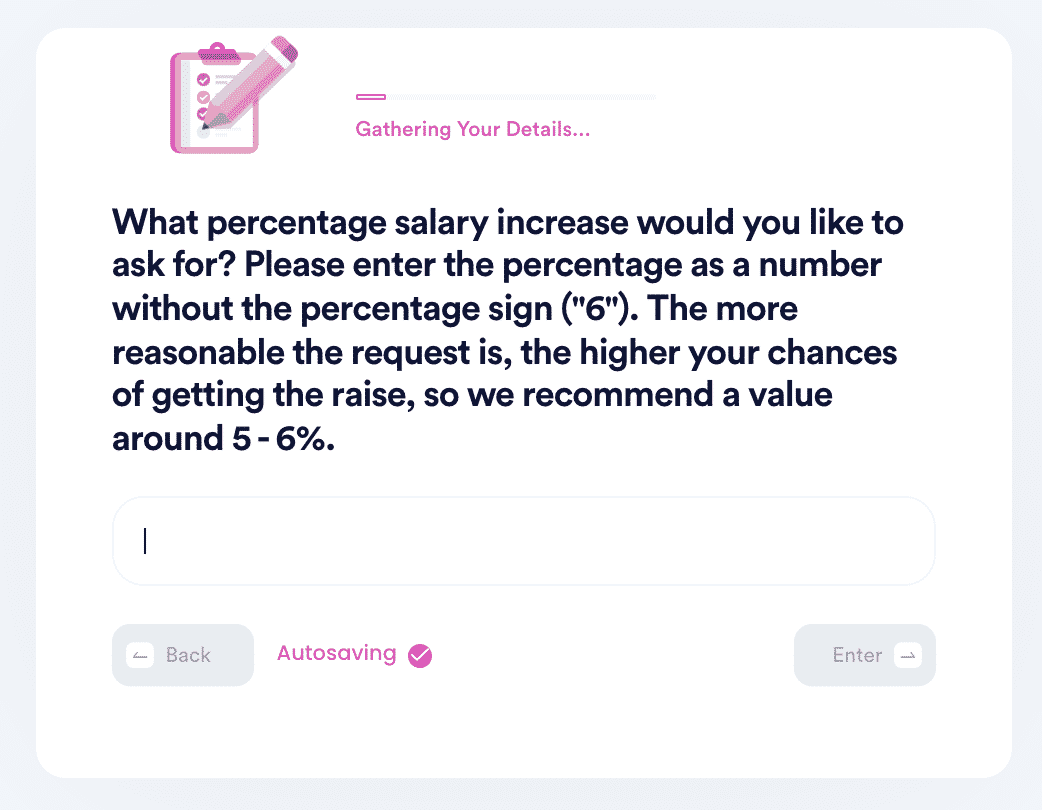 And that's all you have to do. Once we have the necessary information, we will generate a salary negotiation letter that you can present to your employer in person or by email. 
DoNotPay Can Help You With Salary Negotiations and Much More
Many people are uncomfortable with discussing their salary for several reasons. Unfortunately, these people often miss out on the benefits or money they deserve because they don't know how to broach the subject. DoNotPay can provide the information and tools you need to tackle issues such as
However, our services don't stop at salary negotiations. DoNotPay is the world's first robot lawyer. Our app is designed to help you resolve virtually any legal or financial issue. We can take the hassle out of situations like
So if you have a problem that you don't know how to solve, sign up for DoNotPay to find the perfect solution.