Report Your Lost Dogs: Tucson Residents' Guide
Losing a pet is devastating, yet one in three dogs gets lost or stolen in their lifetime. The Coalition for Reuniting Pets and Families determined that about 10 million pets get lost every year, with the chances of finding your being 23%.
The worrying aspect is when you search with no signs of finding them. One effective means is to report your lost pet to your local animal control, but it can still present a challenge for a first-timer. DoNotPay offers a super easy, fast, and effective means of filing a report. In three simple steps, you'll be done making the filing online.
Do Lost Dogs Usually Get Reunited with Their Owners?
After taking a nationwide survey including tens of thousands of dogs over several years, the ASPCA found out that the chances of a lost dog coming home are 93% within the first 24 hours of losing them. After that, the odds trickle down to 60%.
If you can't find your dog or missing cat, it's advisable to keep an open, positive mind. Dogs can survive on their own. Let's dig deeper into that?
Time Versus Odds of Finding a Lost Dog in Tucson
First 24 Hours
93% Chance of a Return
After 24 Hours
60% Chance of a Return
How Long Can a Dog Survive Without Its Owner?
Once they go missing and can't find their way, their survival instincts take over. Lost pets can fend for themselves and potentially survive over several months or years by themselves.
How Often Do Missing Dogs Find Their Way Home?
Among all pets reported lost or stolen, 93% of dogs and 75% of cats are reported to return to their owners safely. However, 6% of pooches and 2% of cats were found safely sheltered by animal control and shelter facilities.
How to Report Your Lost Pet to Pima County Animal Services
Thousands of lost pets are brought to the Pima Animal Care Center (PACC) lost dogs shelter or other pet housing facilities. If you've bumped into a stray cat or dog, you can take them to the Humane Society of Southern AZ shelter.
However, if you have lost your beloved Fido, report the lost dog to the local shelters or a microchip company within a 27-mile radius. The chances are they may have received a lost-and-found report that matches yours. Otherwise, you can choose to file the report in two ways:
1. By Phone
If you prefer reporting a lost pooch by phone, you can contact the Humane Society of Southern AZ at (520) 327-6088. If you choose the PACC lost dogs, call (520) 724-7222 or text "LOST" to (833) 552-0591.
2. Online
The PACC and Humane Society maintain websites where owners of missing pets can file a report. Whether you're reporting a pet you spotted on the street, or you're searching for your own, you're required to fill out a form with the following:
Personal details (name, address, phone number, and email)
Pet's information (species, breed, gender, color, size, name, collar type, and photos)
Pet's location information (the cross streets where it was last seen or found)
The date when was lost or found
Measures to Take to Avoid Losing a Dog in Tucson
Dogs get lost often, and it's challenging to protect yours against going missing. But you can use the following tips to avoid losing your Tucson dog or cat:
Ensure your pet is always supervised
Secure them in a fenced compound or on a leash
Microchip your dog
Take your dog for formal obedience training
License the dog and have the certification details on their collar tag
How to Find Lost Dogs Tucson on Your Own
If your dog has gone missing, it's critical to start your search immediately to increase your chances of locating them. If you can't find them, worry not – a dog can survive independently, scavenging for food and water as they track their scent back to you.
Even still, you can start an informed pet search by leveraging the following tips:
1. Search Your Home First
Once you notice your dog is lost, it would be best to search the home. Some Fidos are scared and may be hiding or have gotten stuck somewhere. It may be in the closet, garage, outbuilding, pool, garden, or basement.
2. Make Flyers For Awareness
Posting fliers of your lost furry friend is an excellent means to continue your search, but it's not always that effective. Hand the posters out to neighbors, friends, mailman, and the delivery guy. These people travel the neighborhood, and if they are aware, they will report a found dog to you.
3. Use Facebook
On social media, announce that you've lost a dog in Tucson. This will expand your search. Post on Facebook on "The Lost and Found Dogs and Cats in Tucson" page, and don't forget to include the pet's information:
Photos
Date and location where you lost it
The dog's temperament
Your contact information (name, phone number, email, and address)
Use DoNotPay and Report Your Lost Dogs Tucson with Ease
If you find it daunting to follow the conventional filing process to , use DoNotPay. We are an online robotic lawyer dedicated to reporting lost animals to a national database, including animal control within Tucson.
The process is easy, fast, and you can do it online in three simple steps. You don't have to follow a tedious procedure like the conventional approach.
Here's how you can use DoNotPay to report lost and found pets:
1. Search "lost and found pets" on DoNotPay, and select whether you're reporting a lost pet or a pet you've found.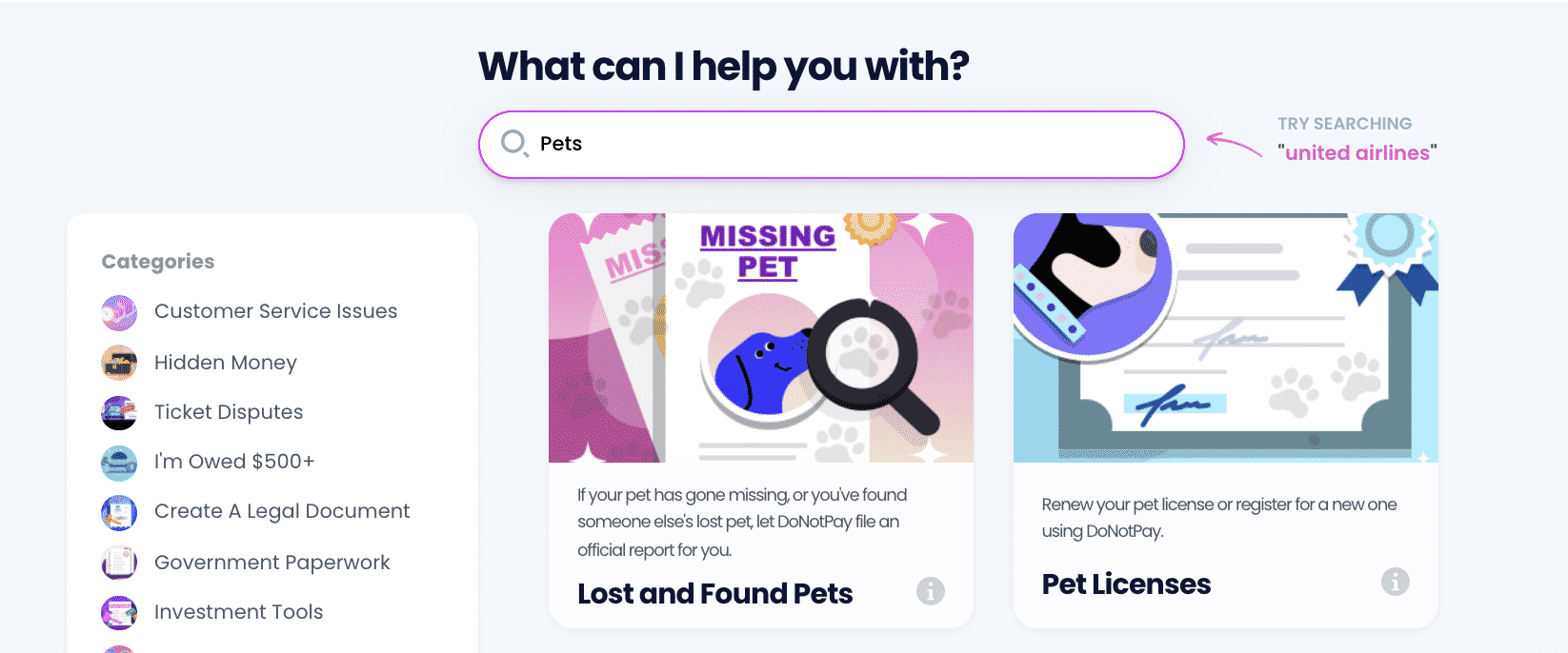 2. Enter the date and location you lost or found the pet and tell us more about them, including the breed, gender, whether they are wearing a collar, approximate size, and more.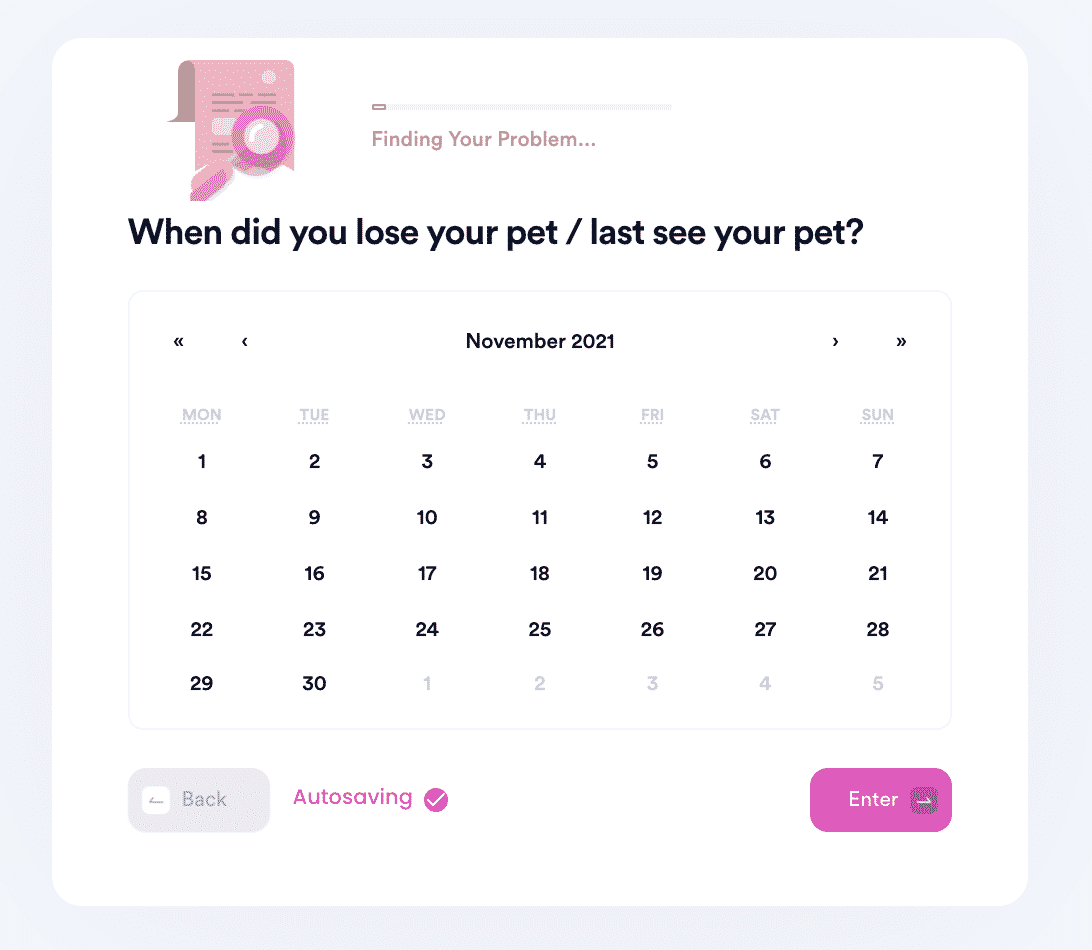 3. Upload evidence a photo of the pet, so they can be identified, and enter your current contact information where you can be reached with updates.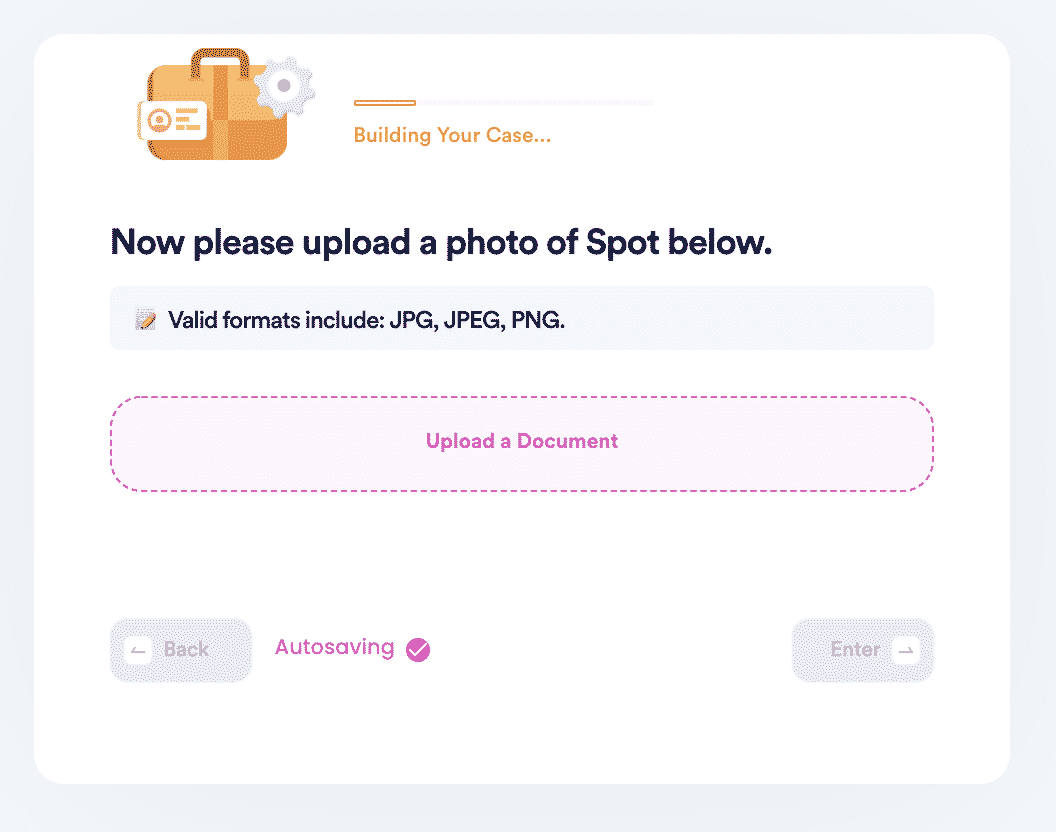 And that's it! DoNotPay will file the report on your behalf, and make sure your lost or found pet gets recorded in the government directory, and they know who to contact if they find a match!