How to Find Your Missing Pet in Georgia
feels like losing a part of yourself. Getting your furry friend back to where he/she belongs requires quick action. You'll have to make an official report.
DoNotPay cares. We believe you don't have to go through hoops and jump over hurdles to be reunited with your . We'll report your case to the authorities and help you get Whiskers or Rex home in no time.
What Do You Do if You've Lost a Pet in Georgia?
Take a deep breath. A panicky mindset is the last thing you need right now. Next, follow the these steps, and you'll have your missing animal with you sooner rather than later.
Follow These Steps
| | |
| --- | --- |
| Double-Check the House | Your pet loves you as much as you do them. Chances are, 'good boy' is still somewhere within your home or compound. |
| Talk to Your Neighbors | Your pets normally consider a certain area their dominion. A cat that's curious or in heat could decide to venture out to satisfy this need. So, before you think a cat burglar burgled your cat or dog, talk to your neighbors and drive around the neighborhood. |
| Flyers Work | Put a picture of your pet and your contact details on a yard sign. After that, post the same information on posters, and place them strategically around your neighborhood. Pay special consideration to entrances, exits, and close-by vet clinics. Lastly, remember social media is your friend—post photos of your pet and contact details on your socials. A friend or acquaintance on Instagram or Facebook may shorten your search. |
| Use the Microchip Company | Make sure the contact information associated with your pet's microchip is up to date. This way, if a stranger finds your dog and brings it to an animal shelter or vet, you can be contacted. Furthermore, alert the microchip company once your pet goes missing. They can contact nearby and local animal shelters to keep on the lookout for your prodigal kitten or dog. It's worth noting that microchips don't have GPS technology that'll pinpoint exactly where your pet is. They only help track the owner down once the pet is brought in for scanning. |
| Contact Local Shelters | Report your pet's absentee status to pet rescue centers, animal shelters, animal control, dog wardens and so on. If you live in the US, then use Petco Lost Love. If you live across the pond, then report your missing pet to the National Pet Register. |
Be sure to check these six places before contacting the local authorities:
Garages/sheds
Closets
Attics/basements
The garden
Within the pool area
Inside the car
Bring your pet's favorite toy or treat during the search. It helps.Try bringing your pet's bedding or your dirty clothes. Lure your pet back using a scent with which they're familiar.
What to Include When Posting Notices
What you include in your missing cat poster or social media listing may determine how fast you get them.
Here are a few things to include:
A good picture of your lost pet
The day your pet went missing
Their gender
Last known location
Collar or tag information
Its microchip information and details
Your contact details, such as your email address or phone number
Details about their temperament
The breed description
Its weight
In short, any information that will help a stranger identify your pet is worth sharing.
How to Not Lose Your Pet
Sometimes, we lose track of our pets because of their adventurous and carefree natures. But sometimes, it happens because of our own oversight. It happens to the best of us.
To keep this heartache at bay, follow these steps to keep your pet where they belong:
Keep a close watch on your pets
Microchip them
Spay or neuter your pets
Restrict their roaming with a fenced yard
Train them to come when you call
Use an identification tag, and keep it up to date
Almost every family has lost a pet at one time or another. Forgive yourself, and start taking action. DoNotPay can help!
Find Your Lost Pet in Georgia Using DoNotPay
You can use DoNotPay to report lost and found pets in Georgia:
1. Search "lost and found pets" on DoNotPay, and select whether you're reporting a lost pet or a pet you've found.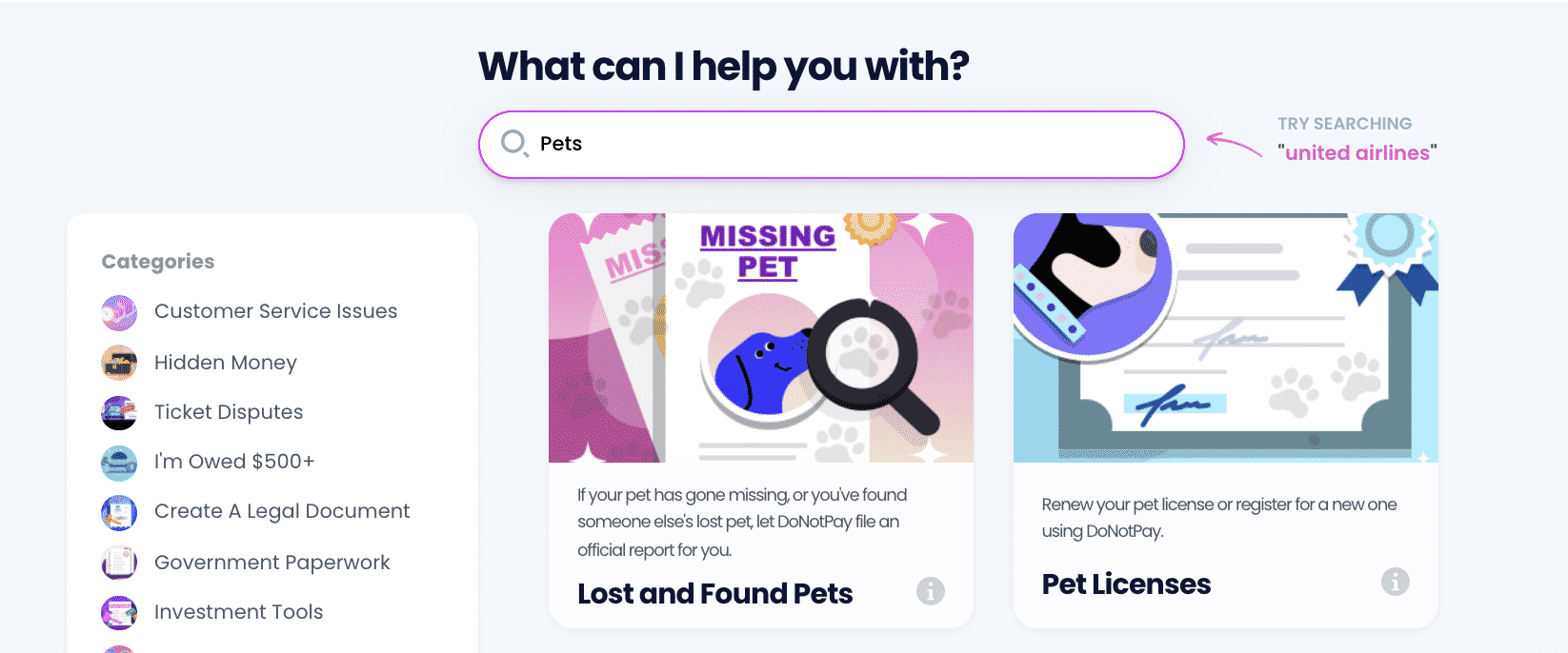 2. Enter the date and location you lost or found the pet and tell us more about them, including the breed, gender, whether they are wearing a collar, approximate size, and more.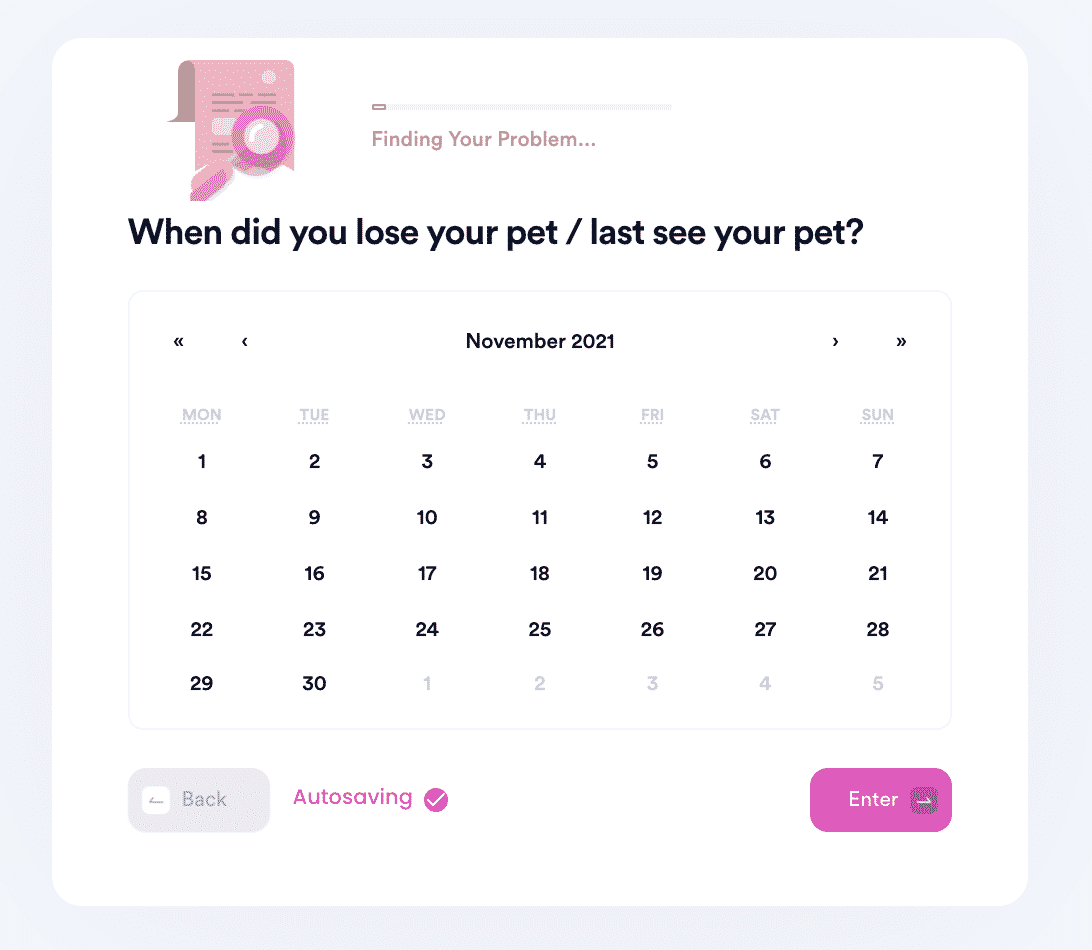 3. Upload evidence a photo of the pet, so they can be identified, and enter your current contact information where you can be reached with updates.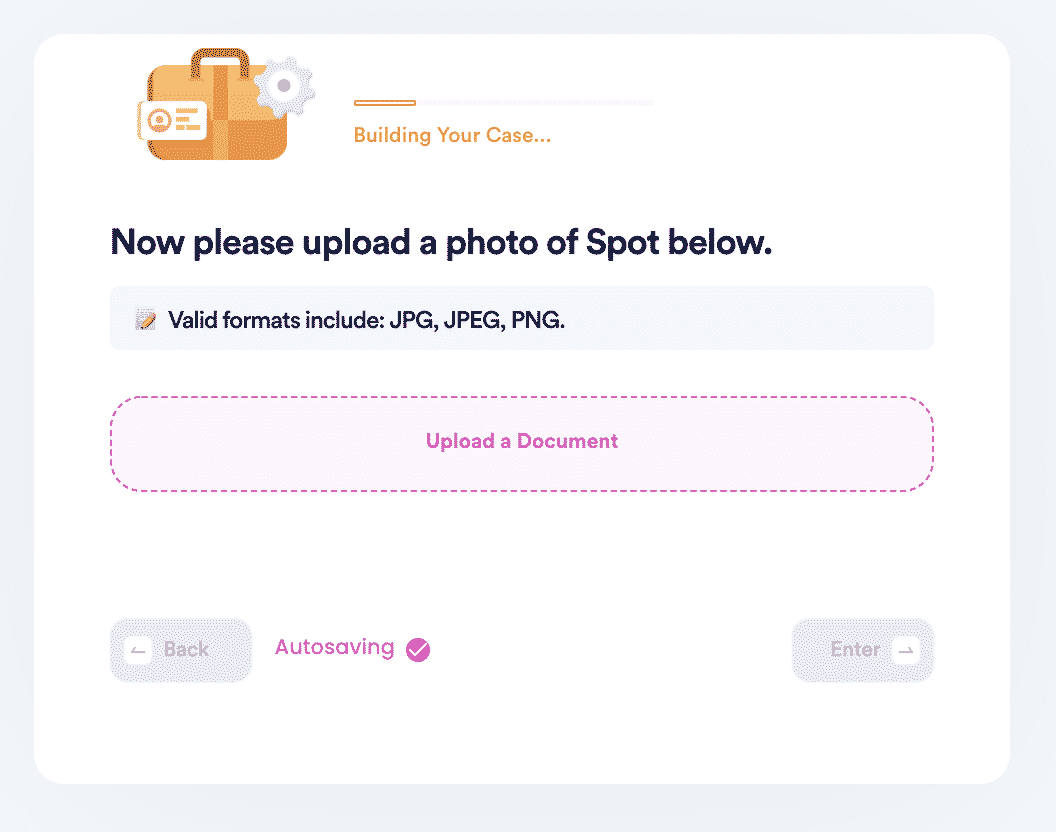 That's all! DoNotPay will file the report. Your stray pet will be recorded in the government directory. And the authorities will be able to reach you when your pet is found.
DoNotPay for Pet Owners
Whenever you need help finding a lost pet, make DoNotPay your first resource. But there's so much more you can do with the app! Use it to monitor pet food recalls and stand up for yourself to landlords about pet deposits, too. Try it today!