How To Find Your Lost Dog In San Jose
Losing your dog can leave you with a helpless, sick feeling. Dogs are like family, and when your dog runs away from home, it can shake your foundation to the core. While you might work hard to find your dog, rushing to place signs and post on social media, the sad fact is that, according to the Coalition for Reuniting Pets and Families, less than 23% of lost pets are reunited with their owners.
If you have lost a dog in San Jose, there are some things you can do on your own to try to bring your pet home again. This guide will walk you through some steps for reunification with your lost dog in San Jose, and introduce you to a fast, easy, successful way to report your missing dog.
In additional to the tips provided here, you can stand a good chance of getting your pet back by:
Posting a missing pet poster
Sharing information about the pet on social media
Getting in touch with local shelters to see if they know anything
How to Prevent Your Dog From Going Missing
It's heartbreaking when you do lose a pet. There are some things that you can do to prevent this, although there is no truly foolproof way to keep your dog from fleeing the coop.
Consider putting a microchip in your dog. Microchips hold your contact information for shelters to scan and are a much more reliable way of tracking your dog, as compared to collars and ID tags.
Invest in training classes for your dog. A well-trained dog is less likely to run and give chase to other animals it encounters and is more likely to return to you when given the appropriate cue.
Secure your property with solid fencing. If you live in an area that allows it, consider building a good-quality fence that will keep your pet in a contained space when you do let them go outside.
Why Do Dogs Go Missing?
There are a wide variety of reasons why you might have lost a dog in San Jose. Here are some of the top reasons why dogs go missing every year:
A storm might scare your dog into running away from home.
A dog might chase an animal and inadvertently go missing.
Your dog might get picked up by unscrupulous characters.
Hunting or working dogs tend to follow their instincts to run and chase, which can lead them well away from home.
No matter the reason, losing your dog can be terrifying. Once you realize that your dog has gone missing, there are a few things that you can do to help bring them back home again.
How to Find Your Lost Dog in San Jose on Your Own
| | |
| --- | --- |
| Call local shelters | Right away, make some calls to local animal shelters and animal control centers. Not only will you be able to see if your dog has been turned in already, but you can give the shelter a description, in case someone does end up bringing your lost dog in. |
| Make posts on social media | One good way to get the word out about your lost dog in San Jose is to make some posts on social media. You can ask your friends to share your post, creating more word of mouth and increasing the chances that someone local will see your dog and reach out to you about it. If you are a member of any neighborhood groups, such as NextDoor, make sure to make a post in those groups as well. Include photos of your dog from several angles and your contact information. |
| Post signs in your neighborhood | It might be considered old-fashioned, but printing and displaying signs for your lost dog in and around your neighborhood can help raise awareness of your missing pet. If you can, include several photos of your dog and consider adding some sort of reward information on the poster. |
None of these methods are foolproof, and even though you might end up finding your missing dog, it can be weeks and even months before you find out any information. Fortunately, there is something you can do that ups the odds in your favor. DoNotPay is the fast, easy, and successful method for helping you find a lost dog in San Jose.
Use DoNotPay to Find a Lost Dog in San Jose
Here's how you can use DoNotPay to report lost and found pets:
1. Search "lost and found pets" on DoNotPay, and select whether you're reporting a lost pet or a pet you've found.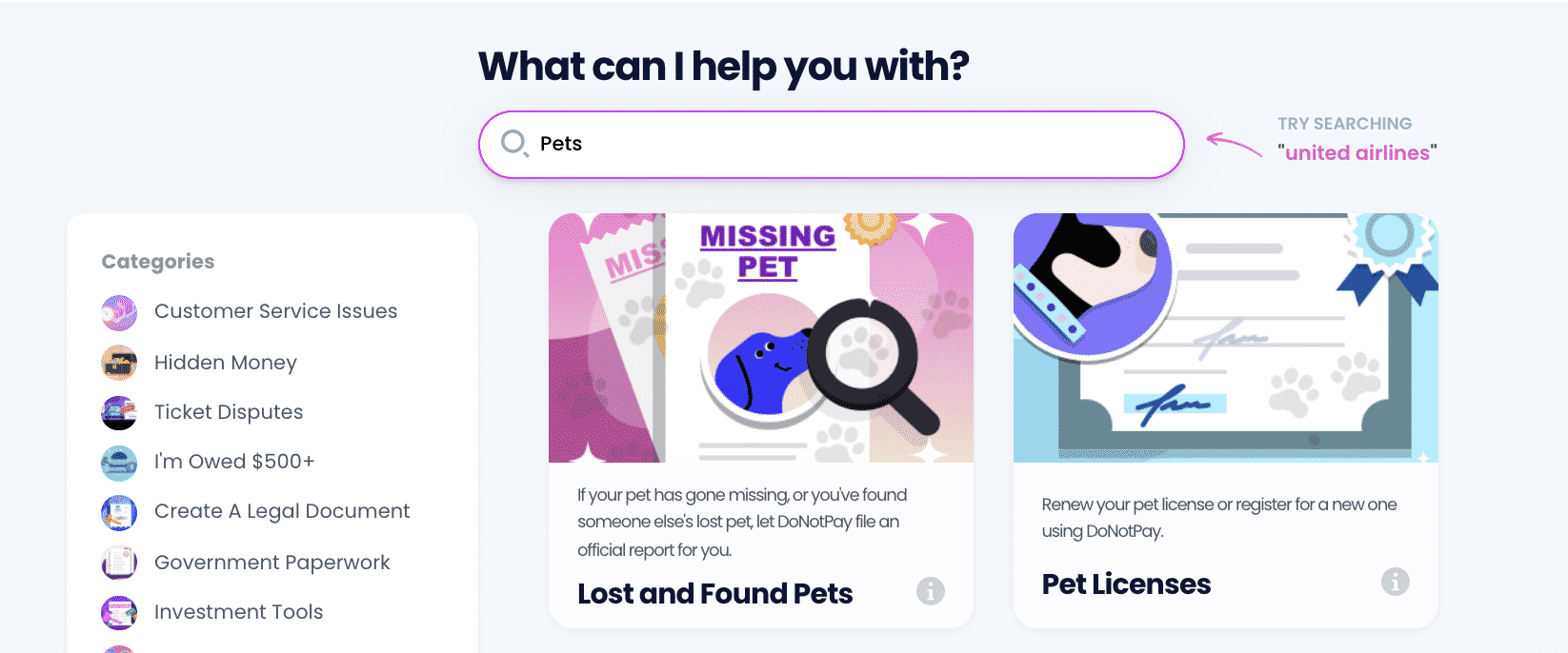 2. Enter the date and location you lost or found the pet and tell us more about them, including the breed, gender, whether they are wearing a collar, approximate size, and more.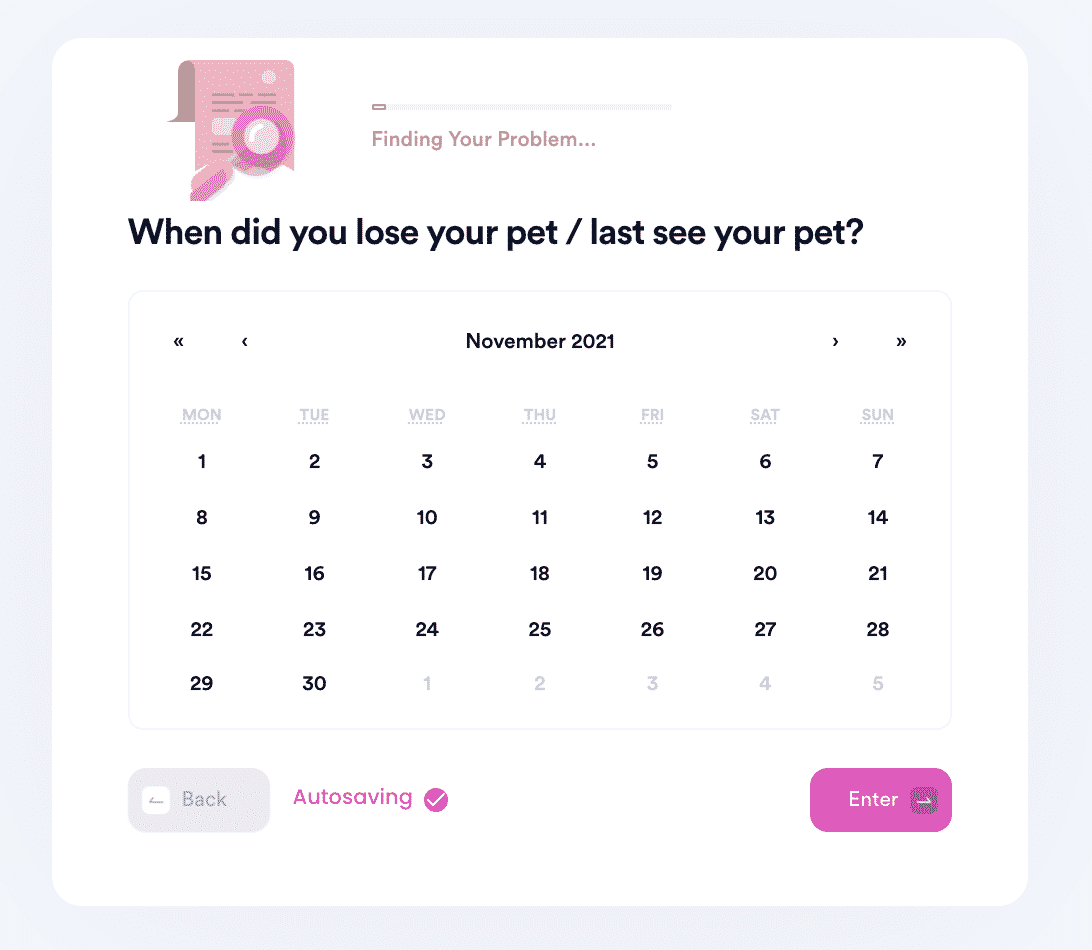 3. Upload evidence a photo of the pet, so they can be identified, and enter your current contact information where you can be reached with updates.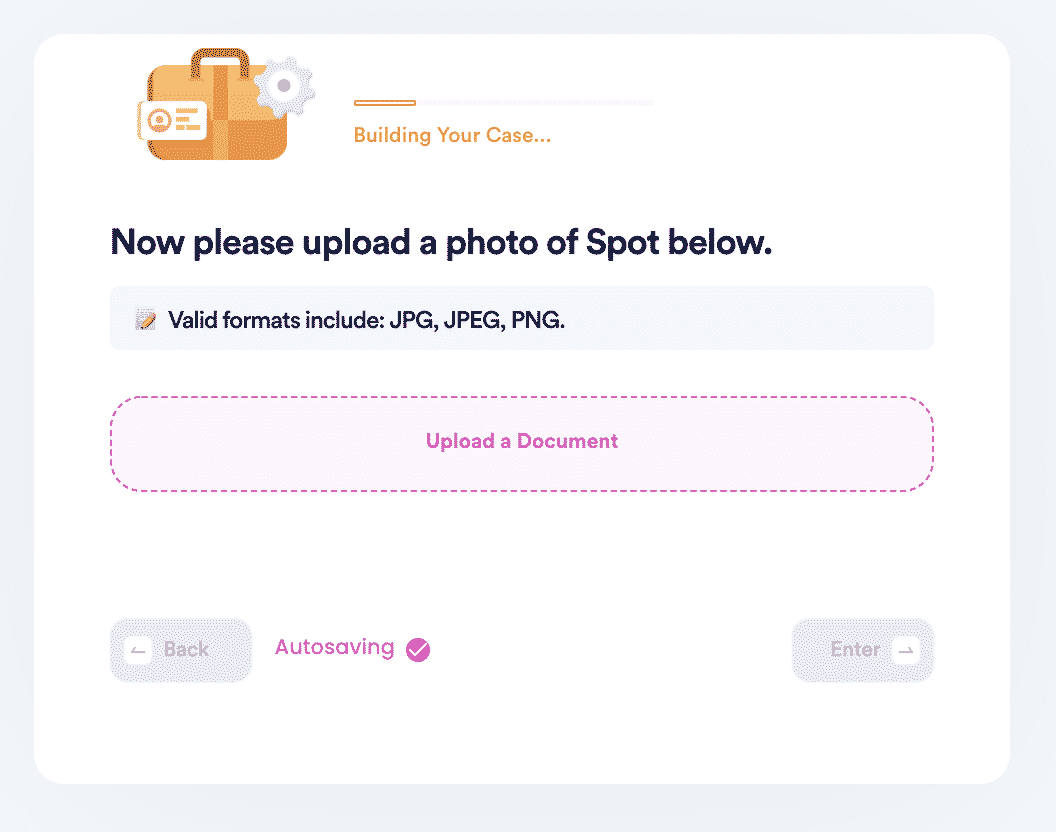 And that's it. DoNotPay will file the report on your behalf, and make sure your lost or found pet gets recorded in the government directory and they know who to contact if they find a match.
DoNotPay Can Help Restore Your Family Dynamic
A missing pet can make you feel as though your family is incomplete. DoNotPay helps file a report for your missing dog on your behalf, making sure that your lost pet gets recorded in the appropriate government directory. DoNotPay can help you locate your dog and alleviate the stress of running in circles to find your beloved pet because it is fast, easy, and successful.