How to Ask For a Raise Based on Increased Workload: You Deserve It
Have you been handling more responsibilities recently? Are you thinking of asking your employer for a raise? Do you feel you deserve it and it's the right time? Before you head to HR, you must learn .
Asking for a salary raise isn't a walk in the park; plus, it isn't guaranteed. HR might do whatever it takes to counter your proposal. Whether a first-timer or not, should you negotiate over the phone, by email, or in-person? The amount to ask for? How often should you do it?
If these questions are keeping you up at night, DoNotPay has some nuggets of wisdom on salary negotiations.
Top Pro Tips for Negotiating a Salary Solo
It matters . You don't go badging in the HR office demanding a salary raise unless you are looking for the pink slip instead. If you want to get the raise after asking, you should apply some finesse and the following tips:
You should be mindful of when to ask for a raise. The manager is also human; like you, they might be having an awful day, overwhelmed by work, or the superiors are breathing down their neck. Look for the best time when they are in a good mood or a bit free.
Also, a successful accomplishment, such as closing a deal with a significant client, brightens the manager's mood making them approachable.
Don't Complaint, Persuade
Avoid comparing or whining about why your salary is below your fellow employees despite the increased workload. While more work is grounds for a raise, complaining about it doesn't support your case. While there, don't give personal reasons such as increased rent or you need to buy a new car.
Instead, highlight the value of your accomplishments, your qualifications, and why you've earned the raise. Explain why you deserve it, not why you need it.
Arm Yourself With the Facts
Before booking an appointment with the manager, you need all the leverage you can get. While the increased workload is a genuine reason, it might not be enough to support your case.
Research average salary for your position from credible sources to support your case, such as:
The US Bureau of Labor Statistics
Indeed
Glassdoor
LinkedIn

Prep, Prep, Prep
Failing to prepare is preparing to fail. Instead of ambushing the manager during a lunch break, schedule a meeting the proper way through an email, requesting an in-person meeting to discuss a potential pay raise.
Also, prepare and rehearse a convincing pitch. Ask a friend, family member, or colleague to help you practice your case. Scour the internet via your web browser for potential questions from the manager. 
You have all your research, perfect pitch, and arguments in order. How you present these facts matters.
Be straightforward, polite, concise, and confident in all your arguments and communication.
Thank the manager for sparing some time for you when the meeting is over, regardless of the outcome.
Your arguments and facts might not earn you that pay rise this time around. Don't lose hope or get discouraged.
In most cases, your manager might award you with professional growth opportunities as you await the annual company-wide salary raise.
How Often Should You Get a Raise?
Asking for a raise is an objective you should pursue. After all, you could use the extra coin to better your life, pay your college tuition, healthcare, or vacation. DoNotPay's ask for a raise script is your best bet, even though determining how often is tricky.
If you've been working there for multiple years, you can ask for a raise once a year. You must wait for at least six months before asking if you are new.
On the other hand, if your company conducts annual performance reviews, the manager will hint at a pay rise based on your performance. Feel free to ask for it if they don't, but be ready to make a compelling case.
Why You Deserve A Pay Raise
Most organizations have pay rise protocols in place. Your organization may raise your pay after a performance review or a set cycle. However, extraordinary circumstances warrant a pay rise, hence the need to know how to ask for a raise script.
| | |
| --- | --- |
| The Increased Workload | Whether the extra work is voluntary or allocated by your supervisor, you deserve a pay rise. If you perform the extra work exceptionally, all the more reason. |
| Value of Your Accomplishments | You've bought in a new client or spotted some irregularities in the company's systems averting a major catastrophe. Quantifying these accomplishments to indicate the value they've brought to the company is a genuine reason for a raise. |
| Organization Changes | Did your company bring in a significant client, or opened some more branches in other states? Or maybe merge with another company to form a huge corporation. Such positive and profitable changes avail more resources accommodating a pay rise. |
| Salary Disparities | In your research, you might discover an employee from another industry in a similar position earns more than you do. While it's not ideal to compare salaries, you can make your case and request your manager to consider that pay difference. |
How Much of a Raise Should I Get Each Year?
Now you know how to ask for a raise based on the increased workload. Nevertheless, how much exactly should you ask for? What's the ideal percentage increase do you feel you deserve? It can be tricky to put a number on it.
The rule of thumb, go for a percentage – between 10 – 20% - higher than your current salary. Then negotiations can begin from there.
In most cases, companies opt for 3% annual salary increments for all employees. It might sound meager, but 3% is better than nothing, plus it's a baseline for negotiations.
Be confident in the figure you present as it shows you've done your homework, and it's easier to counter the offer.
DoNotPay Has the Ultimate Ask For a Raise Script
Unfortunately, asking for a raise isn't guaranteed you'll get it. Your DIY methods might lower your chances of getting the raise considerably. We encourage you to use DoNotPay's ask for a raise script.
Better still, our process is only four steps long!
1. Search "negotiate my salary" on DoNotPay.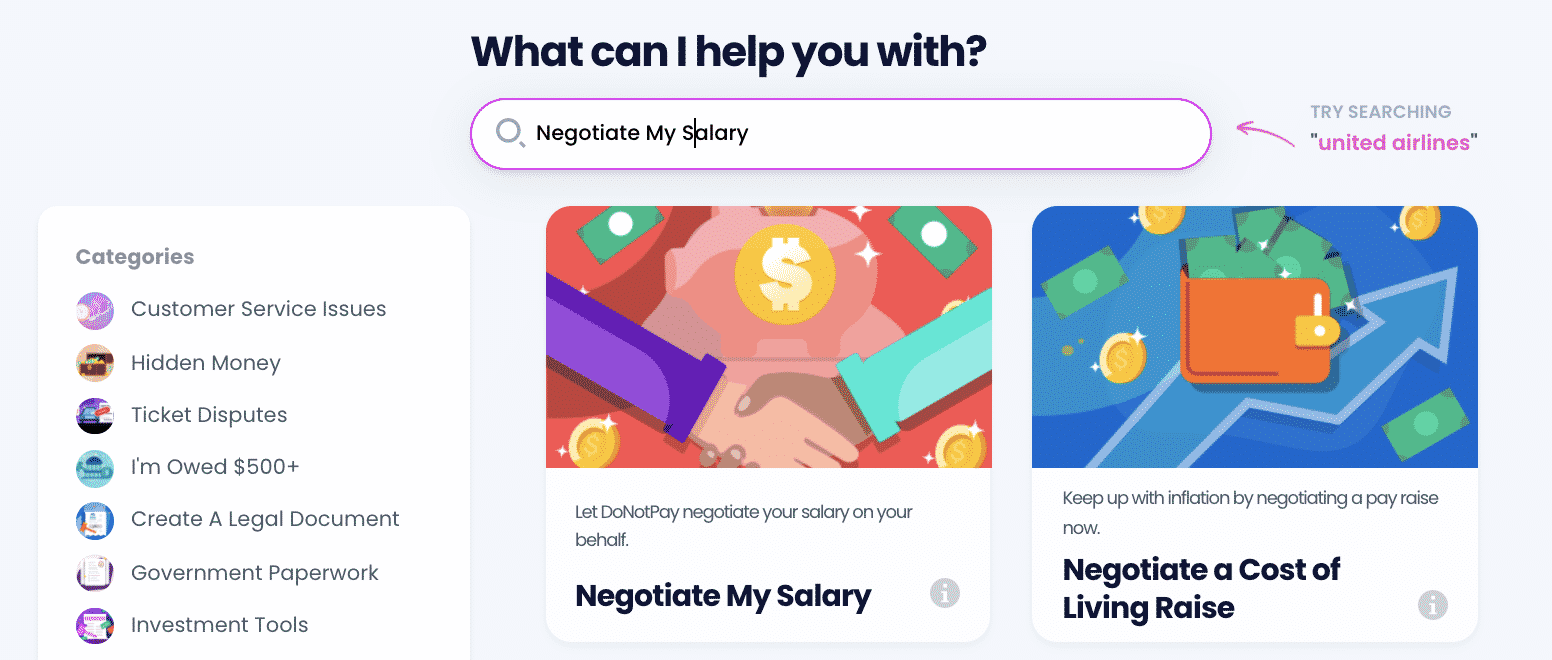 2. Enter the name of your company and the industry you work in, so we can find the right wage statistics for your role.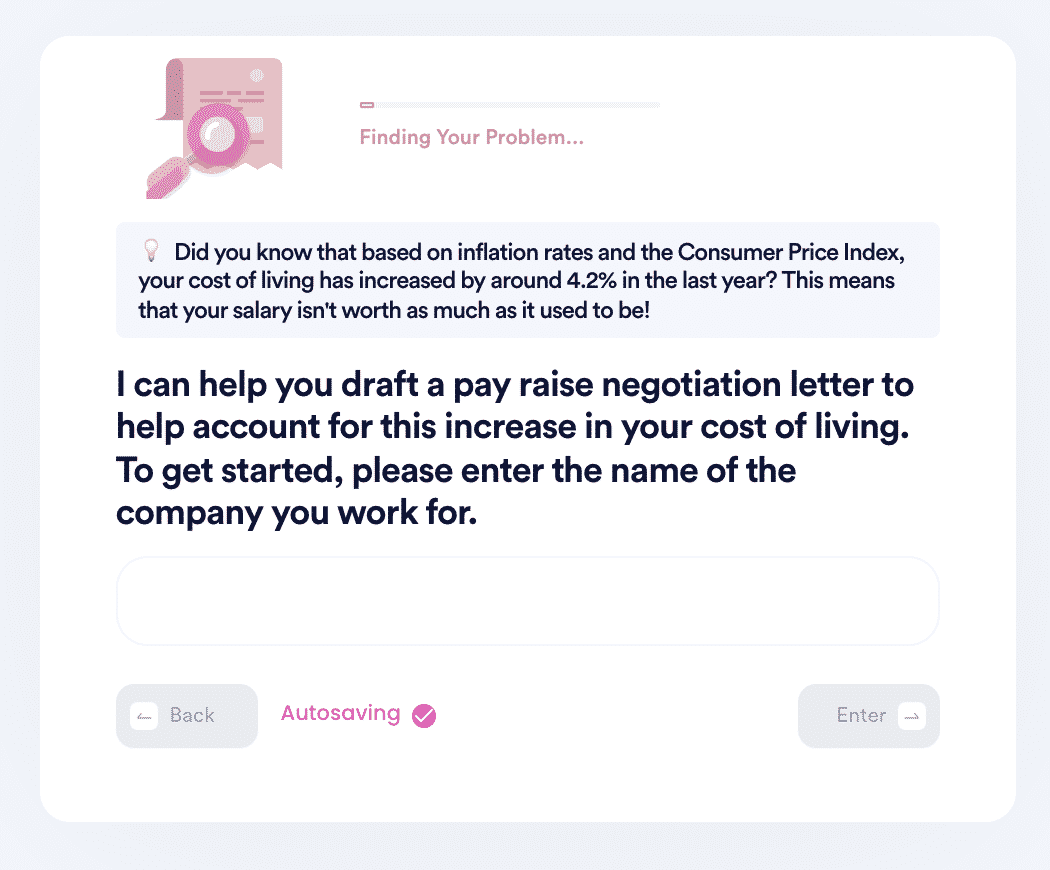 3. Answer a series of questions regarding your qualifications and achievements, relocation expenses, and other job offers if applicable.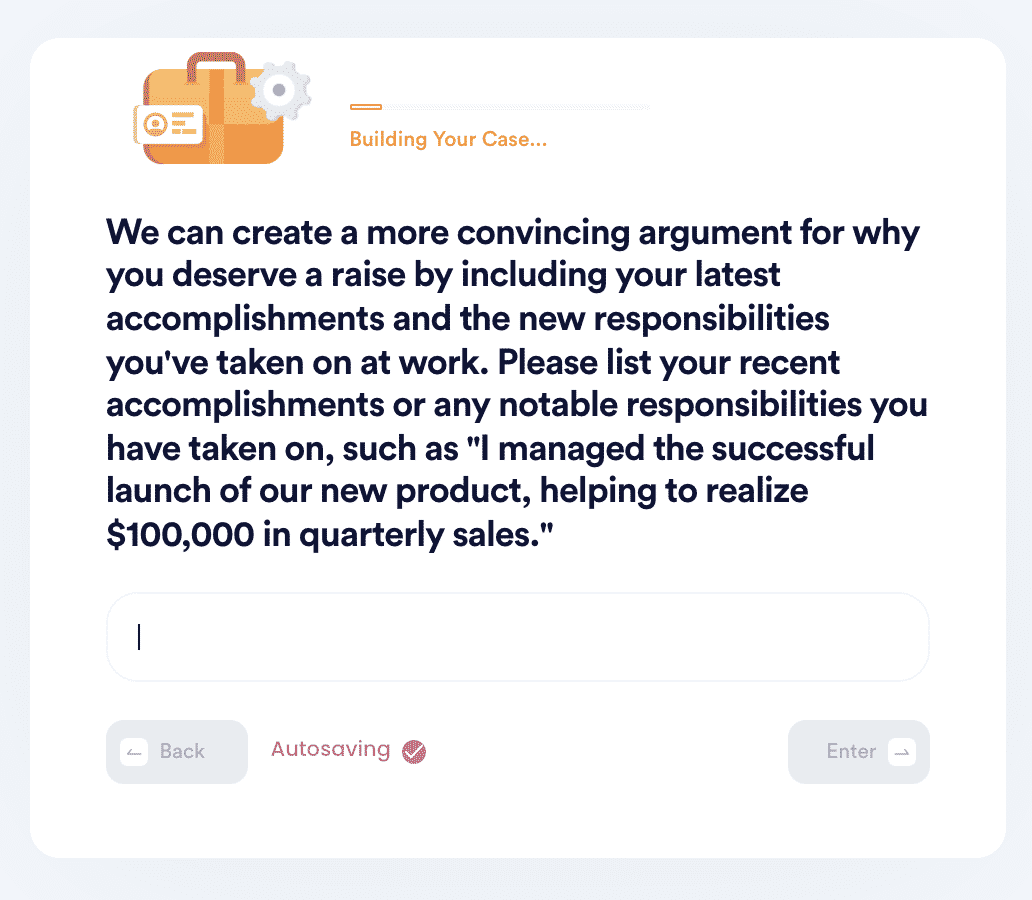 4. Enter the new base salary you would like to request.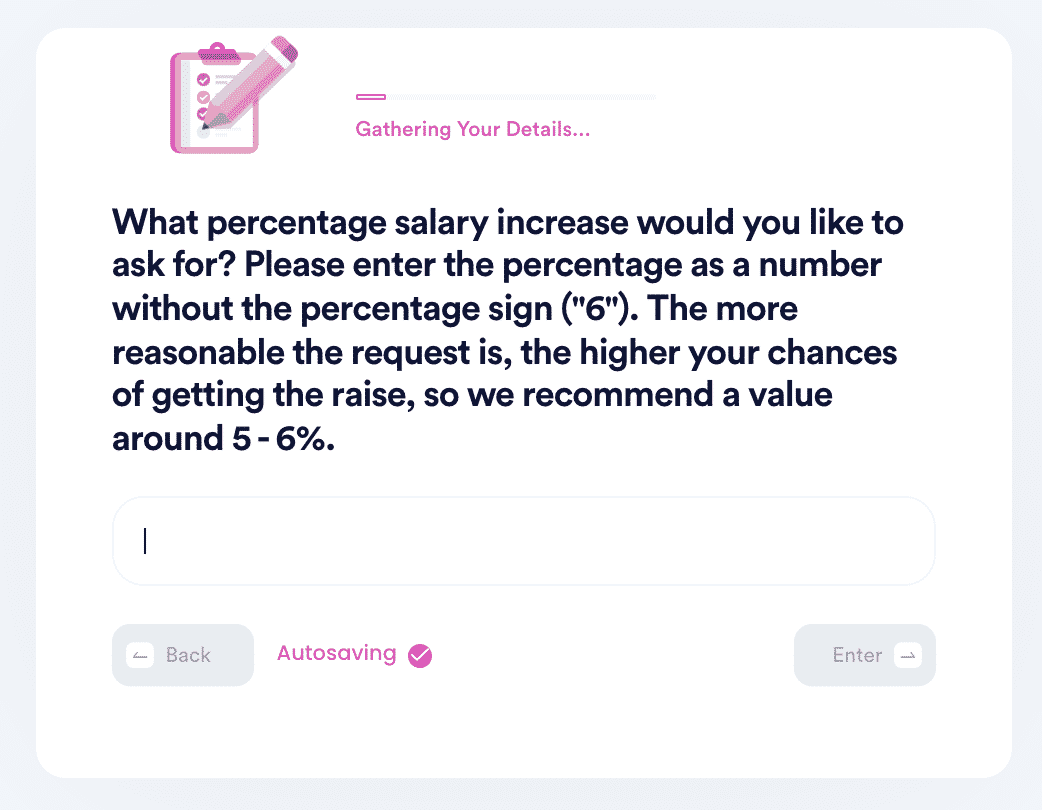 Voila! Once we finalize the information, DoNotPay will generate an official salary negotiation letter that you can then email or present to your employer! You'll be soon enjoying a salary raise; you deserve it!
Why Use DoNotPay to Ask For a Raise?
Having the best ask for a raise script among your fellow employees will give you much-needed leverage. The HR manager might listen to your request and grant you a fat raise if you do it right.
What Else Can DoNotPay Do?
Providing you with an incredible ask for a raise script is a tiny part of what DoNotPay can help you achieve. Our versatile platform has features capable of sorting your daily challenges.
Whether you lack the time, opportunity, or resources to DIY, you can rest assured we'll help you with:
Join DoNotPay today!