File A Report with Berrien County Animal Control with DoNotPay
It's your responsibility to report an animal-related injury or an aggressive animal in your neighborhood. This will help you seek compensation from the animal owner or allow you to impound that animal.
Unfortunately, reporting an animal-related injury or aggressive animal to can be stressful. You might need to visit the local animal control offices or call their offices and probably have to wait while on hold to file your report. This is quite a lot, especially when your life or your loved one's life is at risk. Luckily, DoNotPay got you covered. Follow the steps provided below, and let's help you file your report with ease.
Details About Berrien County Animal Control Services
is committed to investigating destructive or threatening animal complaints. If necessary, they will humanely remove the animal, write a citation, and begin legal action against the abusive or negligent owner. They will also locate and capture animals that bite, ensure they don't carry diseases, and protect the community from future attacks.
How to Report an Animal-Related Injury to Berrien County Animal Control
You can report an animal-related injury to Berrien Animal Control in the following ways:
In-Person
To report an aggressive animal to Berrien County Animal Control in person, visit their offices at 1400 S. Euclid Avenue Benton Harbor, MI 49022. Offices are open from Monday through Friday from 8:30 a.m. to 4:30 p.m.
By Email
To report an animal-related injury to Berrien County animal control by email, send your report to: AnimalControl@BerrienCounty.org.
By Phone

To report an aggressive animal to the Berrien County Animal Control, call 269-927-5648 or 269-927-5643

In case of an emergency, you should contact the Berrien County Dispatch at 269-983-3060.

You can also report your incident with the Berrien County Sheriff's Department at 919 Port St, St Joseph MI, or call them at 269-983-7141.
What You Should Do When Reporting an Animal-related Injury to Berrien County Animal Control
If you're bitten or wounded by an animal in Berrien County, you should do the following:
Watch. Locate where the animal goes and try finding its owner. Try to get their address if possible
Wash. Wash the wound immediately with water and soap, then go to the nearby hospital's emergency room or contact your physician
Report. Report the incidence to the Berrien County Animal Control or Sheriff's department using the addresses provided above if the dog is a stray, or its owner cannot be located before you're discharged from the hospital
Reporting an animal-related injury can be overwhelming, especially when you're nursing injury from the bite and cannot locate the animal's owner. At DoNotPay, we are ready to help you complete the filing process in the easiest way possible.
Report an Animal-related Injury with DoNotPay
Does reporting an animal-related injury in Berrien County seem difficult? DoNotPay has you covered in 3 easy steps:
Search "animal" on DoNotPay, find the Animal Control product, and select whether you've sustained a physical injury.
Select whether you would like to report this incident to your local government agency, or demand compensation from the pet owner.
Tell us more about the incident, including when and where you were injured, a description of the animal that caused the injury, and the contact information for the pet owner (if known).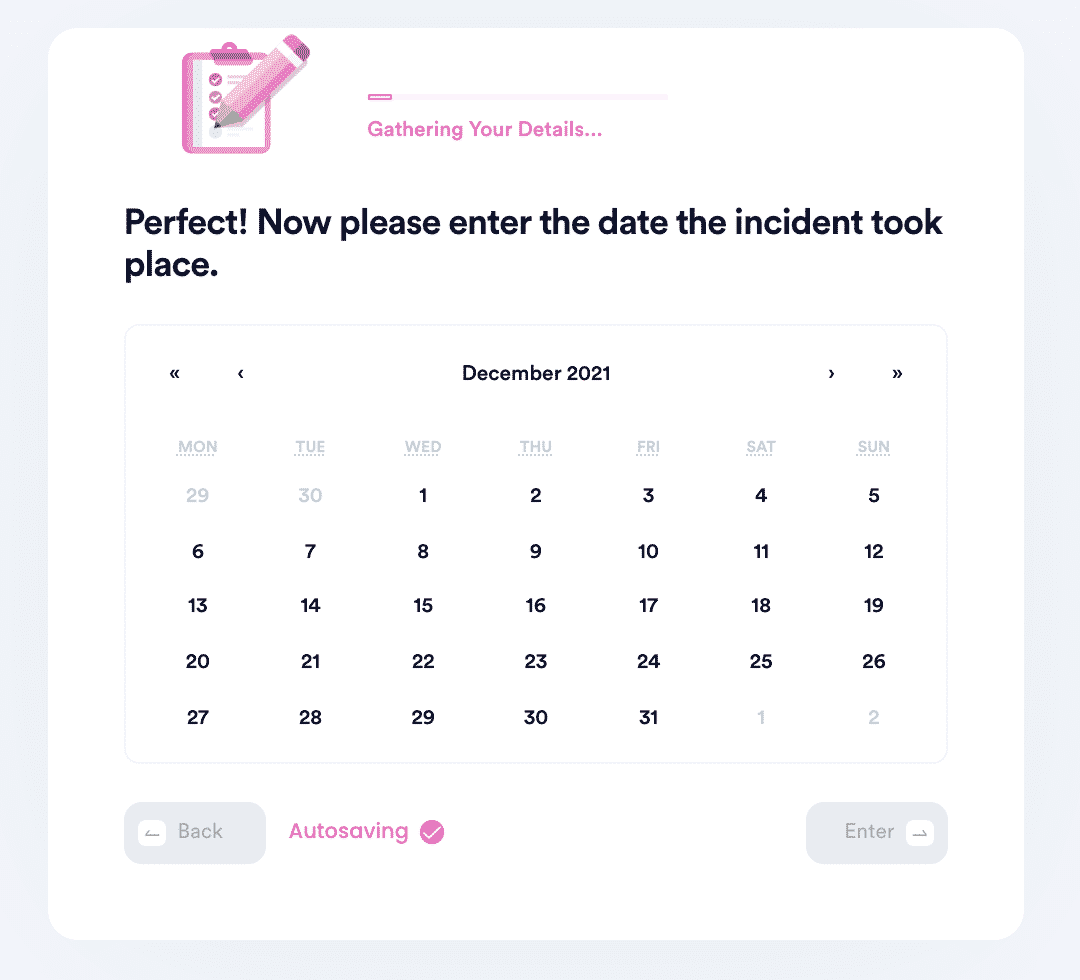 And that's it! DoNotPay will file the demand letter or government report on your behalf with your incident details! You should hear back from them directly with further questions or confirmation regarding your demands.
More About DoNotPay Animal Control
You can get more services from our DoNotPay Animal Control Product apart from filing a Berrien County Animal Control report. Enjoy a variety of our services, which include:
Miami Animal Control

Ohio Dog Bite Laws

Texas Dog Bite Laws

Pennsylvania Dog Bite Laws

Sue for Dog Bite

Learn More About Dog Bite Lawyer

Create a Power of Attorney

Standardized Legal Documents
Reasons Why You Should Report an Aggressive Animal with DoNotPay
Reporting an animal-related injury or aggressive animal with DoNotPay is as easy as 123. With our product, you don't have to plan trips to the local animal control services, stay on hold while reaching their offices, or fail to provide the required information needed to complete the process effectively. Our service offers a clear, easy, and fast way to help you complete this process within the shortest time possible. today, and let's get started.