Secure Low-Income Housing In NYC With No Waiting List
New Yorkers struggling to make ends meet might benefit from rental assistance programs like Section 8 housing. Subsidized rental assistance may be available via if your family is in need. Before applying for a Section 8 voucher, you must meet specific criteria, which must be maintained during the voucher program. DoNotpay can assist you in finding out what sort of Section 8 housing is available in your region.
What Are the Requirements for Eligibility of the Applicant?
The following are the conditions to qualify for Section 8 housing in programs:
| | |
| --- | --- |
| Should I be 18 years old or older? | Yes |
| Should I be a U.S. citizen or a lawfully present non-citizen with appropriate papers to work in the country? | Yes |
| Should I at least attain the minimum required income levels for low-income status? (All household earnings have been accounted for here.) | Yes |
| Should I pass a background check without any red flags, including evictions? | Yes |
Anyone searching for a Section 8 apartment in New York must meet this qualification. Your application can be rejected if you don't fit the bill and can't prove it. Even after being granted Section 8 vouchers, eligibility may sometimes be terminated. Any of the following might result in the loss of your section 8 benefits.
You must report if you have an open case and have just started making money.
Do not notify authorities of any household changes that would necessitate a reassessment of the case.
You may refuse to pay the difference if your Section 8 voucher is only partially sufficient to cover your rent.
Disturb the peace or engage in other behavior that necessitates a significant police presence.
Your Section 8 voucher and eligibility for future rental aid programs may be revoked once you are found to be guilty of any of the scenarios listed above.
How Do I Apply for Section 8 Through New York Low Income Housing?
Section 8 housing applications in New York may be made through the New York Low Income Housing. Below are two options that can be used:
The application process is entirely web-based and may be done from any computer, at home, or in a public place.
If you want to apply in person, you can go to the office and use one of the office's computers.
Regardless of the course of action you choose, you must submit all required materials as soon as possible to ensure that your application is not delayed.
What Happens if Your Name Appears on the Waiting List for Section 8 Housing?
The number of people applying for Section 8 housing is usually more than the number of available units; therefore, a waiting list is created. You will be alerted when a suitable rental home becomes available within your budget constraints. A family may qualify for Section 8 assistance in an emergency if they must leave their current residence immediately for safety reasons. In some instances, you may be able to go forward on the waiting list and be given an expedited placement.
Can I Use DoNotPay To Find Available Section 8 Properties?
Follow these instructions to find available Section 8 housing in New York using DoNotPay.
1. Provide information about yourself, including your family size, veteran or disability status, income, preferred county of residence, etc.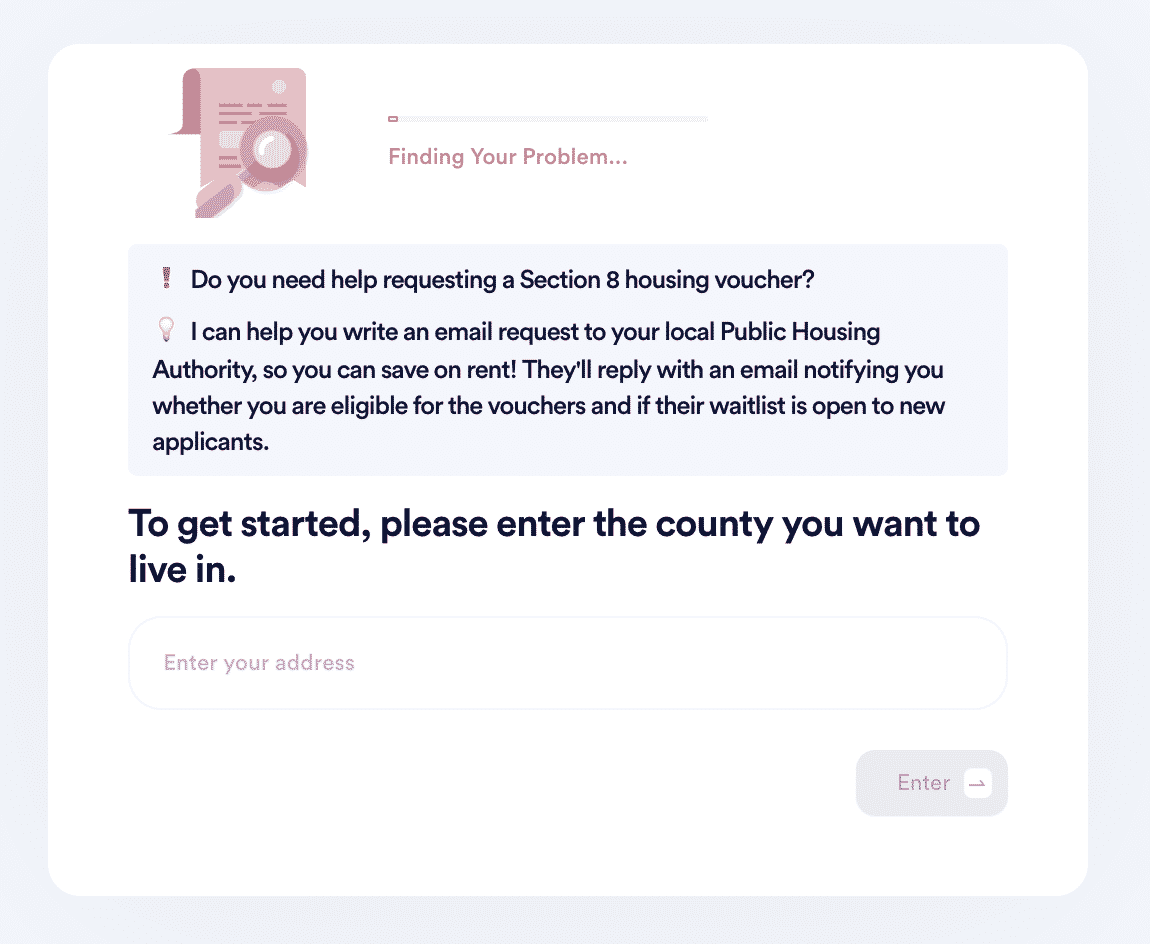 2. DoNotPay will look for the relevant county's PHA and share your whole application with them to see if they can help you get started on your application. If you send an email to them, they will respond with instructions.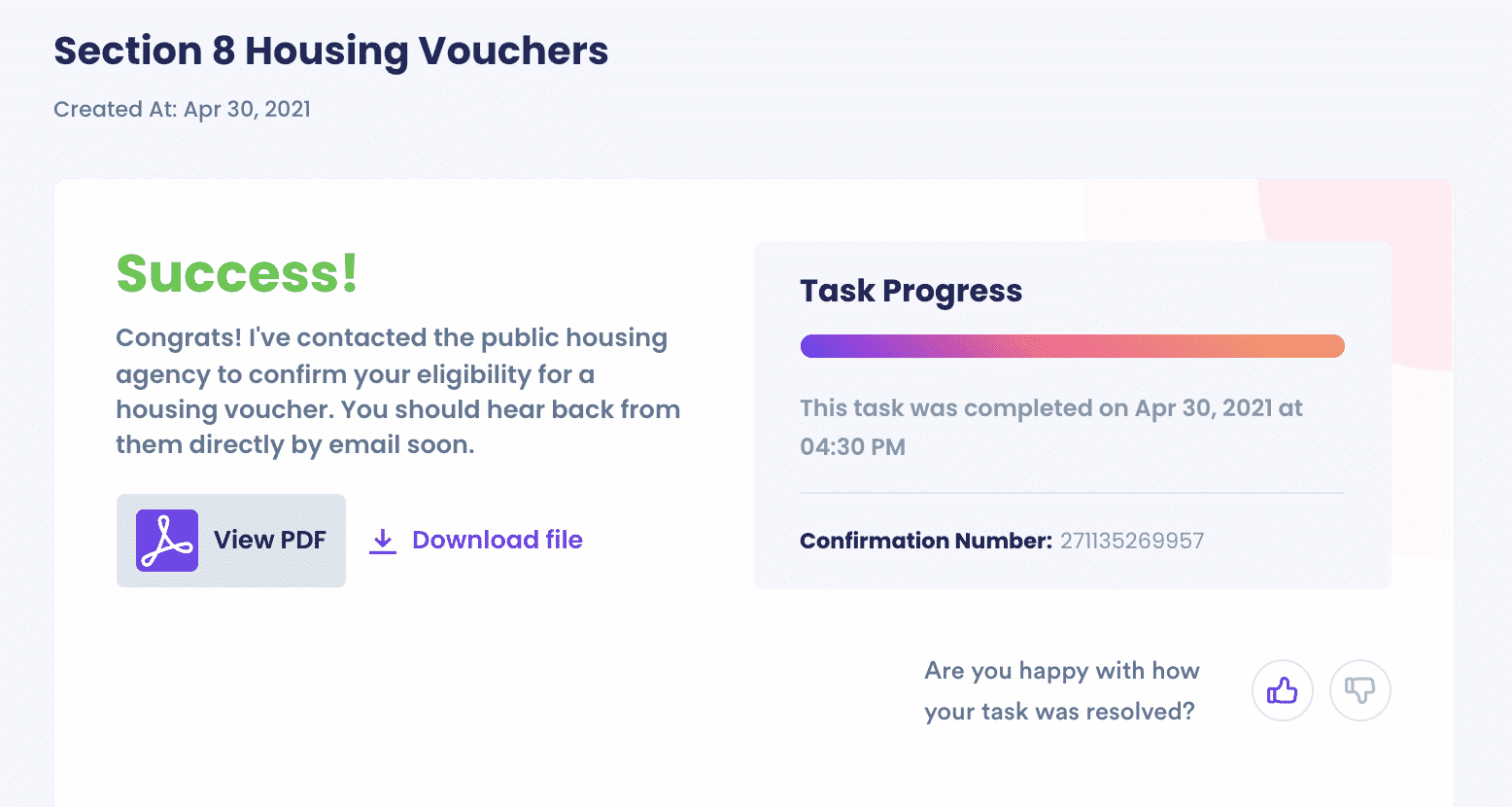 Why Should I Go With DoNotPay?
Searching for New York Low Income Housing Section 8 houses might be time-consuming. The following are some of the benefits of using DoNotPay:
The process is fast, and you won't have to switch between tabs to see what's out there; the results will load automatically.
You can do this search anywhere you choose, whether at your workplace or on the sofa.
The information being returned is current and correct, so there is no need to worry about any attributes being missed.
Whenever you need to search for section 8 properties, you should do so using a method that yields the most accurate results possible.
In What Other Ways Can DoNotPay Be Of Service?
DoNotPay may help you with various services, including finding Section 8 homes in New York through the New York Low Income Housing program. The many ways in which DoNotPay may assist you in saving time and effort are many. You may save both time and money by using DoNotPay in the following ways:
DoNotPay is the starting point for finding affordable housing for those who qualify for the Section 8 program.