How to Check the Zoom Terms of Service for Violations
With the start of the pandemic in 2020, many companies moved business meetings online using Zoom. Many clubs, civic associations, and extended families began to meet using this platform as well. But how many people fully read through the Zoom terms of service (TOS) before starting to use the platform?
Some companies don't comply with all the laws surrounding privacy, and it can be really difficult for the average user to tell if the terms of service meet all the legal requirements. DoNotPay can help by analyzing the Zoom terms of service for any violations and then helping to request compensation.
Zoom Terms of Service
Zoom is a software platform that connects people by phone or video over the internet. It's useful for personal chats as well as for meetings, classes, and large webinars. While designed for business use, it's handy in many circumstances.
What Are Terms of Service?
Terms of service is the legal agreement providing the rules for a service, often software, a website, or a platform, and for the person who would like to use that service. The user generally has to agree to the terms of service before being permitted to use the service. These rules and regulations are periodically updated. Zoom recently revised its terms of service on November 10, 2021.
Who Can Use Zoom?
According to the Zoom terms of service, users should be 16 years old or older, unless they are using Zoom through their school with Zoom for Education (K–12).
What Can't You Use Zoom For?
Zoom says that its services should not be used for any activity that is "illegal, fraudulent, false, or misleading." It should also not be used to "infringe the intellectual property or other rights of third parties." And Zoom should not be used to damage or copy the Zoom platform.
What Information Does Zoom Collect from Me?
The terms of service, along with Zoom's privacy statement, allow Zoom to collect user data and sell it to third-party services for marketing purposes. That information may include the user's
name
email address
phone number
job information
location
Things to Look Out for in Zoom's TOS
As Zoom grew rapidly in 2020 during the pandemic, some of its privacy and security issues were exposed. Uninvited people were able to zoom-bomb meetings, webcams could be hacked, and privacy bugs were discovered. The company quickly worked to address users' concerns, points out CNET.
A few concerns to be aware of are that people not on a Zoom call may be able to access the recording at a later date. In addition, Zoom has been sharing data with Facebook, so it's unclear to which third-party platforms it still shares the personal data it has collected.
How to Analyze Zoom's Terms of Service on Your Own
Terms of service can be tricky to read and understand, but it can also be hard to tell if legally required privacy language has been left out. These missing clauses could mean a lawsuit for the company. It's pretty difficult for the average user to be aware of the state and federal laws regulating online privacy though.
Companies, like Zoom, should comply with the California Online Privacy Protection Act 2003, General Data Protection Regulation 2016, California Civil Code Section 1798.83, and other laws. While it's unfair and illegal for companies to ignore privacy laws, it can be a challenge to know which regulations are being violated without being a legal expert.
Review the Zoom Terms of Service with the Help of DoNotPay
DoNotPay is the perfect solution to analyze the Zoom terms of service for violations and save yourself a lot of trouble and time. DoNotPay makes the process super easy and can help hold companies accountable by requesting compensation for you.
If you want to analyze terms of service but don't know where to start, DoNotPay has you covered in 5 easy steps:
1. Go to the Analyze Terms and Services product on DoNotPay.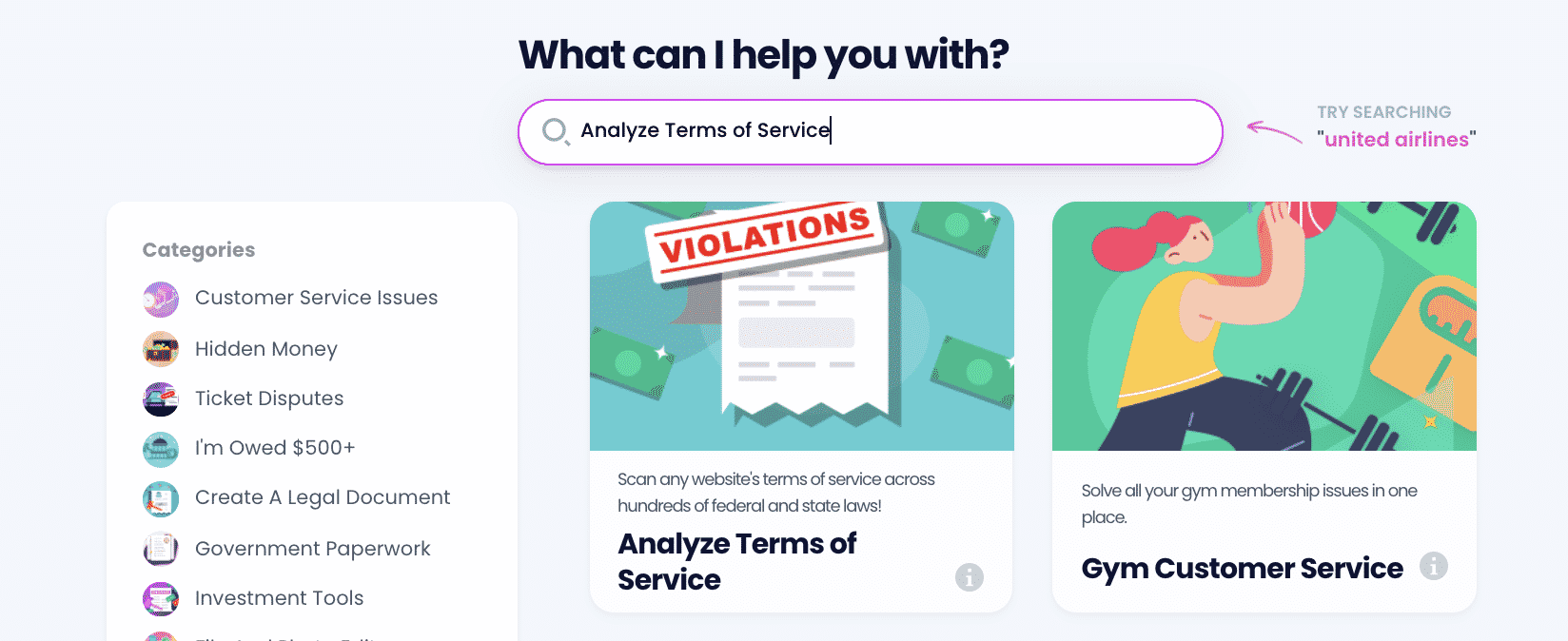 2. Enter the website domain you would like to scan.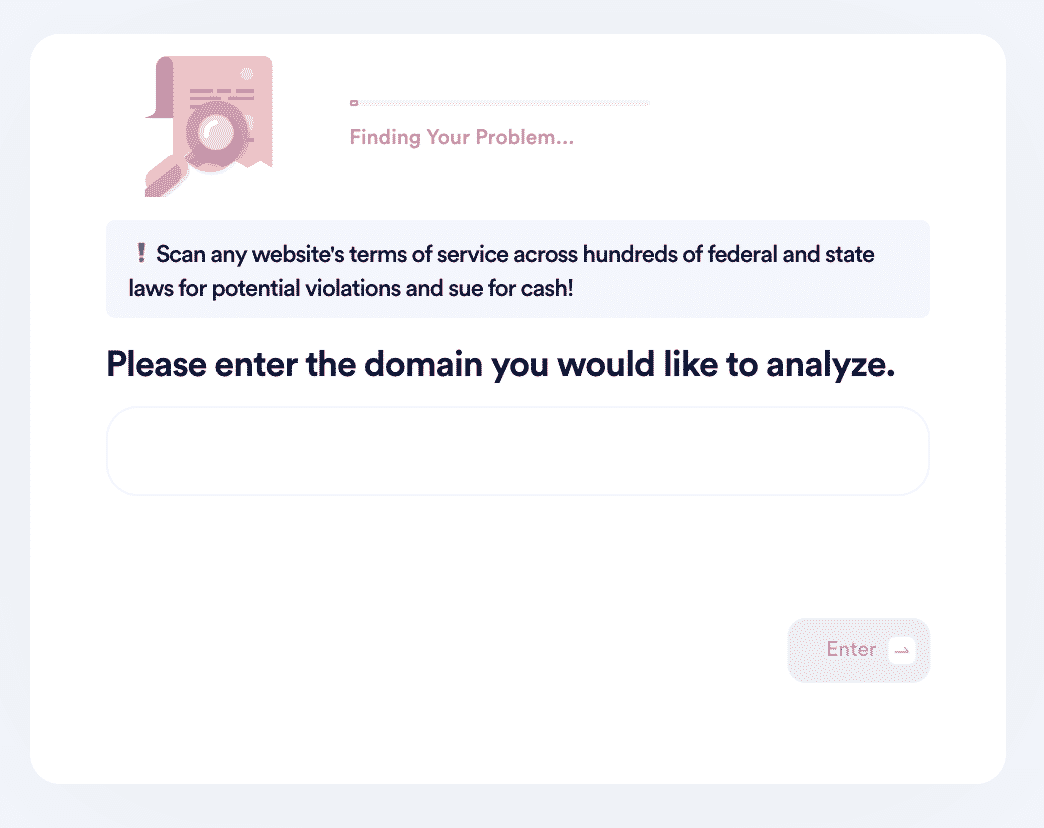 3. Wait for DoNotPay to identify any legal violations on the website (it should only take a few seconds!) If there are violations, proceed to drafting a demand letter.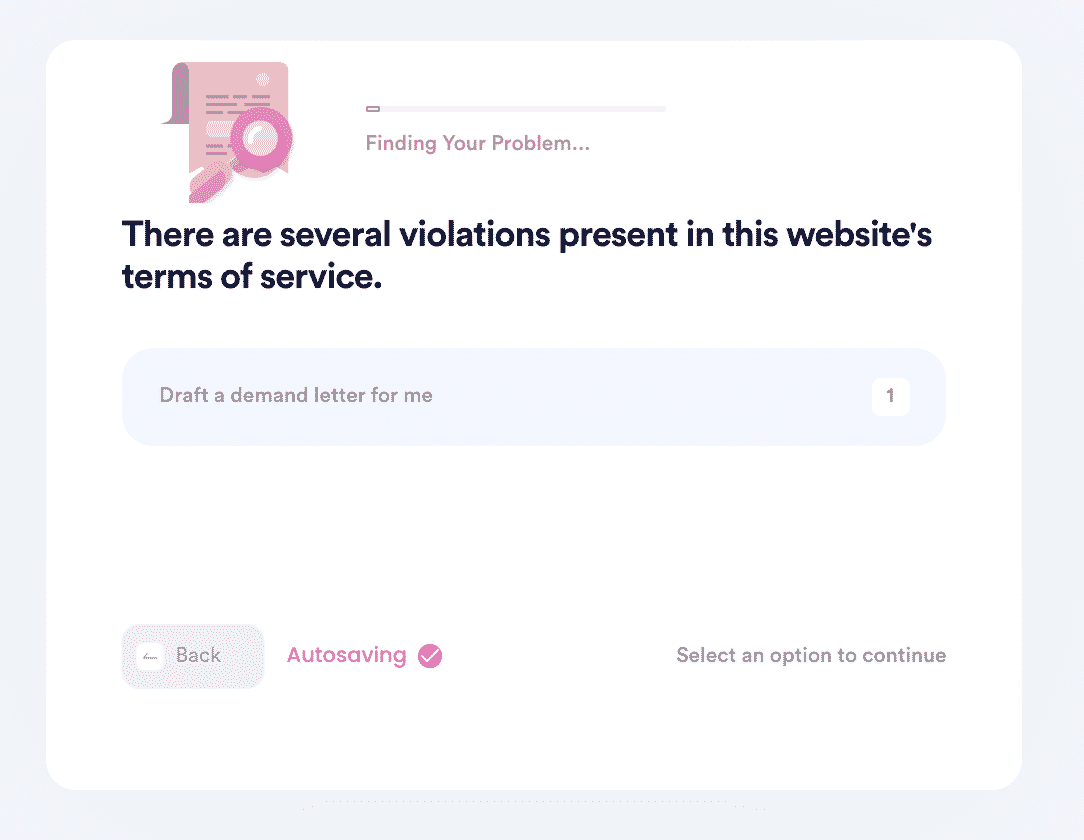 4. Enter how much you want to receive in compensation and the company name.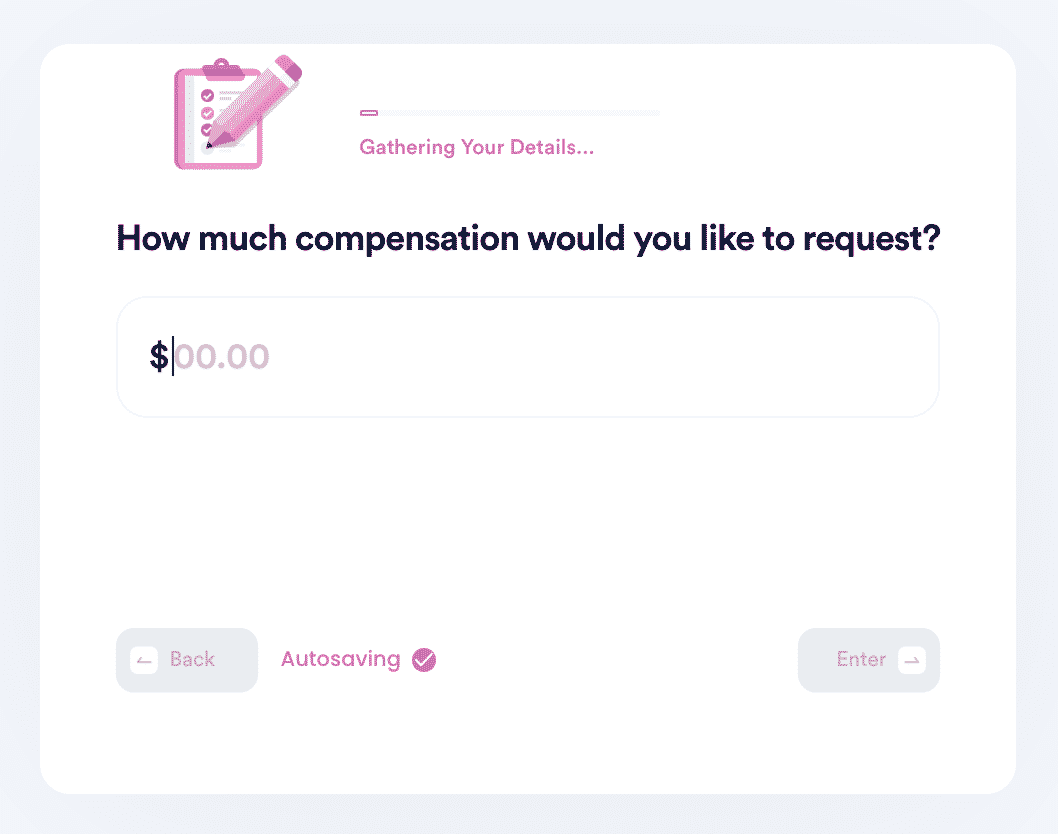 5. Enter your contact information so the company can contact you.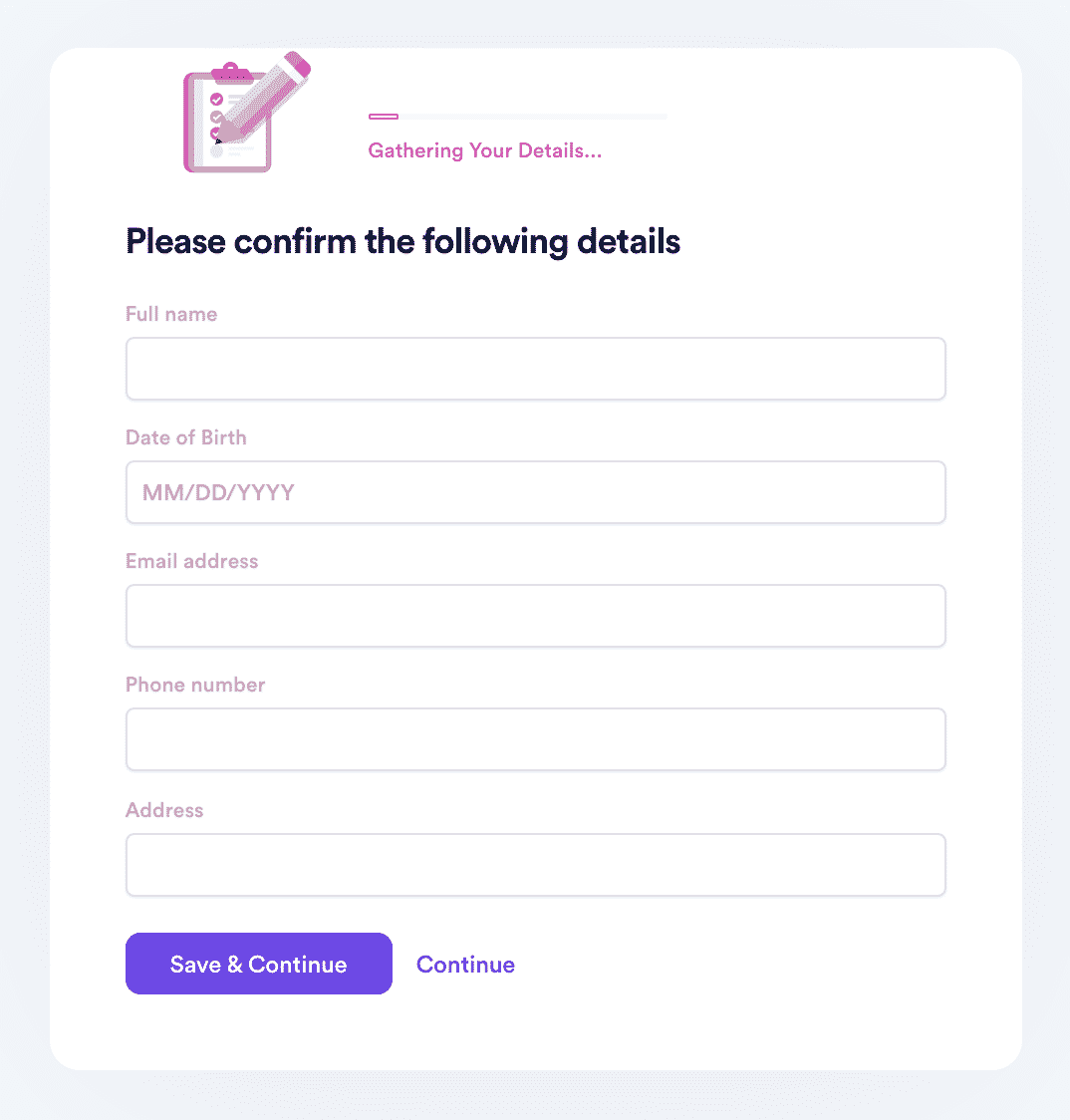 DoNotPay will generate a demand letter on your behalf with every legal violation we identified that you can send to the company.
It's not just Zoom that DoNotPay can help with. DoNotPay's Analyze Terms and Services product can help you analyze any company's terms of service for violations and potential compensation:
How to Sue Zoom for TOS Violations
DoNotPay can also help if a company doesn't comply with your demand for compensation after terms of service violations are discovered. You can then escalate the case to Small Claims Court using the DoNotPay Sue Now product.
The Sue Now product will help you generate demand letters and complete the necessary forms. It will then file your paperwork for you with the appropriate court as well as serve the company.
Why Use DoNotPay to Review the Zoom Terms of Service?
DoNotPay is the easy answer when you want to review Zoom's terms of service for any violations. Taking care of it through DoNotPay is fast, easy, and successful.
Fast — You don't have to spend hours reading through the terms of service.
Easy — You don't have to struggle to read legal language and figure out if there are violations.
Successful — You can rest assured knowing we'll come up with the best answer for you.
What Else Can DoNotPay Do?
Checking over terms of service is just one thing that DoNotPay can take care of for you. There are a number of other legal and consumer concerns that are a breeze to handle through DoNotPay. Here are just a few:
DoNotPay is your go-to service for reviewing the Zoom terms of service and resolving many other tasks.