How to Sign Up for Zoho Free Trial With a Virtual Credit Card

Zoho isn't just an email marketing software. It integrates all kinds of software to help you put all the tools you need to run your business in one place. It comes with word processors, spreadsheets, presentations, databases, a CRM, and financial management tools to help you send invoices and keep your books in order.
You can get access to all these tools if you sign up for the. You don't need a credit card to access the 15-day trial version. But you may need a professional email address or a registered domain to create a business email account.
Let's discuss how you can sign up for a Zoho free trial and what DoNotPay Free Trial Card can help you with if you choose to upgrade your plan.
What is Zoho?
Zoho is a complicated cloud platform with all kinds of tools you need to run your business. It's an online web processor, a drag and drop website builder, and a customer relationship management application. 
Some of the things you can do with Zoho include:
Project management, invoicing, procurement, and bookkeeping
Web development, web hosting, and email hosting
Presentations, spreadsheet, and word processing
Sales and marketing, surveys, campaigns, form creation... etc.
Recruiting and workforce management
Zoho CRM is completely free, and according to the founders, it's meant to act as a platform where you manage all your sales, marketing, accounting, and customer support activities. It's also supposed to help you streamline your processes, policymaking, and people management all in one place.
Does Zoho Offer a Free Trial?
Yes. , including email hosting, CRM, online workplace for teams, and accounting software. 
Since Zoho services are offered differently, you must choose the platform you want to signup for and find out if it's free to use and whether they offer a 14-day or a 15-day free trial.
In any case, you don't require a credit card to get a free trial.
How Can I Get a Zoho Free Trial?
To sign up for a Zoho Free trial, follow the following process:
Visit Zoho.com and select the service you want to sign up for
You can choose a service by clicking the box it's located in or selecting a single service from All Zoho Apps at the bottom of the homepage
Fill in your name, email address, and mobile number
Setup your application or choose automatic settings
Start using the application
Does the Zoho Free Trial Automatically Renew Into a Paid Subscription?
No. When your trial period is over, you'll be automatically transferred to the free plan. They offer 4 paid subscriptions, including standard, professional, enterprise, and ultimate. Their pricing ranges from $12 to $52 per user per month.
Since they bill people annually, it might be easy to forget to unsubscribe if you decide to stop using their services. That's why it's important to use a virtual credit card for your safety.
How Much Does Zoho Cost After Free Trial?
You may want to consider continuing using Zoho, here are their subscription plans;
Plan
Price
Benefits
Standard
$14/user/month billed annually

Everything in Free+
Scoring Rules
Workflows
Multiple Pipelines
Mass Email
Custom Dashboards
Canvas (1 view/org)

Professional
$23/user/month billed annually

Everything in Standard+ SalesSignals
Blueprint
Web-to-Case Forms
Validation Rules
Inventory Management
Canvas (3 views/org)

Enterprise
$40/user/month billed annually

Everything in Professional+
Zia AI
CommandCenter
Multi-user Portals
Advanced Customization
Mobile SDK & MDM
Canvas (5 views/module)

Ultimate
$52/user/month billed annually

Everything in Enterprise+
Advanced BI - bundled with Zoho Analytics
Enhanced Feature Limits
30-day Trial
Canvas (25 views/module)
Avoid Automatic Renewal With DoNotPay Virtual Credit Card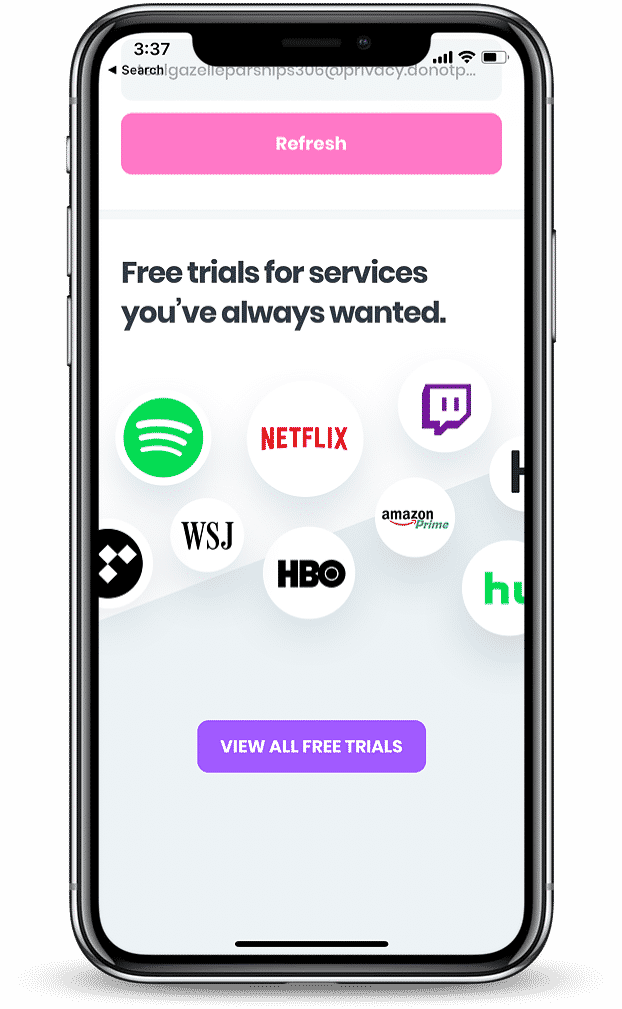 Credit cards carry all personal and bank information. If someone gains access to your credit card information, they can buy illegal products, use your information to subscribe to other services, or live a luxurious life at your expense. 
Therefore, it's good to keep your credit card information safe. Unfortunately, sometimes, as you subscribe to online apps you want to use, you give away your personal information thinking it's safe on their platform.
But when a website is hacked and your information leaked, you can't know who'll gain access to that information. To avoid this, you need to use a virtual credit card with fake information.
Can I Use a Virtual Credit Card to Make Payments?
Even though a virtual credit card carries fake information, upgraded virtual cards like the DoNotPay's Free Trial Card can make secure payments normally without disclosing your information. 
The main benefits of DoNotPay's Free Trial Card include:
It doesn't support recurring payments so you don't have to worry if you forget to unsubscribe to paid service
It keeps your information hidden, and you can use fake personal info and it'll still work
It's free
It doesn't support unauthorized payments
Try DoNotPay's Free Trial Card on Zoho premium services today and avoid the risk
What Else Can DoNotPay Do?
DoNotPay can also help you to solve an array of financial, legal, and lifestyle problems many people face in the US. From finding a local dentist to dealing with credit card issuers. DoNotPay has a solution for almost anything.
Here are some guides you might be interested in:
Zoho offers a 14- to 15-day free trial period for most of its products. Although you don't need a credit card to access the free trial, you might need it when signing up for premium services. Always use a safe DoNotPay virtual card to pay online as your information may leak anytime.